Ever wanted to text Adam Levitan? Or ask Evan Silva a question about his Top 150?
Now, you can, when you join Establish The Run's subscriber-only Discord server.
From exclusive access and insights to a private community of devoted fantasy sports players, our newly launched Discord server provides you with the ultimate Establish The Run VIP experience.
Think of the platform as a massive, well-organized group chat made up of the ETR team and the members of our community. The best part? Our Discord server is:
●
Free

to subscribers
— a premium ETR subscription provides you access
●
Exclusive
— only ETR subscribers can join
●
Easy to join —
 registration in under 30 seconds
Once registered, you will discover text and voice channels covering your favorite topics, ranging from season-long fantasy football to NBA prop bets. You'll find yourself right at home in our thriving community of Discord members who are serious about fantasy sports.
Waiting for you inside is a wealth of exclusive access to the Establish The Run team. Once you join, you'll be able to…
Chat with Adam – Adam, Evan, Mike, Drew, and the team are all active members of our Discord community. As a result, you'll find them in the thick of the conversation dropping hot takes and #TeamSex emojis.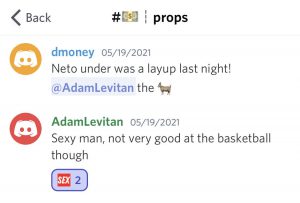 Pick Evan's brain – Additionally, we will be holding frequent "Power Hour" Q&A sessions hosted exclusively on our Discord server. Here, you'll have the opportunity to pick the brains of ETR's finest. Have an Underdog-specific question for Mike Leone? Shoot. Want to know Evan's thoughts on Nick Chubb in a full-PPR redraft league? Ask away!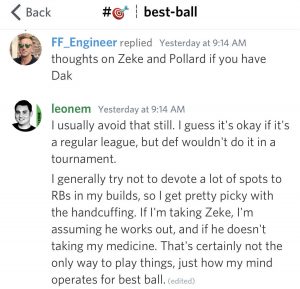 Be the first to know – Whether a new YouTube video drops, an updated Top 150 is released, or our team has some final thoughts before lineups lock, our Discord members will always be the first to know. Thanks to our bots, you'll be notified as soon as we release any new content or make important updates to published content. Additionally, this private community allows us to share timely information with subscribers that won't work on public social media channels. As an example, if there's last-minute news that has an impact on the Monday Night football game, we'll drop context updates in the #Showdown channel.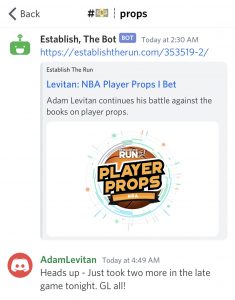 Win merch, perks, and special access – As a "Thank You" to our loyal Discord community, we will be launching "Member of the Month" giveaways, including MF'n Mackey Award t-shirts, 1-on-1 calls with ETR personalities, bonus Discord access, and more. Share your thoughts on all things fantasy sports to earn XP and climb the ETR leaderboard.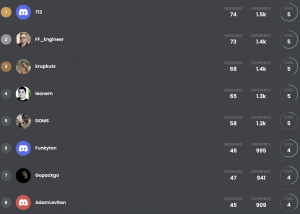 Connect with the community – Never sweat your lineups alone. From the high-level fantasy conversations to the custom emojis (#TeamSex, anyone?), you'll find the entertainment as valuable as the insights. Oh, and we have a Gerribot.
Offering everything from VIP access to special perks, our Discord community adds a new layer of value to your ETR subscription — at no extra cost.
As you are reading this, actionable conversations are being held in our Discord server that are unavailable anywhere else. So, what are you waiting for?
Don't miss another day of exclusive ETR content. JOIN NOW!
Once you've joined, check out our Boomer's Guide to the ETR Discord to make the most of our Discord community.
We'll see you inside!