Beyond the pure chaos and general absurdity that is college football, there is an insanely entertaining daily fantasy game that is growing each year. If you love fantasy football, we hope that you jump in, give it a shot, and be a part of the CFB community we are building here at Establish the Run. You may view fantasy college football as a bit overwhelming due to the number of teams and players, and the requisite time it would take to learn them all. But have no worries — we'll have you covered.
The ETR college football product provides everything you need to get you up to speed each week, boiling down all of the information to easily digestible content thereby reducing the time investment needed to make winning lineups. Check out our CFB Product FAQ page for answers to common questions regarding the product. This article is more of an introduction to playing the actual game of college football daily fantasy.
Lineup Requirements
Daily fantasy lineups for college football on DraftKings consist of eight lineup slots, including one quarterback (QB), two running backs (RB), three wide receivers (WR), one Flex (RB/WR), and one Superflex (QB/RB/WR). On FanDuel, there is not a FLEX position, as you only roster seven players.
DRAFTKINGS: QB / RB / RB / WR / WR / WR / FLEX / SFLEX
FANDUEL: QB / RB / RB / WR / WR / WR / SFLEX
In contrast to NFL DFS, CFB DFS does not utilize team defenses or the TE position. All actual TEs are simply listed as WRs in the player pool and are generally not a huge factor (outside of a handful of schools that use their TEs heavily). While DFS scoring on DK and FD for CFB is the exact same as NFL, the biggest differentiator in terms of format is the use of the Superflex position in CFB. This basically means you can play two quarterbacks in each lineup.
There are single-game showdown slates for CFB. DK and FD both use the same setup as NFL for these slates. Kickers are included in the player pool on DraftKings, however, generally, kickers have much less value in CFB than in NFL showdown. With much worse kickers (made FG rates are typically ~10% less as compared to NFL kickers, even with average field goal attempt length being shorter in CFB) and more depth at the skill positions, kickers do not usually hit many optimal lineups on most showdown slates.
The Superflex 
On slates larger than three games, you will want to play quarterbacks in the Superflex position, almost exclusively. There are such a high number of dual-threat QBs in college football, who have insane ceilings due to concentrated touches, that you will be best served to default yourself to starting with QB at SFLEX. Beyond just the ceiling of the dual-threat QBs, it's really the floor/ceiling combinations of the QBs, relative to RBs and WRs, that make them such a priority in all game formats. Obviously contextual factors do arise within a given slate where you may want to consider a non-QB at Superflex, but generally speaking, it's beneficial to have the mindset that SFLEX is effectively QB2.
We may get a main slate during the season where RB is insanely strong and I'll admittedly sprinkle a few 4-RB builds in my MME set (playing a RB at SFLEX), but that is definitely more of the exception than the rule. We'll have more on this topic later when we dive into how winning GPP lineups are typically constructed in CFB, but I will give a bit of a preview and let you know that all 14 of the regular-season main-slate flagship GPPs last season (all slates in this sample have 12+ games) were won by lineups that used two quarterbacks.
The caveat to this conversation is that on shorter slates with three games or less, non-QBs do tend to be much more viable options at SFLEX, especially in large-field tournaments.  
Fantasy Impact of Rule Differences: CFB vs NFL
Overtime rules
In college, if tied after regulation, teams take alternating possessions at the opponent's 25-yard line. Starting in the second overtime, teams must attempt a two-point conversion following a touchdown. If the score remains tied after the second overtime, alternating two-point conversions take place until the winner is crowned.
Fantasy Impact: Overtime is extremely fantasy-friendly in CFB, as players accumulate full additional stats in the first two overtime periods. Due to starting at the opponent's 25-yard line, it's fairly common that an overtime game can add additional touchdowns to the totals pretty quickly (up to four total). Once in the third overtime, only successful two-point attempts earn players additional fantasy points.
Clock rules
In the last two minutes of each half, the game clock stops after first downs to spot the ball. This is actually a rule modification for the 2023 season, as previously the clock always stopped on first downs to set the chains. This change was made, according to the NCAA, to reduce injuries by having fewer plays in the game.
Fantasy Impact: Since the clock previously (in prior seasons) stopped after ALL first downs to set the chains and now (as of the 2023 season) it will only stop after first downs in the last two minutes, this will reduce the overall number of plays per game. We have fully accounted for this change in our projection process and will iteratively adjust as we get actual data. While this is not a massive change, college football games will now have fewer plays overall as compared to the past. Where this rule really impacts the game as compared to the NFL is that it is much easier to drive the length of the field in under two minutes without timeouts (always has been the case in CFB, and that won't change). 
Roster sizes
NFL teams have 53-player rosters with 46 active players on game day, while college football teams can have 125 players on the active roster (max of 85 full scholarships per FBS team plus walk-ons). However, most teams only dress 60 to 70 players per game, especially on the road where there are some conference-specific limits that teams must abide by.
Fantasy impact: College football rosters are very deep at the skill positions, which means we have to deal with massive amounts of rotation and nuance in terms of when back-end depth will actually get an opportunity to see the field. It's also an exercise for college coaches trying to keep everyone happy. For example, we see often in huge blowouts that teams will cycle in upwards of six or seven running backs (looking at you, Georgia). Many teams fully rotate WRs, where it is not uncommon for 10+ WRs to see snaps in a given game for one team (still looking at you, Georgia). That just can't happen in the NFL; it's a numbers game. For this reason, we pay very close attention to which teams rotate and in what situations so we make sure our player market shares are accounting for the team trends and potential game scripts. A great example of this, as referenced above, is the Georgia team of the last few years. They have routinely been a top-10 offense in terms of efficiency, but they rarely have players relevant for DFS because they run such deep rotations. Just because a team has a good offense that routinely lights up the scoreboard does not guarantee they will be a team to target for DFS purposes. Volume is still king.
Stat differences
In college football, quarterback sacks count as negative rushing yards.
Fantasy impact: Sack-eating statue QBs can see an easy -3 to -4 fantasy points a game due to a negative rushing total. Just be aware of these player types and know that this is definitely fully accounted for in the projections. It is pretty hilarious when you see QBs with a negative rushing yards prop line. For a nice example of this, Iowa QB Spencer Petras had -182 rushing yards last season over 12 games played including a standout -41 rushing-yard performance versus Wisconsin. Go Hawkeyes?
Player News and Injury Reports
You know how in the NFL you get formal practice reports and injury designations throughout the week for each player? Cool. You know how you get a list of inactives before each game? Awesome. 
Well, in college football, you get none of this. There are no formal practice reports or injury reports. Sounds terrible? Not exactly. It sounds like a huge opportunity to outwork our opponents and reap the rewards.
One of the biggest strengths of the ETR CFB product is the effort and time we put into tracking players and finding news that allows us to make informed decisions on situations that are not even on the radar of many of our opponents. If you are playing seriously, access to the ETR CFB Discord channel on game days will be worth the price of the subscription just by itself.
Stacking in CFB DFS
"SHOULD I STACK IN CFB DFS??" is almost always the first strategy-related question I get for college football, so I will address it first before we review some specific DFS contest results in the following section.
The short answer is a crowd favorite: It depends. It really does depend on a myriad of factors, such as the price of the QB/WR, the skill set of the QB, the rotations of the WRs, matchups, etc. You should never make a hard-and-fast rule to stack your QBs with WRs in college football, but it's not something you should actively avoid.
The question I generally ask myself when evaluating stacking is this: If the QB hits his ceiling outcome, how does that QB reach his ceiling and what are the ranges of outcomes of his supporting cast relative to their price tags? If you are playing a dual-threat QB in a high-powered offense where they rotate all of the WR positions pretty heavily (and they are overpriced), maybe this is a good place not to stack; just play the QB alone. If you are playing a pocket passer on a team with condensed target volume at discounted price tags, you should definitely stack at least one WR in this spot (in tournaments). To really boil it down: If I am taking a non-mobile QB in a GPP lineup, I will almost always stack at least one pass catcher.
We should be looking for positive correlation where it makes sense, but don't force it. How do you identify which QBs to stack and which to maybe not force the issue? Let's look at two pretty clear QB examples from last season:
Example 1 – This is the game log of a QB to generally not stack with pass catchers (Malik Cunningham, Louisville). While Louisville shockingly did have a 1000-yard receiver (Tyler Hudson), he only had two touchdowns all season and was generally appropriately priced all season. Beyond Hudson, production was very limited. When you rostered Cunningham last season, you did it for his legs (12 rushing TDs, only eight pass TDs) — especially around the goal line. He had three 100+ yard rushing games and four multiple rushing-TD games. Forcing a pass catcher with Cunningham was generally a losing proposition, however, there was at least one week where I recall using his very cheap TE Marshon Ford in some stacks. I do not believe that went well.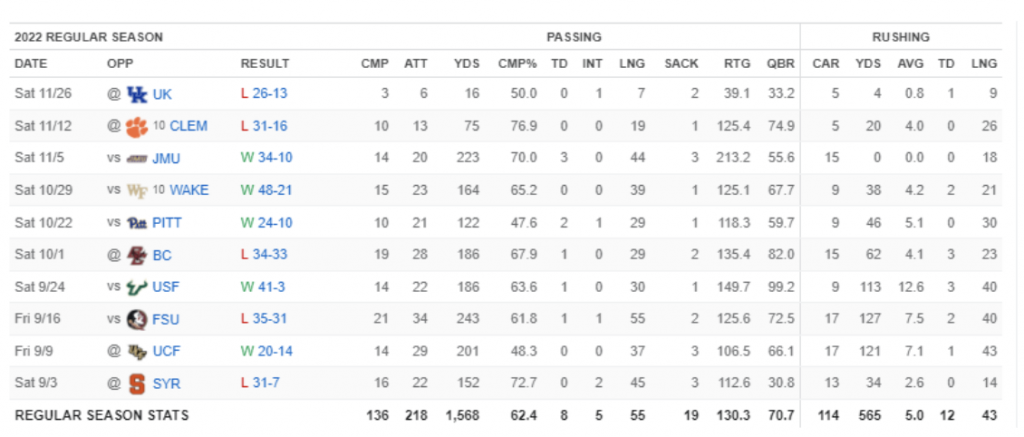 Example 2 – Here is the game log of a QB that you would generally always stack with his pass catchers (C.J. Stroud, Ohio State). In stark contrast with Cunningham, Stroud threw for 41 TDs and ran for zero TDs. At 3,688 pass yards and 258 completions over 13 games, we had plenty of volume for the WRs to soak up. When Stroud's lack of running game paired with Ohio State having absolutely elite wideouts who rarely rotated with backups, we had a situation where at least one Ohio State WR would almost always smash when Stroud had even an average game. I always played at least one Ohio State pass catcher in every Stroud lineup all of last season. The two standouts were WR1 Marvin Harrison Jr., who posted a 77-1,263-14 line, and WR2 Emeka Egbuka, who followed up closely at 74-1,151-10. You could even mix in WR3 Julian Fleming or TE Cade Stover, who had six and five TDs respectively.
What wins large-field GPPs in College Football DFS on DraftKings?
First of all, CFB DFS is not NFL DFS in many ways. The flagship GPP for college football each week is a fraction of the size of the largest NFL contests. This means the prize pools are smaller, but on the flip side, the contests are much more winnable. If you are making +EV lineups, you are much more likely to realize this expectation in a shorter time frame. The typical flagship DK contest in 2022 was a 15,686-person contest with a $15 entry, with a $200K prize pool. There will be a rather deep selection of other contests as well, so if you are a single-entry, smaller-field, or higher-dollar player, there will definitely be action for you in the lobby.
The flagship GPPs on the Saturday DK main slates I will be discussing here cover just a small portion of the number of slates you can actually play during the season. A normal early-season week will have games on Thursday, Friday, and multiple full slates on Saturdays. Once we get into October and November, there will be games Tuesday through Saturday — and that's not even considering the insanity that is bowl season in December and January. There is a ton of CFB DFS to play across the course of the season, so approaches and strategies will definitely change based on the types of slates that pop up. We will have full breakdowns each day, whether it be our Top Plays articles with positional rankings or our weekly live shows — we will have content every day there is a slate.
As always, past performance does not guarantee future results, but in my opinion, it's a good exercise to evaluate winning lineups that came before us to help us formulate and adjust our approach moving forward. Let's not get overly hung up on the exact percentages of which type of lineups win and focus more on what the data points toward directionally.
I looked at regular-season CFB GPPs over the past two seasons that were between $150K and $250K prize pools, with 12+ games on the slate, and a buy-in between $15 and $20 per entry (aka the weekly "Flagship" GPPs). This ends up being 28 slates, so 14 of these a season. We are basically focusing on the largest singular contest per week during the regular season for the purposes of this review. Bowl season has some large contests as well, but BOWL SZN is a very distinctly different beast that we will discuss later in the season.
How many Flagship GPP-winning lineups used a QB at SFLEX?
86% of the Flagship GPP-winning lineups used a QB at SFLEX – Interestingly enough, there was a three-week stretch in November 2021 where non-QB SFLEX lineups shipped the main GPP. In 2022, all 14 weeks were won by QB-in-SFLEX lineups. Pure speculation, but I think if we pushed this sample out 3-4 years back (sorry we don't have all of the data), it would go well into the 90%+ range.
In the Flagship GPP-winning lineups, how often were WRs stacked with their QBs?
77% of QBs in the Flagship GPP-winning lineups were stacked with at least one pass catcher.
63.5% of QBs in winning lineups were stacked with one pass catcher ("skinny stack").

13.5% of QBs in winning lineups were stacked with two pass catchers ("double stacked").

0% of QBs in winning lineups were stacked with three or more pass catchers.
23% of QBs in the Flagship GPP-winning lineups were played without any pass catchers ("naked").
In the review of these "naked" lineups, there was only

one

instance of the QB not being a "dual threat" (my subjective opinion).
My takeaway is that in large-field GPPs, you should be generally stacking your pocket passer-type QBs with one to two pass catchers and it is certainly viable, and sometimes optimal, to play a dual-threat QB with no pass catchers. Also, I think it is generally good to limit to two pass catchers per team on these main slates with 12+ games. There is just not enough production possible for a triple stack to win a large-field GPP unless there is an insane pricing error (which does happen occasionally).
Is it viable to stack my QB with a RB from his team?
14% of QBs in the Flagship GPP-winning lineups were played with one RB from the same team.
I don't have much of a takeaway here other than sometimes teams can really smash in CFB, which leads to huge production for both QB1 and RB1. If the matchup and prices are right, it is viable to stack QB with RB, especially if the RB catches passes. However, it's not something I am going out of my way to do, and oftentimes I am grouping this combination out for many teams on a given slate (especially if both the QB1 and RB1 are very expensive).
Should I "bring it back" in college football DFS?
40% of QBs in the Flagship GPP-winning lineups had at least one player from the opposing team in the lineup.
30.8% of QBs in winning lineups had one player from the opposing team.

5.8% of QBs in winning lineups had two players from the opposing team.

3.9% of QBs in winning lineups had three players from the opposing team.
With the ability to play two QBs, we have to decide twice in a given lineup whether to stack our QBs and whether to bring it back with an opponent. In general, this in-game correlation is certainly fine, however, it's far from necessary. Most main slates are very high-scoring, so you may be sacrificing a significant amount of projection just for marginal correlation.
Contextual factors should be driving your decisions to build lineups, not blind optimizer rules. Does my QB need to be pushed by the opposing offense scoring points for him to hit his ceiling? Are there values on the opposing team that I am using in my player pool? There are many relevant things to consider and we should be looking for situations with positive correlations, but much like stacking on one side, these factors should be examined again for the opposing team's correlations.
Should I "game stack" in college football DFS?
For purposes of this discussion, I am calling a game stack using 2+ players on both teams or using 3+ on one team and the QB on the opposing team. Due to SFLEX, we can actually easily stack multiple teams, so a true game stack in CFB can go much deeper than it can in NFL DFS.
18% of the Flagship GPP-winning lineups used a "game stack".
My takeaway here is that game stacks are definitely viable, but for me, it is very team- and price-dependent (generally the game has to just be underpriced all around). Cheap pocket passers with cheap pass catchers is a decent recipe to start a game stack where you double stack cheap WRs and bring it back on the other side with a dual-threat QB or an underpriced pairing of skill players.
How much should I worry about ownership?

Like in any DFS game, we should be aware of ownership relative to the types of contests we are playing. In small-field, higher-dollar contests (and single-entry), we often see ownership condense on the stand-out plays that the market movers have conviction on. In large-field GPPs, there is a bit more of a cap on how high a specific player can go in terms of ownership. You don't win CFB GPPs by fading ALL of the chalk.

Lineups that won the Flagship GPP averaged 5.6 players with < 20% ownership, 3.3 players with < 10% ownership, and 1.6 players with < 5% ownership. The average lowest-owned player in these winning lineups was 2.4%.

Every Flagship GPP-winning lineup had at least three players < 20% owned and at least one player < 10% owned. 89% of the winning lineups had at least one player under 5% owned.

Takeaways from Analysis of Winning Lineups

Given the data presented on what has won flagship GPPs over the prior two seasons, combined with my anecdotal experience with CFB DFS in years prior, I have three primary takeaways: 
Actual field ownership is likely inefficient. With the large majority of the field not originating their own projections, market projections tend to very heavily drive actual ownership. Casual players who are not using market projections are likely hand-building a small number of lineups with a more "feel" basis where past results may overly impact decision-making (game log watchers). If there is market consensus on a player projection and the player has positive recent results, we usually will see ownership condense quite heavily (especially if the player is cheap, under $5K salary).  What we want to do is identify the certainty of roles for these players with consensus opinion and determine what the actual range of outcomes are for this player. Are they shaky chalk? There often are situations where there is actual uncertainty for players that are going to be highly owned. If you lean into the uncertainty in those types of situations, either by just a simple fade or leaning in further to get true leverage by playing the much lower-owned side of the given situation (a RB backfield split, for example), you often are able to set yourself up for outsized payoffs when you are correct. The data has shown repeatedly that players under 3% owned are showing up in winning lineups. That value WR that is coming in at 38% ownership is likely going to be in the optimal lineup much less often than 38% of the time on these large slates. Don't be afraid to be on an island in large-field GPPs. 
Player results game to game are likely very volatile. We are dealing with college athletes on teams that have very deep rosters. So much can and will go wrong, and unexpected things will happen. While there are some really reliable absolute studs on most slates, a large portion of the player pool is quite volatile. Especially early in the season, we are dealing with very small sample sizes (or none at all), and in a lot of spots, we do not get much clarity in terms of roles. As the season progresses, generally we have more confidence in our projections. Understanding which players are in consistent high-volume roles versus which players will be a rollercoaster all season long is an important piece of the puzzle.
You can play (heavy) chalk pieces in well-thought-out lineups. I'm not breaking any news here, but playing a stone chalk lineup (e.g., all eight lineup spots 15%+ owned with at least four spots 20%+ owned) into the flagship is lighting money on fire — even in CFB. To take down large-field tournaments, we need to differentiate from our opponents (duh), but high-owned plays are usually "good" plays for a reason. We can play a few higher-owned pieces in a lineup as long as we are mindful of the cumulative sum or product ownership of our lineups.
I am not a fan of stringent rules in an optimizer, but in terms of a general approach to building large-field GPP lineups for CFB, I would, at a minimum, consider the following ownership guardrails:
Play at least four players that have projected ownership of less than 20%
Play at least two players that have projected ownership of less than 10% 
Strategy Differences Between DK and FD

In general, pricing is looser on FanDuel where you do not have to sacrifice as many lineup spots. Generally, you should keep your player pools a bit tighter on FanDuel, as you typically have to give up more base projection deeper in the player pool as compared to DraftKings (and there is one less roster spot on FD).

Due to the half-PPR scoring and the general volatility at the WR position, priority is often placed on the QB and RB positions on FanDuel. When salary relief is needed, cheap WRs often come into play on FanDuel (it's also the position with the most common mispricings). A common approach on FanDuel is to play stars-and-scrubs lineups with 1-2 very cheap plays (often at WR) where you can load up on high-end studs at QB/RB. On DraftKings, typically the optimal way to build is a bit more balanced across the entire lineup as compared to FanDuel. 

Additional Future Analysis

Unfortunately, we do not have access to a complete set of the contest CSVs to view the entire field's specific lineups for the past two seasons. Moving forward, we need to take a closer look and analyze more of what the field is doing each week in the flagship contests to gather additional insights. Before we can draw more solid conclusions on our own play, we need to have a better idea of how we are playing versus the field. How often are our opponents stacking? How often are our opponents using a QB at SFLEX? How often are our opponents game stacking? Keeping an eye on these metrics will allow us to gauge the efficiency of our own play over time. 

I hope to see you in the CFB Discord this season!