Editor's Note: For more on DraftKings Best Ball strategy and other Best Ball content, check out our free podcast here.
Editor's Note 2: Draft Kit Pro subscribers can view our DraftKings Best Ball rankings here. They update continuously, and you can upload them to the draft applet via desktop.
In 2022, I won the $333 buy-in Best Ball tournament on DraftKings for the $50,000 first-place prize. This was my draft:
QUARTERBACK
Trevor Lawrence (Round 10)
Daniel Jones (Round 11)
Malik Willis (Round 19)

RUNNING BACK
Saquon Barkley (Round 2)
A.J. Dillon (Round 7)
Rhamondre Stevenson (Round 8)
Nyheim Hines (Round 12)
Eno Benjamin (Round 18)
WIDE RECEIVER
Stefon Diggs (Round 1)
Tee Higgins (Round 3)
Jaylen Waddle (Round 4)
Chris Godwin (Round 5)
DeVonta Smith (Round 6)
Marquez Valdes-Scantling (Round 9)
Wan'Dale Robinson (Round 14)
Zay Jones (Round 15)
Danny Gray (Round 20)
TIGHT END
Albert Okwuegbunam (Round 13)
Isaiah Likely (Round 16)
Jonnu Smith (Round 17)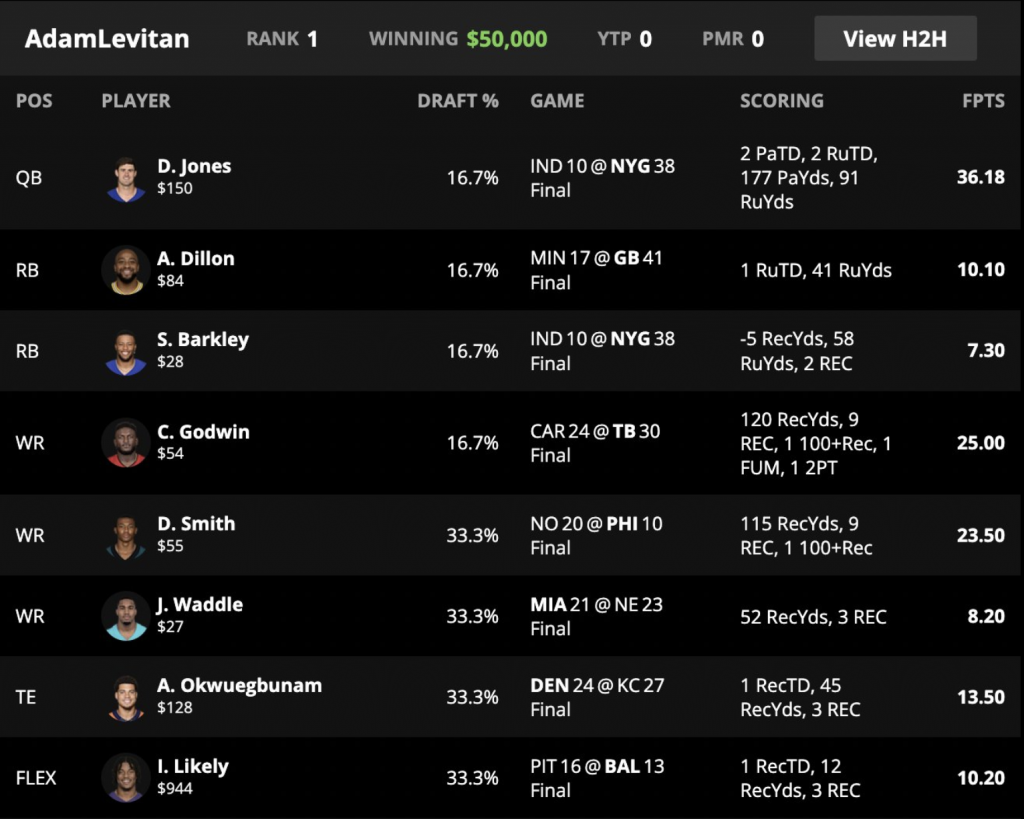 Here are my top strategies for playing best ball on DraftKings:

1. Lean into DraftKings' full-PPR format
When I play on Underdog or FanDuel, my main focus is touchdowns. It's what I'm thinking about as I make every single pick. That's because the scoring format is half PPR with no yardage bonuses. An outsized portion of your total fantasy score comes from touchdowns.
But DraftKings awards a full point per reception, and also awards bonuses for yardage: 3 points for 100 yards rushing or receiving, and 3 points for 300 yards passing. When I'm making picks on DraftKings, all I'm thinking about is receptions. I don't worry too much about touchdowns, and actively avoid players whose perceived value is boosted by projected touchdowns.
An example would be we're on the clock and debating Brian Robinson vs. Jahan Dotson. They have the same exact ADP, but I'm taking the wideout here every time. Barring an avalanche of touchdowns, Robinson's floor/ceiling combo is significantly worse than talented pass catchers in this format. On Underdog, I'd likely draft Robinson in this spot.
2. Prioritize wide receivers massively
The wide receiver thirst on Underdog has jumped the shark, in my opinion. The scoring format simply is not conducive to the way most wideouts score their points.
But on DraftKings, it's almost impossible to be too WR-hungry. I plan to start four of them every single week (must start three, plus the FLEX). That's what full PPR plus the 100-yard bonus does. On Underdog, having an RB score in FLEX is far more viable.
On my winning team from last year, I used five of my first six picks at WR. And I still took a total of nine. I aim to have nine or 10 wideouts on all my DraftKings best ball teams.
3. Emphasize Hero- and Zero-RB builds
I already want to lean into wide receivers over running backs in fantasy because they don't get replaced as easily and injury rates are a little lower. But once we add in the full-PPR scoring, it makes wide receivers even better. And on top of that, we get 20 rounds to fill out our RBs.
On my winning team from last season, I went "hero RB" with Saquon Barkley in Round 2. After that, I didn't take any RBs until A.J. Dillon (Round 7) and Rhamondre Stevenson (Round 8). I used two late-round picks on pass-catching RBs (Nyheim Hines and Eno Benjamin).
Those are the kind of RB rooms I want to build — don't spend a ton of capital on the position, take shots on ones that can catch the ball, and let the chips fall. This allows us to absolutely dominate at wide receiver. I took five wideouts with my first six picks last year even though I could only start four in a given week.
4. Quarterbacks are worth less and pocket passers are worth more
RBs, WRs, and TEs have access to the full-PPR aspect of the scoring system. Quarterbacks do not. All that means is QBs make up a smaller percentage of your weekly score, and are therefore not as valuable as they are in other scoring formats.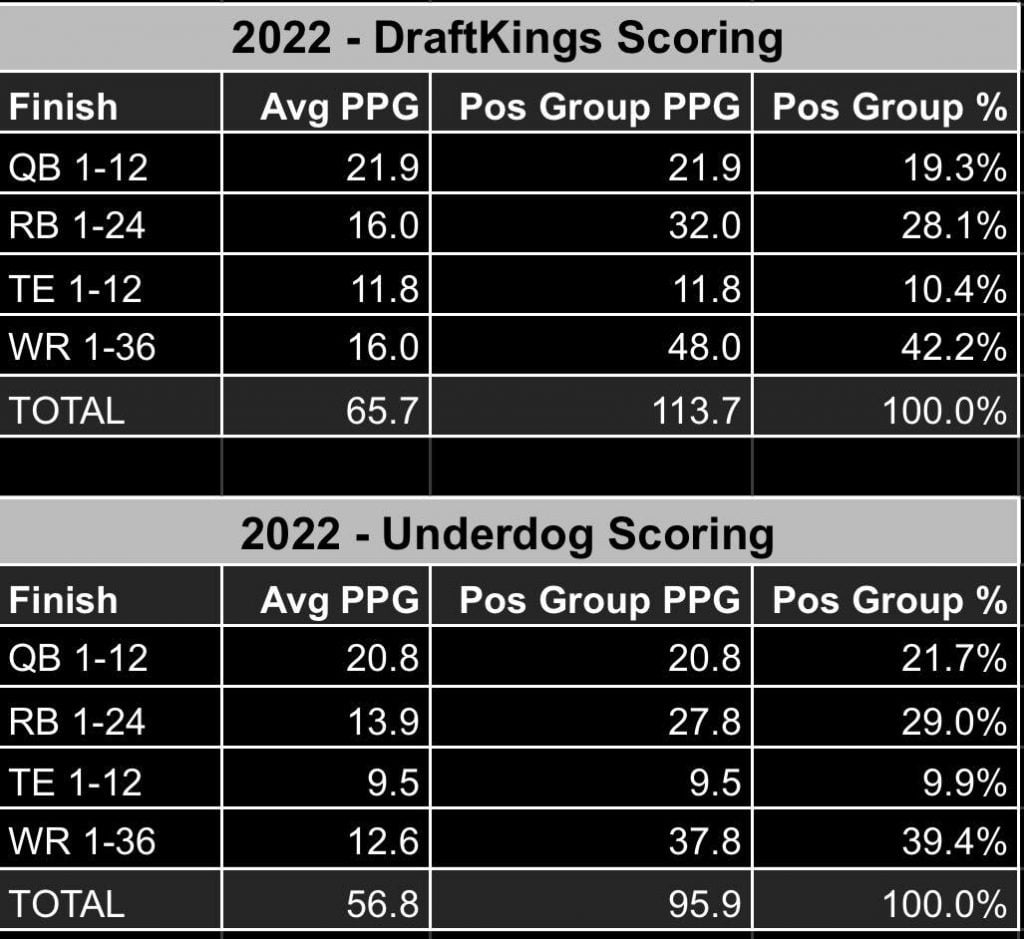 Quarterbacks do have access to the 300-yard bonus, but rushing QBs like Lamar Jackson, Justin Fields, and Anthony Richardson aren't hitting that very often (if at all). However, pocket passers such as Jared Goff, Kirk Cousins, Tua Tagovailoa, and Geno Smith do hit that 300-yard bonus. So yes, those "boring" pocket passers no one wants are far more viable on DraftKings. The gap between them and the rushers is smaller. Accordingly, notice that I took QBs in Rounds 11, 12, and 19 (though I am willing to deviate from this strategy in certain spots).
5. Never "punt" a pick
DraftKings has 20-round drafts. I love this because it's very deep (240 players drafted) and you need a ton of domain knowledge. We get to Rounds 18, 19, and 20 and many of our opponents have literally no clue who to pick, so they just blindly fire at a name they know near the top of ADP.
We can instead use these last few picks for a big edge. For example, last year my 19th-rounder was Isaiah Likely. I knew I was weak at tight end with only Albert O and Jonnu Smith. Needing a third tight end, Likely was a #TeamPreseason All-Star, and one Mark Andrews injury away from a massive role. Andrews never got hurt and Likely didn't do much all year, but he went for 3-12-1 in Championship Week and counted toward my winning score.
In tournaments, those last-round picks ideally are both unique (not drafted in every league) and fill a weak spot on your roster. I used an 18th-round pick on Malik Willis even though he wasn't ticketed to start because I hadn't used much draft capital at QB, and because Willis wasn't drafted in most leagues.
I rely on our rankings and our late-round RB list to help with my final few picks. In August, I'll publish a list of my "favorite fliers" for Draft Kit subscribers.
6. Get stacks on all QBs, but don't force it
I did not like Zay Jones coming into last season. I don't think I took him as a one-off at all. But once I selected Trevor Lawrence on this team, I was looking for at least one Jaguar to pair with him. After all, if this team is going to win, then it will likely need Lawrence to have a big year. And if Lawrence outperforms his ADP in a big way, it's likely a bunch of his pass catchers are going to outperform their ADP as well.
And so Zay Jones turned out to be a perfect pick — as he stacked with Lawrence and brought me closer to my goal of a minimum of nine WRs.
However, I want to be clear that the competition we find on DraftKings (especially close to Week 1) is far softer than what we'll see on other best ball platforms. Last year, QBs were actually going higher on DraftKings than Underdog even though they're worth much more on Underdog. Similarly, wide receivers were going higher on Underdog than DraftKings even though they're worth far more on DraftKings. Many of our opponents simply don't understand or don't care about the concepts I described above.
So when I'm playing DraftKings best ball, I'm playing a more exploitative style. I think I can win simply by playing better structurally, and by having far better player rankings than most of my opponents.
I still want to stack all of my QBs. And I still want to correlate Week 17. But there's no chance I'm reaching far above ADP for my stacks on DraftKings. The small edges we gain from Week 17 correlation pale in comparison to the other edges we have access to on this platform — the edges I discussed above.
Of course, DraftKings ADP will get sharper, as all markets trend toward efficiency over time. When that happens, I'll adjust my strategy to prioritize elite stacks more. It's worth noting that stacking works better with full-PPR plus bonus scoring (DraftKings) than it does on TD-heavy sites.