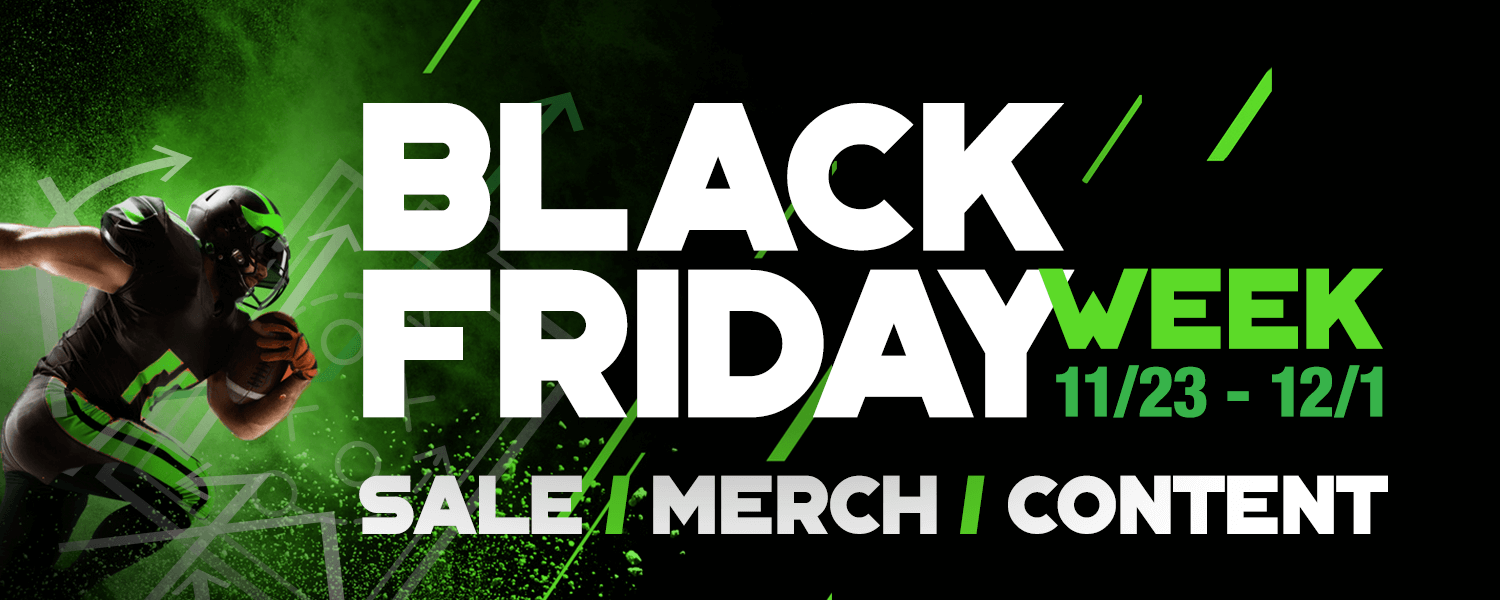 We want to say "thanks" with a special week at Establish The Run!
ETR Subscription SALE*
---
*All purchases renew at regular prices.
Weekly
---
$22.99
Use Code: BFWEEK
Receive one week of access to all of our NFL coverage and save $18!
Subscription renews at $22.99/week.
Monthly
---
$64.99
Use Code: BFMONTH
Receive one month of access to all of our NFL coverage and save $25!
Subscription renews at $64.99/month.
Rest of Season
---
$219.99
Use Code: BFYEAR
Receive access to all of our NFL coverage for the rest of the season and save $120!
Subscription renews at $219.99/annually.

Subscriber Only Merch Sale
Brand new, and we're selling everything at cost.
Extra Shows on YouTube All Week
---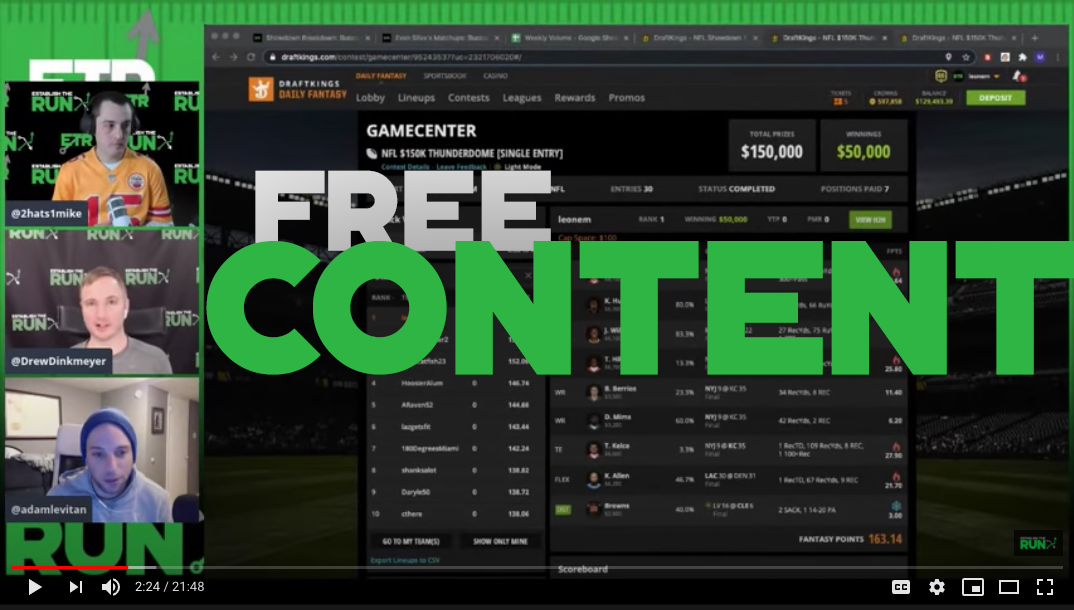 Monday 11/23
MNF Showdown Stream  with Levitan, Leone, and Dinkmeyer
Tuesday 11/24
Establish The Show – Thanksgiving Edition with Levitan, Silva, and Wiggins
Wednesday 11/25
Thanksgiving Betting Show with Levitan, Silva, and Wiggins In-Season Articles/Rankings
---

Evan Silva's Industry Leading Matchups Column

Tiered DFS Top Plays

 Fantasy Point Projections for Every Player 

Levitan's DFS Ownership Projections 

Levitan's Player Props

Brandon Thorn's OL/DL Mismatches 

Draftkings Showdown Breakdowns 

Dwain McFarland's Utilization Trends

All of Adam Levitan's DFS content

Josh Hermsmeyer's Air Yards Buy-Low Model

Pat Thorman's Weekly Rankings, ETR's Waiver Wire Analysis

Thorman's Snaps and Pace Analysis

Rest of Season Rankings for Trading

Drew Dinkmeyer's GPP Leverage

And TONS more. Click here to see our plans.
NOTE: Content runs through the Super Bowl In-Season Shows
---

Andrew Wiggins' High Stakes Review

Levitan's Solo Pod

Silva and Levitan Tuesday Team-by-Team pods

Silva, Levitan, Wiggins Friday Night Show

Drew Dinkmeyer, Mike Leone Saturday GPP Show

Silva and Levitan Sunday Morning Stream NBA Packages
---
Drew Dinkmeyer is one of the most successful daily fantasy sports players in history, winning a Milly Maker and dominating cash games before more recently transitioning to tournaments. His specialty is the NBA, where there is a significant edge for the sharpest minds in the game. Along with a soon to be announced Senior NBA Analyst and nosebleed stakes NBA DFS grinder Andrew Wiggins (Makisupa), our goal is to prepare you with the highest-quality fantasy NBA content.
COMING SOON