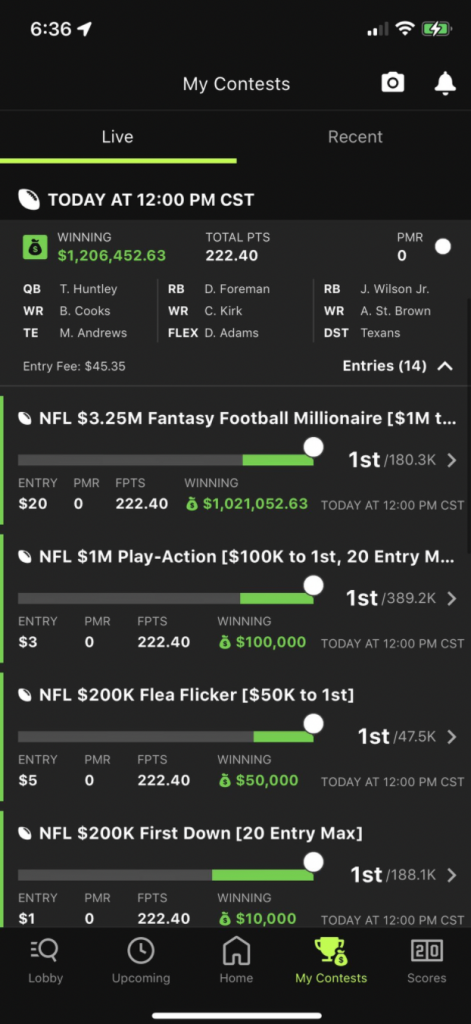 This past Sunday, Establish The Run subscriber Will Hsu won the DraftKings Milly Maker, turning $45.35 into $1,206,452.63. We caught up with Will to ask him about his DFS background, his big win, and how he plans on using the money.
When did you start playing fantasy sports?
I started playing fantasy sports in college during the late 1990s as fantasy football transitioned from newspaper/telephone to online (Yahoo!). There weren't great platforms back then for basketball, and in one of the first leagues I remember participating in, I wrote the scripts in Excel to tabulate the scoring for our college dormitory's fantasy basketball league. One guy was responsible for entering the box scores for the player universe and then I tabulated each player's fantasy points and teams' points weekly in a spreadsheet.
How did you get into DFS?
I got into DFS after I moved home to Wausau, Wisconsin, to take over the family business in 2011. A lot of my friends I played season-long fantasy sports with started leaving my old employer, getting married, and having kids. This, combined with my living in a small rural community, made it harder for us to get together to draft baseball and football season-long leagues, primarily because reality got in the way of fantasy as we started getting older.
Enter DFS. 
A few of my friends started playing DFS and creating small invite-only contests on the DraftKings platform for our friend group that played season-long (we still do these to this day). It was actually a brilliant move because we can choose to play or not play in any given week or contest and not have to worry about coordinating a draft time, not getting a player you really want on your team, people losing interest halfway through the season, collecting and distributing money, etc.
When did you join the ETR community?
So, DFS was mostly a social game with friends and a form of entertainment since I live kind of in middle-of-nowhere Wisconsin. I remember when Evan Silva was writing his weekly NFL game-by-game breakdown column for Rotoworld, as I used that as a tool to pick players for my one remaining season-long league and for my friends' DraftKings leagues. That's when I started following and paying more attention to the content on Twitter and other online media platforms. Eventually, Evan's co-founding of Establish The Run made me start subscribing to your platform.
What does your DFS process look like?
My process for DFS is a little bit like my game selection process for poker.
I know based on a few years of experience playing DFS that I do best in single-entry, short-slate tournament fields. As a hand-build player who also manages my bankroll with a family and doesn't have the time or funds to enter max-20 or max-150, run optimizers, late swap, and watch countdown shows on Sunday morning, that's also where I likely have the greatest edge or have the least disadvantage compared to other players.
I'm not a great cash lineup builder either, as I lean towards taking more risk and correlation than guaranteed points and floors. So, for me, a lot of my play is based on game theory and game selection. I lean heavier on single-entry, shorter slates (game selection) because you can focus more on one or two games in a condensed slate with less likely variability rather than the greater variability and randomness involved on a larger pool of players during a full slate.
After reading all that, you're probably asking how I ended up playing the Milly Maker last week, as it's the opposite of what I tend to be good at — short-slate, single-entry.
What led to you entering the Milly Maker in Week 15?
I hand-built the two GPP lineups at 3 a.m. on Sunday morning when I couldn't sleep (I was answering messages on WeChat for our businesses and customers in China, as it was Sunday evening there). I then texted them to my buddy, Paul, who I share strategy and thoughts with on DFS.
Later that morning, after I built and entered my early-only rosters, I began entering my three full-slate rosters. Each of the two GPP lineups was $25 of mostly single-entry and 3-max low $ entry (max was $12 single entry) and then a few low $0.10/$0.25/$0.50/$1/$3 large-field, multi-entry GPPs for fun.
At that point, I was only putting in about $50 of GPPs and had about $60-70 in cash games. Here's where game selection kicked in, as I felt the balance in my betting wasn't right to have over 50% cash when I'm not the best at cash.
So, I decided to drop an entry for each of my GPP lineups into the Milly Maker to balance the betting heavier on GPP, as I didn't really have a feel for which of those two lineups might be better. Luckily, I entered both — otherwise, we wouldn't even be having this conversation.
I only play the Milly one out of every two or three weeks, and this so happened to be one of those weeks where I felt the balance in betting wasn't right and the builds were good enough that they had a chance, as they were slightly contrarian to the field.
What decisions led to you winning?
This past week, I used ETR's DFS Top Plays a lot while building lineups to make a checklist of decisions about fading or not compared to the field.
I faded all of the QBs in Top Plays except Kyler Murray/Dak Prescott in early-only, and I really wanted Huntley at QB5 in what became the winning lineup, as it felt contrarian to the field. I used Huntley as my only QB in my one late-only entry that cashed in every contest.
I bought Jeff Wilson and D'Onta Foreman at RB in all of my lineups where I could, Robinson in early-only, and faded all the rest.
I bought Davante Adams in all of my lineups, Christian Kirk in the winning lineup, Davis and Diontae Johnson in the non-winning lineup, and faded all the rest.

I faded all TEs (in retrospect, I should have played Gesicki instead of Knox in my other non-winning GPP) on Top Plays.

I took one of this week's podcast's advice and leveraged Texans at $2,800 instead of Jaguars at $2,800 because I felt the field would be on the Jaguars.
What aspects of ETR do you find the most valuable?
For me, the most valuable parts of ETR are the podcasts, Silva's Matchups Analysis, Hermsmeyer's Buy-Low (because his modeling resonates with me as a former financial analyst), Levitan's Cheap WR Volume, and then consensus DFS Top Plays. I use each of your tools differently:
I listen to the

podcasts

for entertainment (you guys can be pretty funny at times and I appreciate the humor during these dark days when the sun sets at 5 p.m. and we're in the midst of a pandemic) and to hear opinions on players I don't have time to research as much as the experts. It also gives me a good feel for who you guys like and don't like that can't be conveyed as well in written text format, like Silva's Matchups.

I read

Silva's Matchups for primarily the games I'm targeting and to understand how he views touches, who is going to get the RB carries, who is going to get the targets, and how each defense will match up against each offense. Based on this information, I decide if I should change my opinion (up or down) on specific players I like or don't like. Plus, he links to Brandon Thorn's OL vs. DL Mismatches and other articles if I care to look deeper.

I use

Hermsmeyer's Buy-Low

and

Levitan's Cheap WR Volume

to identify some value or sleeper picks based on either modeling or your data and analysis. I find this helpful to confirm or deny biases I may have for or against certain WRs. That's probably where I separated the most from the field on my Milly Maker-winning lineup.

Consensus DFS Top Plays

for me is a summary of values and chalk. This past week, I used this tool a lot while building lineups to make a checklist of decisions for fading or not compared to the field.

I use your

projections

tools sometimes to find values or make decisions between two or three players at the same position at similar salaries or to fit a salary at FLEX. It's particularly useful for salary tiers at WR and RB, so that you can see just how much value, ceiling, and projected point difference you guys project between players that are a few hundred dollars apart.

ETR also does a good job on

ownership

and identifying potential chalky plays. I know I need to fade some of the chalk to win while only playing 1-3 entries in GPPs, so knowing who other players are or aren't going to own, I need to decide if I'm going to fade them or own them.
Has ETR helped you improve your fantasy game? If so, how?
So, I think I gave a couple of examples above where ETR has helped improve my game. I take a lot of concepts I learned and picked up from poker and apply them to DFS because the game theory is similar.
ETR, for me, was primarily the podcasts and tools I mentioned above to understand ownership and biases the field may hold to identify decision points on players and where I needed to be contrarian to win. ETR does a lot of that on their podcasts and videos. As a financial analyst, I understand the leverage created on the field by picking sleepers or value that others don't see, which can also be created by just not playing chalky players and picking other players at the same or similar price point.
But, someone I identify as chalk may not be chalky and someone I identify as value may already have been seen by the field as value, so your site and tools help me better understand if what I believe may be right or wrong. It's kind of a way of avoiding confirmation bias in my head and checking my beliefs against your collective wisdom.
What will you do with the money?
I ended up settling at $1.18 million, as the TOC ticket isn't a cash prize but is counted that way in the scoreboard until the contest closes (learned something new).
My wife and I agreed we would move out $1.1 million and I can play with the rest or do what I want with "the change". 
We'll put some away for retirement and our twin girls' college funds, and we'll pay off her SUV so that we can have more monthly cash flow and less debt. I may pay off my student loans from HBS (still have five years of payments left). After all that and taxes, we should still have about $500K.

Our current plan is to donate $150,000 to $250,000 to charity, partly for the tax write-off and partly because we want to share our good fortune with others who aren't as lucky. Our favorite charities are the University of Wisconsin-Madison Foundation and Alumni Association and the Community Foundation of North Central Wisconsin, and I sit on the non-profit boards of both organizations. 

I have promised my friend Paul (Bears fan, sadly) that we will go see Bears at Packers using my season tickets to Lambeau, or Packers at Bears next year. If it becomes a family gathering of our spouses and kids, I'll get us a suite so we can all attend the game.

I told my dad, who is 80, my nephew, two brothers, and three cousins, who are all Packers fans, that if the Packers go to the Super Bowl, I'll try to get us tickets, as none of us have ever been to one.

I also promised my wife and kids a beach vacation. She doesn't care where; it just needs to be on a beach somewhere warm and private where no one knows I'm a Milly Maker winner.
I know that there was some thread of luck in me winning the Milly Maker, as it wasn't necessarily my skill in building the lineup. A lot of things had to break the right way for me during the slate or for any winner in any given week. That's chance and circumstance, because I very easily could have not even entered the Milly Maker, as I don't religiously play it every week.
I think that's why some people find it pretty crazy given all the little things that had to come together in order for me to win. And that's just a little different perspective on this game of DFS we play.
I'm obviously very happy to have won it and it will change some things in my life — mostly my perspective on the game now that I've already won it once. I don't expect I'll win it again, but I'll still play it for fun and I'll be a lifetime/annual subscriber to Establish The Run as long as you guys are around.