NOTABLE INACTIVES (Will be updated after official inactives): Saquon Barkley, Sterling Shepard, Wayne Gallman and Evan Engram have been ruled out for the Giants. Phillip Dorsett has been ruled out for the Patriots.
UPDATE 2:39ET: Rex Burkhead is not expected to play. In Burkhead's week five absence Sony Michel set season highs in routes run (20) and targets (3).
Editor's Note: For Evan Silva's breakdown on every player in this game, click here. That is the best analysis on the game you will find. This article's focus is to highlight specific strategies for this Showdown slate, not the game itself. 
Editor's Note 2: To review our thoughts on general Showdown strategy, review the top portion of this article.
SHOWDOWN STRATEGY & 2019 TRENDS 
The most important part to being successful in one-game Showdown contests is constructing a highly correlated lineup built around how we think the game will be played. As we head into Thursday's matchup that features the Giants at Patriots, we have a 16-game sample that we can analyze for winning roster construction and look at any meaningful trends to apply moving forward. The winning lineups for the first 16 games are as follows: 
Packers at Bears: Captain Allen Robinson, Aaron Rodgers, Tarik Cohen, Marquez Valdez-Scantling, Jimmy Graham, Packers DST
Steelers at Patriots: Captain Tom Brady, JuJu Smith-Schuster, Julian Edelman, Phillip Dorsett, Stephen Gostkowski, Rex Burkhead
Texans at Saints: Captain Deandre Hopkins, Deshaun Watson, Michael Thomas, Ted Ginn Jr., Kenny Stills, Will Lutz
Broncos at Raiders: Captain Josh Jacobs, Emmanuel Sanders, Cortland Sutton, Tyrell Williams, Darren Waller, Brandon McManus
Buccaneers at Panthers: Captain Chris Godwin, Cam Newton, Curtis Samuel, D.J. Moore, Greg Olsen, Joey Slye
Eagles at Falcons: Captain Julio Jones, Carson Wentz, Matt Ryan, Calvin Ridley, Nelson Agholor, Mack Hollins
Browns at Jets: Captain Odell Beckham Jr., Nick Chubb, Le'Veon Bell, Browns DST, Austin Seibert, D'ernest Johnson
Titans at Jaguars: Captain Marcus Mariota, Leonard Fournette, Gardner Minshew, D.J. Chark Jr., Jaguars DST, Adam Humphries
Rams at Browns: Captain Cooper Kupp, Jared Goff, Brandin Cooks, Nick Chubb, Browns DST, Greg Zuerlein
Bears at Redskins: Captain Mitchell Trubisky, Case Keenum, Terry McLaurin, Bears DST, Paul Richardson Jr., Taylor Gabriel
Eagles at Packers: Captain Jordan Howard, Aaron Rodgers, Davante Adams, Carson Wentz, Jimmy Graham, Geronimo Allison
Cowboys at Saints: Captain Michael Thomas, Alvin Kamara, Ezekiel Elliot, Cowboys DST, Will Lutz, Saints DST
Bengals at Steelers: Captain James Conner, Mason Rudolph, Joe Mixon, Diontae Johnson, Steelers DST, Jaylen Samuels
Rams at Seahawks: Captain Cooper Kupp, Chris Carson, Gerald Everett, Jared Goff, Russell Wilson, Greg Zuerlein
Colts at Chiefs: Captain Patrick Mahomes, Travis Kelce, Jacoby Brissett, Marlon Mack, Colts DST, Byron Pringle
Browns at 49ers: Captain Matt Breida, Jarvis Landry, Jimmy Garoppolo, George Kittle, Tevin Coleman, 49ers DST
When we review winning lineups we can think backwards and determine what game script ideas and correlations went into constructing each roster. In the most recent game, we knew the 49ers were extremely run-heavy, rushing on 57% of their offensive plays, that with Jeff Wilson inactive there was little reason to doubt the health of Tevin Coleman and that the 49ers defensive line presented a huge mismatch for Cleveland. As 5-point home favorites if we expected the 49ers to steamroll Cleveland a 5-and-1 roster build with the two 49ers RB's made perfect sense. While it's impossible to do on full-slates, building rosters or setting groups around an expected outcome is often the optimal strategy on one-game Showdown slates. We encourage you to look through the winning rosters listed above and think through the process that would lead to each construction. 
DST & KICKER STRATEGY
Now on 10-of-16 winning rosters, DST's continue to be deserving of roster consideration. Through 16 slates DST's are averaging 7.6 DraftKings points at a $4100 average salary and 18% ownership. If we break this down further by favorites versus underdogs, we see favorites priced up to $4700 and owned at a 26% clip as opposed to just $3500 and 11% ownership for underdogs. Because DST scoring is extremely high variance and scoring events like turnovers and defensive touchdowns are largely unpredictable, we may be able to leverage the field by rostering the cheaper, lesser owned option. It's worth further noting that DST's in higher total games are underowned relative to their probability of ending up on winning lineups. DST's on Showdown slates featuring a total greater than 45 have been owned on average 16% and maintained a 7.5 median DraftKings score. 
Kickers have been slightly more productive than DST's to start the Showdown season but have found their way onto just 8-of-16 winning rosters. Kickers are scoring an insane 7.8 DraftKings points on average at $3400 and 24% ownership. If we look at all fantasy performances through three weeks we see that DST's offer a wider range of outcomes and a higher ceiling than kickers due to the ability to score points via touchdowns. Thus far, defenses and kickers have been priced "reasonably" by DraftKings, resulting in adequate or better point per dollar median projections. If prices start to rise, or if ownerships rise, these options become less viable GPP picks. Whether we're MME players or building just a single lineup, the ability of cheap players to outscore both kickers and DST's will determine how often we need to roster either position. Read through our 'notable players' section for more slate specific thoughts on kickers and DST's.
TEAM-SPECIFIC ANALYSIS & NOTABLE PRICE CONSIDERATIONS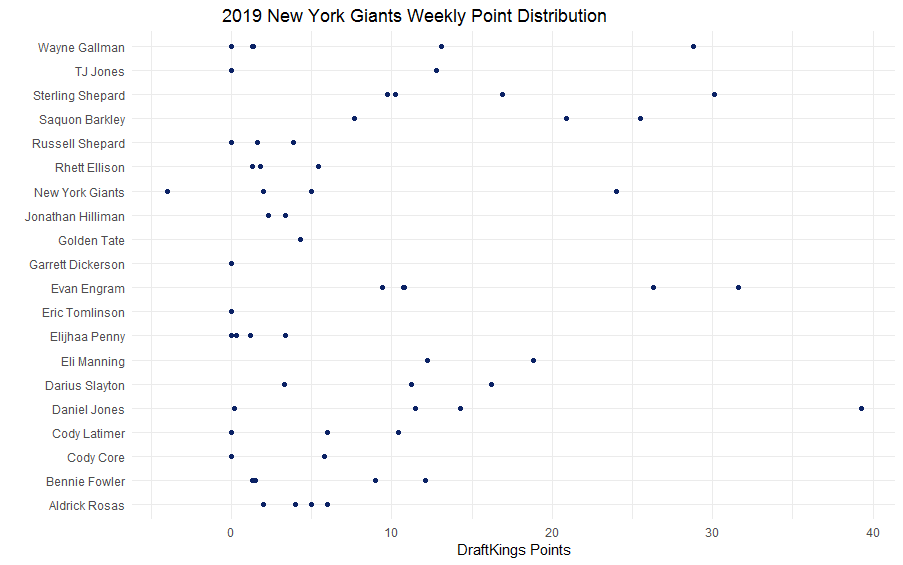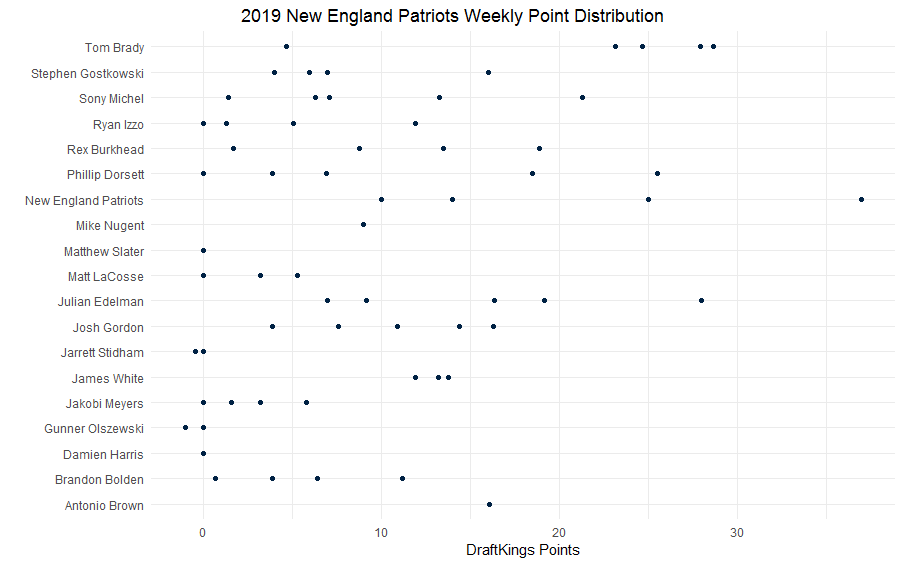 Thursday night's Showdown contest features an ugly 41-point total with the undefeated Patriots installed as massive 17-point favorites over the visiting Giants. The most popular build on DraftKings is going to assume a blowout, revolving around 4-5 Patriots and 1-2 of the healthy Giants skill players. If the Giants can find a way to keep this game close, it should feature a pace conducive to fantasy production as the Patriots (10th) and Giants (16th) both rank in the top half of the NFL in situation neutral pace. 
One week after returning from his four game suspension, Golden Tate ($7,000) headlines an injury depleted Giants skill position group. Tate ran a route on 74% of dropbacks and kicked Sterling Shepard out of the slot, running 90% of his routes from that position. With Shepard out, Tate should take over the most valuable role in the Giants offense on an every down basis. Darius Slayton ($6,000) posted a solid 4/62/1 line on 5 targets in week five. Slayton's opportunities stand to increase as he'll take over the perimeter WR role in Shepard's absence. Cody Latimer ($800) is priced for a reserve role but we should expect WR3 usage as the outside receiver opposite Slayton. Latimer ran a route on 48% of dropbacks with Shepard active, that number should approach 60-65% Thursday night. Rhett Ellison ($200) will attempt his best Evan Engram impression while the star TE recovers from a sprained MCL. While Ellison isn't even in the same stratosphere as Engram athletically, the Giants target the TE position on 31% of pass attempts and Ellison will be on the field for the vast majority of snaps. The running back position doesn't get much prettier as UDFA Jon Hilliman ($5,800) will carry the load with Saquon Barkley and Wayne Gallman out. Hilliman handled 45% of rushing attempts and ran a route on 65% of dropbacks after Gallman exited with a concussion in week five. Elijah Penny ($3,200) will be Hilliman's lone backup Thursday night. Typically the team's fullback, Penny will be expected to handle a few more rushing attempts and play some in the pass game. Through 16 slates, the average QB price is $10,500, Daniel Jones ($8,000) is the latest casualty of DraftKings decision to aggressively price down QB's in bad matchups with low team totals. The Giants have shown a willingness to abandon the run when falling behind as evidenced by their 70% pass rate when trailing. Along with an increase in pass volume, Jones offers upside with his legs, rushing for 12/73/2 in his three starts. 
Julian Edelman ($10,400) continues to dominate as the Patriots top WR. Leading the team in target share (21%) and 2nd in air yards (337), Edelman once again sets up well against a Giants defense that has surrendered 22/317/3 to opposing slot receivers, as noted in matchups. Josh Gordon ($9,000) is 3rd on the team in targets (18%) but 1st in air yards (356) and comes in 3rd on Josh Hermsmeyer's buy-low model for week six as a strong candidate to bounceback from recent mediocre box score performances. With Phillip Dorsett ruled out Wednesday, Jakobi Meyers ($4,800) should step into the WR3 role and see any opportunities left over from Edelman and Gordon. If New England once again utilizes less 3WR sets as they did in week five (39%), it could effect Meyers' opportunities. As noted in Dwain McFarlands utilization report, Sony Michel ($7,600) has bounced back nicely after the Patriots lost fullback James Develin, handling 59% of the rushing attempts over the last two weeks. Along with reclaiming his role as the Patriots lead rusher, Michel ran 20 routes in week five, a massive upgrade from his previous total. James White ($6,800) is once again proving his value as the Patriots top pass catching back seeing 20% of the team's targets and 12% of the rushing attempts, most of which have come in Rex Burkhead's absence. Though it was Ryan Izzo ($2,200) who secured the touchdown against the Redskins in week five, Matt LaCosse ($1,800) is clearly the TE to roster in New England. LaCosse led the Patriots at the position in snaps (94%), routes run (91%) and targets (4). Though the Patriots have led on almost every offensive play, Tom Brady ($11,800) has still managed to drop back 39 times on average. Brady obviously offers immense upside, specifically if we think the Patriots score through the air as opposed to on the ground. 
STACK IDEAS
*5 Patriots – Though this type of construction has grown more popular as Showdown contests have matured, it is relatively underused. If we expect the Patriots to manhandle the Giants, it's possible all of; Brady, Edelman, Gordon, Michel, White and Patriots DST have good games. We can pick five and rotate through Giants players to complete our roster. 
*Captain Josh Gordon, Tom Brady, Darius Slayton and/or Golden Tate – As the #3 receiver in the week six buy-low model, we're counting on some positive regression from Gordon. If this game stays close it could keep both aerial attacks in play.
*Captain Sony Michel, (Without Tom Brady) – Michel and Brady will be among the most popular plays on the slate. If we think the Patriots do a majority of their scoring on the ground we can take advantage by rostering Michel as our Captain and avoid Brady. 
*Captain Tom Brady, 2 Patriots WR's, Golden Tate – With Dorsett out, the opportunities concentrate even more around Josh Gordon and Julian Edelman. 
*Captain Golden Tate, Daniel Jones, Tom Brady – Tate has the best combination of skill + role + matchup for any Giants player on the slate. He'll be popular as a flex option given we're forced to roster at least one Giants player but may go relatively underowned as a Captain.
*Captain Sony Michel, James White, Golden Tate – While Michel will be popular as a 17-point home favorite, it will be less likely our opponents Captain Michel and include White in the same lineup. We can differentiate by playing both.  
*Captain Daniel Jones, Darius Slayton, Julian Edelman – We may see our lowest owned QB on the Showdown season in Jones. Showdown QB's have provided a median score of 18.8 and offer one of the safest floors in this format. Projecting any game script other than a complete blowout will create a unique lineup.
Notable Players not already listed as Captain above:
If a player is listed above as a Captain option or as part of a stack they are worth rostering as a stand alone flex as well. As discussed above the need to roster kickers and DST's is tied to how many rosterable players we have in the same salary range. Because DraftKings is unwilling to price up kickers to a level that would reflect their median projections, we're left with very few players who are priced around them that present the opportunity to outscore them. Pricing on DST's has been slightly more fluid based on the matchup and opposing team's total but they too remain underpriced relative to their median projections. While constructing rosters, consider the game environment/outcome necessary for these cheap players to beat the kickers and/or DST's. 
James White  – White is interchangeable with any of the of the Patriots pass catchers listed above as most of his value comes through the air. Even though projected game script suggests Michel is the back to own, we're not scared off of White. 
Darius Slayton – As Silva noted in matchups, his biggest concern is Slayton may be up against Stephon Gilmore coverage all night. His opportunity and price should outweigh his matchup as one of the top Giants options to own. 
Jon Hilliman – The Giants didn't add any RB's during the week meaning the bulk of the carries will go to Hilliman. Game script shouldn't concern us as the only guy behind him his fullback type Elijah Penny.
Jakobi Meyers – Stepping in for the injured Phillip Dorsett, Meyers should be fourth in the pecking order for targets behind Edelman, Gordon and White.
Elijah Penny – Will handle RB opportunities behind Hilliman.
Matt LaCosse – Although fellow TE Ryan Izzo caught the touchdown in week five, LaCosse is clearly the Patriots TE to own based on recent usage. 
Brandon Bolden – Bolden saw 18.5% of the team's rushing attempts in week five with Rex Burkhead inactive. A handful of attempts puts him in play as a low owned dart throw.
Cody Latimer – Latimer is simply mispriced at $800 given his week six role as the Giants WR3
Rhett Ellison – Like Latimer, Ellison's price does not reflect the fact that Evan Engram won't suit up. Ellison is an every down player with a QB that has targeted the TE position on 31% of his attempts. 
Cody Core – Core will mop up any opportunities left after the trio of Tate, Slayton and Latimer.
PROJECTED OWNERSHIP
Again, roster construction and correlation are the most important factors for GPP success in the Showdown format. But understanding who will be popular helps. A rough guide to who we think will be the most owned:
Higher projected ownership, in order of descending salary:
* Tom Brady
* Julian Edelman
* Sony Michel
* Golden Tate
* Patriots DST
Lower projected ownership, in order of descending salary:
* Jakobi Meyers
* Matt LaCosse
* Rhett Ellison