I play roughly 60% of my action each week in "cash games." Cash games refer to any contest in which roughly 50% of the field gets paid out, such as head-to-head, double up or 50/50. I try to get as much head-to-head action as I can every week and then supplement that with other cash games.
Each week, I'll review my cash-game lineup in this space. Sometimes I'll lose, but hopefully I'll win more often. Either way, I'll post it here and give you my thought process.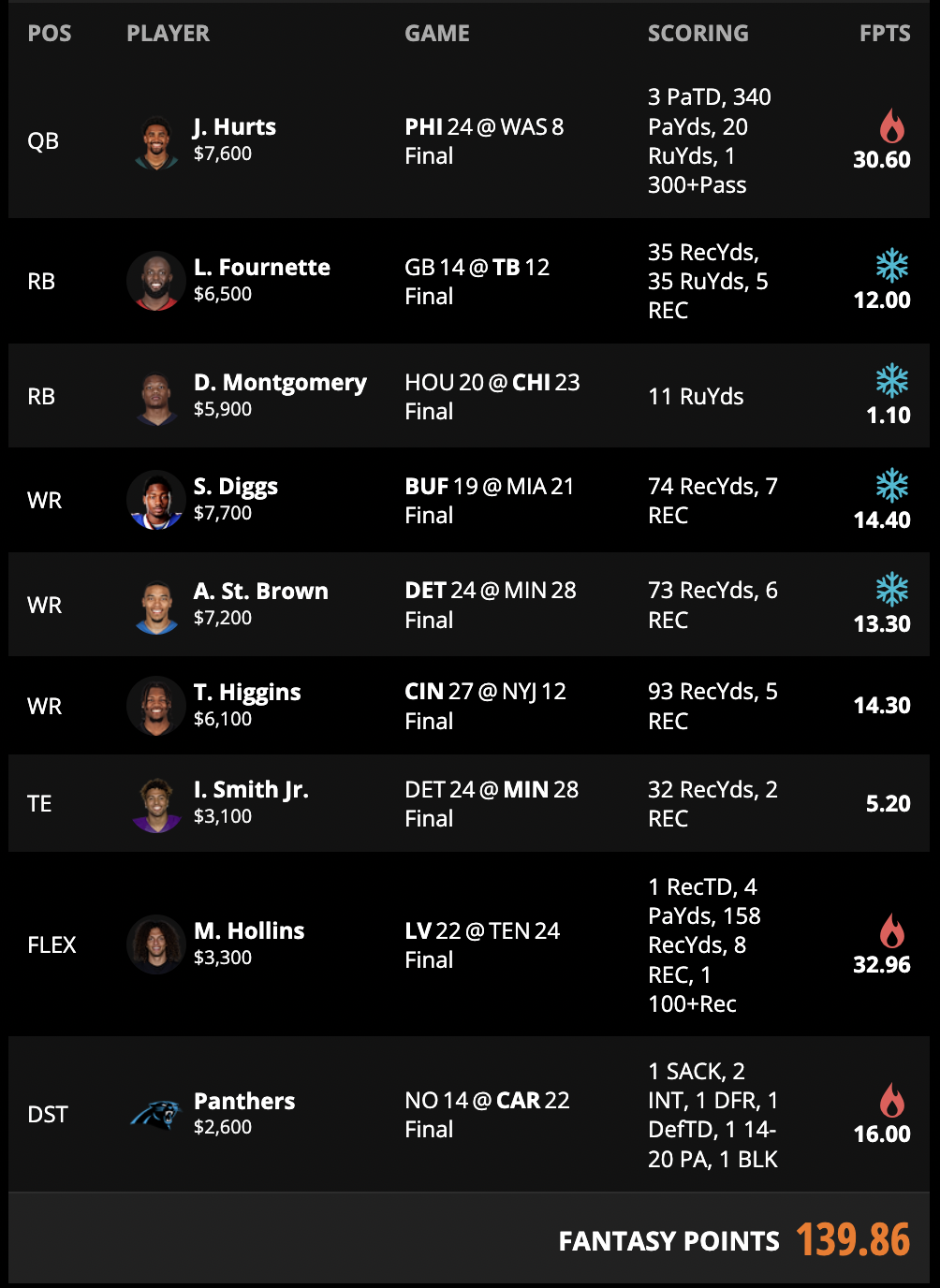 This was a mixed slate for cash. On one hand, we had some no-brainer plays for cash (in the context of the slate) like David Montgomery, Leonard Fournette, Stef Diggs, and Irv Smith. I did not have a big pool of cash players at any position, which I like.
On the other hand, the salary cap was really tight, forcing us into some uncomfortable decisions at the low-end.  
MY MUST PLAYS
* Running back was very weak this week. Given the lack of value at QB and WR, we couldn't get up to guys like Dalvin Cook or Christian McCaffrey. So I was perfectly fine with a $5900 David Montgomery in a home game against the Texans. I expected somewhere between a 2-1 and 3-1 advantage for DMont over Khalil Herbert in snaps/touches. That meant a lot of touches, as the Bears are clearly petrified of letting Justin Fields do anything but hand off.
* In Week 2, Leonard Fournette played 58 snaps and Rachaad White played 9. No other Bucs RB got a snap. So even though the Bucs OL/WR injuries meant far less projected efficiency, there was no way I was fading Lenny at $6500 here. It's just too much work for a three-down plus goal-line back playing with Tom Brady – who loves to target RBs in pass game.
* I'm not quite sure how DraftKings left Stefon Diggs at just $7700. The clear alpha in one of the NFL's best pass games in an incredibly strong game environment. On a tight slate, the price savings from Davante Adams ($8400), Justin Jefferson ($9300), and Cooper Kupp ($9900) were a no-brainer.  
MY WANT PLAYS
* Irv Smith was almost a "must" for me. But when going over different combos on Sunday morning, there were lineups where I actually needed the $200 savings. And that's where I considered some Juwan Johnson teams.
But in the end, I really really wanted Irv Smith at just $3100 in one of my favorite game environments of the week vs. the defenseless Lions. Johnson was in what shaped up as an ugly, slow game in Carolina.
Smith's role also got noticeably better between Week 1 and Week 2, as he got further removed from his August finger injury.  
Clearly there was no way to realistically fit Mark Andrews ($6900) or Travis Kelce ($7900) in on this slate at their tags.
* Just like last week, I didn't consider Amon-Ra St. Brown a stone cold lock. But you can be sure I was doing everything I could to get him. Playing a close version of the Cooper Kupp role in a good game environment, $7200 was still too cheap for the role/talent.
As long as Jared Goff is QB and the Lions have a very good offense plus poor defense, the Sun God is going to be really strong in cash. He gets so many "layup" catches and is more than good enough to do a lot with them. I preferred ARSB to Tyreek Hill slightly, but definitely wanted ARSB over Jaylen Waddle/Juju/Allen Robinson types.
* Similar to Amon-Ra, Tee Higgins wasn't a stone cold lock for me. But I was really, really trying to get him in. Higgins is an elite talent with elite quarterback play and has actually seen more targets than Ja'Marr Chase over their last 11 full games together. So to get him at $6100 in a great matchup against the Jets, that's really exciting.

I easily preferred Higgins over Brandin Cooks – an older player in a far worse offense with far worse QB play in a far worse game environment. I also preferred Tee (even at $600 more) to Juju Smith-Schuster thanks to big-play ability. 
* I only considered three quarterbacks this week: Josh Allen, Jalen Hurts, Marcus Mariota. I did play around with some teams that saved the money down to the $5500 Mariota, but I didn't love what I got with the savings. 
So at that point I knew I would play one of Hurts or Allen – whichever one fit my team. In this construction, I only had room for Hurts and that was fine. He's improved so much as a thrower, has AJ Brown, has the NFL's best pass-blocking offensive line, and will run 8-11 times per game. It's really hard for Hurts to fail and his ceiling is outrageous. 
* The final 2v2 I considered was essentially Romeo Doubs and Juwan Johnson vs. Mack Hollins and Irv Smith. The Doubs side of that 2v2 also had to play Jaguars defense. 
I did consider the Juwan side briefly as I thought Doubs was a straight-up better play than Hollins. But I really preferred Irv Smith to Juwan, preferred Panthers D to Jaguars D, and did see a ceiling on Hollins. Derek Carr has shown a willingness to target Hollins aggressively and the Hunter Renfrow (concussion) absence opened up a lot of targets in a good matchup.
* I was fine with a lot of defenses on this slate. Jaguars (if Justin Herbert was out), Jets, Raiders, Panthers, Seahawks, Falcons were all $2700 or under and in acceptable spots. I got a little worried on the Jaguars once it was clear Herbert had a reasonable chance to play.

In this construction, I had enough money to get to Panthers at $2600. If going to Jaguars would have gotten me from Jalen Hurts to Josh Allen, I likely would have done that. But it was $300 short. And we had Panthers as the No. 1 D/ST on the week in both Top Plays and in the value column of our projections. So I felt good about getting to them.
Week 3 Results
The David Montgomery injury hurt a little – roughly 20-25% of the field didn't have him. But I was more than able to make up for it via Mack Hollins and Panthers D. And to be honest, those were two plays I didn't have a ton of conviction on. So I really, really ran hot on both of those obviously.
I do think that avoiding the temptation of double-TE (Juwan Johnson and Irv Smith) was right. I just don't want two zero-ceiling players in my lineup. And I also think that being willing to take a cheap shot on a guy in Hollins who was going to play a ton and had some extra target room in a very good matchup was sharp.
But the bottom line is getting 95th percentile (at least) outcomes from both Hollins and Panthers D was really, really lucky. I'll take it!

Year-To-Date Results
Week 1: 172.02 points, won 80.7% of head-to-heads
Week 2: 127.28 points, won 65.8% of head-to-heads
Week 3: 139.86 points, won 96.9% of head-to-heads