Editor's Note: Don't have our Draft Kit yet? It is just $35 and includes Silva's Top 150, Silva's Team Previews, Silva's Tiers, Rankings for every format and tons more. Click here for details.
Editor's Note 2: Underdog Fantasy is offering ALL ETR subscribers an unbeatable deal! Anyone who purchases the ETR Draft Kit will receive a $10 site credit. First-time Underdog customers will receive an additional $25, making our Draft Kit nearly free if you haven't tried Underdog yet!  After purchasing our Draft Kit, follow the instructions here to claim your reward.
Each week in this space, we'll look at how ADP has changed over the past week in the industry. We're looking at ADP over the last seven days compared to ADP 8-14 days ago. For NFFC, we're comparing their ADP the last two weeks to their ADP the two weeks prior to that because the sample sizes for NFFC drafts are currently very small.
*Visuals provided by Sam Hoppen
FFPC FBG ADP Change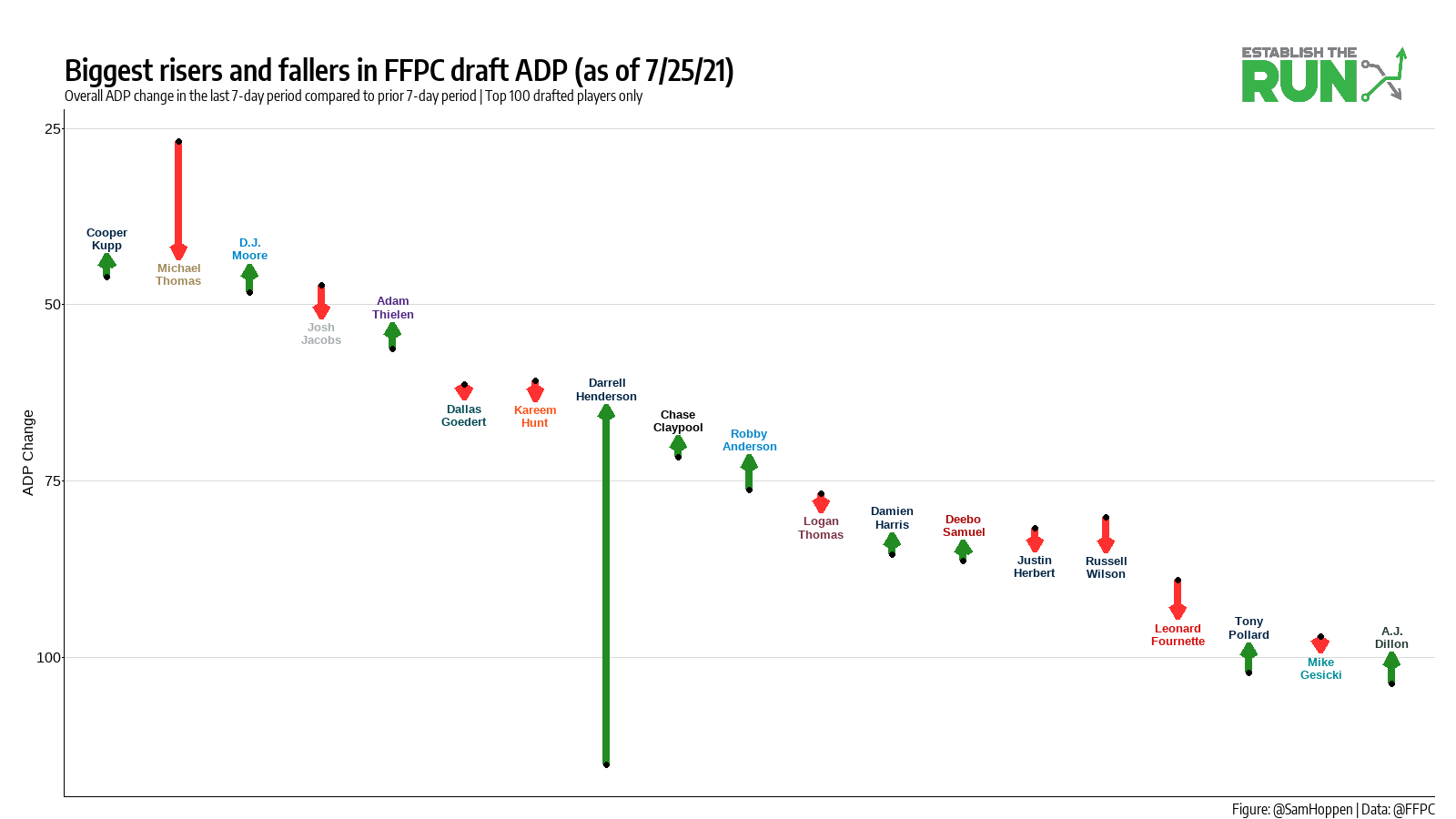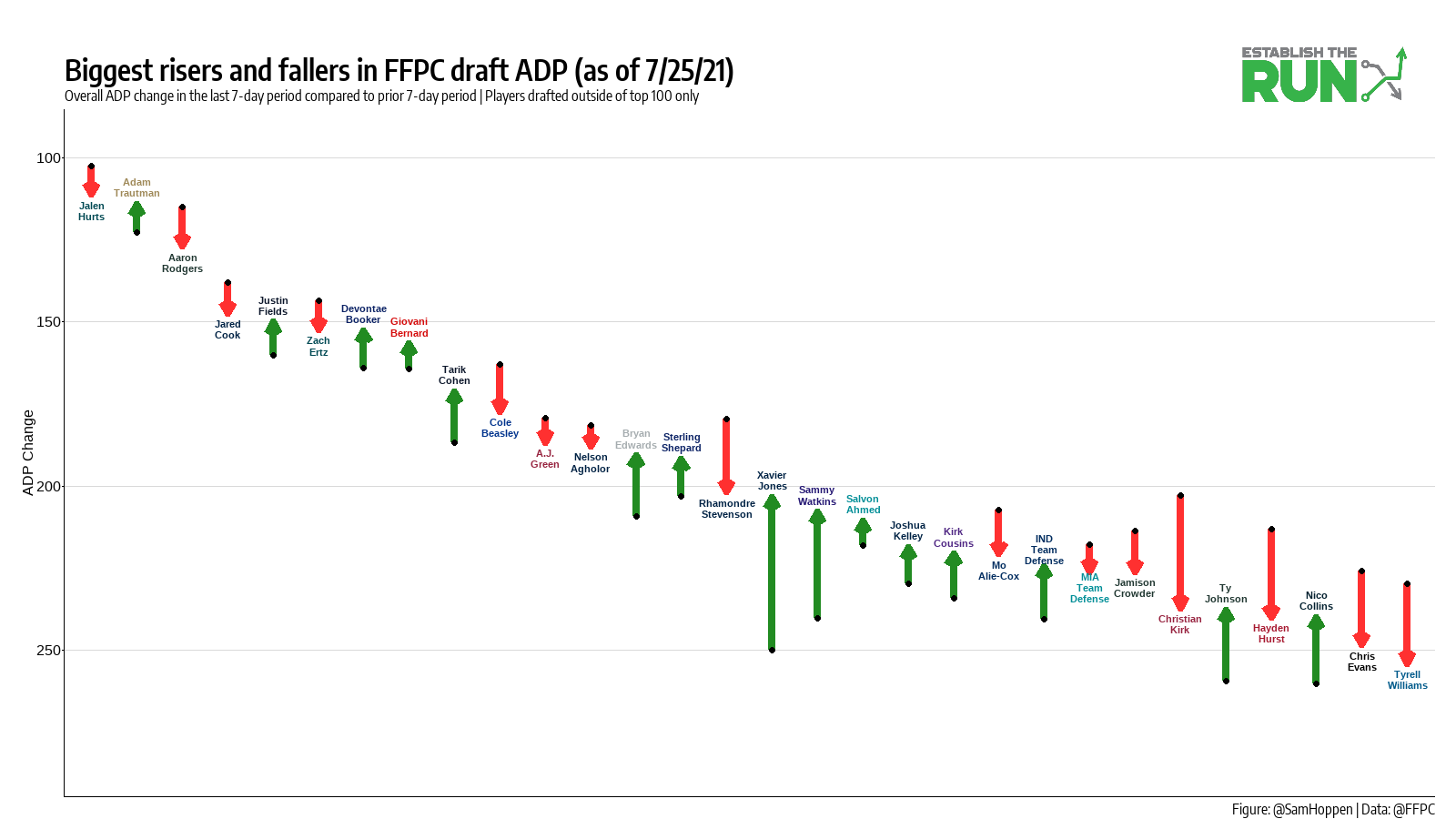 NFFC OC ADP Change
Underdog ADP Change
This week's risers
1. It's no surprise that Darrell Henderson is the top riser in ADP across the industry. Since Underdog and FFPC data includes slow drafts and NFFC current ADP is based on the last two weeks, the above numbers don't give the most accurate representation of where Henderson's ADP is settling. We looked at live drafts since Thursday to get a clearer picture. In nine NFFC drafts over that span, Henderson's ADP is up to 52.8. In 21 FFPC drafts over that span, Henderson's ADP is at 50. Underdog did Tweet that Henderson had a 62.9 ADP in fast drafts yesterday. So he's settling in with an early fifth-round ADP in most places. That's almost exactly where we have Henderson ranked, and he's a solid selection as your first or second RB in WR-heavy builds in managed leagues there. I did talk about why I'm fading him in ongoing best ball tournaments in the top six rounds, though, such as the Underdog Best Ball Mania. Here is Adam Levitan and Evan Silva reacting immediately to Henderson's new value.
2. The middle/back end of the fifth round is beginning to feel like a dead zone for drafters. As a result, we're starting to see WRs after the Tee Higgins/Adam Thielen tier ends get pushed up, with drafters choosing to go WR over RB more than perhaps they have in the past in this area of the draft. Robby Anderson (up to 62.2 from 64.1 on UD, up to 71.7 from 76.3 on FFPC) and Chase Claypool (up to 59.5 from 61.4 on UD, up to 68.9 from 71.6 on FFPC) are among the Top 10 risers inside the Top 100 in ADP. On UD at their cost, I often find myself shifting attention to an elite option at a onesie position if possible in that difficult mid-to-end of the fifth range, but FFPC drafts are quite a bit easier with WR lasting a little longer in general. Claypool and Anderson are much clearer targets on FFPC where the cost is end of Round 6.
3. ADP on NFFC is a bit more volatile with less drafts ongoing, and it also seems to be more differentiated from the industry. Damien Harris has gone from a strong value there a couple of weeks ago (102.1 ADP) to slightly overvalued the past week or two (90.4). Still, you may want to jump on him there if you're a fan as the ADP on UD and FFPC is half a round earlier, indicating that Harris could still be on the rise on NFFC in the near future.
4. People are taking shots on the other Rams RBs following the Akers injury. Xavier Jones (up to 195.1 from undrafted) and Jake Funk (up to 215 from undrafted) now have registered ADPs on Underdog. We think the Rams bring in another back and aren't too interested here, but they're interesting full Zero RB fliers until we know for sure. The market clearly prefers Xavier Jones right now, as he is also registering a decent ADP on FFPC now as well (203.4).
5. We covered the rise in ADP of Jakobi Meyers in an earlier version of the market report, but the momentum has not ceased. He's now up to 149.4 on UD (previously 155.7) and 171.4 on NFFC (194.9). He's probably still okay on NFFC in that range, but he's more of a preferred late-round WR target than he is so far above the other end game options that he deserves to be drafted in the early teen rounds.
This week's fallers
1. Michael Thomas is expected to miss the start of the season after undergoing ankle surgery. We tried to get a more accurate representation of his new ADP by looking at just Saturday and Sunday drafts (news had broken on Friday). In six NFFC drafts over the weekend, Thomas had an ADP of 57, being drafted as early as 28th and as late as 80th. In 11 FFPC drafts, his ADP was 54.1. Underdog did tweet that Thomas had a 48.3 ADP in fast drafts yesterday. Given that there were likely a few unaware drafters, we could see his ADP settle in at 60-plus. We think Week 7 is a decent estimate for his return, following the Week 6 bye. We have MT ranked as a high risk-reward option in the WR 25-35 range. We currently have him at the optimistic end of that range on FFPC where he benefits from full-PPR scoring (WR 27), but it's a very tight cluster, allowing you to go a few different ways based on your risk tolerance. On UD we're more pessimistic given the half-PPR scoring format, ranking him as WR35 and 72nd overall.
2. Stemming from the Michael Thomas news, Jameis Winston (down to 196.5 from 184.5) is the biggest faller in UD ADP. Not only does losing Thomas hurt the value of whoever the Saints' QB is, it also seems to make the QB decision a bit muddier and more slanted towards Taysom Hill (up to 206.5 from 209.8 on UD) than we had previously considered. Meanwhile, someone has to fill the target void for the Saints so Tre'Quan Smith, Marquez Callaway, and Adam Trautman have been on the move upwards across the industry. We like Smith but are skeptical of any other Saint WR outside of a late-round flier.
3. Leonard Fournette is one of the more consistent fallers in ADP across the industry (118 from 113.4 on UD, 103.5 from 95.8 on NFFC, 94.3 from 89.1 on FFPC). Positionally, we're behind the market on Fournette still across the industry. We're not dismissing the upside he flashed during the playoffs last year, but it also seems as if Ronald Jones is the better two-down back while Giovani Bernard could cut into Fournette's passing down work.
What I'm watching now
The other developing news with a major impact are the trade/suspension reports/rumors around Deshaun Watson.
The #Texans are now willing to listen — and have been for some time — to trade offers for star QB Deshaun Watson, multiple sources tell me and @RapSheet. But the price is high for a player of his caliber, and should be. It'd likely take at least three first-round picks and more.

— Tom Pelissero (@TomPelissero) July 26, 2021
Odd. "The NFL has not placed Watson on the Commissioner's Exempt List because it has not concluded that a major violation occurred. With no criminal charges imminent, the onus at the moment is on Watson and the Texans to work out how to proceed." https://t.co/NNCOVJqFP4

— Hayden Winks (@HaydenWinks) July 25, 2021
We've faded Watson most of this offseason, but have now moved him up in the QB 15-20 range as threats of a suspension seem at least died down a bit now. Here's our general feeling about where Watson should be ranked based on different scenarios:
— QB 8/9 if he plays all games for the Texans.
— QB 6/7 if he plays all games for a better team.
— QB 20-24ish if he plays eight games.
— Unranked if doesn't play this season.
With all that in mind, we have Watson ranked in the mid-to-late teens now positionally, but that comes with a heavy asterisk. Watson is a massive risk in certain best ball builds (2-QBs) and redundant in others (already have an elite QB), but makes sense on teams where you're drafting as if he won't be suspended or taking him as a third QB on a team that lacks a high-end QB. In seasonal formats, he's a good pairing with a rookie QB, where you're making a bet on one of them hitting and can hit waivers based on how the situations develop.
In drafts on Sunday only, Watson went between picks 192 and 199 in all three NFFC drafts (about QB 24) and went 186.4 on average in seven FFPC drafts (QB 18, up about 30 spots overall).
In addition to Watson, it's important to keep an eye on PHI players' ADPs, one of the more rumored trade destinations (floated on radio by Adam Schefter). We're already seeing a fall in ADP on Jalen Hurts (down to 96.2 from 92.6 on UD, down to 111.2 from 102.5 on FFPC) as people are becoming more aware of that risk. We've dropped him from QB8 to QB11 in most of our rankings (format specific). There hasn't been a rise in PHI WR ADP, but getting some exposure to Devonta Smith, Jalen Reagor, Dallas Goedert, and even Miles Sanders at ADP, using the potential Watson upside as a tiebreaker, makes sense over the next week or so.