We've made it, folks! We are at the end of the 2023 golf season and quite honestly, I could use a bit of a break myself. I know no one is happier than my friend and colleague, Cody Main, that we've gotten this far. He even gets rewarded with Patrick Rodgers not being in the field this week! We're coming off a pretty epic result from Viktor Hovland at the BMW last week, where he lived up to the nickname "Big Dik Vik" with a round of 61 to beat Scheffler and Fitzpatrick by two strokes after entering Sunday down three. Of course, this wouldn't be an appropriate introduction without giving a big shout-out to Discord member and new dad Carney259, who won the $4,444 Milly Maker on the back of the huge Hovland Sunday performance. Congrats to Carney for an epic run, where he edged Discord newbie youdacao in a tight race. So, we've got millionaires in the Discord… how did I do? Let's recap last week before we get into the Tour Championship.
BMW Championship – Recap
I had a successful week at the BMW, as I was able to convert my four $4,444 tickets into three min-cashes to the tune of $21K. In large-field action, I fell short of profiting despite being heavily overweight on Hovland, Fitzpatrick, and Scheffler, which is almost hard to fathom. Here's my screenshot for the week.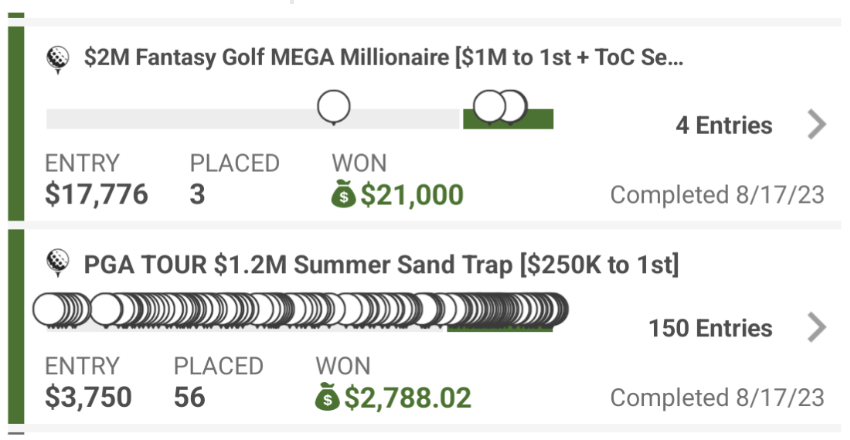 You'll see that I'm happy with my spread in large field, and my hope is that the big one is coming soon. I'll have to take a page from Discord beast jsf, who seems to be in the running in large-field contests every damn week. My biggest positions last week were:
40% Scheffler, Hovland, Hatton; 35% Rahm, Wyndham (flag plant)

Full fade on Rory, Rodgers, Homa, Burns; 5% Benny An
As you can see, I felt confident in my player pool and luckily the results were decent but not exceptional. It's pretty amazing that I had three Hovland lineups that all min-cashed in the $4,444. I guess our hero, Adam Levitan, was right — maybe I need to "sack up and play high-stakes." Let's take a look at the winning lineup in the large-field GPP:
It had a

78% cumulative ownership, which is

surprisingly below the higher range that I was targeting of almost 90%-110%. I didn't think that 10 additional players would make such a big difference when compared to the Sentry TOC, but it looks like it did. We'll have to adjust for next time, assuming the same format.

The lineup featured a double click of $10K+ players with Scheffler and Hovland, mixed with a low-owned Fitzpatrick and other low-owned players down below. Unfortunately in my runs, I boosted only Scheffler/Rahm combos and not Scheffler/Hovland combos, and that may have been my demise, as it shifted my portfolio to island Hovland lineups or Scheffler/Rahm lineups. I ended up with zero Scheffler/Hovland/Fitzpatrick combinations, despite having 40% of the first two and 25% of Fitzpatrick. Let this be a lesson learned in optimizer manipulation; every change you make will have an effect on the rest of your lineups. Make sure you are thinking through these things before employing boosts/docks willy-nilly.
East Lake, Tour Championship – Preview
Let's move on to this week, which of course will spur some debate on the structure of the Tour Championship. As you know, each player will be starting with some score based on their FedEx ranking. For example, Scottie Scheffler, the No. 1 player in the standings, will be starting off with a -10. Rory McIlroy comes in next at -8, and so on and so forth. If you're interested in where everyone is starting, Google search is a very useful tool. With this tournament being the only tournament that starts with this type of scoring, I challenged myself to look at last year's DFS results to try and find some trends on "whether or not there is an edge this week". Here are some screenshots of winning lineups in 2021's DFS tournaments:
$250K to First, 78K Entries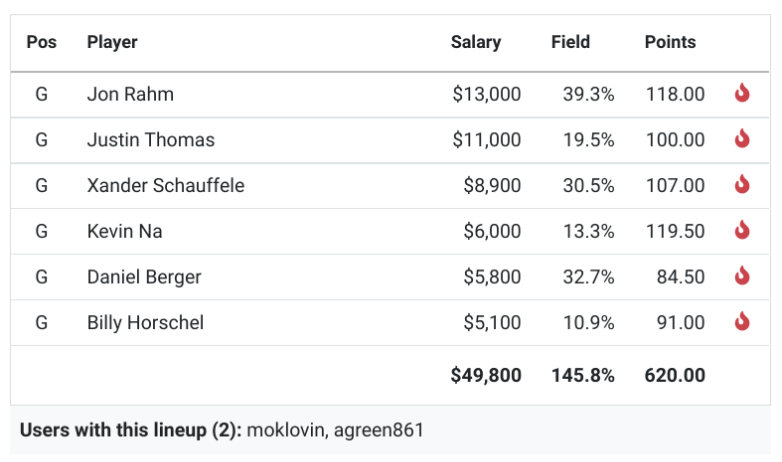 Take Your DFS Golf Game To The Next Level.
Our DFS Golf subscription was created to prepare you with the highest-quality resources for the 2022 golf season.
This subscription is a collaboration between ETR and pro sports bettor Rufus Peabody of Unabated Sports. Inside, you can find simulation based fantasy point projections (mean and ceiling), ownership projections, odds to make the cut, with content from Adam Levitan, Peter Jennings, and more.
Learn more about taking your DFS golf game to the next level.
Full Details »
Already a subscriber?
Log In