I play around 60% of my action each week in "cash games". Cash games refer to any contest in which roughly 50% of the field gets paid out, such as head-to-heads, double-ups, or 50/50s. I try to get as much head-to-head action as I can every week and then supplement that with other cash games.
Each week, I'll review my cash-game lineup in this space. Sometimes I'll lose, but hopefully I'll win more often. Either way, I'll post it here and give you my thought process.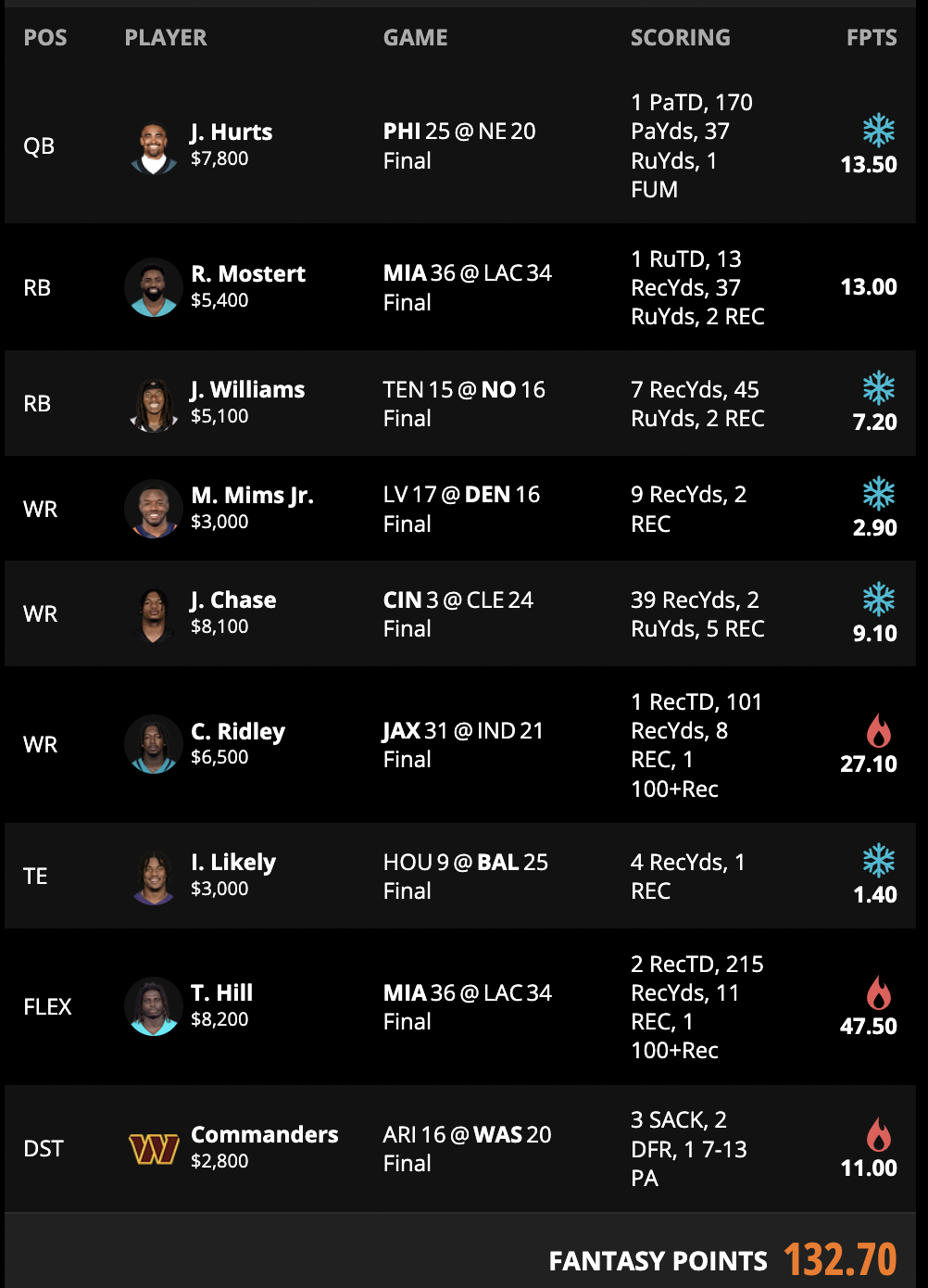 Week 1s are typically straightforward because of how long the salaries have been out. Injuries and depth chart changes over the last six weeks leave some glaring values, which in turn yields really exciting stars-and-scrubs-style cash teams.
This year was no exception, but I did think there were some pretty tough 2v2s and 1v1s to consider.
MY MUST PLAYS
* The running back position was mostly overpriced on DraftKings. Bijan Robinson was a "must" on FanDuel, but he was $8,000 here. Joe Mixon ($6,800), Travis Etienne ($6,900), and Alexander Mattison ($6,500) were other RBs I would have been very interested in at cheaper tags.
But given the RB pricing compared to the WR pricing on DK this week, I wanted to spend down. And the spot for Raheem Mostert was extremely clean: No Jeff Wilson (I.R./return), no De'Von Achane (healthy scratch), and facing a Chargers defense that dares teams to run in the slate's best offensive environment. At $5,400, Mostert projected for 11-14 efficient touches including goal-line work.
* Similarly, the Saints were thinned out at running back. Alvin Kamara (suspension) and Kendre Miller (hamstring) were both out. Given the state of the RB room, I thought Jamaal Williams was likely to handle 90%+ of the RB touches. I don't think Williams is very good, and it was a bad matchup. So for a brief minute I considered Brian Robinson ($5,100) at the same price in an elite matchup. But I did expect Antonio Gibson to play 30-40% of the snaps, which was too big a projected usage gap to play B-Rob over Jamaal Williams.
MY WANT PLAYS
* I wanted to play Tyler Higbee at tight end, but at $4,800, DraftKings somehow priced him higher than David Njoku, Pat Freiermuth, Evan Engram, and other solid tight ends. That was simply too steep.

So the options were Luke Musgrave, a lock for an every-down role plus Christian Watson (hamstring) was out. Or Isaiah Likely, subbing for Mark Andrews (quad). I actually thought this one was closer than other people did, even though I do think Likely is an awesome talent. That's because we had a new system, a new OC, and a ton of new talent at WR. Meanwhile, Musgrave's role and target competition combo were strong.
In the end, I thought the right choice was Likely: A better quarterback, a better offense, and a more explosive player. We had Likely projected 1.3 points ahead of Musgrave.
*I'm sure most people considered Commanders D/ST (home vs. Josh Dobbs and the least talented team in the NFL) a "must". I almost never consider D/ST a must. If there isn't a D/ST touchdown, it's almost impossible for them to separate. Obviously, D/ST TDs are extremely rare even when a defense is in the nut spot.
So I did look at some teams that saved the $500 by going down to the Raiders. But I could not get the upgrade at QB (off Anthony Richardson) or the upgrade at WR (off Ja'Marr Chase) that I wanted with that money. And quite frankly, Commanders D/ST was a very scary fade in this spot. Not only did Josh Dobbs barely get any practice time with his new team, but the Commanders' DL over the Cardinals' OL was Brandon Thorn's No. 1 trench mismatch of the week.
* I can't consider Tyreek Hill a "must" because I thought Justin Jefferson was a better play, and I ended up not even getting to him. But Tyreek was underpriced here with a healthy Tua Tagovailoa, nothing to speak of for the Dolphins at WR3 or TE1 or pass-catching RB, and the slate's best game environment. I was always playing at least two of Tyreek, Ja'Marr Chase, and Jefferson given the way the slate set up.
* I thought Ja'Marr Chase was the third-best play among the big three wideouts, as we reflected in our Top Plays. He was certainly not a "must" against a very good defense, a tough-ish CB matchup vs. Denzel Ward, and on the road in a little bit of unfavorable weather. But I did prefer Chase to the TD-dependent RBs like Nick Chubb/Derrick Henry.
One play I did consider was getting off Jalen Hurts (see below) down to Justin Herbert, and coming up from Chase to Jefferson. I simply didn't think Herbert was strong enough to make that move, but in hindsight, it would have made a ton of sense.
* The mid-range of WR was pretty weak. That made it a no-brainer to punt one spot with a min-priced guy. There were a ton of options: Marvin Mims, Jayden Reed, and Tutu Atwell were all in my cash pool. If someone played Kendrick Bourne or Puka Nacua, I think that would have been fine as well. I decided to go with Mims, as I thought he was the best talent in the group and I thought he had the best matchup.
 * The last 2v2 I debated was Jalen Hurts and Calvin Ridley vs. Anthony Richardson and Justin Jefferson. I really, really wanted to play Jefferson — in a dome with this Vikings defense against the Bucs was a standout spot.
And I did think A-Rich's floor was fine; even if he completely implodes as a thrower, he's going to get 8+ points thanks to his legs. I did, however, question Richardson's ceiling due to how raw he is as a thrower.
After debating this 2v2 for at least 24 hours (not healthy, not recommended), I decided to just go with the safety of Hurts because I really liked the spot for Calvin Ridley as well. Whereas Justin Jefferson won't get too much more expensive off $8,800, the days of $6,500 Ridley won't last long.
Week 1 Results
It's hard to have a great week when we get floor games from two very expensive players: Ja'Marr Chase ($8,100) and Jalen Hurts ($7,800). In hindsight, forcing Hurts on the road in wet conditions when Bill Belichick has had so long to prepare his defense may have been a mistake.
That said, I certainly can't complain about outcomes, as I ran into a 99th-percentile game from Tyreek Hill. And I was happy that I was able to stick with the conviction on Calvin Ridley even though he wasn't an "obvious" cash play.

I would have loved to have gotten off to a better start, but even in hindsight, I'm happy with the construction. The one move that was definitely reasonable was Justin Herbert-Justin Jefferson over Jalen Hurts-Ja'Marr Chase. That would have gotten me onto two of my favorite spots instead of two "meh" ones.
Year-To-Date Results
Week 1: 132.7 points, won 51.5% of head-to-heads

* Note: Win percentages do not include ties.