NOTABLE INACTIVES (Will be updated after official inactives): Adam Thielen has been ruled out. 
Editor's Note: For Evan Silva's breakdown on every player in this game, click here. That is the best analysis on the game you will find. This article's focus is to highlight specific strategies for this Showdown slate, not the game itself. 
Editor's Note 2: To review our thoughts on general Showdown strategy, review the top portion of this article.
SHOWDOWN STRATEGY & 2019 TRENDS 
The most important part to being successful in one-game Showdown contests is constructing a highly correlated lineup built around how we think the game will be played. As we head into Monday's matchup that features the Vikings at Cowboys, we have a 29-game sample that we can analyze for winning roster construction and look at any meaningful trends to apply moving forward. The winning lineups for the first 29 games are as follows: 
Packers at Bears: Captain Allen Robinson, Aaron Rodgers, Tarik Cohen, Marquez Valdez-Scantling, Jimmy Graham, Packers DST
Steelers at Patriots: Captain Tom Brady, JuJu Smith-Schuster, Julian Edelman, Phillip Dorsett, Stephen Gostkowski, Rex Burkhead
Texans at Saints: Captain Deandre Hopkins, Deshaun Watson, Michael Thomas, Ted Ginn Jr., Kenny Stills, Will Lutz
Broncos at Raiders: Captain Josh Jacobs, Emmanuel Sanders, Cortland Sutton, Tyrell Williams, Darren Waller, Brandon McManus
Buccaneers at Panthers: Captain Chris Godwin, Cam Newton, Curtis Samuel, D.J. Moore, Greg Olsen, Joey Slye
Eagles at Falcons: Captain Julio Jones, Carson Wentz, Matt Ryan, Calvin Ridley, Nelson Agholor, Mack Hollins
Browns at Jets: Captain Odell Beckham Jr., Nick Chubb, Le'Veon Bell, Browns DST, Austin Seibert, D'ernest Johnson
Titans at Jaguars: Captain Marcus Mariota, Leonard Fournette, Gardner Minshew, D.J. Chark Jr., Jaguars DST, Adam Humphries
Rams at Browns: Captain Cooper Kupp, Jared Goff, Brandin Cooks, Nick Chubb, Browns DST, Greg Zuerlein
Bears at Redskins: Captain Mitchell Trubisky, Case Keenum, Terry McLaurin, Bears DST, Paul Richardson Jr., Taylor Gabriel
Eagles at Packers: Captain Jordan Howard, Aaron Rodgers, Davante Adams, Carson Wentz, Jimmy Graham, Geronimo Allison
Cowboys at Saints: Captain Michael Thomas, Alvin Kamara, Ezekiel Elliot, Cowboys DST, Will Lutz, Saints DST
Bengals at Steelers: Captain James Conner, Mason Rudolph, Joe Mixon, Diontae Johnson, Steelers DST, Jaylen Samuels
Rams at Seahawks: Captain Cooper Kupp, Chris Carson, Gerald Everett, Jared Goff, Russell Wilson, Greg Zuerlein
Colts at Chiefs: Captain Patrick Mahomes, Travis Kelce, Jacoby Brissett, Marlon Mack, Colts DST, Byron Pringle
Browns at 49ers: Captain Matt Breida, Jarvis Landry, Jimmy Garoppolo, George Kittle, Tevin Coleman, 49ers DST
Giants at Patriots: Captain Patriots DST, Tom Brady, Julian Edelman, Golden Tate, James White, Brandon Bolden
Steelers at Chargers: Captain James Conner, Phillip Rivers, Hunter Henry, Mike Williams, Benny Snell Jr., Steelers DST
Lions at Packers: Captain Matt Prater, Aaron Rodgers, Matthew Stafford, Kenny Golladay, Kerryon Johnson, Jamaal Williams
Chiefs at Broncos: Captain Chief DST, Tyreek Hill, Travis Kelce, Emmanuel Sanders, Courtland Sutton, Royce Freeman
Eagles at Cowboys: Captain Ezekiel Elliot, Dak Prescott, Amari Cooper, Cowboys DST, Dallas Goedert, Brett Maher
Patriots at Jets: Captain Patriots DST, Julian Edelman, Sony Michel, James White, Phillip Dorsett, Demaryius Thomas
Redskins at Vikings: Captain Dalvin Cook, Stefon Diggs, Vikings DST, Adrian Peterson, Dan Bailey, Dustin Hopkins
Packers at Chiefs: Captain Aaron Jones, Aaron Rodgers, Matt Moore, Jamaal Williams, Damien Williams, Mecole Hardman
Dolphins at Steelers: Captain JuJu Smith-Schuster, James Conner, Ryan Fitzpatrick, Diontae Johnson, Allen Hurns, Chris Boswell
49ers at Cardinals: Captain Kenyan Drake, Jimmy Garappolo, Kyler Murray, George Kittle, Emmanuel Sanders, Andy Isabella
Patriots at Ravens: Captain Julian Edelman, Lamar Jackson, James White, Mark Ingram III, Mohamed Sanu, Nick Boyle
Cowboys at Giants: Captain Dak Prescott, Amari Cooper, Daniel Jones, Cowboys DST, Jason Witten, Brett Maher 
Chargers at Raiders: Captain Melvin Gordon III, Phillip Rivers, Josh Jacobs, Keenan Allen, Austin Ekeler, Raiders DST
When we review winning lineups we can think backwards and determine what game script ideas and correlations went into constructing each roster. In the week nine MNF matchup, we knew it would be contrarian to build a lineup assuming Dallas scored only through the air and fade Ezekiel Elliot, who projected to be the highest owned player on the slate. With Prescott at Captain and multiple Dallas pass catchers in the FLEX spots, it made sense to get a piece of the Giants pass game as there would be increased pass volume in a come from behind effort. After the core was locked in it was all about maximizing points. We had very little appealing value on this slate and we know as dropbacks increase so do the opportunities for defenses to produce fantasy points via strip sacks and interceptions making the Dallas DST an exceptional play. A flukey late game defensive touchdown was the icing on the cake for the winning lineup Monday night. While it's impossible to do on full-slates, building rosters or setting groups around an expected outcome is often the optimal strategy on one-game Showdown slates. We encourage you to look through the other winning rosters listed above and think through the process that would lead to each construction. 
DST & KICKER STRATEGY
Now on 18-of-29 (62%) winning rosters , DST's continue to be deserving of roster consideration. Through 29 slates DST's are averaging 8.5 DraftKings points at a $4200 average salary and 20% ownership. If we break this down further by favorites versus underdogs, we see favorites priced up to $5200 and owned at a 29% clip as opposed to just $3200 and 11% ownership for underdogs. To this point, the highest owned DST's (Bears, Patriots, Vikings and Steelers) have paid off by finding their way onto the winning roster but because DST scoring is extremely high variance and scoring events like turnovers and defensive touchdowns are largely unpredictable, we may be able to leverage the field by rostering the cheaper, lesser owned option. It's worth further noting that DST's in higher total games are underowned relative to their probability of ending up on winning lineups. DST's on Showdown slates featuring a total greater than 45 have been owned on average 15% and maintained a 7.8 median DraftKings score. 
Kickers have been slightly less productive than DST's from a raw points perspective but have found their way onto 14-of-29 (48%) winning rosters. Kickers remain one of the best points per dollar plays, scoring an impressive 8.0 DraftKings points on average at $3500 and 24% ownership. If we look at all fantasy performances through seven weeks we see that DST's offer a wider range of outcomes and a higher ceiling than kickers due to the ability to score points via touchdowns. Thus far kickers have been priced "reasonably" by DraftKings, resulting in adequate or better point per dollar median projections. If prices start to rise, or if ownerships rise, these options become less viable GPP picks. Conversely, DraftKings has shown a willingness to aggressively change pricing based on matchup and opposing team total for DST's. Whether we're MME players or building just a single lineup, the ability of similarly priced players to outscore both kickers and DST's will determine how often we need to roster either position. Read through our 'notable players' section for more slate specific thoughts on kickers and DST's.
TEAM-SPECIFIC ANALYSIS & NOTABLE PRICE CONSIDERATIONS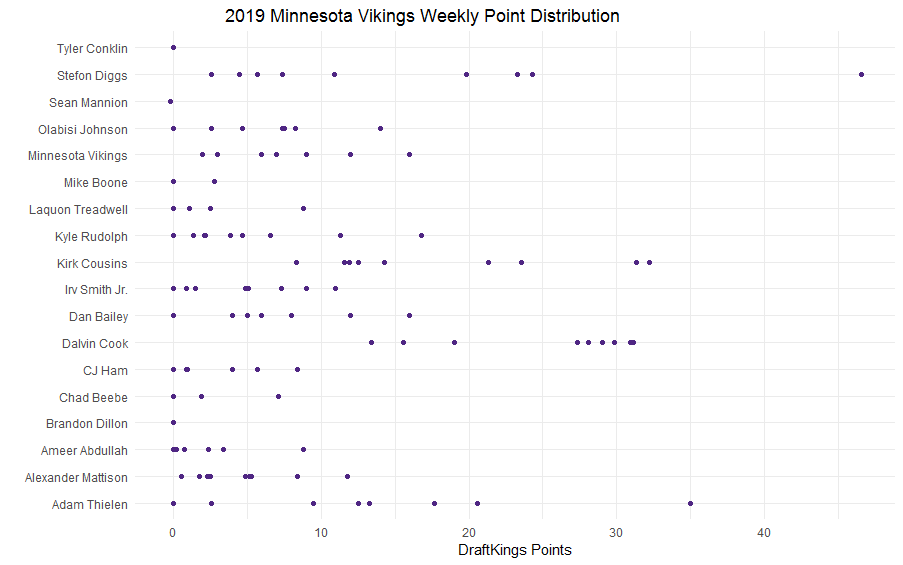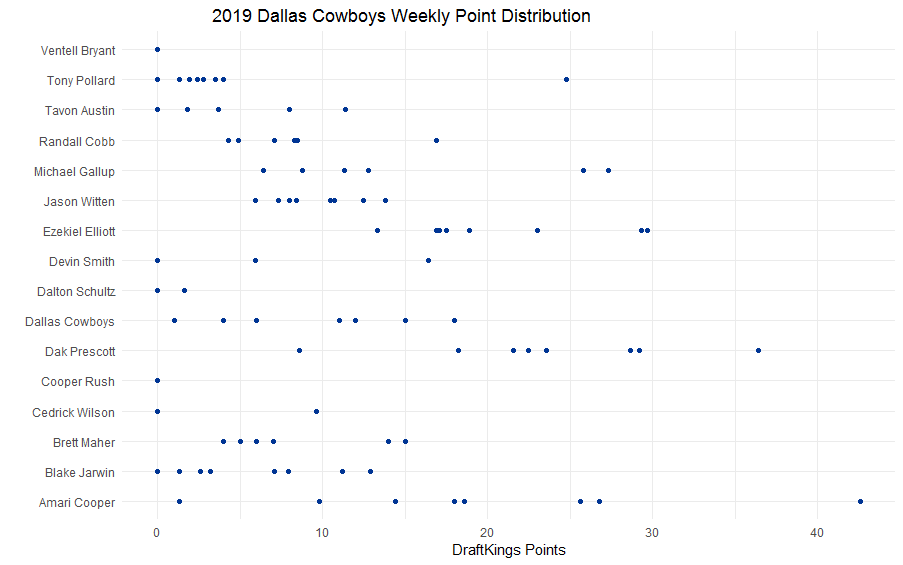 Sunday night's one-game Showdown slate features a strong 48-point total with the with the visiting Vikings installed as 3-point underdogs against the Cowboys. An ETR favorite, Vikings HC Mike Zimmer, has Minnesota rushing the ball at the league's 8th highest rate (46%) when the game is within one score. As they fall behind, Zimmer has shown some willingness to favor the pass as the Vikings rush rate falls from 46% to 38%. The Cowboys are right around league-average in situation neutral pass rate (59%) and stick to a tight script regardless of score. 
With Adam Thielen once again ruled out, Stefon Diggs ($9400) slides in as the Vikings undisputed WR1. Thielen has been ruled out or left the game early in three consecutive weeks, in those games Diggs has handled a 21% target share and 43% of the team's air yards. Diggs offers elite usage at a discounted price tag. Olabisi Johnson ($4600) has been used like a true WR2 sans Thielen playing on 76% of snaps and running a route on 82% of dropbacks. He has set one-game highs in target share (21%) and share of air yards (24%) presenting a clear path to a ceiling performance. Without Thielen, Kyle Rudolph ($4800) and Irv Smith Jr. ($4200) see an increase in routes run (74% and 62%) and target share (14% and 15%). While the Vikings preferred strategy is to keep the ball on the ground, the pass attack becomes much more condensed when we remove Thielen, making all of the above options candidates to outperform expectations. One of fantasy's top overall assets, Dalvin Cook ($11,600) has handled 69% of the team's rushing attempts over the previous three weeks to go along with six rushing attempts inside the five. Cook has the ability to score multiple touchdowns and reach the 100-yard DraftKings bonus on any given night, making him one of the top Captain options. As Silva noted in matchups, Kirk Cousins ($10400) faces a tough matchup in a Dallas defense that sacked Daniel Jones five times to go along with 12 QB hits in their week nine matchup. As QB ownership remains elevated, a Cousins fade makes sense if we expect the Cowboys defense to generate pressure Sunday night. 
Listed questionable with a knee injury picked up in Monday's win over the Giants, Amari Cooper ($10000) is expected to play. In full games, Cooper has averaged a 24% target share to go along with a 35% share of the team's air yards. While our opponents may overreact to the matchup against the Vikings, Silva noted that Xavier Rhodes and Trae Waynes have been torched for 70/834/7, giving us no reason to doubt his upside. The Robin to Cooper's batman, Michael Gallup ($7600) checks in as a 1B option rather than a standard WR2, handling a 23% target share and a 28% share of the team's air yards. After a concerning week seven game where he was only on the field for 48%of snaps, Randall Cobb ($5600) returned to his full-time slot role playing on 75% of snaps. Though he's been a box score disappointment, Cobb has averaged four targets per game and has been on the wrong side of touchdown variance all year. Jason Witten ($6000) remains a steady force in the Dallas offense, seeing at least four targets in every game he's played this year. While Witten offers a safe floor, we'll need more than 4/35/0 for him to pay off his price tag. Ezekiel Elliot ($10800) checks in with his lowest Showdown salary to date after reaching highs of $12400. We're not overreacting to the matchup as Elliot and the Cowboys are 3-point home favorites in a game with a 48-point total. He's a no-brainer Captain option regardless of game script. As Silva noted, Dak Prescott ($10600) wasn't sacked once in his most recent game with a fully healthy offensive line. With a full complement of weapons and ample time in the pocket, Prescott is fully capable of being the slate's top overall scorer. 
STACK IDEAS
*Captain Dalvin Cook, Dak Prescott, 2 Cowboys pass catchers – Because of Cook's unrivaled usage, both on the ground and in the passing game, he is capable of reaching a ceiling no matter the game script. 
*Captain Ezekiel Elliot, Dak Prescott, Olabisi Johnson – We can build as if the Cowboys have their way with the Vikings defense and find success through the air and on the ground. We lock up all of the touchdown upside and can run it back with a lower owned member of the Vikings pass attack. 
*Captain Dak Prescott, Michael Gallup and Randall Cobb, Stefon Diggs – If Prescott is able to spread the ball around and limit the upside of one single receiver he can capitalize as the slate's top scorer. Prescott stacks will be popular so mixing in the lower owned Cobb and Witten will help to differentiate our lineups. 
*Captain Kirk Cousins, Olabisi Johnson, Amari Cooper – We'd likely want to stack multiple Vikings pass catchers with Cousins as our Captain. Johnson has seen a target share high of 21% and share of air yards high of 24% proving he is capable of seeing the work necessary to be in the winning lineup. 
*Captain Stefon Diggs, Dak Prescott, Michael Gallup – Diggs has already shown alpha status in games without Thielen as he handled a whopping 77% of the team's air yards in week eight. If targets funnel toward Diggs we can capture any upside Cousins offers. 
*Captain Amari Cooper/Michael Gallup, Dak Prescott, Dalvin Cook – In a back-and-forth game where both teams play to their strengths we can see ceiling games from Cook and the Dallas pass game. A discounted Gallup makes him the preferred option.
*Captain Olabisi Johnson, Kirk Cousins, Ezekiel Elliot – An off the board option, Johnson offers upside at his cheap tag. Despite not popping in the boxscore the usage has been strong, including three end zone targets in three weeks. 
Notable Players not already listed as Captain above:
If a player is listed above as a Captain option or as part of a stack they are worth rostering as a stand alone flex as well. As discussed above the need to roster kickers and DST's is tied to how many rosterable players we have in the same salary range. Because DraftKings is unwilling to price up kickers to a level that would reflect their median projections, we're left with very few players who are priced around them that present the opportunity to outscore them. Pricing on DST's has been slightly more fluid based on the matchup and opposing team's total but they too remain underpriced relative to their median projections. While constructing rosters, consider the game environment/outcome necessary for these cheap players to beat the kickers and/or DST's. 
Jason Witten – Witten's 15% target share and 12% share of the team's air yards keeps him in play, though he sets up as more of a high floor option as opposed to a potential Captain.
Randall Cobb – After seeing a Showdown slate price of $8000 in week three, Cobb has dropped all the way to $5600 for Sunday night. He's seen target spikes of 20% or greater in 3-of-7 games.
Kyle Rudolph – Rudolph turned three week nine end zone targets into one touchdown. He continues to see elevated usage with Thielen out. 
Irv Smith Jr. – Smith's opportunities have increased across the board over the past three weeks where he's turned 15 targets into 114 scoreless yards. We can hope for some touchdown luck Sunday night. 
Blake Jarwin – The more athletic of the two Dallas TE's, Jarwin remains firmly in play as a touchdown-or-bust option.
Tony Pollard – Pollard has averaged 15% of the team's rushing attempts over the past four weeks. He's in play as a dart throw or in builds where we expect Dallas to jump out to a big lead. 
Laquon Treadwell – Treadwell ran a route on a season-high 28% of dropbacks in week nine and saw a 13% target share. 
C.J. Ham – Ham's price has come up from the stone minimum but he remains in play as a deep GPP dart throw as Minnesota has shown a willingness to use him in the pass game. 
PROJECTED OWNERSHIP
Again, roster construction and correlation are the most important factors for GPP success in the Showdown format. But understanding who will be popular helps. A rough guide to who we think will be the most owned:
Higher projected ownership, in order of descending salary:
* Dalvin Cook
* Ezekiel Elliot
* Dak Prescott
* Stefon Diggs
Lower projected ownership, in order of descending salary:
* Jason Witten/Randall Cobb
* Kyle Rudolph/Irv Smith
* Olabisi Johnson
* Alexander Mattison
* CJ Ham