Picking the best players is hard, but it takes quite a bit more than player rankings to give yourself your best shot at winning a Best Ball Tournament. Today, we're going to review everything we know (or think we know) about how to optimally draft best ball tournament teams on Underdog — besides which players to pick. Think of this as a one-stop shop for Underdog best ball strategy. For our Underdog player rankings, click here.
PART ONE: Position-by-position breakdown
It's important to remain fluid when drafting and play the board as it falls, but you should go into a draft with a general idea of positional strategy. Let's first take a look at all builds that were used at least 1,000 times in Best Ball Mania 2, sorted by Advance Rate.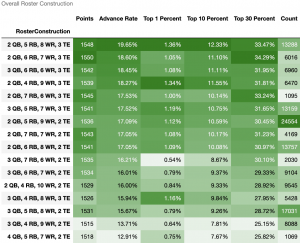 Now, we'll go one position at a time.
QUARTERBACK
Right off the bat, it sticks out that four of the five best constructions last year had only two quarterbacks. Of the eight builds with two QBs and at least 1,000 total teams, seven of them were at least average in Advance Rate, Top 1 Percent Rate, Top 10 Percent Rate, and Top 30 Percent Rate. Conversely, only two of eight builds with 3+ QBs were better than par per our metrics. This isn't just a one-year thing, as 2-QB teams also performed strongly in 2020.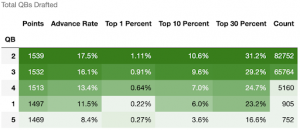 You're not dead in the water with three QBs, but it's usually better to stop after two. But knowing how many QBs to draft is only half the battle. We also need to consider when we should target the position. Over the past few years, the widely accepted strategy in redraft has been to wait on QB. That may be suboptimal for BBM3 given the recent infusion of rushing talent into the league as well as Underdog's half-PPR best ball model. Gone are the days of getting Year 2 Patrick Mahomes and Lamar Jackson in the double-digit rounds; the market is now better at pricing young, high-upside QBs.
Still, that doesn't mean you want to spend your earliest picks on a QB. Drafting one in the first five rounds was still slightly -EV last year. With this data, keep in mind it's really describing a small number of individual player seasons. For example, the table below basically just tells us how Mahomes, Jackson, Josh Allen, Kyler Murray, and Dak Prescott did in 2021 since no other QBs went in the first five rounds.
We've created the best Draft Kit on the internet.
Our fantasy football Draft Kit was created to prepare you with the highest-quality resources to help you win your league.
Our team of analysts, led by Evan Silva and Adam Levitan, create unmatched content and rankings to make sure you're ready for draft day. While our Draft Kit is built for competitive fantasy players, we've made it fun and easy to consume.
If you aren't satisfied with our Draft Kit for any reason, just email us within 48 hours of purchase and we'll provide a full refund.
Full Draft Kit Overview »
Already a subscriber?
Log In