Editor's Note: We have two free live-streams on our YouTube channel today! At 3:30 ET, Adam Levitan, Drew Dinkmeyer and Mike Leone will break down tonight's MNF Matchup for Showdown DFS. At 4:15 ET, these three will also live-stream a discussion on winning at single-entry DFS tournaments, coming off a weekend where Mike won $50,000 in the Thunderdome on DraftKings! Both videos will be available on replay after the stream.
I am mainly a cash-game player. Cash games refer to any contest in which roughly 50% of the field gets paid out, such as head-to-head, double up or 50/50. I try to get as much head-to-head action as I can every week and then supplement that with other cash games.
Each week, I'll review my cash-game lineup in this space. Sometimes I'll lose, but hopefully I'll win more often. Either way, I'll post it here and give you my thought process.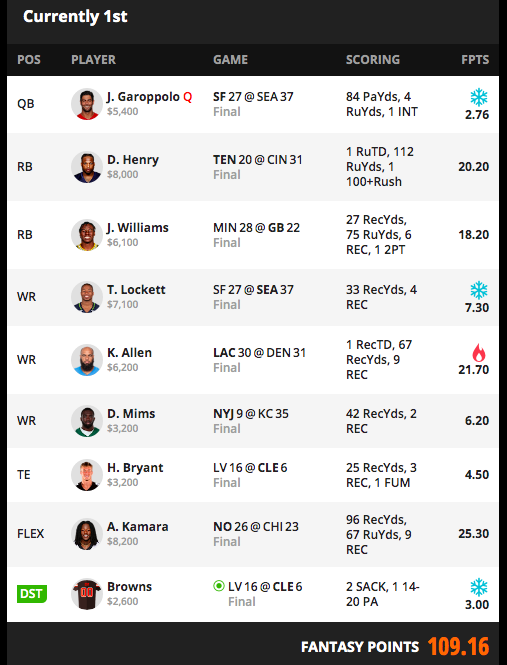 The windy conditions and tight pricing created a relatively condensed player pool for me this week. With the only running backs in play at $6100 and up, I wanted to ensure I gave myself upside at the wideout position. That meant going cheap at QB, TE and of course D/ST.
MY MUST PLAYS
* In four full games with Justin Herbert, Keenan Allen was averaging 13.2 targets with a 35% target share. Even if we scaled that back to a very conservative nine targets against the Broncos, Keenan still projected as one of the best values on the entire slate thanks to the $6200 tag. I suspect DraftKings didn't bump his price off last week (when he smashed at 15% owned in tournaments) due to matchup, but we know this Broncos defense is nothing to really fear.
* With Aaron Jones out again, we could project Jamaal Williams for 90+% of the snaps and every single one of the RB targets. With Aaron Rodgers at QB, a cheap $6100 tag and the talent-devoid Vikings defense on tap, Jamaal was a must for the second straight week.
MY WANT PLAYS
* I only had five RBs in my pool: Alvin Kamara, Derrick Henry, Kareem Hunt, Gio Bernard and Jamaal Williams (see above). With Michael Thomas and Emmanuel Sanders out again, I leaned toward really wanting to get Kamara. The role on full-PPR DraftKings is so absurd between target share, catch rate from Drew Brees, rushing share and rushing inside the 5-yard line share. The only thing that didn't make Kamara a "must" for me was the matchup and game environment at Chicago.
* I thought a lot about a 2v2 of Jonnu Smith and Kareem Hunt vs. Harrison Bryant and Derrick Henry. Although our projections had Hunt and Henry very close in media, I thought both the floor and ceiling of the Big Dog was significantly better. Although Henry's lack of pass game role is brutal, no team is as committed to building a gameplan around and executing through their power back. Even with no catches, Henry's floor is exceedingly high in these matchups against poor rush defenses and strong projected game flows. As for ceiling, we can't even compare Henry's to Hunt's.
As for tight end, regular readers know I'm typically trying to play the cheapest viable option. So while a lot of projection-based optimals featured George Kittle, I was never going to pay $7000 for the position. Bryant and Jonnu Smith were the options in the 2v2 I discussed above. I didn't love either, particularly with the wind. But I'm always willing to punt at the tight end spot when the cap is tight.
* I only had 2 QBs in my pool: Jimmy Garoppolo and Russell Wilson. But with the RBs I wanted to play so expensive (cheapest one was $6100), there was no way I was getting up to Russ at $7800. So I was fine to settle for a $5400 QB in the best possible matchup.
* I wanted to leverage the wind a bit in my D/ST pick. So I preferred one of the Bills, Titans, Packers, Bears or Browns. The Browns D/ST were the one which fit in this construction, so I was fine going with them even though Derek Carr's lack of aggression and sack rate isn't great. The Browns do have a top-5 pass rush headed by Myles Garrett.
* With both Breshad Perriman and Jamison Crowder, we could projected athletically gifted Denzel Mims for roughly 100% of the snaps. The target tree of slot man Braxton Berrios fit better in this Adam Gase offense which has produced huge target shares for fellow slots Jamison Crowder/Jarvis Landry, but this lineup didn't have the $300 I needed to get there. I really try not to rely on garbage time from bad teams for fantasy production, but there wasn't a lot of opportunity cost at WR this week.
* I never love being high on players after they come off 99th percentile outcomes as Tyler Lockett did in Week 7. But I did want exposure to Russ in this ideal environment and Lockett remained underpriced at $7100. Davante Adams was already going to be difficult to get to at a massive $8800 tag and the wind in that game made it easier to find a fade there.
The only other option was to punt another WR spot with AJ Green, Braxton Berrios or Kendrick Bourne and spend up at QB/TE. But I'm typically going to side with the WR in that spot outside of extreme circumstances due to separation ability.
Week 8 Results
I was happy with the decision to force in Derrick Henry over Kareem Hunt and the result there was good – even in a brutal game flow for the Big Dog. I was also happy with the decision not to force Jonnu. So it was disappointing to take a loss here under the weight of Jimmy G's faceplant, Tyler Lockett's dud and not having the Dolphins D/ST. It's a result I can live with here, I think this was the right team for the week. Sometimes you're the bug and sometimes you're the windshield.
Year-To-Date Results
Week 1: 172.10 points, won 72.8% of head-to-heads.
Week 2: 138.34 points, won 66.8% of head-to-heads.
Week 3: 129.10 points, won 59.2% of head-to-heads.
Week 4: 111.60 points, won 28.8% of head-to-heads.
Week 5: 147.78 points, won 48.5% of head-to-heads and 192.96 points, won 100% of head-to-heads.
Week 6: 142.76 points, won 62.5% of head-to-heads.
Week 7: 208.00 points, won 82.3% of head-to-heads.
Week 8: 109.16 points, won 35.3% of head-to-heads.