Week 11 brought us a barrage of amazing running back plays, but you could not play them all. Let's talk through the decision points, including which running backs I ended up prioritizing for cash games on this slate.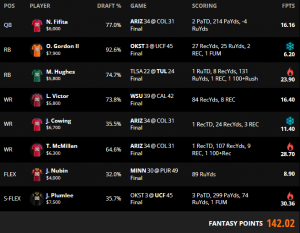 QUARTERBACK
Due to the sheer volume of smash running back plays, this was by no means a lock to be a two-quarterback slate. The only quarterbacks I considered were Noah Fifita, John Rhys Plumlee, and Cameron Ward. They were priced fairly and it's difficult to match the floor/ceiling the quarterback position provides in Superflex, so while it was a possible path to play one quarterback, I was pretty sure that two was still correct. I liked Michael Pratt some, but he was relatively expensive compared to the others and there was a high likelihood I was going to play Tulane's running game with Makhi Hughes (and did not want both).
My general approach was to slot $6,000 Noah Fifita in my lineup and then circle back on Superflex after working through running back and receiver. After toying around with construction a bit, I preferred Plumlee over Ward at $1,000 cheaper as my second quarterback option (which would allow me to play Jacob Cowing over Kyle Williams). A second run-through of the lineup led me to compare Jaydn Ott to Plumlee, which, for me, ended up being the quarterback.
RUNNING BACK
There were numerous incredible plays at the position, but Ollie Gordon was a stone lock for me at only $7,900. His role is unmatched in college football and this was an elite matchup versus a UCF team that allows a lot of production on the ground. Tahj Brooks, Jaydn Ott, and Makhi Hughes were the other mid-range targets, but Hughes is the one of the group that stuck out as underpriced, so that was the starting point for the second running back. I would have played Brooks or Ott straight up over Hughes, but playing the latter got me up where I wanted to be at wide receiver, so it was a pretty clean decision — although it left me with a few painful fades.
Jordan Nubin and Jonah Coleman were the cheap options, however, there was not complete clarity in terms of the availability of their teammates, which impacted their roles. For Coleman, we were expecting Michael Wiley to be out, but we never got any word of confirmation beforehand, so it was a situation where I defaulted to using Nubin since we received word before the Arizona game lock that Darius Taylor was out. If Michael Wiley was ruled out before that game locked, I was considering moving down off Cowing or McMillan and then turning Nubin into Coleman. Since we did not get any news on whether Wiley even traveled for the game until after look, I ended up with Nubin as my value running back.
WIDE RECEIVER
Lincoln Victor at $5,800 was a total joke price tag for his role and he seemed fine this week after leaving last week's game with an undisclosed injury. He was the starting point for me. Next up, I was certainly playing at least one Arizona wide receiver. I had a slight preference for McMillan, but you could make an argument that Cowing was a better floor play given he would be running routes from the slot and avoiding Travis Hunter for the most part.
Beyond those three, the only other considerations were Kyle Williams, Rashod Owens, Luther Burden, and Leon Johnson. I liked Owens more than Leon Johnson for $200 more and wanted to save Kyle Williams as a swap off Lincoln Victor (if for some reason he was ruled out before the game since he did leave the last game injured). Burden was in yet another tough matchup and was injured last week, so I was a bit hesitant to prioritize him.
I ended up double stacking Arizona wide receivers with Cowing, as I was very comfortable with the Ollie/Hughes/Nubin running back trio. I did not have the salary to get up to Luther Burden and there really weren't any other pivots unless I wanted to play Cam Ward over Plumlee or drop down from Hughes to risk Coleman. I preferred Plumlee straight up over Ward for cash games, so that solidified my decision.
CASH LOCK RECAP
I viewed the following players as those you had to play in cash games this week: Ollie Gordon II and Lincoln Victor.

Results
The poor pricing led to a lot of duplicated lineups in cash games, as nearly the entire field was focused on the same small pool of plays. In the 919-man $5 single-entry double-up, five of my roster spots were 60%+ owned plays and nobody was below 30%. I found this to be the least interesting cash slate of the entire season, so there are not many conclusions I can draw other than I wish Jacob Cowing did not get hurt and lose 20 minutes of game action. Minnesota getting down big early was not a favorable game script for Jordan Nubin, so he was underwhelming, which hurt because he was the biggest differentiator in double-ups this week.
The only hole I could poke in my lineup was that maybe playing both Arizona wide receivers was a bit too much, but I struggled to find other options in the $6K range I liked. I likely would have dropped down McMillan to Baker or Kyle Williams if anything, and that would not have helped my results without McMillan in my lineup.
Hopefully you all were on the right side of your 2v2 or 3v3 that decided your fate. Let's hope pricing is a bit better next week. Thanks for reading!
Season Results in Largest Single-Entry $5 Double-Up:
Week 0: 87th-percentile lineup (W)
Week 1: 12th-percentile lineup (L)
Week 2: 49th-percentile lineup (L)
Week 3: 33rd-percentile lineup (L)
Week 4: 92nd-percentile lineup (W)
Week 5: 42nd-percentile lineup (L)
Week 6: 64th-percentile lineup (W)
Week 7: 77th-percentile lineup (W)
Week 8: 83rd-percentile lineup (W)
Week 9: 34th-percentile lineup (L)
Week 10: 97th-percentile lineup (W)
Week 11: 49th-percentile lineup (L)