Each week in this space, we'll look at how fantasy football ADP has changed across real money drafts over the past week. The goal is to learn how drafters playing for cash prizes are reacting to news, injuries, and more to build their teams. Finally, at the bottom of the article, we will pull out the takeaways we think are important to understand from these moves.
To listen to a breakdown of this info in a short audio format, check out the Establish The Run Podcast (Episode released Monday afternoon).
We cover ADPs for: Underdog Fantasy, FFPC, and NFFC. In the future, we will add "home league" ADP to this report.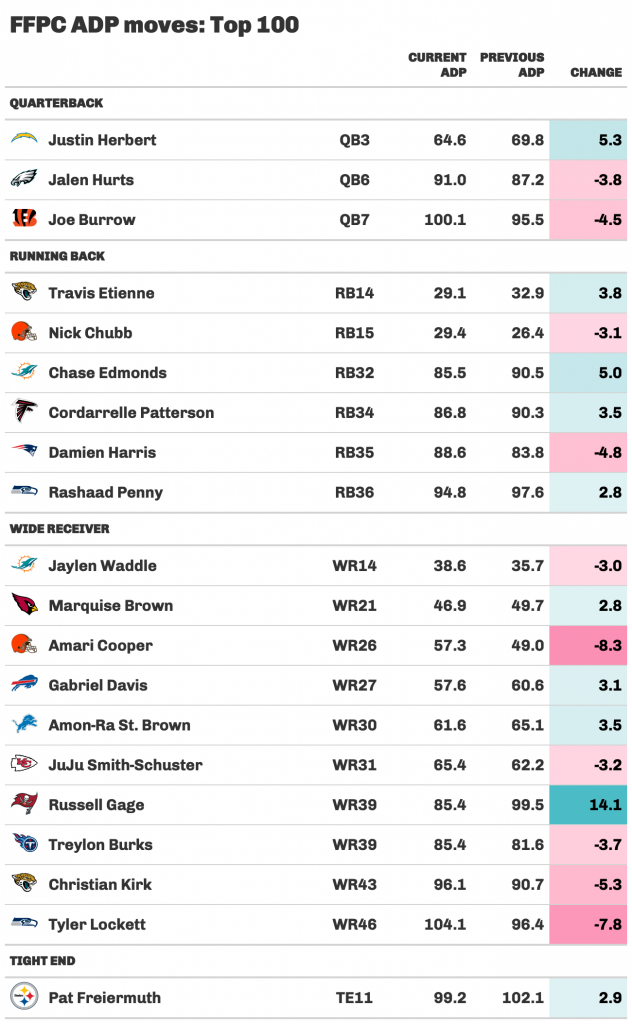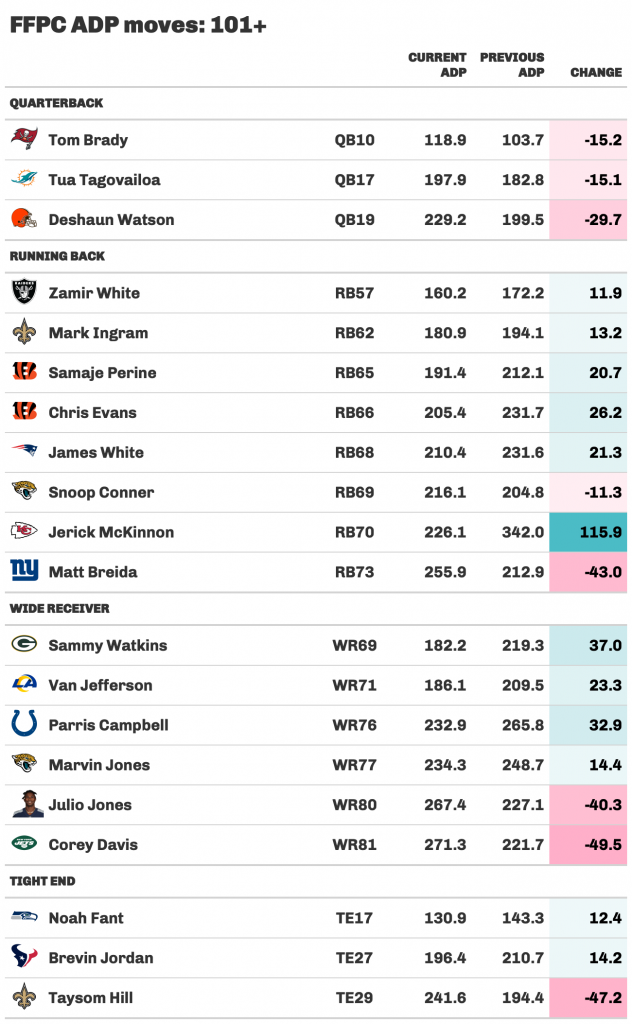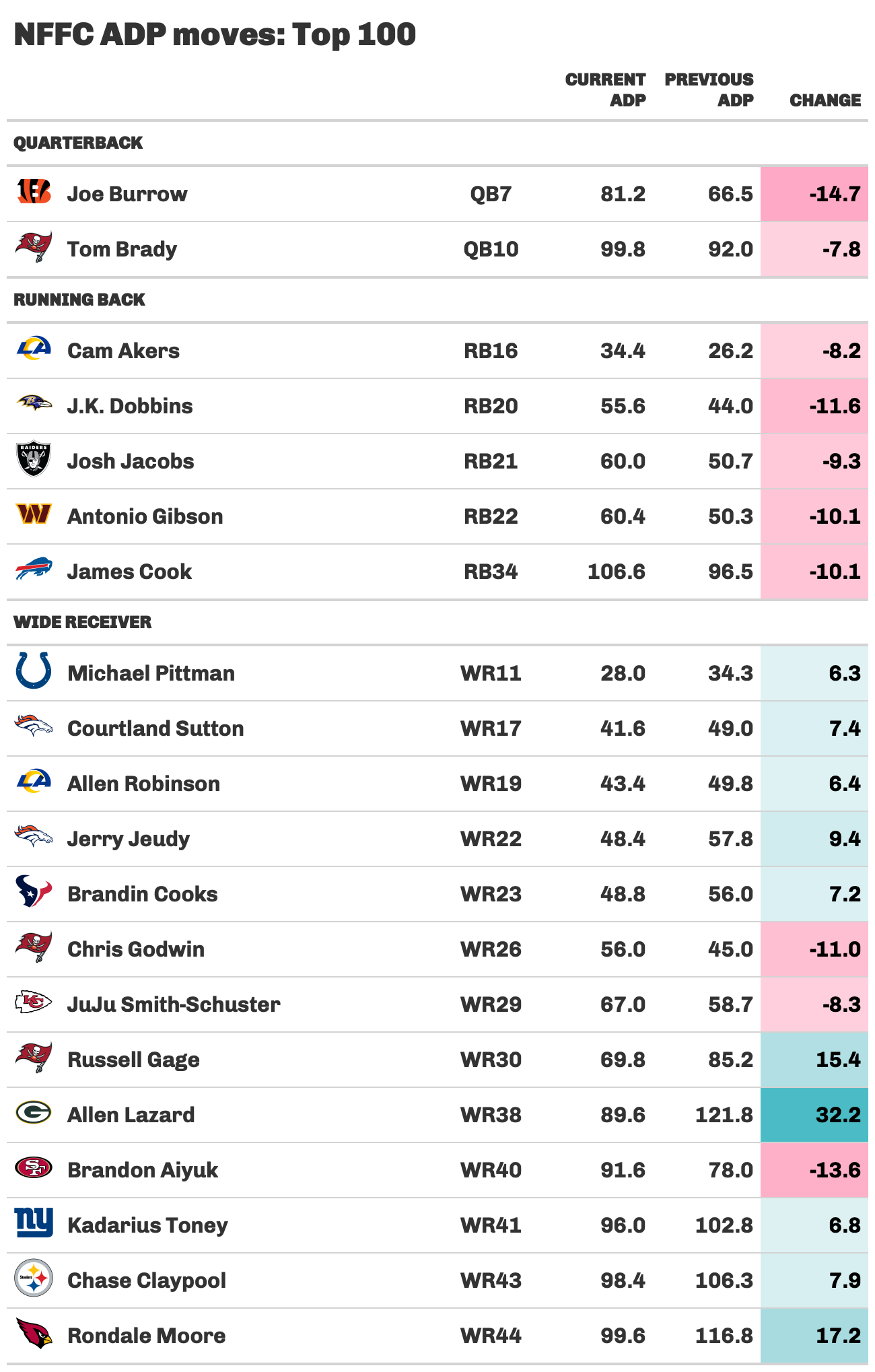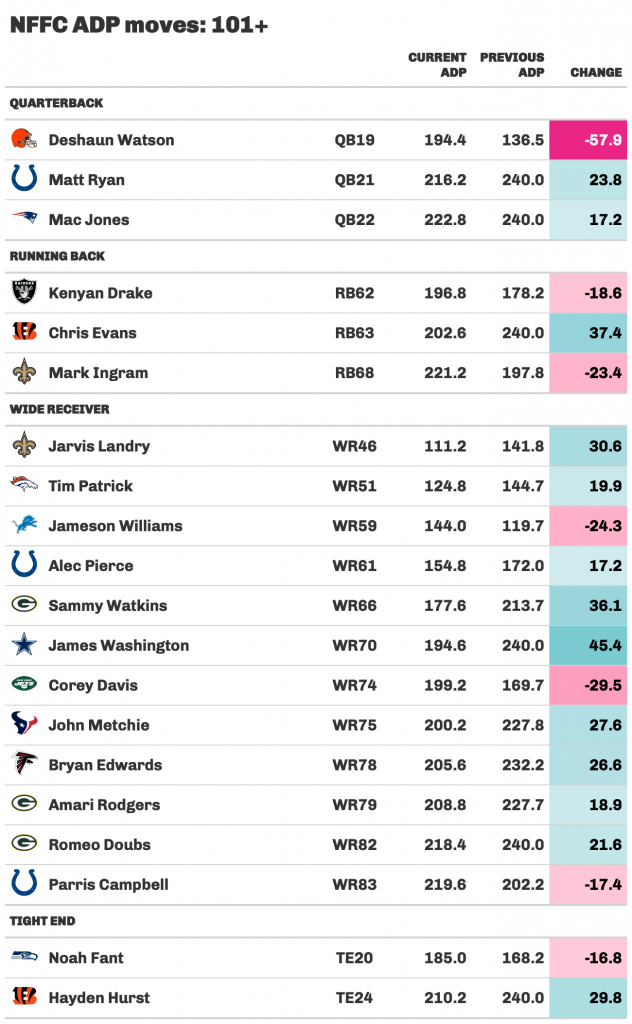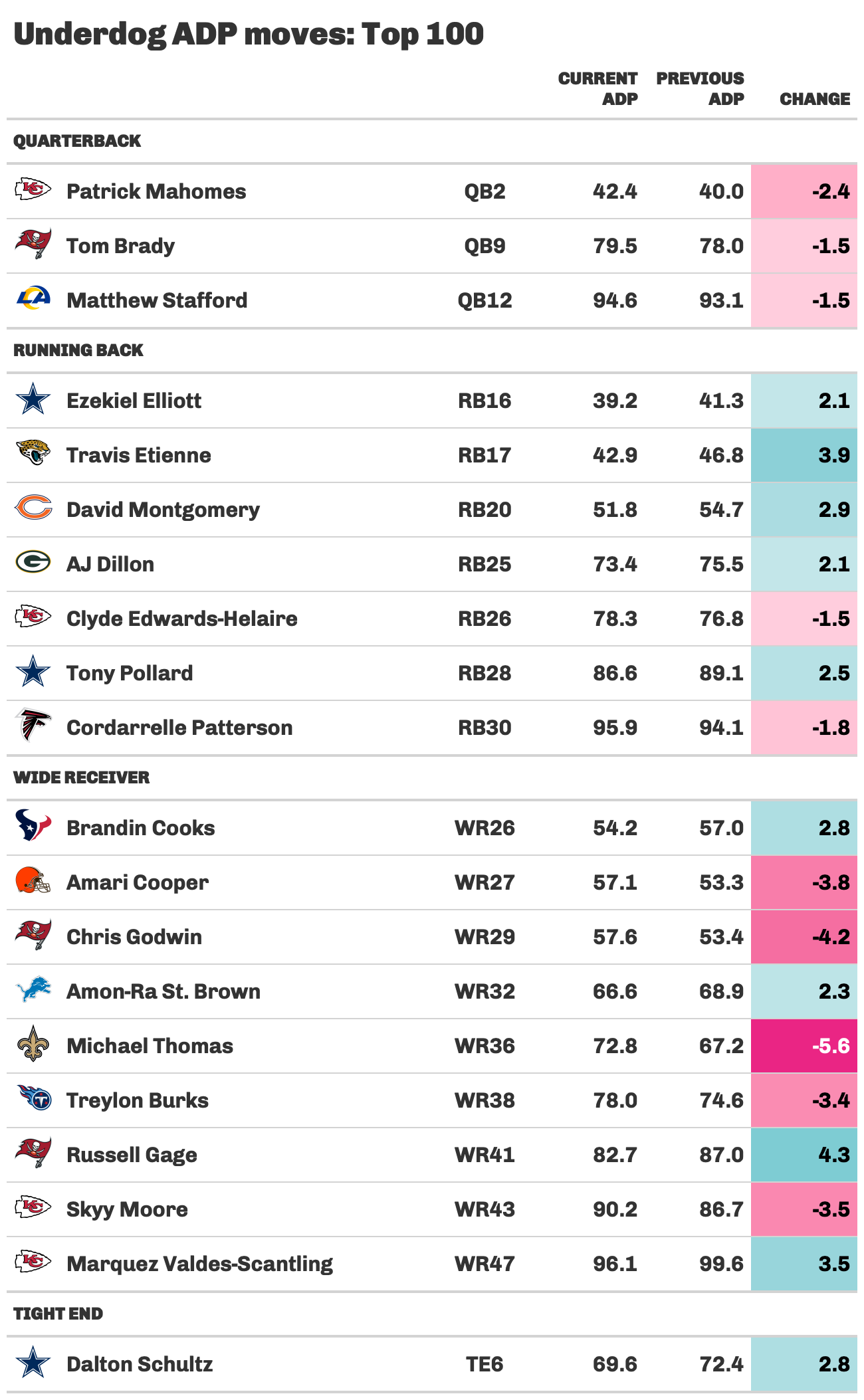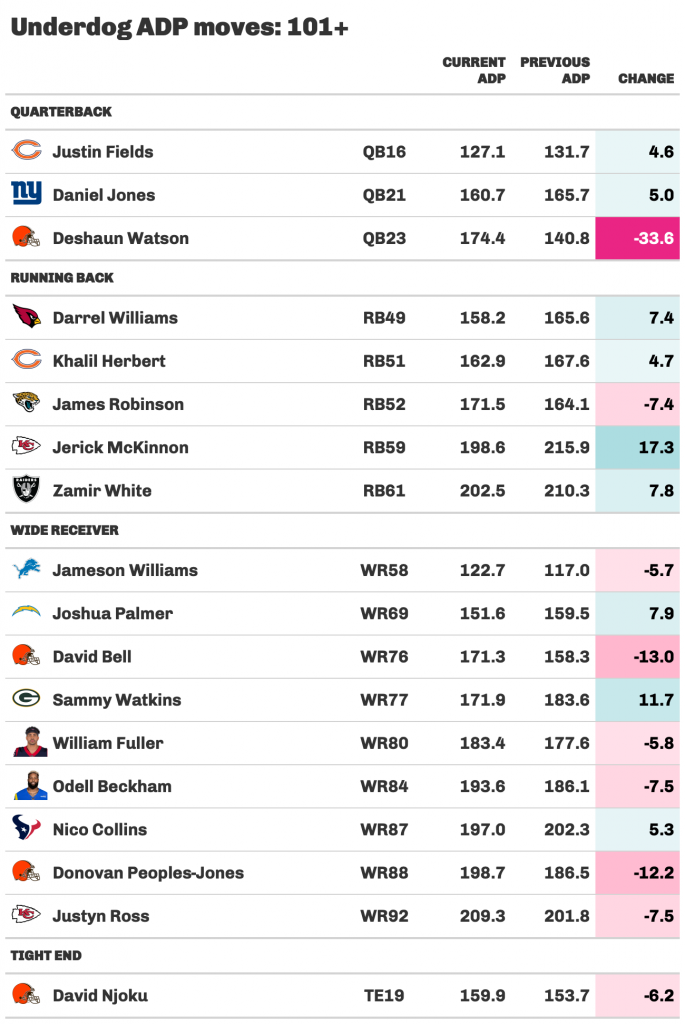 Notes:
The Cleveland Browns have seen their ADPs fall everywhere as the Deshaun Watson suspension decision looms. We've scaled back their expected plays and pass rate and reduced the upside scenarios for individuals until we have a clear picture on the suspension. If taking a chance on the Cleveland WRs, David Bell is our favorite option at cost. Our dynasty guru Anthony Amico is higher on the market than Bell, and his potentially short-aDOT role could be the least affected by a lack of downfield passing game if Watson misses most or all of the team's games. We don't think the risk/reward on Deshaun Watson makes sense to chase him in best ball right now, but in managed 1-QB leagues, he may be worth a late-round pick as a QB2.
We've seen a lot of movement in Rounds 5-8 at WR. Among the consistent ADP risers are Brandin Cooks, Amon-Ra St. Brown, and Russell Gage. Among the consistent ADP fallers are JuJu Smith-Schuster, Chris Godwin, and Treylon Burks. St. Brown is our favorite among the risers. We did actually bump up Cooks and Gage recently, but the ADP surge keeps us behind the market on their positional ADP. Meanwhile, we're buyers on all of the falling WRs, valuing the upside potential of JuJu, Godwin, and Burks more than the risk all of their uncertainty brings. Adam Levitan and Mike Leone discussed the specific fantasy value of Gage and the KC WRs on this recent ETR podcast.
The QB market in general seems to be cooling off, which aligns with our rankings, making it a little bit easier to address the position in drafts. We've been out on Joe Burrow as a top-six QB, but he's down to QB7 across the industry and a more palatable pick in the seventh round, especially if stacked with Ja'Marr Chase or Tee Higgins in the early rounds.
The market is getting comfortable with Travis Etienne bouncing back from injury and with a new coaching staff in Jacksonville. We're feeling better as well, but we still have Etienne as a negative value on FFPC (breakeven positionally but prefer WRs in that range) and a negative value overall and positionally on Underdog.
Jerick McKinnon re-signed with KC and has immediately become a popular late-round RB pick, moving up to RB70 on FFPC and RB59 on Underdog. We have him as a slight value at both of those costs given the upside he flashed in the postseason and prefer him to Ronald Jones at cost right now.
Allen Lazard has moved into the Top 100 on NFFC, which we view as overly optimistic. They have a smaller sample of drafts, so the moves are a bit more variant, but Lazard is a negative value for us on all three sites.
Jameson Williams is falling across the industry as realism over his injury return timeline settles in. He's becoming an okay stash as opportunity cost softens, but he's still a small negative value for us.
Corey Davis has dropped to WR74 on NFFC and WR81 on FFPC. His ADP makes no sense to us, as Davis was productive the last couple of seasons, is still in his prime (entering his age-27 season), and is a former top draft pick. The competition from younger, highly talented WRs in Elijah Moore and Garrett Wilson is real, but it's overblown. Expect Davis to have a high route participation as long as he's healthy.