Hey, all! I want to apologize for the lack of leverage and/or the weird release schedule over the last few weeks. My personal life has gotten in the way, but I'm excited to be back with you all for a normal schedule moving forward (late Friday night or early Saturday morning release).
For now, I would love to point you all toward last week's column, which didn't go up until Sunday morning (apologies). It was more of a deep dive into the history of the RB position in optimal lineups — similar to what I did for tight ends in Week 5. Even though it was last week's column, I think it is an evergreen exercise to learn about what kind of RB scores are needed to win tournaments. Check it out here.
Take a look at last week's perfect lineup: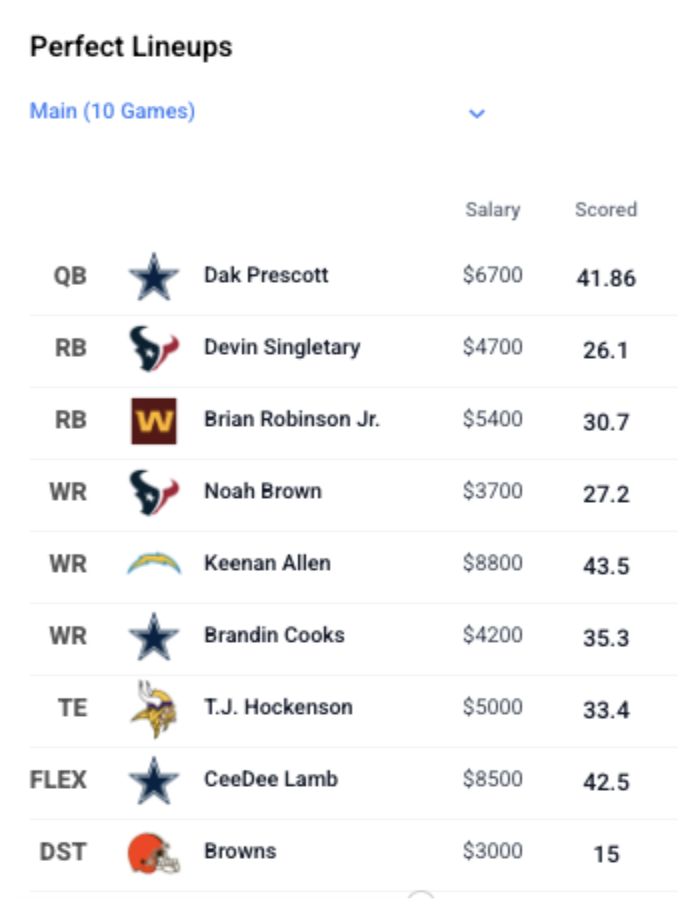 This is only, I believe, the third or fourth time over the last three or four years we had a traditional double stack hit in a perfect lineup (Dak Prescott–CeeDee Lamb–Brandin Cooks). There are lots of lessons within this lineup. We have been seeing this type of viability more often over the last two seasons largely due to pricing structures and concentrated offenses.
It was also the rare instance of seeing two skill-position players from the same team without a QB from that same game. However, this has been seen before and is more prone to happen with salary-relief plays, which Noah Brown and Devin Singletary both were.
This optimal lineup also makes me think about the need for raw points at the tight end position, as we spoke about in this Week 5 TE deep dive. If you were to ask a DFS player last week who they thought the optimal TE was, they almost certainly would have said Trey McBride ($3,400 on DK and put up 24.1 points). However, T.J. Hockenson and his nine more points were necessary to complete the optimal puzzle, despite the $2K larger tag. Raw points are critical at the tight end position.
The biggest takeaway from this is the fact that the field continues to underutilize teams that are projected to blow out another team (14+ point spread or more), likely in fear that the opposing team can't push to make it a better game environment. However, I've always said that if a team is to eclipse their near 30 or 30+ point team total, and cover a two-touchdown or more spread, that almost has to come through the air or at least come with some sort of fantasy success. This is exactly what happened this week, and what happened when I won the Milly Maker in Week 8 of 2020. The Chiefs were favored by over 14 points against the Jets, and my winning lineup had a Mahomes-Kelce stack that was under-owned.
This made me want to do a mini-deep dive into games that were projected blowouts (14 or more points) and how often they were represented in optimal lineups. Let's take a look as far back as linestarapp.com will allow me to look (Week 10 of 2020). NOTE: I did not count Week 18s in this exercise, as that final week is far too unique in my opinion.
Week 10, 2020 – JAX @ GB, GB -14
We create the highest-quality NFL content
Our team includes renowned fantasy analysts Evan Silva and Adam Levitan, high-stakes professional DFS players, and specialists who cover niche areas that we believe are important to understand.
We don't sell lineups or claim to have all of the answers. We do analyze what's happening in a way that's digestible and actionable, with a goal of preparing you to make the best decisions possible during the 2022 NFL season.
Read on to learn what's inside our In-Season NFL subscription.
Full Details! »
Already a subscriber?
Log In