Welcome back to Week 2 of the GPP Leverage column! I sincerely hope you all had successful Week 1s; however, if you did not — who cares! We have a blank slate and it's time to look forward. However, before we do that, let's take a look at last week's optimal lineup to see what we can take away (courtesy of linestarapp.com):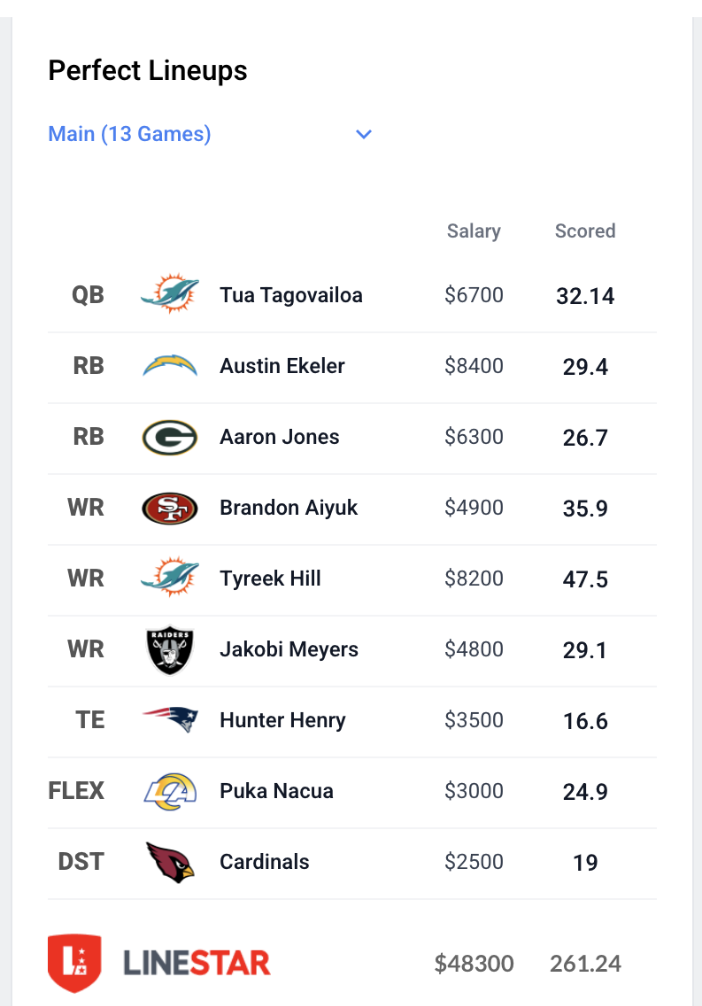 A couple of things jump out. One, we only had a 72.15% cumulative ownership, on the low end of a sweet spot range for large-field MME. Most surprisingly, however, the perfect lineup left A TON of money on the table with $1,700 to spare. This is very rare and is a pure result of Week 1 pricing inefficiencies. It's just another note for next season that we should be treating Week 1 very differently. Construction-wise, we had a skinny stack (Tua-Hill) with a bring-back (Ekeler) and did not have any other correlation in our optimal lineup. It's worth noting that plenty of chalk did hit, and if chalk didn't hit, some "spots" still did.
Tyreek Hill and his monster 47.5 DK-point performance were nearly 24% owned in the huge Milly Maker, while Aaron Jones and Austin Ekeler were over 15% owned. However, we still only had a 72% cumulative ownership. That's because pivots hit in spots the field was attacking:
 Puka Nacua hit instead of any of the other more popular Rams receiving options.

We knew there would likely be value options in an optimal lineup, and the Rams spot was one that we touched on at length throughout all of our Week 1 content, including my Cheap WR Volume article. I mentioned Puka Nacua as the pivot to the more popular Tutu Atwell, Van Jefferson, and Tyler Higbee, and boy did he hit in a big way.

Hunter Henry was needed instead of one of the cheap rookie or chalk TEs.
Brandon Aiyuk was an excellent GPP play at only 5.74% compared to both his teammate Deebo Samuel (over 10%) as well as other guys in his price tier like Michael Thomas, who was over 10% owned.
Tua Tagovailoa hit instead of the more popular Justin Herbert on the other side. 

For what it's worth, attacking the lower-owned QB in a great game environment is something I love doing.
It will be interesting to see how "take-locked" the field gets in Week 2. We have to be ready to be more malleable than our opponents, and especially be ready to attack bounce-back spots, which is something I spoke at length about in last year's Week 2 leverage column.
In that article, I spoke at length about how we often had optimal or winning players who were underperforming Week 1 bounce-back candidates. Two examples of this in last year's Week 2 perfect lineups were Tony Pollard (4.2 DK points in Week 1, to 19.8 in Week 2), and Garrett Wilson (9.2 DK points in Week 1, to 33 DK points in Week 2). These were both examples of players who were far underpriced as either a rookie or under-realized stud in a split backfield. Catching these players while their prices are low is critical, and finding that combination of a second-week breakout with a low price can be a key to binking an early-season slate such as this one.
From a macro perspective, there are tons of bounce-back spots in Week 2, including for Joe Burrow and the entire Cincinnati offense, Daniel Jones and the Giants, Josh Allen's Bills, Geno Smith and the Seahawks, and many more one-off plays I will discuss below.
Underpriced players who had rough or uninspiring Week 1s, and remain cheap as a result:
We create the highest-quality NFL content
Our team includes renowned fantasy analysts Evan Silva and Adam Levitan, high-stakes professional DFS players, and specialists who cover niche areas that we believe are important to understand.
We don't sell lineups or claim to have all of the answers. We do analyze what's happening in a way that's digestible and actionable, with a goal of preparing you to make the best decisions possible during the 2022 NFL season.
Read on to learn what's inside our In-Season NFL subscription.
Full Details! »
Already a subscriber?
Log In