In last off-season's version of this article, I used 2019-20 data to determine how the field was playing vs how the field should have been playing. As showdown contests gained momentum, the analysis improved and the field got sharper. This article will explore what happened last season and determine how to best leverage that information to create more unique lineups with winning upside in 2021.
Unlike classic slates where we have hundreds of legitimate players to consider each week, single-game contests present an entirely new challenge with at most 30 rosterable options per slate. Because of this and the inherent randomness of NFL games, I focus my showdown attention and bankroll on large-field tournaments that offer the highest return when I'm right. Here are some of my favorite ways to build unique lineups and maximize my upside in those contests:
Mo' Money, Mo' Problems
"If you want to be different, just leave some money on the table." Spending less than the $50,000 salary cap is a time tested measure that's become somewhat of an industry standard for those trying to be different. But how effective is it? 
Whether you're hand-building a few lineups for the DraftKings flagship tournament or using a lineup optimizer for MME, restricting the salary used on each lineup is among the easiest ways to try and build lineups that are less likely to be duplicated. In reality, the correlation between salary used and the number of times your lineup is duplicated is relatively weak (.16 rsq) and the relationship is nonlinear. Using the chart below, you can see that simply decreasing your salary spent from $50,000 to $49,900 hardly improves your chances of building a unique lineup. However, we do notice serious results in reducing our average duplicates as we start restricting salary more. Eventually, we hit a threshold where continuing to use less salary no longer has a big impact and we just end up building worse versions of similarly duplicated lineups.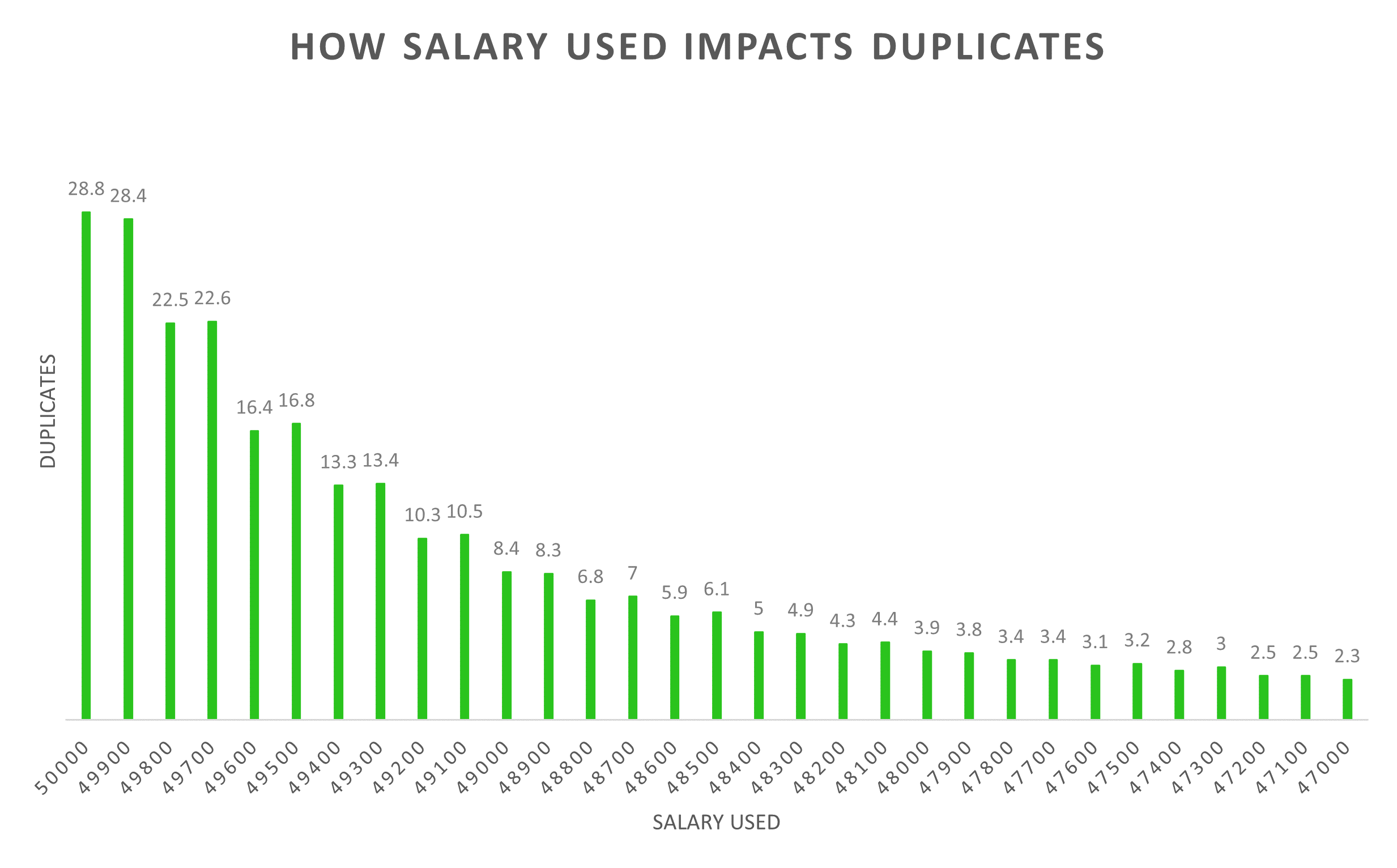 Addition By Subtraction
Managing cumulative ownership is another industry standard many use to try and build more unique lineups. We can calculate our lineup's cumulative ownership by adding up each player's individual ownership percentage to get a grand total. The lower our roster's cumulative ownership, the fewer times it will be duplicated, right?
We create the highest-quality NFL content
Our team includes renowned fantasy analysts Evan Silva and Adam Levitan, high-stakes professional DFS players, and specialists who cover niche areas that we believe are important to understand.
We don't sell lineups or claim to have all of the answers. We do analyze what's happening in a way that's digestible and actionable, with a goal of preparing you to make the best decisions possible during the 2021 NFL season.
Read on to learn what's inside our In-Season NFL subscription.
Full Details! »
Already a subscriber?
Log In