I am mainly a cash-game player. Cash games refer to any contest in which roughly 50% of the field gets paid out, such as head-to-head, double up or 50/50. I try to get as much head-to-head action as I can every week and then supplement that with other cash games.
Each week, I'll review my cash-game lineup in this space. Sometimes I'll lose, but hopefully I'll win more often. Either way, I'll post it here and give you my thought process.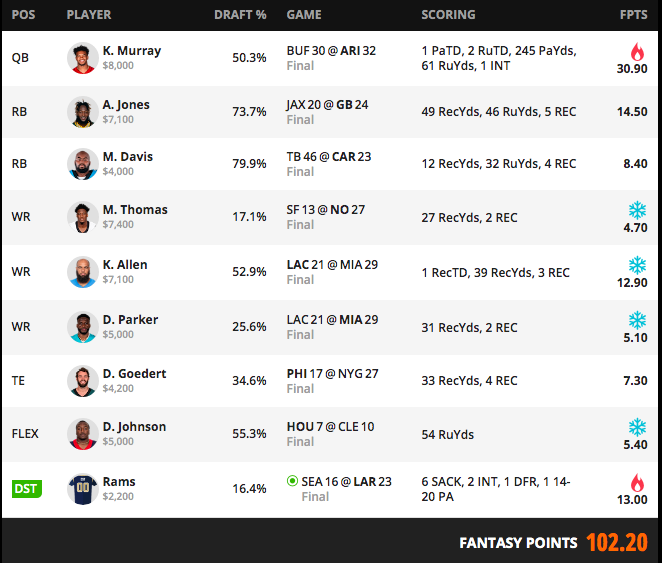 I considered this a "prove it" week. Once we learned Kenyan Drake (ankle) would play and the weather issues downgraded a few games, my player pool got really tight. On Sunday morning I felt really good about my team, especially at QB, RB, TE and D. I know some people like to say these are "bad" weeks for cash, but I actually like to make our opponents prove they can land on what I think (hope?) is right.
MY MUST PLAYS
* DraftKings made the mistake of pricing main slate Mike Davis at $4000 with Christian McCaffrey (shoulder) out. On the side slates (Thursday-Sunday, early only etc), he was $6700. And while Davis wouldn't have been a slam dunk at $6700, he would have certainly been in play. Passing on three-down plus goal-line backs in a check-down happy offense at $4000 is not something I'm up for.
MY WANT PLAYS
* As we've discussed through the season, the top tier of QBs has separately massively from the pack. In weeks where we have enough value (like this one), I am going to get up to the dual-threat ceiling guys. So this week, I only had Kyler Murray, Josh Allen and Russ Wilson in my pool. I preferred Murray for the elite rushing ability and game environment/matchup. Allen has shown a far lower floor than Kyler and Russ had the toughest matchup by far.
* I was all set to play Chase Edmonds as a "must" until we learned Kenyan Drake (ankle) would be active. That left four RBs for two spots: Duke Johnson, Miles Sanders, Aaron Jones and Alvin Kamara. I did expect Duke to handle 90% or more of Houston's RB touches, not something we typically see at $5000. So even though I haven't considered David Johnson all season in the mid-$5Ks and the weather in Cleveland created downside toward a really ugly slog, I still thought Duke was strong.
As for the other RB spot, Aaron Jones was $1100 less than Alvin Kamara at home against arguably the NFL's worst defense. While Alvin Kamara's outrageous pass-game plus goal-line role keeps his floor higher, Jones' red-zone plus pass-game role isn't far behind.
* Regular readers know I hate spending up at tight end in cash on DraftKings, even into the low-$4Ks. But this week I really didn't need the money. So punting with something like Gerald Everett, Jordan Reed or Logan Thomas didn't save enough cap space to get me anything meaningful. So I was happy to roll with Dallas Goedert's natural talent getting a boost thanks to Zach Ertz's absence. I did play Noah Fant over Goedert on FanDuel, but the $700 price difference on DraftKings made it easy there.
* I really warmed up to the Rams D/ST late in the week. A big part of it was line movement – this game opened around Seahawks -1 and closed Rams -3 in some spots. That was undoubtedly sharp money as the public was on Seattle. Of course, the Rams have one of the NFL's best pass defenses and Russ is going to drop back a ton. I never hesitate to play defenses in potential shootouts – it's far better than using a D/ST against a team which is going to run a ton. Dropbacks create sacks and the potential for strip sacks, interceptions and defensive TDs.
* I thought the key to the slate was which WRs we picked. My seven favorites on DraftKings were DeVante Parker, Tyler Lockett, Terry McLaurin, Cooper Kupp, Keenan Allen, Michael Thomas and Stef Diggs. It wasn't practical to fit in three of the $6500+ guys, so I was always playing Parker. With Isaiah Ford gone and Preston Williams out, we have Parker projected for 8.6 targets at just $5000. Plus I knew Parker had a big red-zone role thanks to his size.
As for the other two spots, I simply tried to jam in as many targets as possible. Michael Thomas was a regular $9000 player last season and was priced at $7400 in the dome in a good matchup. Keenan Allen has a 30% target share with Justin Herbert. I didn't have strong feelings about the WR spots, so I let the rest of the lineup dictate it here.
Week 10 Results
I got off to a horrible start in the early games with Mike Davis, Duke Johnson, Aaron Jones, Dallas Goedert all failing. I thought about swapping to a Josh Allen and Stef Diggs stack, but I opened up about 20 head-to-heads and I was actually in good shape in almost all of them. I also thought Michael Thomas would be pretty contrarian – moreso than Diggs. So I decided to stick, which maybe was a mistake but I'm honestly not sure. Either way, this was a tough loss to swallow as I really thought this build was correct.
Year-To-Date Results
Week 1: 172.10 points, won 72.8% of head-to-heads.
Week 2: 138.34 points, won 66.8% of head-to-heads.
Week 3: 129.10 points, won 59.2% of head-to-heads.
Week 4: 111.60 points, won 28.8% of head-to-heads.
Week 5: 147.78 points, won 48.5% of head-to-heads and 192.96 points, won 100% of head-to-heads.
Week 6: 142.76 points, won 62.5% of head-to-heads.
Week 7: 208.00 points, won 82.3% of head-to-heads.
Week 8: 109.16 points, won 35.3% of head-to-heads.
Week 9: 131.60 points, won 48.5% of head-to-heads.
Week 10: 102.2 points, won 19.1% of head-to-heads.