I am mainly a cash-game player. Cash games refer to any contest in which roughly 50% of the field gets paid out, such as head-to-head, double up or 50/50. I try to get as much head-to-head action as I can every week and then supplement that with other cash games.
Each week, I'll review my cash-game lineup in this space. Sometimes I'll lose, but hopefully I'll win more often. Either way, I'll post it here and give you my thought process.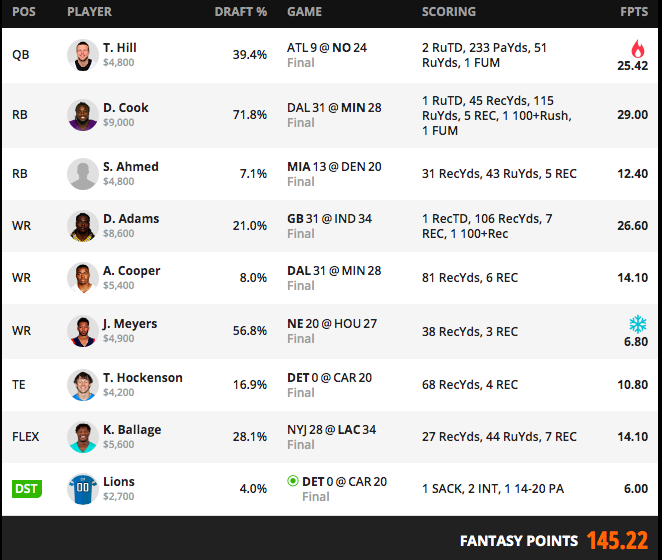 I thought this was one of the toughest weeks of the season. I only felt really good about one play on the entire slate: Dalvin Cook. We even had questions in terms of usage at quarterback with the Saints and Panthers situations. I went into the slate wanting to be creative and willing to take on some lower floors in favor of ceilings. I thought just one or two big days would break another likely low-scoring slate.
MY MUST PLAYS
* We had Dalvin Cook projected as one of the best values on the slate. But even if you thought he was merely a breakeven value at his $9000 salary, I still would've argued for Dalvin as a "must." In a really fragile slate like this, guaranteeing 20-30 elite touches in an extremely favorable matchup and game environment is so important.
* #TeamPreseason regulars know that Jakobi Meyers is actually good. He also had a near 40% target share since getting promoted into the starting lineup. This was also a game in which Cam Newton projected for more pass attempts than usual as we know Deshaun Watson has the ability to create shootouts. So at just $4900, I was never passing on Meyers.
MY WANT PLAYS
* This slate was different than what we've had all season because the top tier of QBs – the tier that has separated so widely all season – was missing. In other words, no Kyler Murray, Russ Wilson, Josh Allen or Patrick Mahomes meant there wasn't as much opportunity cost in going cheap. So while I was OK with Deshaun Watson, Justin Herbert or Lamar Jackson, I was more than fine going ultra-cheap with Taysom Hill, PJ Walker or Joe Burrow.
I did think that if Taysom absolutely fell flat on his face in the first half, the Saints would consider turning to Jameis Winston. But all the reports from Adam Schefter and Nick Underhill and Dianna Russini had Sean Payton fully committed to Taysom. So at $4800 with unique rushing ability, I preferred taking on a bit of risk with Hill. Given the home spot against the Falcons, I didn't think it was likely he'd fall on his face. And in fantasy, it's really hard for QBs with his rushing floor at that price to fail.
* I had four TEs in my pool for cash: Mark Andrews, TJ Hockenson, Dallas Goedert and Logan Thomas. I would have been fine with any, but preferred Hockenson with Stafford healthy but Kenny Golladay, Danny Amendola and D'Andre Swift all out. I thought the short-area pass game of the Lions would revolve around Hockenson. Obviously if I had the $700, I would have played Andrews as the alpha for Lamar Jackson in one of the best spots he's seen since September.
* The biggest decision on the slate (in my opinion) was whether to play Davante Adams. He was nursing a bit of an ankle injury and the matchup wasn't ideal. Most importantly, he was priced fully at $8600. Still, similar to the Dalvin Cook play I thought there was merit in taking guaranteed points even if they were expensive. I toyed some with going down to Keenan Allen or Terry McLaurin, but the upgrades elsewhere didn't land me anywhere I wanted. So I closed my eyes and jammed Davante.
* I really thought Duke Johnson was being severely overprojected. While I knew he would play almost every snap, the Patriots have the ability to slow games down and Deshaun Watson has not utilized his backs in the pass game. They'd also be without LT Laremy Tunsil.
I knew playing Salvon Ahmed would be off the board, but he was $600 cheaper than Duke at just $4800. That's a really cheap price for a player who was only "threatened" by Matt Breida (who the Dolphins have shown zero interest in using a lot) and friend of the fantasy community Patrick Laird. The reason Ahmed didn't project well was because he hasn't shown a pass-game role in the NFL, but he caught 50 balls in college. I considered the small sample of him not catching passes fluky.
* I knew that Brandin Cooks ($5200) would be far more popular than Amari Cooper ($5400) in cash. But I really wanted some exposure to the DAL pass game at their rock-bottom prices. They were coming out of the bye, with Andy Dalton healthy, playing in a dome and against one of the league's worst defenses. As I alluded to in the intro, taking on lower floors in favor of really high ceiling players like Cooper was something I wanted to do on this slate.
* My final decision was Justin Jefferson ($6000) vs. Kalen Ballage ($5800). While I had no problem going 4-WR with Jefferson on this slate, the downside of low-volume Kirk Cousins games scared me a bit. I also expected the Chargers to score score among the most TDs on the slate. With Josh Kelley in the doghouse, Justin Jackson on IR and Troymaine Pope back to his special teams role, I projected Ballage for true bellcow usage – including pass-down work.
* I had Bengals D/ST in for most of Sunday morning. By making the move to Ballage over JJeff, I had enough money to get to the Lions D/ST or Panthers D/ST. I preferred Washington D/ST (top-4 NFL pass rush against the team which leads the NFL in dropbacks per game with one of the worst offensive lines) but didn't think it was a big enough priority to move things around for. Anyway, I was OK to settle for the Lions against XFL hero PJ Walker, who I thought had more blowup games in his range than Matthew Stafford.
Week 11 Results
I am really happy with my decisions to go off the board with Salvon Ahmed, Kalen Ballage and Amari Cooper. We saw Ahmed get six targets and Ballage get nine – plus they both were featured runners. I was also pleased with the decision to stick with Taysom Hill while taking into context the big picture of Sean Payton and the Saints. So while I only booked a small win and barely snuck into the money in double-ups, I gained some confidence this week.
Year-To-Date Results
Week 1: 172.10 points, won 72.8% of head-to-heads.
Week 2: 138.34 points, won 66.8% of head-to-heads.
Week 3: 129.10 points, won 59.2% of head-to-heads.
Week 4: 111.60 points, won 28.8% of head-to-heads.
Week 5: 147.78 points, won 48.5% of head-to-heads and 192.96 points, won 100% of head-to-heads.
Week 6: 142.76 points, won 62.5% of head-to-heads.
Week 7: 208.00 points, won 82.3% of head-to-heads.
Week 8: 109.16 points, won 35.3% of head-to-heads.
Week 9: 131.60 points, won 48.5% of head-to-heads.
Week 10: 102.2 points, won 19.1% of head-to-heads.
Week 11: 145.22 points, won 52.7% of head-to-heads.