I am mainly a cash-game player. Cash games refer to any contest in which roughly 50% of the field gets paid out, such as head-to-head, double up or 50/50. I try to get as much head-to-head action as I can every week and then supplement that with other cash games.
Each week, I'll review my cash-game lineup in this space. Sometimes I'll lose, but hopefully I'll win more often. Either way, I'll post it here and give you my thought process.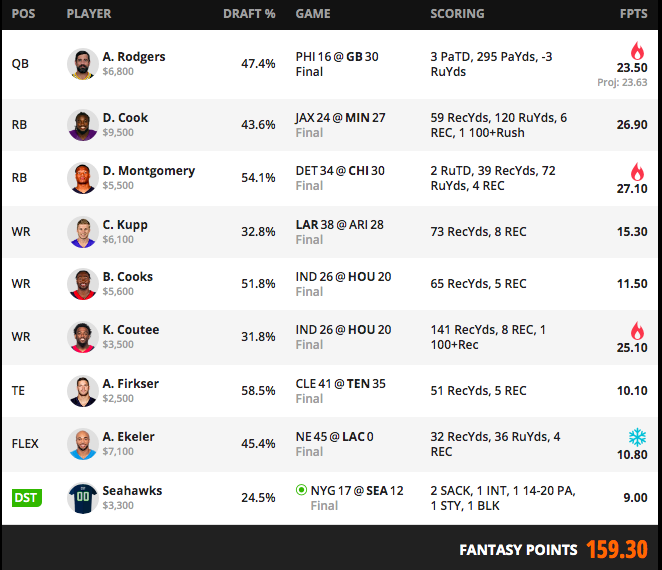 There weren't very many "slate-breaking" spots on this slate. In other words, the best pass games either weren't on the slate (Chiefs, Bills), didn't have a great matchup (Cardinals, Seahawks, Chargers) or were lacking weapons (Texans). With that in mind, I was fine simply playing the best values and letting the chips fall. That led to what I felt was a pretty straightforward construction.
MY MUST PLAYS
* The only case against Dalvin Cook was a minor ankle issue and general overuse over the last month. But after Alexander Mattison (appendectomy) was ruled out on Saturday, I felt really good about Dalvin's workload. With the three-down plus pass-game role and a very realistic shot at 30 touches, he would have been an exceptional play in most matchups. But home against the Jaguars was a no-brainer.
* Austin Ekeler's elite pass-game skills plus big share of rushing work with competent QB play is the stuff fantasy dreams are made of. I had a little concern about this Patriots team slowing the game down, but not nearly enough to move off Ekeler at this price tag. RBs who have realistic paths to 20% (or more) target shares and goal-line rushing work are what I look for.
* I thought there was a reasonable debate between Myles Gaskin and David Montgomery heading into Sunday morning. But then Tua Tagovailoa was named the Dolphins' starting QB and I didn't think it was close anymore. While Ryan Fitzpatrick enhances the fantasy outlook of players around him, Tua limits it.
Meanwhile, Montgomery has had absolutely no competition for work since the season-ending Tarik Cohen injury. With this home matchup against a Lions defense dead last (by far) against RBs in our DvP metrics and the Lions ranking 28th in yards per play allowed, Montgomery's efficiency projected for a boost. And I knew he'd be getting 20 touches. And Mitchell Trubisky was at least theoretically a spark over Nick Foles.
I had Booker close to Gaskin as of Sunday morning, but thought he was behind both Gaskin and DMont due to the threat of Jalen Richard/Theo Riddick.
* Deshaun Watson is one of the best QBs in the NFL, one who does not have a running game to speak of and produces in all situations. So if we thought he could throw for anywhere near 300 yards, Brandin Cooks and Keke Coutee were going to show a ton of value. Will Fuller, Randall Cobb, Kenny Stills and Isaiah Coulter were all out. It left Watson with Cooks, Coutee, his low-value TEs and a bunch of geeks off the street. Given how weak I thought the WR position was this week, I was fine playing two Texans at prices at such massive discounts. The prices on these guys were released before the Fuller suspension was announced.
* Regular readers know I'm always looking to pay down at tight end in cash. So when Jonnu Smith was surprisingly ruled out late in the week, I immediately knew it was time for the Firk Daddy, Anthony Firkser. Note that he has lined up slot or wide on more than 70% of his snaps this season – he's a pass-catching tight end. Firkser was also part of the week's best game environment per game totals. And he was stone minimum $2500.
MY WANT PLAYS
* I don't want to say Aaron Rodgers was a "must" because he was not an elite play. But I was worried about the Seahawks not letting Russ cook against Colt McCoy. Kyler had one of the worst possible matchups. Justin Herbert's matchup was also fair at best. So locking in the ultra-high floor of Rodgers at $6800 – and gaining exposure to Davante Adams – was an easy call.
* I almost always have my team finalized by 1145am ET Sunday or so, after the inactives are released. But this week, I changed my final 2v2 three times in the last five minutes before lock. I started with Cooper Kupp and Seahawks D, went to Allen Robinson and Chargers D, considered Julio Jones over Robinson and then with a minute left went back to Kupp and Seahawks.
Quite frankly, I really didn't want to play Kupp as a part of a pass-game committee with Jared Goff in a script which could lean run-heavy. But Robinson had the knee concern and I didn't want two Bears. And Julio's hamstring has been an issue for months. So given that our projections were highest (by a meaningful amount) on Kupp, and Silva had in-depth stats on how Kupp's skills fit bet against Arizona's defense, I went with that side. It certainly helped that Seattle's defense at home vs. Colt McCoy was clearly better than Chargers against a run-heavy Patriots team.
Week 13 Results
Last week I had five "musts." This week I had six. So if nothing else, I'm having an easy time zeroing in on what I think are the best plays. And in terms of the last 2v2 I described above, the side I landed on ended up best so that's always a good feeling. I think some people will look in hindsight and say that a $9000 Davante Adams should've been a priority if we didn't feel great about Cooper Kupp. And I get that. But fitting both Dalvin and Davante wasn't possible, so getting some Adams exposure through Rodgers and riding Cook was right for me.
Year-To-Date Results
Week 1: 172.10 points, won 72.8% of head-to-heads.
Week 2: 138.34 points, won 66.8% of head-to-heads.
Week 3: 129.10 points, won 59.2% of head-to-heads.
Week 4: 111.60 points, won 28.8% of head-to-heads.
Week 5: 147.78 points, won 48.5% of head-to-heads and 192.96 points, won 100% of head-to-heads.
Week 6: 142.76 points, won 62.5% of head-to-heads.
Week 7: 208.00 points, won 82.3% of head-to-heads.
Week 8: 109.16 points, won 35.3% of head-to-heads.
Week 9: 131.60 points, won 48.5% of head-to-heads.
Week 10: 102.2 points, won 19.1% of head-to-heads.
Week 11: 145.22 points, won 52.7% of head-to-heads.
Week 12: 176.18 points, won 90.6% of head-to-heads.
Week 13: 159.3 points, won 73.7% of head-to-heads.