I play roughly 60% of my action each week in "cash games." Cash games refer to any contest in which roughly 50% of the field gets paid out, such as head-to-head, double up or 50/50. I try to get as much head-to-head action as I can every week and then supplement that with other cash games.
Each week, I'll review my cash-game lineup in this space. Sometimes I'll lose, but hopefully I'll win more often. Either way, I'll post it here and give you my thought process.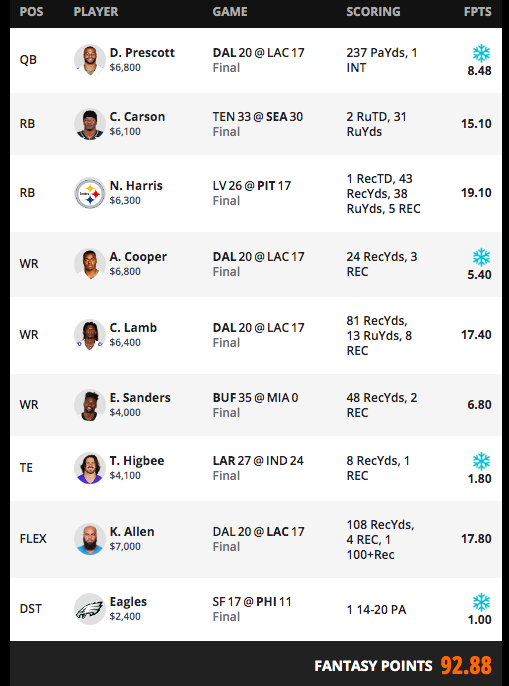 I prefer to build my cash lineups in a "stars and scrubs" style. The problem this week was a serious lack of viable scrubs. I didn't think any RBs under $5700, WRs under $4000, and any TEs under $3900 were in play. That led to a forced balance build and a tight 2v2 call at the end.
MY MUST PLAYS
* We could safely project Najee Harris for roughly 100% of the snaps as a solid home favorite against a team off an overtime win on a short week. Harris also has a dead-armed quarterback and plays in the pass game. No matter what you think of the offensive line, Harris was severely mispriced at $6300.

* With Michael Gallup (calf) out, we knew CeeDee Lamb would play around 100% of the snaps in arguably the week's best game environment. A freak talent with top-shelf QB play, Lamb's floor was very high as the slot man in 3-WR sets and outside in 2-WR. Much like Harris, Lamb was far too cheap. We was tied with Justin Herbert as the best value in our projections on the entire slate.

* Keenan Allen had seen double-digit targets in 11 of his 12 full games with Justin Herbert. I wasn't about to pass on him in this dream matchup at home against the Cowboys, even at $7000.  Keenan was our 2nd-highest projected WR, only 0.1 behind Stef Diggs.
MY WANT PLAYS
* Tyler Higbee was close to a "must." But I'd rarely consider a tight end at $4100 a must unless it's a guy who is the No. 1 or 2 option on his team. So even though Higbee's projected usage was truly elite, I did think Noah Fant or punting with James O'Shaughnessy was fine. But in the end, I wanted to bet on talent and role with Higbee.

* Regular readers know I'm almost always trying to play the cheapest viable defense. Especially when the cap is tight as it was this week. I did think this was a fine spot for the Eagles D/ST, who had Thorn's No. 5 pass rush. The 49ers do have a top-8 OL, but the $2400 tag fit right.

* I actually had Justin Herbert in this lineup. But after I didn't have Cooper Kupp or Noah Fant at 1pm (see below), I went to Dak Prescott for a few reasons. First, I thought he would be less owned by the field. Second, he gave me max correlation with CeeDee Lamb and Amari Cooper. And finally, I only thought he was a hair worse play.

* I really wanted to get up to Christian McCaffrey at the RB2 spot. But the strength of the spot for Chris Carson for $3800 cheaper combined with the dearth of cheap plays left no real path. Even Cedrick Wilson lineups didn't cleanly get to CMC. I was fine to settle for Carson, who had bell cow probability with Rashaad Penny (calf) out.

* I agonized over the final 2v2. It was Amari Cooper and Manny Sanders (total cost $10800) or Cooper Kupp and Ja'Marr Chase (total cost $11000). I had both sides in at different points Sunday morning. In the end, I wasn't sold that Kupp's elite Week 1 usage would be sticky and I didn't love having two Rams taking up $10,100. I also thought Ja'Marr Chase could easily come third in targets while Manny Sanders was an every-down player in the extreme pass-game friendly Bills pass game. In hindsight, perhaps I should have trusted the age model.
Week 2 Results
This is the worst week I've had since I started playing DFS in 2014. In hindsight, the incomparable ceilings of Ja'Marr Chase vs. Manny Sanders perhaps should have swung the decision that way.

Note that in double ups, I swapped to a Kyler Murray team (which still didn't cash). But in head-to-heads, I checked my highest stakes games before the 4pm lock and thought I was still live enough to make the Dak change and stick otherwise. And after looking through my head-to-heads, I think that was the right call.

Year-To-Date Results
Week 1: 124.86 points, won 70.5% of head-to-heads
Week 2: 92.88 points, won 5.7% of head-to-heads