I play roughly 60% of my action each week in "cash games." Cash games refer to any contest in which roughly 50% of the field gets paid out, such as head-to-head, double up or 50/50. I try to get as much head-to-head action as I can every week and then supplement that with other cash games.
Each week, I'll review my cash-game lineup in this space. Sometimes I'll lose, but hopefully I'll win more often. Either way, I'll post it here and give you my thought process.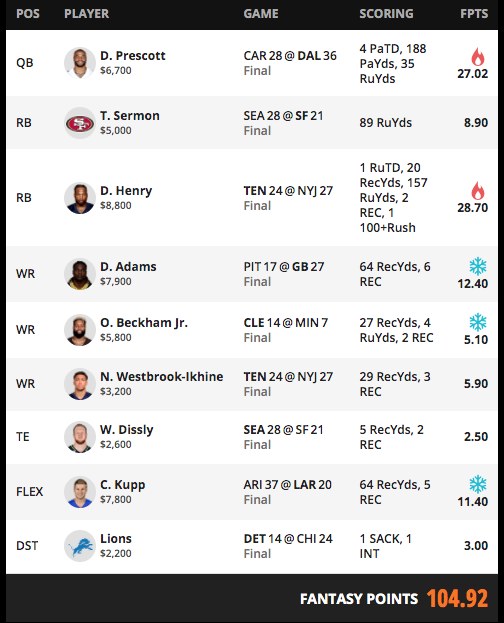 I only had one "must" this week, which is the kind of week I typically have worse results on. I thought a lot of the RB plays were clustered very close together in the mid range. 


MY MUST PLAYS
* I actually thought that AJ Brown (hamstring) and Julio Jones (hamstring) being out was a negative for Derrick Henry. But there was zero chance I was fading him against the Jets with his newfound pass-catching role. This is the kind of spot Henry is ideal for — and now we have a more built-in floor because Todd Downing is using him as a receiver more than Arthur Smith ever did.   



MY WANT PLAYS
* Davante Adams was close to a "must" for me. But he was in the same range as other elite WR plays such as Cooper Kupp, Stef Diggs, and Tyreek Hill. In the end I still wanted the 30+% target share of Adams against the struggling secondary of the Steelers in Lambeau. While you could argue Diggs and Tyreek have high ceilings thanks to deep aDOTs, I preferred Adams for cash. I did not play Adams in any GPP lineups. 

* The final 2v2 I debated was Odell Beckham and Jets D or Amari Cooper and Lions D. I had worries about the target floor on both Odell and Amari. In the end I didn't feel the need to stack Dak Prescott with Amari in cash and I slightly preferred Lions to Jets D anyway. 
* I know Cooper Kupp's target share won't hold above 35% for the season. But I do think he will easily lead the team in targets out of this slot-plus role with breakfast buddy Matthew Stafford. This spot against the fast-paced and explosive Cardinals projected to elevate Stafford attempts. So while I played with lineups that went down to DJ Moore over Kupp, I didn't think the $1200 got me enough. 
* The QBs I considered were Justin Fields, Dak Prescott, and Jalen Hurts. I thought Fields was a fine bounce-back play, but didn't want to play both Fields and Nick Westbrook-Ikhine in the same lineup. And I couldn't get to Fields/DJ Moore lineups that I liked.

So it came down to Dak or Hurts, a $200 difference. I was fine saving the $200 and being able to play Lions. Dak also gave me coverage on Amari Cooper, who was a scary fade.
* The mid-range tight ends such as Kyle Pitts, Mark Andrews and TJ Hockenson were overpriced. And I knew I couldn't fit Travis Kelce in this build. So it came down to a punt with viable options in Evan Engram and Will Dissly. I slightly preferred Engram given Darius Slayton and Sterling Shepard were both out with hammy injuries, and Engram's superior athleticism. But the $400 down to Dissly with Gerald Everett out came in handy. 
* I wanted to stick in the $5K range at the RB2 spot, leaving more room for upside at WR. And there were plenty of good options. We knew the Chiefs were very committed to Clyde Edwards-Helaire because they stuck with him after the back-to-back fumbles. Chuba Hubbard had a version of the CMC role. And David Montgomery had an excellent home matchup against the Lions.

All that said, I had a lot of confidence that Trey Sermon would be the true feature back for the 49ers in a pristine home matchup against the Seahawks. Eli Mitchell (shoulder) was out, Kerryon Johnson didn't see a snap last week and Trenton Cannon is a special teamer. The 49ers coaches also went out of their way to talk up Sermon's improvement in practice this week. At just $5K, I thought he was the best value of the group.

* With Julio Jones and AJ Brown both out, we had a cluster situation at wide receiver. I expected Nick Westbrook-Ikheni to play nearly every snap as the No. 1 pass-catcher for Ryan Tannehill in a plus matchup against the Jets. I want to be clear that these WR spots are not the same as backup RBs thrust into starting roles. Targets are earned through talent — RB carries are simply given. Still, at just $3200 I thought NWI would see at least 15-17% of the targets in a really good spot. That's more solid than Curtis Samuel, who I was afraid would rotate with Dyami Brown.
* The only D/STs I considered for cash were the Jets ($2000) and the Lions D/ST ($2200). I did prefer the Lions as the Bears have one of the NFL's worst offensive lines. There were a couple $200 decisions (see above) that I got wrong here. 
Week 4 Results
No excuses. I prioritized Cooper Kupp over DJ Moore and Trey Sermon over David Montgomery. I'm fine with Kupp over DJM, but getting to the three-down plus goal-line skull set of Montgomery in this spot should have been a priority. Even as the lead back, Sermon's pass-catching volume was in major doubt. I simply need to play better. Still, getting 13 targets to Kupp at $7800 against ARZ, 8 targets to NWI at $3200 against NYJ, and a slate-leading amount of Air Yards to Odell Beckham at $5800 against MIN was all good. I don't think the team was as bad as the results.
Year-To-Date Results
Week 1: 124.86 points, won 70.5% of head-to-heads
Week 2: 92.88 points, won 5.7% of head-to-heads
Week 3: 151.52 points, won 63.8% of head-to-heads
Week 4: 104.92 points, won 8.1% of head-to-heads