I play around 60% of my action each week in "cash games." Cash games refer to any contest in which roughly 50% of the field gets paid out, such as head-to-head, double up or 50/50. I try to get as much head-to-head action as I can every week and then supplement that with other cash games.
Each week, I'll review my cash-game lineup in this space. Sometimes I'll lose, but hopefully I'll win more often. Either way, I'll post it here and give you my thought process.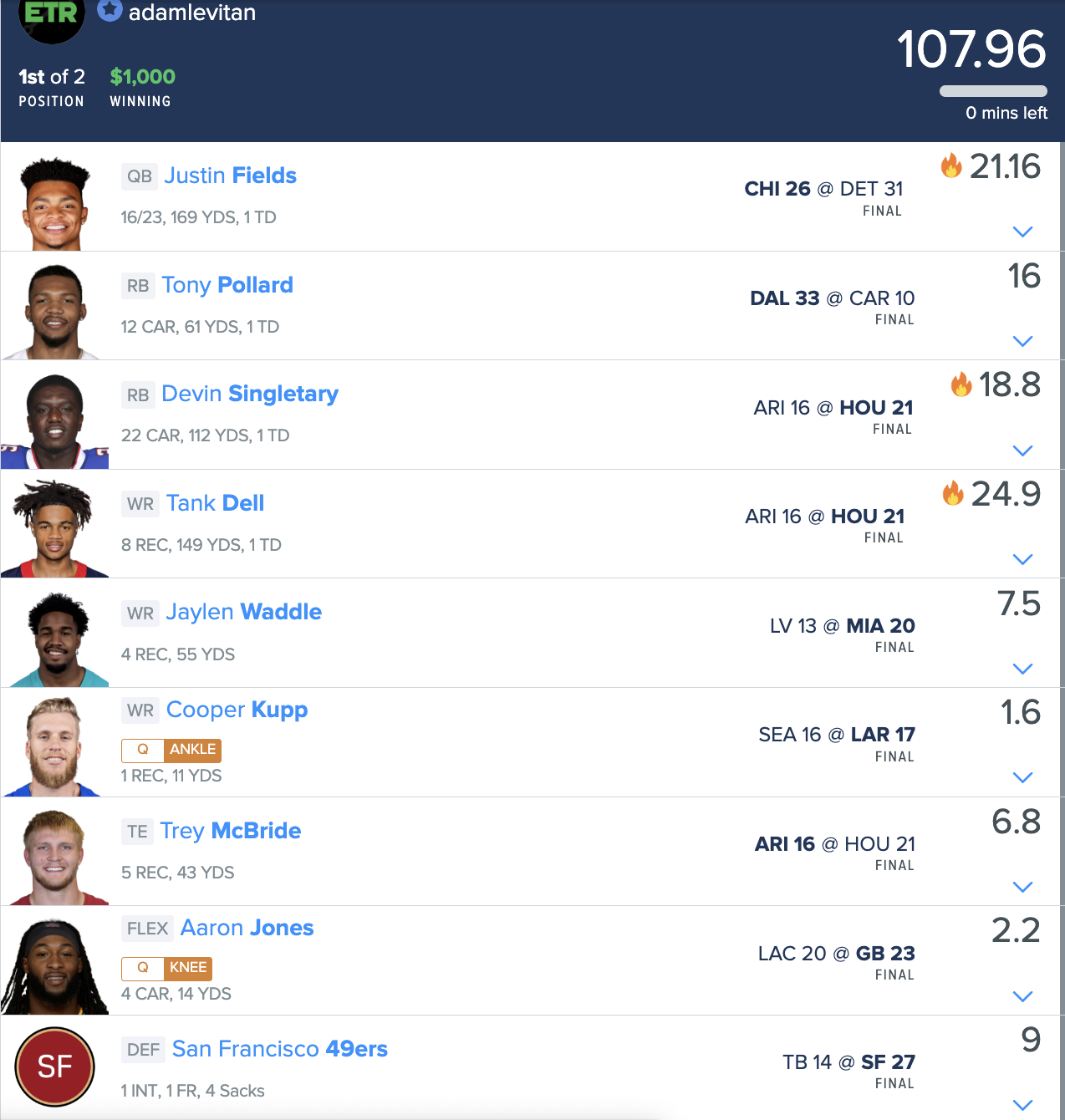 I decided to focus my cash game attention on FanDuel again this week. I talked about it a bit on this Solo Pod, but the bottom line is I've merely wanted to change things up. The scoring system (half-PPR, no bonuses) and pricing structure ($60K cap vs. $50K cap) certainly necessitates a change in strategy. 
I thought this slate was very straightforward as of Saturday morning. It was shaping up as a full-blown "prove it" week. That was before we got the Michael Wilson (shoulder, out) news and before we saw Justin Fields warming up with a brace on his injured throwing hand.  
MY MUST PLAYS
* Devin Singletary handled 30-of-30 RB carries in Week 10, as well as 2-of-5 RB targets. In Week 11, he had one of the best possible setups: Dameon Pierce remained out and the Texans were home against the Cardinals' No. 24 rush defense (per our DvP metrics). FanDuel has been aggressive pricing these spots up this season, but they didn't do it here as Singletary was just $6500. 
* The Trey McBride role is well established at this point as one of the best in the NFL. He was also part of of the slate's best game environment. So while I was tempted by my old XFL friend Donald Parham ($5100) with Gerald Everett sidelined, I was never passing on McBride at $5900 in this spot. Cardinals QBs came into the game targeting tight ends on a massive 30.7% of their throws. 
MY WANT PLAYS
* This was another main slate without elite QB options. Lamar Jackson, Joe Burrow (RIP), Jalen Hurts, Patrick Mahomes were all on other slates. That created a situation where we would have to take some risks at QB, which is not ideal on FanDuel. 
For the entire week, I thought Justin Fields was the clear play at $7400. However, I got pretty scared when the report surfaced near lock that Fields had a brace on his injured throwing hand. Maybe it's because of the Joe Burrow situation from Thursday, maybe because I've lost an incredible number of players to injury in cash this year… but I looked at a ton of Kyler Murray lineups. If Fields and Murray were same price, I would have shifted to Kyler. But I couldn't find the $200 cleanly, so decided to stick with Fields and hope he'd simply run more and/or be heathy.
* Tony Pollard was just $6900 and facing Carolina's No. 26 defense against RBs. Given Pollard's very strong three-down plus goal-line role and the matchup, this would normally be a "must". But given Pollard's struggles and how throw-heavy the Cowboys have been, I didn't think it was insane to go to Brian Robinson ($7200) or Austin Ekeler ($8800). In reality though, I was never fading Pollard here given his touchdown expectation.
* Tank Dell's underlying usage has been truly elite ever since Week 2. Even better than Nico Collins', who was returning from a calf injury. Meanwhile, white-hot Noah Brown (knee) was out and Dell was just $7000 in the slate's best game environment. So Dell was close to a lock, but I did look at some very viable teams that got to Tyreek Hill ($9800) and sacrificed Dell. 
* Defense is always an important decision on FanDuel. Ideally, I would have loved to play Cowboys ($5200) against Bryce Young or Commanders ($4700) against Tommy Devito. But given the tight cap, I was OK going down a bit in price. The 49ers' elite unit was a 13.5-point home favorite against the Bucs. Given how many Baker Mayfield dropbacks we could expect here, I was comfortable with the Niners.
* The last 3v3 I looked at was Justin Fields, Aaron Jones, and Jaylen Waddle vs. Kyler Murray, Austin Ekeler, and Rondale Moore. As noted above, I wasn't even looking at this until the Justin Fields brace video and Michael Wilson (shoulder) getting ruled out. 
I did not want to play Rondale Moore on FanDuel, even at $4900. It's a touchdown-heavy site, and Rondale's short-area role is brutal. But I also didn't like Aaron Jones, as he has been one of the worst RBs in the NFL this year and losing a lot of work to AJ Dillon. I really wanted to play Brian Robinson (with Antonio Gibson out) against the Giants, but he was $200 more than Jones. 
I also wanted to play Jaylen Waddle at just $7100 in this matchup against the Raiders as Waddle emerged from the bye healthy. So after much debate, I decided to stick with the Fields side.
Week 11 Results
I really do pride myself on staying stoic and balanced through ups and downs. Just always try to keep the same mindset and attitude, focus on process. But I'd be lying if I said I wasn't beyond frustrated right now.
Obviously, there's no way I can win when Aaron Jones and Cooper Kupp both leave very early due to injury. That's been a familiar refrain here. But Kupp inexplicably dropping a wide-open bomb before he got hurt was a fitting play to incapsulate the season. Not to mention losing the 3v3 because Rondale Moore's one target went for 48-yard TD.
That said, I do think playing Aaron Jones was simply wrong. I didn't do it last week and paid the price because it got me off Amon-Ra St. Brown. This week I really wanted to play Brian Robinson over Jones, but didn't want to come off Jaylen Waddle. Likely because I got burned by making a similar move as last week. That lets me know I'm playing with zero confidence and need to regroup badly. 

Year-To-Date Results
Week 1: 132.7 points, won 51.5% of head-to-heads
Week 2: 126.34 points, won 63.6% of head-to-heads
Week 3: 166.98 points, won 59.8% of head-to-heads
Week 4: 169.12 points, won 75.2% of head-to-heads
Week 5: 107.62 points, won 5.5% of head-to-heads
Week 6: 140.22 points, won 49.1% of head-to-heads
Week 7: 124.98 points, won 51.2% of head-to-heads (FanDuel)
Week 8: 79.58 points, won 10.3% of head-to-heads (FanDuel)
Week 9: 113.88 points, won 56.3% of head-to-heads (FanDuel)
Week 10: 92.76 points (original team), won 8.2% of head-to-heads. 131.16 points (late swap), won 100% of head-to-heads (FanDuel)
Week 11: 107.96 points, won 31.0% of head-to-heads (FanDuel)

* Note: Win percentages do not include ties.