I play around 60% of my action each week in "cash games." Cash games refer to any contest in which roughly 50% of the field gets paid out, such as head-to-head, double up or 50/50. I try to get as much head-to-head action as I can every week and then supplement that with other cash games.
Each week, I'll review my cash-game lineup in this space. Sometimes I'll lose, but hopefully I'll win more often. Either way, I'll post it here and give you my thought process.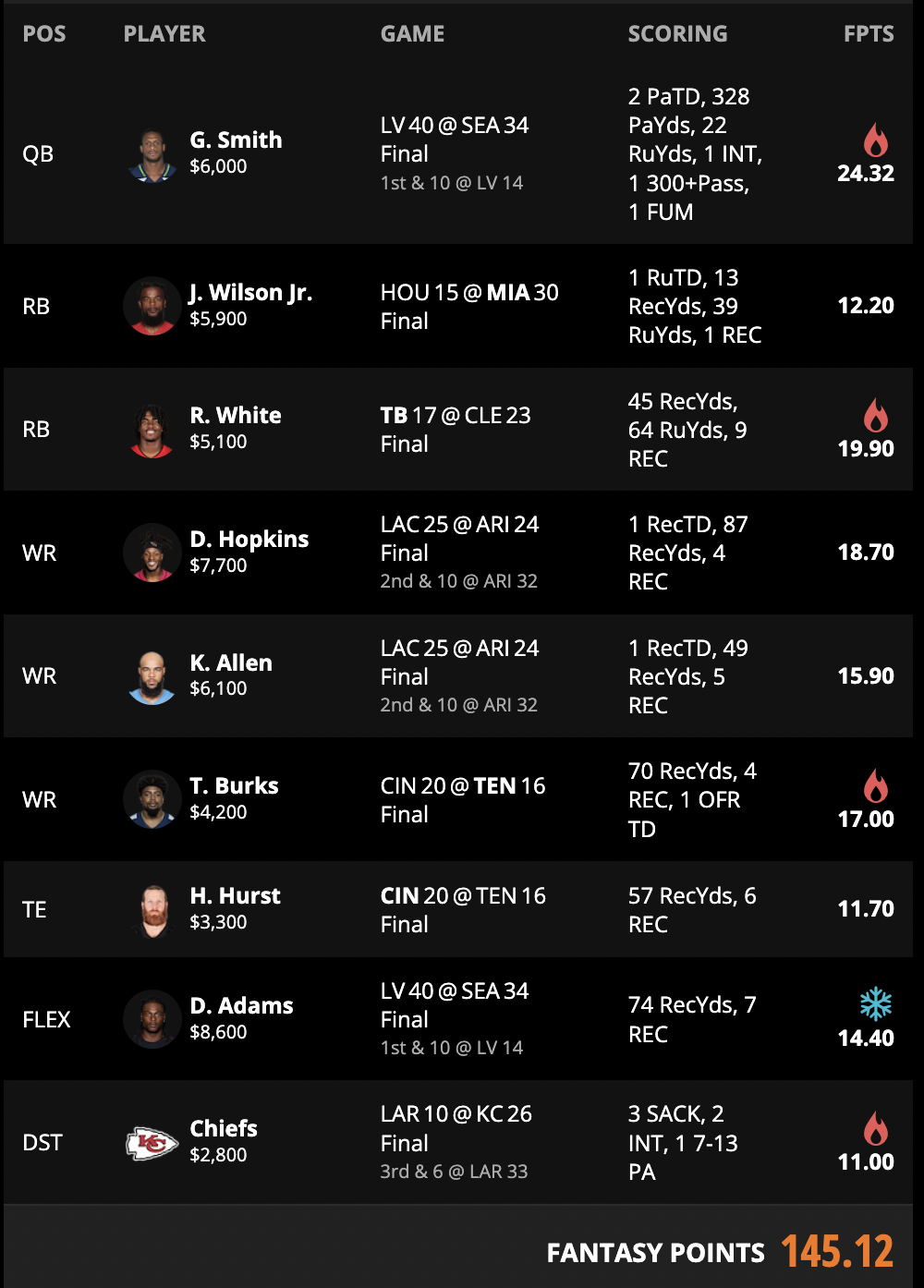 There were an incredible amount of great plays on this slate. Of course, we couldn't play them all. The key to the slate was deciphering which players to prioritize – there were a lot of different ways to go. 
MY MUST PLAYS
* Jeff Wilson was in play as the clear lead back for the Dolphins at $5900 against a Texans defense ranked 31st in rush defense DVOA. When Raheem Mostert (knee) got ruled out, Wilson became a stone cold lock. If you didn't play Wilson in cash, you need to reevaluate your process. 
* Rachaad White was already climbing the depth chart fast, forcing his way into a 50-50 timeshare with Leonard Fournette. Then Fournette (hip) got ruled out. The Bucs have been loathe to use Ke'Shawn Vaughn and Gio Bernard. So we had White as both the primary base back and the pass-down back against the Browns at just $5100. Given White's pass-catching calling card from college and Tom Brady's throw rate at RB, this was another stone cold lock.
* I rarely consider D/ST a "must." But the Chiefs D/ST was in Arrowhead against Bryce Perkins with the NFL's worst offensive line (per Brandon Thorn). The Rams also didn't have Cooper Kupp or Allen Robinson. At just $2800, I was finding the money for KC.
MY WANT PLAYS
* DeAndre Hopkins wasn't a must because there were a ton of excellent WR plays. But with both of Arizona's slot receivers (Rondale Moore, Greg Dortch) out, I expected Hopkins to get a ton of slot snaps. And that's been an incredibly productive role in this offense all year. So even with Marquise Brown back for reportedly limited snaps, I wanted Hopkins as the slot man in this game environment. I preferred him to Tee Higgins, even at $800 more. 
* I had Garrett Wilson in from the first time I looked at a lineup Friday. He's already proven to be a very strong talent, was facing the Bears, got a QB upgrade in Mike White, and DraftKings slashed his price to $4300. And I think I'm really good about not overreacting to weather – I think the field consistently and massively overreacts to weather when it rarely has an impact on a game. But as lock approached the rain in East Rutherford was forecasted to be extreme, as much as 0.19 inches/hour. I thought that was enough to go to Treylon Burks for $100 less, as the rookie's role has been growing and the Titans desperately need him to inject life in their pass game. 
* The way Keenan Allen wins is so perfect for DraftKings. He has a low aDOT, a very high catch rate, a very high target share, and was in one of the slate's best game environments. So while I did think Chris Godwin and Terry McLaurin were close in that range, I preferred Keenan. He had an excellent Week 11 game off the hamstring injury and was full practice all week ahead of Week 12. And Big Mike Williams (ankle) was out again. 
* I would have been fine with a ton of QBs on this slate. Patrick Mahomes, Justin Herbert, Tua Tagovailoa, Kyler Murray, Joe Burrow, Geno Smith were all fine. I didn't have a strong preference. But Geno projected as the best value for us, was facing the NFL's dead last pass defense by DVOA, and he was the cheapest. So I was fine that he fit this build.
* The final 2v2 I looked at was Davante Adams and Hayden Hurst vs. Semaje Perine and Mark Andrews. Note that I did think Perine was better than Michael Carter, even after the James Robinson news. Perine already had the pass-down role even when Joe Mixon was healthy, and we know Trayveon Williams/Chris Evans aren't going to play in base. Even if Perine was stonewalled in the run game, Joe Burrow is an excellent thrower at RB and Perine would have goal-line work. 
So I really liked both Perine and Andrews, and therefore really struggled with this 2v2. Honestly didn't know which way to go. In the end, I thought the floor/ceiling combo of Adams was worth going for. In these close calls I typically lean into paying down at tight end.  
Week 12 Results
The Garrett Wilson over Treylon Burks swap just before lock was clearly bad. Yes it poured almost the whole game, but it didn't have any effect on the gameplan or the execution. And I know better than to let weather swing a decision – it so rarely actually changes anything. The nine point difference there was the difference in a ton of head-to-heads and in some double-up cashing lines. 
I do regret a little letting outside noise sway me on Samaje Perine and Mark Andrews. That 2v2 could've been a smash in their favor if Andrews didn't drop an easy TD near the end of the game. And perhaps Tee Higgins should've been more of a priority for me as well. 
All in all, I don't think I played great this week so I was happy to book a small win. It could have been a smash with Garrett Wilson over Treylon, or if Davante Adams/DeAndre Hopkins played just a little better.
Year-To-Date Results
Week 1: 172.02 points, won 80.7% of head-to-heads
Week 2: 127.28 points, won 65.8% of head-to-heads
Week 3: 139.86 points, won 96.9% of head-to-heads
Week 4: 171.52 points, won 89.5% of head-to-heads
Week 5: 184.36 points, won 62.1% of head-to-heads
Week 6: 135.86 points, won 51.6% of head-to-heads
Week 7: 165.40 points, won 77.8% of head-to-heads
Week 8: 194.24 points, won 87.1% of head-to-heads
Week 9: 161.62 points, won 73.9% of head-to-heads (does not include ties)
Week 10: 160.18 points, won 81.7% of head-to-heads
Week 11: 96.68 points, won 52.2% of head-to-heads
Week 12: 145.12 points, won 59.9% of head-to-heads