NOTABLE INACTIVES (Will be updated after official inactives): Tre'Quan Smith 
Editor's Note: For Evan Silva's breakdown on every player in this game, click here. That is the best analysis on the game you will find. This article's focus is to highlight specific strategies for this Showdown slate, not the game itself. 
Editor's Note 2: To review our thoughts on general Showdown strategy, review the top portion of this article.
SHOWDOWN STRATEGY & 2019 TRENDS 
The most important part to being successful in one-game Showdown contests is constructing a highly correlated lineup built around how we think the game will be played. As we head into Sunday's matchup that features the Cowboys at Saints, we have an 11-game sample that we can analyze for winning roster construction and look at any meaningful trends to apply moving forward. The winning lineups for the first eleven games are as follows: 
Packers at Bears: Captain Allen Robinson, Aaron Rodgers, Tarik Cohen, Marquez Valdez-Scantling, Jimmy Graham, Packers DST
Steelers at Patriots: Captain Tom Brady, JuJu Smith-Schuster, Julian Edelman, Phillip Dorsett, Stephen Gostkowski, Rex Burkhead
Texans at Saints: Captain Deandre Hopkins, Deshaun Watson, Michael Thomas, Ted Ginn Jr., Kenny Stills, Will Lutz
Broncos at Raiders: Captain Josh Jacobs, Emmanuel Sanders, Cortland Sutton, Tyrell Williams, Darren Waller, Brandon McManus
Buccaneers at Panthers: Captain Chris Godwin, Cam Newton, Curtis Samuel, D.J. Moore, Greg Olsen, Joey Slye
Eagles at Falcons: Captain Julio Jones, Carson Wentz, Matt Ryan, Calvin Ridley, Nelson Agholor, Mack Hollins
Browns at Jets: Captain Odell Beckham Jr., Nick Chubb, Le'Veon Bell, Browns DST, Austin Seibert, D'ernest Johnson
Titans at Jaguars: Captain Marcus Mariota, Leonard Fournette, Gardner Minshew, D.J. Chark Jr., Jaguars DST, Adam Humphries
Rams at Browns: Captain Cooper Kupp, Jared Goff, Brandin Cooks, Nick Chubb, Browns DST, Greg Zuerlein
Bears at Redskins: Captain Mitchell Trubisky, Case Keenum, Terry McLaurin, Bears DST, Paul Richardson Jr., Taylor Gabriel
Eagles at Packers: Captain Jordan Howard, Aaron Rodgers, Davante Adams, Carson Wentz, Jimmy Graham, Geronimo Allison
DST & KICKER STRATEGY
The analysis in this section will continue to evolve as we get more information about winning Showdown lineups. Now on 5-of-11 winning rosters, DST's continue to be deserving of roster consideration. Through eleven slates DST's are averaging 7.3 DraftKings points at a $4100 average salary and 20% ownership. If we break this down further by favorites versus underdogs, we see favorites priced up to $4800 and owned at a 28% clip as opposed to just $3400 and 11% ownership for underdogs. Because DST scoring is extremely high variance and scoring events like turnovers and defensive touchdowns are largely unpredictable, we may be able to leverage the field by rostering the cheaper, lesser owned option. It's worth further noting that DST's in higher total games are underowned relative to their probability of ending up on winning lineups. DST's on Showdown slates featuring a total greater than 45 have been owned on average 16% and maintained a 6.9 median DraftKings score. 
Kickers have been slightly more productive than DST's to start the Showdown season and have found their way onto 6-of-11 winning rosters. Kickers are scoring 7.7 DraftKings points on average at $3300 and 23% ownership. If we look at all fantasy performances through three weeks we see that DST's offer a wider range of outcomes and a higher ceiling than kickers due to the ability to score points via touchdowns. Thus far, defenses and kickers have been priced "reasonably" by DraftKings, resulting in adequate or better point per dollar median projections. If prices start to rise, or if ownerships rise, these options become less viable GPP picks. Whether we're MME players or building just a single lineup, the ability of cheap players to outscore both kickers and DST's will determine how often we need to roster either position. 
TEAM-SPECIFIC ANALYSIS & NOTABLE PRICE CONSIDERATIONS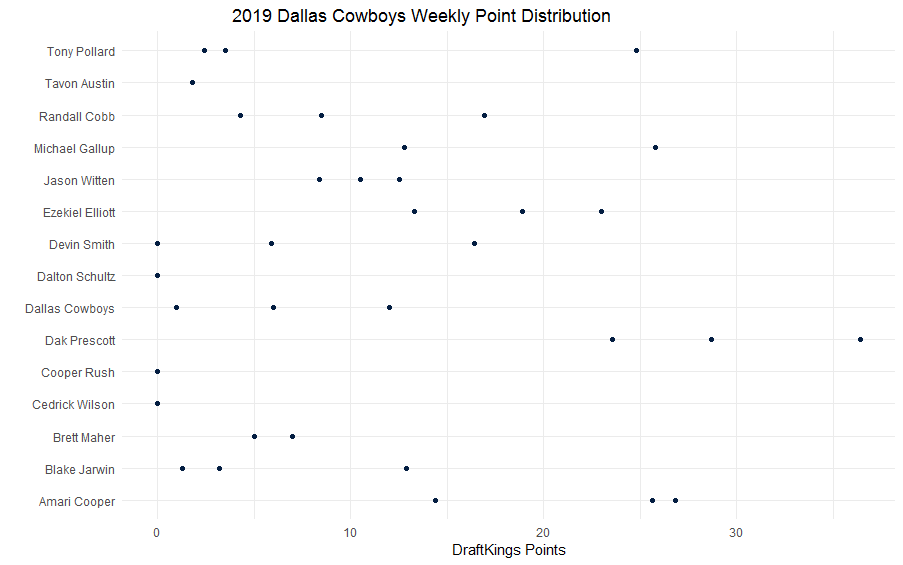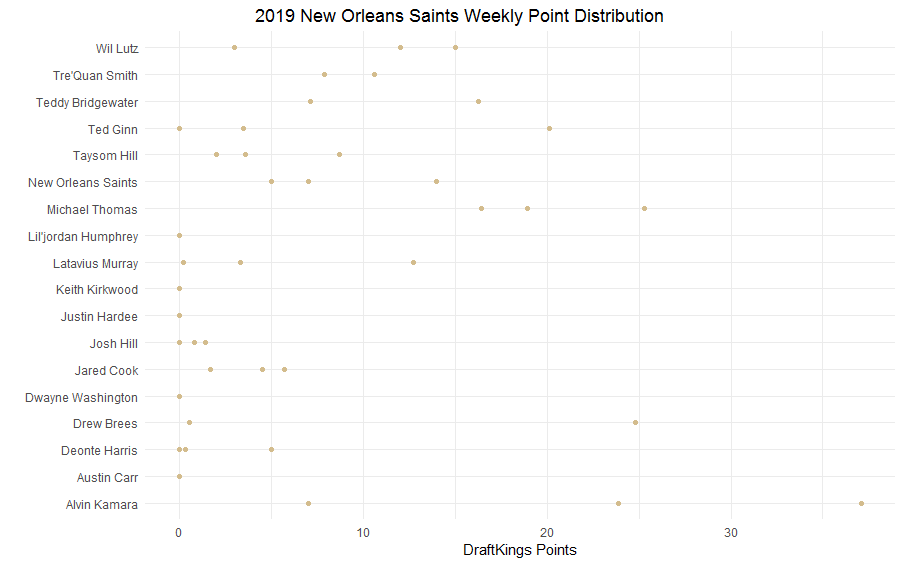 Sunday night's Showdown slate once again offers up a lot of interesting decision points complete with under priced studs, minimum priced players thrust into roles due to injury and cheap secondary options worth considering. As of this writing, the total is set at 47.5 with the Cowboys listed as 2.5-point road favorites.
Under new OC Kellen Moore, the Cowboys don't project to be nearly as run-heavy as their weeks 1-3 box scores would indicate. As Silva noted in matchups, Moore has turned the Cowboys into the fifth pass-heaviest offense on early downs. That bodes well for the Cowboys passing attack. Leading the way is Amari Cooper ($10,200) who is priced just below where we have seen elite WR1's on previous slates. Running a route on 96% of dropbacks and seeing a 22% target share, Cooper would be a big beneficiary of a game script that forces Dallas to keep the ball in the air. Randall Cobb ($7,000) is priced as the WR2 with Michael Gallup out. Cobb's role did not change much with Gallup out of the lineup as he played a similar number of snaps and saw just a slight uptick in routes run. As discussed in matchups, Cobb should see soft Saints slot coverage. Devin Smith ($5,200) rounds out the Cowboys playable receivers. It's to our benefit that Smith's box score results were underwhelming in week three because the underlying usage is encouraging. Smith actually led the receivers in snaps (92%) and routes run (94%) and stands out as an underpriced option given his full time role. Jason Witten ($5,800) has seen his fantasy production saved by scoring touchdowns in 2-of-3 weeks. Witten is running a route on 61% of dropbacks and is seeing a modest 13% target share but his 4.7 aDOT and inability to run away from opposing defenses limits his upside if he's unable to secure a touchdown. Blake Jarwin ($1,000) is worth mentioning as a cheap playable option. He's not nearly the play Dallas Goedert was at the same price Thursday night, however, he is running a route on 30% of dropbacks and his 9.4 aDOT offers some upside. After being eased into action, it looks like Ezekiel Elliot ($11,600) is ready for a full workload.  In week three Elliot handled 56% of rushing attempts in a blowout where he wasn't needed in the 4th quarter. As Silva noted, the Saints rush defense has been gashed through three weeks by lesser backs. With Elliot working his way back, Tony Pollard ($4,800) will likely see his opportunities decrease in close games. Although he appears to have earned a small role behind Elliot, his price would indicate more of a timeshare than we can expect. Dak Prescott ($11,200) has looked incredible to start the season and should continue to see elevated efficiency in Moore's offense. If game script forces Prescott into more drop backs we could see a massive fantasy performance. 
The Saints offense offers up a few more questions as they head into their second game without Drew Brees. Michael Thomas ($9,200) is priced down after an uninspiring performance from Saints players not named Alvin Kamara. For the second straight week, Thomas ran a route on 100% of dropbacks, managed a 26% target share and saw a whopping 61% of the teams air yards. With new QB Teddy Bridgewater showing an unwillingness to throw the ball downfield, 61% translates to a mediocre 56 air yards. While we can't expect Bridgewater to suddenly become a downfield passer, if he's able to push the ball more than he showed in week three, Thomas stands out as an underpriced elite WR1. Ted Ginn Jr. ($4,200) also saw his Showdown price drop from $5,600 in week two. Ginn continues to operate as the clear WR2 in New Orleans, running a route on 81% of dropbacks and seeing 20% of the team's air yards. Like Thomas, our confidence in rostering Ginn is tied to how we think Bridgewater will perform. With Tre'Quan Smith already ruled out we're going to get a playable Austin Carr ($200) at the stone minimum price. With Smith out in week three, Carr was on the field for 45% of snaps and ran a route on 59% of dropbacks but did not see a target. Rarely will we see a minimum priced player who projects to be on the field as much as Carr does Sunday night. With Smith out and Bridgewater in at QB, Jared Cook ($4,400) saw a season-high in snaps (76%) and routes per dropback (76%). Josh Hill ($1,000) also saw his opportunities increase as the Saints opted for more 2TE sets. While his 60% snap rate and 34% routes per dropback are encouraging his path to outscoring the slates DST's and kickers likely requires a touchdown. In week three, Alvin Kamara ($11,800) saw Christain McCaffrey type usage, handling 52% of the teams total touches and as Silva noted accounting for roughly 60% of the team's total yards. While its difficult to imagine a scenario where Kamara fails, as discussed in matchups, Dallas used CB Jourdan Lewis in 2018 to hold Kamara to just 72 yards on 19 touches. Latavius Murray ($3,200) saw his usage dip further as Kamara put up season high's. With other rosterable options priced in the same range, Murray is largely avoidable. Teddy Bridgewater ($9,000) is the cheapest starting QB through 11 Showdown slates. While he played 98% of the snaps in week three, Saints reporters are expecting Taysom Hill ($2,600) to see more work against the Cowboys. If Hill does indeed steal a few more snaps from Bridgewater we would need Bridgewater's aDOT to improve to make him a viable fantasy asset. The Saints are now viewing Hill as a true QB2 as he saw less work on special teams and only played 4 offensive snaps in week three. It's possible Hill plays just enough to hurt Bridgewater's value but not enough to pay off himself. 
STACK IDEAS
*Captain Alvin Kamara, 4 Cowboys – Assume the post Drew Brees offense once again resembles week three and only Kamara puts up a ceiling performance while Dallas spreads the wealth between Ezekiel Elliot, Dak Prescott and multiple pass catchers. 
*Captain Michael Thomas, Dak Prescott, Amari Cooper – While we can't say the Saints WR1 will be low owned, he may go under owned relative to his ability to put up a captain worth performance. 
*Captain Amari Cooper, Dak Prescott, 2 Saints pass catchers (without Kamara) – Cooper has both the skill set and usage to be the slate's top scorer. If Dallas can hold Kamara in check for a second straight game, multiple Saints pass catchers could see elevated fantasy production.
*Captain Dak Prescott, Amari Cooper, Devin Smith – Prescott has underrated ability to put up fantasy points on the ground as evidenced by his 12/88/1 rushing line through three weeks. If he can produce rushing stats while also throwing a touchdown to each of his top targets he offers captain upside.
*Captain Devin Smith, Dak Prescott, Michael Thomas – Smith led the team in snaps, routes run and was second in air yards, it is reasonable to expect him to turn that usage into captain worthy fantasy production against a soft Saints secondary.
Notable Players not already listed as Captain above:
If a player is listed above as a Captain option or as part of a stack they are worth rostering as a stand alone flex as well. As discussed above the need to roster kickers and DST's is tied to how many rosterable players we have in the same salary range. As noted in the team analysis section, this slate offers just a few cheaper players who can access a ceiling on volume alone or by finding themselves in the endzone but does feature a minimum priced Austin Carr who allows us to fit the high priced players we will need on this slate. While constructing rosters consider the game environment/outcome necessary for these cheap players to beat the kickers and/or DST's. 
Teddy Bridgewater – Bridgewater is one of the biggest question marks on Sunday's slate. If he again plays 98% of snaps, regardless of the concerns about his aDOT, he becomes playable as a $9,000 QB.
Randall Cobb – The seemingly forgotten man of the Cowboys receiving group, typically thought of as a low aDOT, high floor type player, Cobb surprisingly led the team in air yards in week three.
Jason Witten – Witten offers a safe floor after seeing 4 targets in three consecutive weeks. 
Tony Pollard – Priced slightly above his role as a true backup, Pollard only offers upside if the Cowboys win a blowout and Pollard does his damage late.
Jared Cook – Our opponents may overreact to week three performances by Saints pass catchers as a whole. Cook played a season-high in snaps and ran a route on 76% of dropbacks, that usage at $4,400 is rare.
Ted Ginn Jr. – Like Cook, Ginn is seeing full time usage and is priced well below his role in the offense.
Taysom Hill – Viewed now as a true backup QB, Hill played just 7% of offensive snaps in week three. Even if we believe the reports that Hill will see increased snaps Sunday night, how big of an increase is to be determined. 
Josh Hill – Hill saw a season-high 60% snaps in week three and offers much needed salary relief.
Blake Jarwin – Jarwin is seeing similar usage to Josh Hill listed above at the same price tag.
Austin Carr – Carr's usage didn't translate to fantasy production last week. However, he did run a route on 59% of Bridgewater's dropbacks. That type of usage just doesn't occur for minimum salary. 
PROJECTED OWNERSHIP
Again, roster construction and correlation are the most important factors for GPP success in the Showdown format. But understanding who will be popular helps. A rough guide to who we think will be the most owned:
Higher projected ownership, in order of descending salary:
* Alvin Kamara
* Ezekiel Elliot
* Dak Prescott
* Amari Cooper
Lower projected ownership, in order of descending salary:
* Teddy Bridgewater
* Jared Cook
* Ted Ginn Jr
* Austin Carr