NOTABLE INACTIVES (Will be updated after official inactives): Browns have ruled out WR Rashard Higgins, bump Damion Ratley who will see WR3 opportunities and Taywan Taylor who will rotate. Browns also ruled out four starting defensive backs, bump Rams WR's. Rams ruled out TE Tyler Higbee on Friday. No other notable inactives.
Editor's Note: For Evan Silva's breakdown on every player in this game, click here. That is the best analysis on the game you will find. This article's focus is to highlight specific strategies for this Showdown slate, not the game itself. 
Editor's Note 2: To review our thoughts on general Showdown strategy, review the top portion of this article.
SHOWDOWN STRATEGY & 2019 TRENDS
The most important part to being successful in one-game Showdown contests is constructing a highly correlated lineup built around how we think the game will be played. As we head into Thursday's matchup that features the Rams at Browns, we have an 8-game sample that we can analyze for winning roster construction and look at any meaningful trends to apply moving forward. The winning lineups for the first eight games are as follows: 
Packers at Bears: Captain Allen Robinson, Aaron Rodgers, Tarik Cohen, Marquez Valdez-Scantling, Jimmy Graham, Packers DST
Steelers at Patriots: Captain Tom Brady, JuJu Smith-Schuster, Julian Edelman, Phillip Dorsett, Stephen Gostkowski, Rex Burkhead
Texans at Saints: Captain Deandre Hopkins, Deshaun Watson, Michael Thomas, Ted Ginn Jr., Kenny Stills, Will Lutz
Broncos at Raiders: Captain Josh Jacobs, Emmanuel Sanders, Cortland Sutton, Tyrell Williams, Darren Waller, Brandon McManus
Buccaneers at Panthers: Captain Chris Godwin, Cam Newton, Curtis Samuel, D.J. Moore, Greg Olsen, Joey Slye
Eagles at Falcons: Captain Julio Jones, Carson Wentz, Matt Ryan, Calvin Ridley, Nelson Agholor, Mack Hollins
Browns at Jets: Captain Odell Beckham Jr., Nick Chubb, Le'Veon Bell, Browns DST, Austin Seibert, D'ernest Johnson
Titans at Jaguars: Captain Marcus Mariota, Leonard Fournette, Gardner Minshew, D.J. Chark Jr., Jaguars DST, Adam Humphries
DST & KICKER STRATEGY
A DST or Kicker has now made their way onto seven-of-eight winning rosters. There can be some decision paralysis when it comes to these positions. Understanding when they're a necessary part of roster construction and when to avoid is an important part to being successful in Showdown contests. The easiest way to think about this decision point is to look at the range of outcomes at the DST and kicker positions to this point and apply that information to the current slate. Through the first eight Showdown slates DST's have ranged from 0 to 15 DraftKings points with a median score of 7 while ranging in salary from $2,600-$5,400. Kickers have performed slightly better ranging from 1 to 16 DraftKings points with a median score just over 8. There is a much tighter range on kicker's salaries, all falling between $3,200-$3,600.  With this information as a baseline, we can think about the cheap options this slate will present and determine if there is a path for them to outscore either kicker's or DST's.
TEAM-SPECIFIC ANALYSIS & NOTABLE PRICE CONSIDERATIONS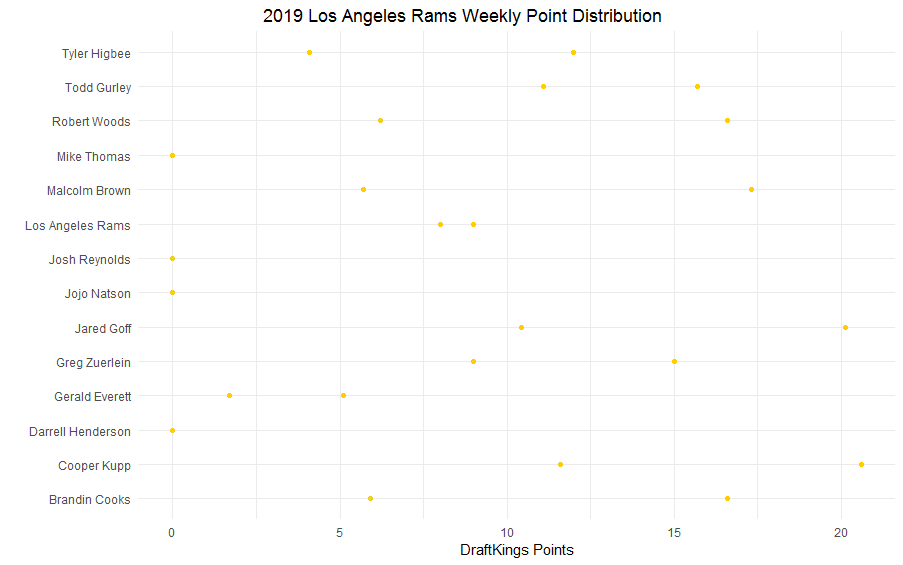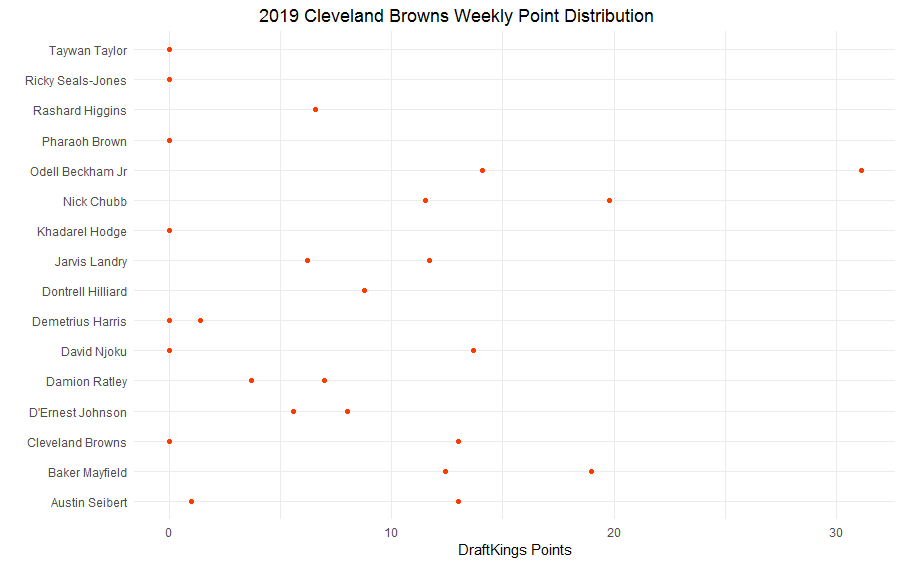 Following the snooze-fest on Thursday night, we anxiously look forward to a game that should feature more offense and offers us the ability to roster a handful of high ceiling type players. 
Through two weeks the 2019 Rams look a lot like the 2018 Rams, running 1-1 personnel on a mouth watering 82% of their offensive plays. Cooper Kupp ($9,000) has looked incredible coming of his torn ACL last season. As noted in Silva's matchups, Kupp has the pleasure of running 74% of his routes inside where he'll see the best matchup against the Browns secondary. Kupp is one of the three full-time Rams receivers playing 92% of snaps, running a route on 88% of dropbacks and seeing a healthy 28% target share. Brandin Cooks ($8,600) has had an up-and-down start to the season but leads the team in market share of air yards at 36%. Cooks is the perfect fit for this format that allows us to fully embrace variance and hope he can haul in a long reception or two. Robert Woods ($8,400) rounds out the three-headed receiving group. Woods actually leads the three, playing 97% of snaps and running a route on 93% of dropbacks. Because any of these guys are capable of putting up a ceiling performance in any given week, if we get a notion that one will be under owned we can take advantage. Tyler Higbee was ruled out Friday so we'll get a long look at Gerald Everett ($2,400). In the game where Higbee was injured early, Everett played 72% of snaps and ran a route on 65% of dropbacks. With Higbee ruled out those numbers would stand to increase making Everett a cheap option with a path to outscore the DST/Kickers on the slate.
The running back situation in Los Angeles has not gotten easier to project two weeks in. Todd Gurley ($9,600) has been on the field for 67% of snaps, averaging 15 rushing attempts and seeing a total of five targets. His price tag on this slate is only $200 below where we saw every-down RB Leonard Fournette on TNF. Despite the increased efficiency the Rams offense offers the usage may not warrant the elevated price tag. Malcom Brown ($4,200) is the clear RB2 in LA. He's unlikely to see Gurley-like usage but at his depressed pricetag offers upside, especially if he sees redzone usage as he did in week one. As noted in matchups, Jared Goff ($10,600) has struggled mightily on the road. With all of his weapons at his disposal if Goff's home/road splits are more noise than signal we can consider him on our rosters.
The Browns will be featured in a primetime game in back-to-back weeks after facing the disgraceful Jets in week two. We have a few situations worth monitoring leading up to Sunday night, beginning with the WR's. Odell Beckham ($11,000) is seeing incredible usage as the Browns new toy, playing on virtually every single snap, running a route on 94% of dropbacks and commanding an elite 29% of targets. Beckham balled out on Thursday night and was actually priced down $800 for this slate. Speaking of being priced down, Jarvis Landry ($7,400) saw his price drop a whopping $1,600 after struggling to produce again in week two. The underlying usage is still strong for Landry, playing 99% of snaps and running a route on 99% of dropbacks. Landry finds himself on Josh Hermsmeyer's buy-low model for week 3. We should be cautious of overreacting to a few poor performances this early in the season when the usage is this strong. As Silva noted in matchups, the one knock on Landry is his difficult slot matchup with Nickell Robey-Coleman.
Things get more interesting as we move down the Browns WR depth chart, we need to closely monitor news on preferred WR3 Rashard Higgins ($2,800) who practiced in a limited fashion on Wednesday. If he is healthy enough to play Sunday night, he jumps out as one of the more underpriced plays on the slate; think Nelson Agholor from week two. If Higgins is ruled out, it's clear the Browns will roll with Damion Ratley ($2,000) as the third man. Ratley played on 61% of the snaps and ran a route on 74% of dropbacks. That is incredible usage for a player at that price tag. The Browns dealt with another major injury in the early going of their week two contest against the Jets. David Njoku has been ruled out for this game with a broken wrist opening the door for Demetrius Harris ($1,800). Thankfully for us Harris produced next to zero fantasy points in his extended action in week two but that shouldnt concern us. Harris was in on 78% of snaps and ran a route on 53% of dropbacks. He is not the pass catcher that Njoku is but at his price he offers a path to outscoring the slate's kickers and DSTs.
Nick Chubb ($9,800) is coming off a solid week two performance but as Silva notes is still losing a fair amount of third down work to his backups. We can still expect Chubb to handle roughly 75% of the rushing attempts and HC Freddie Kitchens has recently mentioned that he's hopeful to find ways to get Chubb more touches. We're not overreacting to coach speak but if the floor is 75% of the rushing attempts with the potential for a bigger receiving role he stands out versus Gurley at just $200 more. Baker Mayfield ($10,200) has had an uneven start to the season but we know the floor QB's provide in this format. Mayfield has the weapons around him and could find himself in a pass-happy game environment conducive to ceiling performances from QB's.
STACK IDEAS
*Captain Jarvis Landry, Baker Mayfield, Robert Woods – #5 on Hermsmeyer's buy-low model for week three, we can take advantage of potentially lower owned Landry in our captain spot.
*Captain Odell Beckham Jr, 4 Rams – We've already had instances where the Captain has been a team's WR1 surrounded by 4-5 players from the opposing team. The thought process is one player does all of the damage for his team and the opposing team does it's damage with a variety of players. 
*Captain Nick Chubb, Brandin Cooks, Cooper Kupp – As 3-point underdogs some may expect the Browns to be playing from behind. If the Browns can flip the expected game script they could lean on Chubb.
*Captain Todd Gurley, Jarvis Landry, Demetrius Harris – Given the options around him, Gurley may go under owned especially as a captain. As the RB1 in this Rams offense he offers as much touchdown equity as anyone on this slate. 
*Captain Brandin Cooks/Cooper Kupp, Jarvis Landry, Odell Beckham – If just one of the Rams WR dominates in production Sunday night we can benefit by making him our captain and fading the other two. 
*Captain Malcom Brown, Odell Beckham, Cooper Kupp – By selecting a cheaper captain option in Brown, we give ourselves the ability to roster more of the expensive pieces of these concentrated passing offenses. If Brown continues to see a similar market share of the rushing attempts there is no reason why he should be $5,400 cheaper than Gurley.
*Captain Baker Mayfield, Odell Beckham, Damion Ratley – We can differentiate our Mayfield/Beckham stacks by including a lower owned piece of the Browns pass catching group. We can substitute Higgins for Demetrius Harris and bet that he can use his 6'7" frame to snag a touchdown. 
*Captain Damion Ratley, 3+ High Priced Options – We've discussed on previous showdown slates how we don't need to be ultra contrarian at the captain position because so often the guys who are most likely to be the top overall scorer on the slate end up also being extremely popular. There are situations however where being contrarian and paying way down at captain can pay off. We have a cheap option, Ratley, who can conceivably reach a ceiling and a number of quality high priced options we like. To be able to roster as many of those high priced players as possible we can select a cheap captain without limiting our upside. 
Notable Players not already listed as Captain above:
If a player is listed above as a Captain option or as part of a stack they are worth rostering as a stand alone flex as well. The need to roster kickers and DST's is tied to how many rosterable players we have in the same salary range. As noted in the team analysis section, this slate offers a number of cheaper players who can access a ceiling on volume or by finding themselves in the endzone. While constructing rosters consider the game environment/outcome necessary for these cheap players to beat the kickers and/or DST's.
Malcom Brown – Brown benefits from a positive Rams game script. He has immense touch down upside at his price actually receiving more rushing attempts inside the 10 than Gurley.
Gerald Everett – Everett's usage ballooned in week two with Higbee's injury. He should be a near every down player against a decimated Browns secondary.
Rashard Higgins (if active) – The rapport Higgins has shown with Mayfield is undeniable. He should return to the primary WR3 role and was priced way down after missing week two with injury.  
Damion Ratley – After Higgins was ruled out last week, we knew Ratley would get the first crack at WR3 opportunities we didn't know how much Taywan Taylor would work in. If Higgins is out we should once again see Ratley get a big usage bump.
Demetrius Harris – Harris steps into a full-time role with the injury to Njoku. 
Dontrell Hilliard – Hilliard would only be in play if he resumes the 3rd down role he was in line to see prior to his week one concussion. He's a tough sell if he splits that role with D'ernest Johnson or if Chubb sees more passing down work.
Taywan Taylor (if Higgins is ruled out) – Taylor only played 26% of snaps in week two and ran just seven routes. A pure dart throw if we're trying to roster as many high priced players as we can.
PROJECTED OWNERSHIP
Again, roster construction and correlation are the most important factors for GPP success in the Showdown format. But understanding who will be popular helps. A rough guide to who we think will be the most owned:
Higher projected ownership, in order of descending salary:
* Odell Beckham Jr
* Jared Goff
* Baker Mayfield
* Cooper Kupp
Lower projected ownership, in order of descending salary:
* Jarvis Landry
* Malcom Brown
* Damion Ratley
* Gerald Everett