NOTABLE INACTIVES (Will be updated after official inactives): Jaron Brown (knee) has been ruled out
Editor's Note: For Evan Silva's breakdown on every player in this game, click here. That is the best analysis on the game you will find. This article's focus is to highlight specific strategies for this Showdown slate, not the game itself. 
Editor's Note 2: To review our thoughts on general Showdown strategy, review the top portion of this article.
SHOWDOWN STRATEGY & 2019 TRENDS 
The most important part to being successful in one-game Showdown contests is constructing a highly correlated lineup built around how we think the game will be played. Closing out Wild Card weekend with a matchup that features the Seahawks at Saints, we have a 49-game sample that we can analyze for winning roster construction and look at any meaningful trends to apply moving forward. The winning lineups for the first 49 games are as follows: 
Packers at Bears ($47700 Salary Used)  (191.66% Total Ownership): Captain Allen Robinson, Aaron Rodgers, Tarik Cohen, Marquez Valdez-Scantling, Jimmy Graham, Packers DST – Lineup entered (3) times
Steelers at Patriots ($46100) (223.0%): Captain Tom Brady, JuJu Smith-Schuster, Julian Edelman, Phillip Dorsett, Stephen Gostkowski, Rex Burkhead – (1)
Texans at Saints ($49900) (244.79%): Captain Deandre Hopkins, Deshaun Watson, Michael Thomas, Ted Ginn Jr., Kenny Stills, Will Lutz – (13)
Broncos at Raiders ($49000) (240.32%): Captain Josh Jacobs, Emmanuel Sanders, Cortland Sutton, Tyrell Williams, Darren Waller, Brandon McManus – (1)
Buccaneers at Panthers ($48500) (225.70%): Captain Chris Godwin, Cam Newton, Curtis Samuel, D.J. Moore, Greg Olsen, Joey Slye – (1)
Eagles at Falcons ($49300) (253.86%): Captain Julio Jones, Carson Wentz, Matt Ryan, Calvin Ridley, Nelson Agholor, Mack Hollins
Browns at Jets ($48300) (237.27%): Captain Odell Beckham Jr., Nick Chubb, Le'Veon Bell, Browns DST, Austin Seibert, D'ernest Johnson – (4)
Titans at Jaguars ($48600) (258.3%): Captain Marcus Mariota, Leonard Fournette, Gardner Minshew, D.J. Chark Jr., Jaguars DST, Adam Humphries – (1)
Rams at Browns ($49700) (238.92%): Captain Cooper Kupp, Jared Goff, Brandin Cooks, Nick Chubb, Browns DST, Greg Zuerlein – 
Bears at Redskins ($50000) (235.64%): Captain Mitchell Trubisky, Case Keenum, Terry McLaurin, Bears DST, Paul Richardson Jr., Taylor Gabriel – (11)
Eagles at Packers ($47300) (245.93%): Captain Jordan Howard, Aaron Rodgers, Davante Adams, Carson Wentz, Jimmy Graham, Geronimo Allison – (4)
Cowboys at Saints ($47800) (231.88%): Captain Michael Thomas, Alvin Kamara, Ezekiel Elliot, Cowboys DST, Will Lutz, Saints DST – (3)
Bengals at Steelers ($48700) (198.22%): Captain James Conner, Mason Rudolph, Joe Mixon, Diontae Johnson, Steelers DST, Jaylen Samuels – (1)
Rams at Seahawks ($50000) (273.06%): Captain Cooper Kupp, Chris Carson, Gerald Everett, Jared Goff, Russell Wilson, Greg Zuerlein – (748)
Colts at Chiefs ($47200) (241.73%): Captain Patrick Mahomes, Travis Kelce, Jacoby Brissett, Marlon Mack, Colts DST, Byron Pringle – (1)
Browns at 49ers ($46400) (239.74%): Captain Matt Breida, Jarvis Landry, Jimmy Garoppolo, George Kittle, Tevin Coleman, 49ers DST – (4)
Giants at Patriots ($46700) (322.95%): Captain Patriots DST, Tom Brady, Julian Edelman, Golden Tate, James White, Brandon Bolden – (53)
Steelers at Chargers ($44700) (198.69%): Captain James Conner, Phillip Rivers, Hunter Henry, Mike Williams, Benny Snell Jr., Steelers DST – (1)
Lions at Packers ($49800) (265.43%): Captain Matt Prater, Aaron Rodgers, Matthew Stafford, Kenny Golladay, Kerryon Johnson, Jamaal Williams  – (23)
Chiefs at Broncos ($47000) (225.37%): Captain Chief DST, Tyreek Hill, Travis Kelce, Emmanuel Sanders, Courtland Sutton, Royce Freeman – (1)
Eagles at Cowboys ($46300) (231.89%): Captain Ezekiel Elliot, Dak Prescott, Amari Cooper, Cowboys DST, Dallas Goedert, Brett Maher – (4)
Patriots at Jets ($48800) (242.5%): Captain Patriots DST, Julian Edelman, Sony Michel, James White, Phillip Dorsett, Demaryius Thomas – (73)
Redskins at Vikings ($49900) (262.92%): Captain Dalvin Cook, Stefon Diggs, Vikings DST, Adrian Peterson, Dan Bailey, Dustin Hopkins – (343)
Packers at Chiefs ($49600) (244.78%): Captain Aaron Jones, Aaron Rodgers, Matt Moore, Jamaal Williams, Damien Williams, Mecole Hardman – (2)
Dolphins at Steelers ($49700) (259.67%): Captain JuJu Smith-Schuster, James Conner, Ryan Fitzpatrick, Diontae Johnson, Allen Hurns, Chris Boswell – (8) 
49ers at Cardinals ($48800) (252.12%): Captain Kenyan Drake, Jimmy Garappolo, Kyler Murray, George Kittle, Emmanuel Sanders, Andy Isabella – (2)
Patriots at Ravens ($49600) (236.43%): Captain Julian Edelman, Lamar Jackson, James White, Mark Ingram III, Mohamed Sanu, Nick Boyle – (1)
Cowboys at Giants ($48200) (215.3%): Captain Dak Prescott, Amari Cooper, Daniel Jones, Cowboys DST, Jason Witten, Brett Maher – (3)
Chargers at Raiders ($49600) (284.1%): Captain Melvin Gordon III, Phillip Rivers, Josh Jacobs, Keenan Allen, Austin Ekeler, Raiders DST – (12)
Vikings at Cowboys ($49600) (215.38%): Captain Randall Cobb, Dalvin Cook, Dak Prescott, Amari Cooper, Kyle Rudolph, Irv Smith Jr. – (3)
Seahawks at 49ers ($49900) (240.23%): Captain Chris Carson, Russell Wilson, Jimmy Garoppolo, 49ers DST, Deebo Samuel, Jacob Hollister – (24)
Steelers at Browns ($49100) (219.24%): Captain Baker Mayfield, Jaylen Samuels, Mason Rudolph, Jarvis Landry, Kareem Hunt, Browns DST – (2)
Bears at Rams ($49800) (290.15%): Captain Todd Gurley II, Cooper Kupp, Mitchell Trubisky, Taylor Gabriel, Rams DST, Tarik Cohen – (59)
Chiefs at Chargers ($49500) (182.25%): Captain Austin Ekeler, Travis Kelce, Keenan Allen, Phillip Rivers, Hunter Henry, LeSean McCoy – (14)
Colts at Texans ($49900) (258.29%): Captain DeAndre Hopkins, Deshaun Watson, Will Fuller, Jonathan Williams, Eric Ebron, Ka'imi Fairbairn – (144)
Packers at 49ers ($46200) (217.84%): Captain George Kittle, Jimmy Garoppolo, Davante Adams, Jamaal Williams, Raheem Mostert, Chase McLaughlin – (1)
Ravens at Rams ($49800) (196.98%): Captain Lamar Jackson, Mark Ingram II, Marquise Brown, Robert Woods, Willie Snead IV, Tyler Higbee – (15)
Saints at Falcons: Captain Matt Ryan, Saints DST, Russell Gage, Alvin Kamara, Will Lutz, Calvin Ridley – (1)
Patriots at Texans ($49400) (256.39%): Captain Duke Johnson, Tom Brady, Deshaun Watson, Julian Edelman, James White, Kenny Stills – (74)
Vikings at Seahawks ($49700) (251.83%): Captain Rashaad Penny, Russell Wilson, Dalvin Cook, Chris Carson, Kirk Cousins, David Moore – (22)
Cowboys at Bears ($49400) (232.33%): Captain Mitchell Trubisky, Ezekiel Elliot, Allen Robinson II, Michael Gallup, Anthony Miller, J.P. Holtz – (2)
Giants at Eagles ($47000) (200.3%): Captain Darius Slayton, Carson Wentz, Zach Ertz, Eli Manning, Sterling Shepard, Boston Scott – (1)
Jets at Ravens ($49300) (212.82%): Captain Lamar Jackson, Mark Ingram II, Mark Andrews, Jamison Crowder, Seth Roberts, Miles Boykin – (15)
Bills at Steelers ($47100) (262.26%): Captain Bills DST, Josh Allen, James Conner, John Brown, James Washington, Nick Vannett – (4) 
Colts at Saints ($47500) (248.77%): Captain Michael Thomas, Drew Brees, Alvin Kamara, Will Lutz, Taysom Hill, Jordan Wilkins – (1)
Rams at 49ers ($49600) (241.43%): Captain Tyler Higbee, Jared Goff, George Kittle, Robert Woods, Deebo Samuel, Brandin Cooks – (4)
Chiefs at Bears ($49400) (252.12%): Captain Patrick Mahomes, Travis Kelce, Allen Robinson, Damien Williams, Harrison Butker, Javon Wims – (7)
Packers at Vikings ($47600) (202.83%): Captain Aaron Jones, Davante Adams, Stefon Diggs, Packers DST, Mason Crosby, Ameer Abdullah
49ers at Seahawks ($49900) (198.36%): Captain Deebo Samuel, Russell Wilson, Raheem Mostert, DK Metcalf, Travis Homer, Kyle Juszczyk
When we review winning lineups we can think backwards and determine what game script ideas and correlations went into constructing each roster. In the week nine MNF matchup, we knew it would be contrarian to build a lineup assuming Dallas scored only through the air and fade Ezekiel Elliot, who projected to be the highest owned player on the slate. With Prescott at Captain and multiple Dallas pass catchers in the FLEX spots, it made sense to get a piece of the Giants pass game as there would be increased pass volume in a come from behind effort. After the core was locked in it was all about maximizing points. We had very little appealing value on this slate and we know as dropbacks increase so do the opportunities for defenses to produce fantasy points via strip sacks and interceptions making the Dallas DST an exceptional play. A flukey late game defensive touchdown was the icing on the cake for the winning lineup Monday night. While it's impossible to do on full-slates, building rosters or setting groups around an expected outcome is often the optimal strategy on one-game Showdown slates. We encourage you to look through the other winning rosters listed above and think through the process that would lead to each construction. 
DST & KICKER STRATEGY
Now on 25-of-49 (51%) winning rosters, DST's continue to be deserving of roster consideration. Through 49 slates DST's are averaging 7.8 DraftKings points at a $4200 average salary and 20.8% ownership. If we break this down further by favorites versus underdogs, we see favorites priced up to $5000 and owned at a 28.9% clip as opposed to just $3400 and 12.7% ownership for underdogs. To this point, the highest owned DST's (Bears, Patriots, Vikings and Steelers) have paid off by finding their way onto the winning roster but because DST scoring is extremely high variance and scoring events like turnovers and defensive touchdowns are largely unpredictable, we may be able to leverage the field by rostering the cheaper, lesser owned option. It's worth further noting that DST's in higher total games are underowned relative to their probability of ending up on winning lineups. DST's on Showdown slates featuring a total greater than 45 have been owned on average 16.3% and maintained a 7.3 median DraftKings score. 
Kickers have been just slightly less productive than DST's from a raw points perspective and have found their way onto 19-of-49 (39%) winning rosters. Kickers remain one of the best points per dollar plays, scoring an impressive 7.5 DraftKings points on average at $3600 and 22.4% ownership. If we look at all fantasy performances through seven weeks we see that DST's offer a wider range of outcomes and a higher ceiling than kickers due to the ability to score points via touchdowns. Thus far kickers have been priced "reasonably" by DraftKings, resulting in adequate or better point per dollar median projections. If prices start to rise, or if ownerships rise, these options become less viable GPP picks. Conversely, DraftKings has shown a willingness to aggressively change pricing based on matchup and opposing team total for DST's. Whether we're MME players or building just a single lineup, the ability of similarly priced players to outscore both kickers and DST's will determine how often we need to roster either position. Read through our 'notable players' section for more slate specific thoughts on kickers and DST's.
TEAM-SPECIFIC ANALYSIS & NOTABLE PRICE CONSIDERATIONS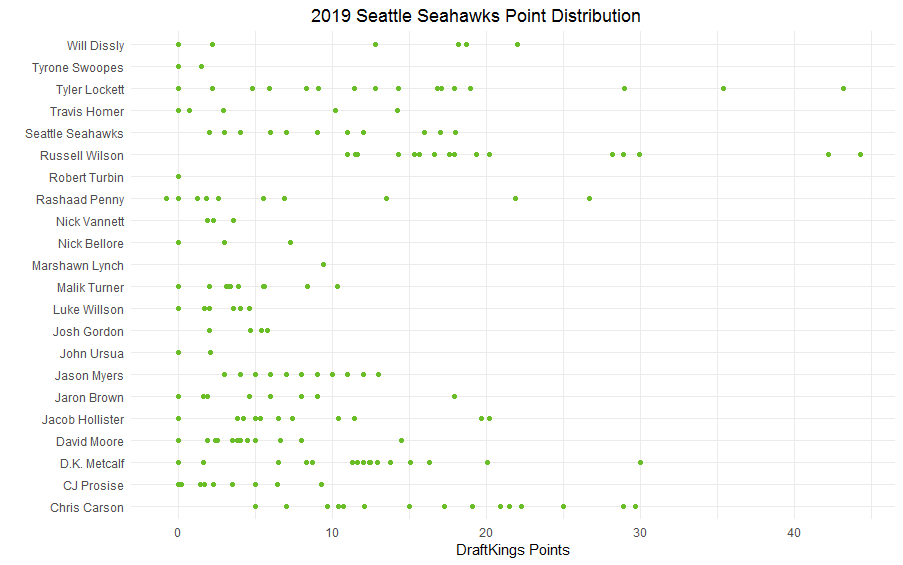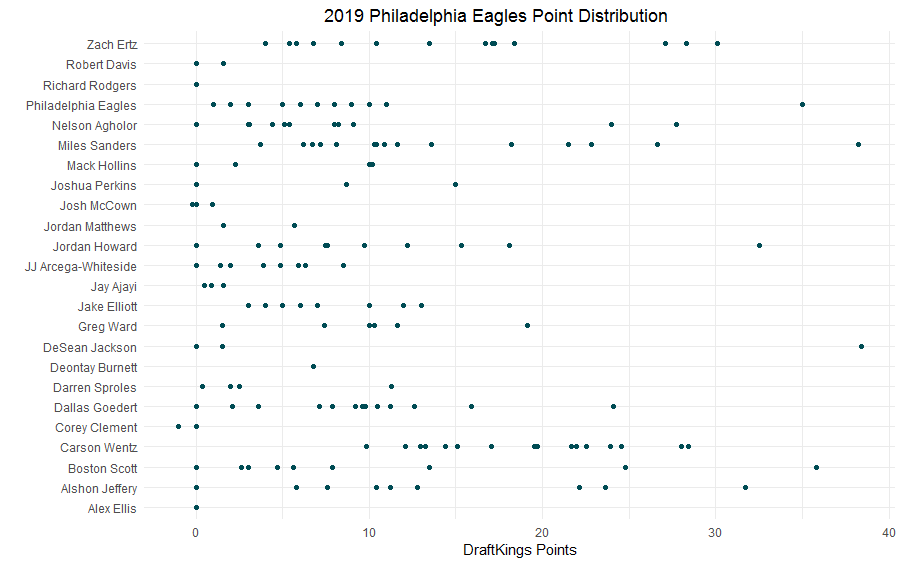 Wild Card weekend is capped off with a battle between the Seahawks and Eagles, with Seattle installed as 1-point road favorites in a 45-point total. The Eagles enter the playoffs with the league's 17th-ranked situation neutral pass rate (59%). HC Doug Pederson has shown little sensitivity to game script, maintaining a 53% pass rate when playing with a lead versus a 63% rate when trailing. On the opposite side of the ball, OC Brian Schottenheimer is firmly on team #EstablishTheRun, owning the 30th-ranked situation neutral pass rate (52%). Seattle hasn't exactly been eager to put the ball into the hands of their elite QB, passing at a 60% clip when trailing and an abysmal 42% when playing with a lead. Albeit on an incredibly small sample size, without their top running backs for a majority of weeks 16-17, Seattle's offense jumped to a palatable 67% pass rate, offering a glimmer of hope we may see more dropbacks Sunday night. 
The gap between top Seattle pass catchers, Tyler Lockett ($9600) and DK Metcalf ($8800) is narrowing. On the season, Locket leads slightly in target share (21% to 19%) and share of the team's air yards (28% to 26%) while Metcalf owns a big end zone target lead (18 to 13). With plus matchups on deck for each receiver against the equally dusty Rasul Douglas and Avonte Maddox we're confident in rostering one or both, understanding Lockett is more likely to succeed on volume alone while Metcalf is capable of capitalizing on his league-leading end zone targets with a multiple touchdown performance. Freshly minted WR3, David Moore ($3000) remains underpriced for his new role. With Malik Turner out, Josh Gordon no longer with the team and Jaron Brown's status in question, Moore should once again approach a 72% snap rate and run a route on 75% of dropbacks. Moore's 14.2 aDOT coupled with nine end zone targets as a part time player presents big upside opportunity now that he's in a full time role. Jacob Hollister ($6600) has been a model of consistency, seeing at least three targets in every game since the week 11 bye but has failed to flash a ceiling. With Luke Willson ($200) slated to return there's added playing time risk to an already limited upside. In his first full game as the Seahawks lead back, Travis Homer ($6800) did not disappoint, handling 67% of the team's snaps, 33% of the carries and a 13% target share. In a contest where we expect the Seahawks to lean on the passing game, Homer's skill set is favored over plodding RB Marshawn Lynch ($6400). Despite being signed off the street, Lynch did manage a 40% share of the team's rushing attempts including the team's lone goal line carry. It's reasonable to create a rule in our builds to limit lineups to no more than one of Homer and Lynch, especially in lineups where we Captain one of them. As Silva noted in matchups, Seattle's OL remains a major concern for Russell Wilson ($11600). If they're able to keep Wilson upright Sunday night, he'll get a chance to attack the Eagles talentless secondary. Given the matchup and the increased likelihood Wilson is asked to drop back more often, 300-yards + 3 TD's is firmly in play. 
Still operating as the Eagles… *checks notes*… WR1, Greg Ward ($7400) has played on 77% of snaps and run a route on 73% of dropbacks since assuming the new title. Over that same time frame, Ward has managed just an 18% target share with no usage spikes to speak of and feels like nothing more than a high floor/low ceiling flex option, especially with Zach Ertz ($8600) expected back. Behind Ward, JJ Arcega-Whiteside ($2200), Deontay Burnett ($2000) and Robert Davis ($1000) project to split the team's WR2/3 duties. In week 17 with Arcega-Whiteside banged up, Davis played on 78% of snaps but was out-targeted 4-to-2 by Burnett who played on just 20% of snaps. The team leader in target share (24%) and share of the team's air yards (25%), Ertz catches one of the league's best matchups, facing a Seahawks defense that has allowed 97/1099/6 to opposing TE's this season. There's obvious concern he could be limited, used as a decoy or generally ineffective battling through broken ribs but assuming he's cleared to play and active we'll project a normal role. The Eagles lone healthy pass catcher, Dallas Goedert ($8000) has become the team's top target in recent weeks handling a 23% target share to go along with a 27% share of the team's air yards since week 15. Benefiting from the same plus matchup and not carrying the same injury risk as Ertz, he is our top pass catching option from Philadelphia. With Pederson expecting Jordan Howard ($3600) to have a role in the offense, the Eagles backfield has quickly become a tough to project three-headed RBBC. Miles Sanders ($9000) avoided serious injury after leaving week 17's must-win game early. We're tentatively projecting Sanders to lead the backfield in touches, followed closely by Boston Scott ($7600) with Howard potentially mixing in to syphon a handful of carries and threaten to reclaim his role as the team's go-to goal line back. As noted in matchups, Carson Wentz ($10600) has overcome a rash of injuries to his skill position group with 40-plus pass attempts in seven straight games. With Ertz expected back and a matchup against Seattle on deck, Wentz's ceiling shouldn't be in doubt. 
STACK IDEAS
*Captain Russell Wilson, 2-3 Seahawks Pass Catchers, Zach Ertz – With Chris Carson and Rashaad Penny out, in weeks 16-17 Seattle wisely increased their situation-neutral pass rate from 52% to 67%. With winnable matchups throughout the secondary, we're confident in Wilson's ability to access a ceiling.
*Captain Carson Wentz, Two Eagles Pass Catchers, DK Metcalf – Getting Ertz back is a big boost for Wentz who has managed to put up big numbers on massive volume without a real game-changing receiving threat. The target distribution should be fairly concentrated but it's possible one of the secondary receivers is part of a winning Captain Wentz stack.
*Captain Tyler Lockett, Russell Wilson, Miles Sanders – Leading the team in target share and air yards, Lockett is the Seahawks best bet at a volume-based Captain worthy performance. 
*Captain DK Metcalf, Russell Wilson, Dallas Goedert – With 18 end zone targets the 6' 4" 230-lb big bodied receiver is a threat for multiple touchdowns every time he steps on the field. 
*Captain Zach Ertz/Dallas Goedert, Carson Wentz, Marshawn Lynch – Ertz's return will bring with it reduced ownership on both TE's, relative to their probability of ending as the slate's top overall scorer. 
*Captain Travis Homer, Carson Wentz, Dallas Goedert – Marshawn Lynch remains a threat to vulture goal line work but Homer has the team's best touch upside given his involvement in the pass game. Captain Homer lineups should reflect a Seahawks trailing game script.
*Captain Miles Sanders, Russell Wilson, David Moore – Like Homer, Sanders has threats to his workload in Boston Scott and Jordan Howard but remains the most likely candidate to lead the team in touches. Though the presence of two capable running backs behind him hurts his median projection and likelihood of reaching a ceiling, he's capable of racking up 100-yards from scrimmage and multiple touchdowns.  
Notable Players not already listed as Captain above:
If a player is listed above as a Captain option or as part of a stack they are worth rostering as a stand alone flex as well. As discussed above the need to roster kickers and DST's is tied to how many rosterable players we have in the same salary range. Because DraftKings is unwilling to price up kickers to a level that would reflect their median projections, we're left with very few players who are priced around them that present the opportunity to outscore them. Pricing on DST's has been slightly more fluid based on the matchup and opposing team's total but they too remain underpriced relative to their median projections. While constructing rosters, consider the game environment/outcome necessary for these cheap players to beat the kickers and/or DST's. 
Boston Scott – Scott remains the biggest threat to Sanders' workload and is capable paying off his elevated price tag in the event that Sanders is limited or the Eagles make a concerted effort to get Scott the ball in space. 
Greg Ward – Ward's 18% target share and 21% share of the team's air yards since taking over an every down role are both below expected WR1 volume. However, he his unquestioned playing time against a mostly inept Seahawks secondary makes him a viable flex option.
Jacob Hollister – With at least six targets in four of his last six games, Hollister offers a safe floor but lacks appealing upside given the options priced around him. 
Marshawn Lynch – Lynch handled 40% of the team's rushing attempts and converted his lone goal line carry for a one yard TD in week 17. Captain Lynch exposure isn't unreasonable but he'll almost certainly need multiple touchdowns to pay off in that position.
Jordan Howard – Howard's role is TBD in what is expected to be his first offensive action in seven weeks. Despite not playing since week nine, Howard leads the team with 10 carries inside the five yard line.
David Moore – Lack of box score production kept Moore's price down after playing on 72% of snaps and running a route on 77% of dropbacks. He's our favorite salary saver on the board.
Joshua Perkins – In week 17, Perkins played on 78% of snaps and ran a route on 74% of dropbacks. Even with Ertz back, it's feasible to expect Perkins to continue to get playing time as he was lined up in the slot or out wide for 66% of his routes. 
JJ Arcega-Whiteside/Deontay Burnett/Robert Davis – In week 17, the Eagles operated in 12 personnel on 73% of their offensive plays. With Ertz back that number will only increase leaving many of these fringe receivers in touchdown-or-bust territory. We're handling this situation by creating a group to limit our lineups to no more than one of Arcega-Whiteside, Burnett or Davis. 
Luke Willson – The Seahawks No. 2 TE is a thin GPP dart throw at the stone minimum on DraftKings
PROJECTED OWNERSHIP
Again, roster construction and correlation are the most important factors for GPP success in the Showdown format. But understanding who will be popular helps. A rough guide to who we think will be the most owned:
Higher projected ownership, in order of descending salary:
* Russell Wilson
* Carson Wentz
* Tyler Lockett
* Dallas Goedert
Lower projected ownership, in order of descending salary:
* Boston Scott
* Marshawn Lynch
* David Moore
* Joshua Perkins