We recently took a look at why play volume and snaps pace matters when seeking fantasy-friendly game environments, and how it helps us avoid the low-upside slogs that cap point-scoring potential. Having a grasp of the pace at which a matchup will be played also has utility for sports bettors – particularly when wagering on game totals.
In this article, we'll run through a few teams that stand to see an increase in play volume, some heading in the opposite direction, and cloudy situations worth keeping an early eye on.
Editor's Note: Pat Thorman will be covering snaps and pace each week for Establish The Run. It's part of our jam-packed In-Season Package.
SPEEDING UP
1. Arizona Cardinals
It is no surprise that the Cardinals top this list. You'd need to have been living under Mike McCoy's rock to not hear Arizona's offense has nowhere to go but up. When you're last in yards per play and third-down conversion rate, you're not going to run many plays, no matter how quickly the ball is snapped. Twelve teams had a slower situation-neutral snaps pace in 2018, but only the pathetically plodding Dolphins averaged fewer plays (54.9) than the simply pathetic Cardinals (56.4).
The 90-plays-per-game goal that's been thrown around Arizona is a pipe dream, and new coach Kliff Kingsbury's 81-snap average from last year at Texas Tech won't happen either. Still, we will see a "majority no-huddle" offense with increased spacing, a boatload more shotgun, and a night-and-day difference behind center with Kyler Murray.
The Cardinals need to shore up last season's fourth-worst-ranked run defense — PFF projects them third worst this season — or it will be a drag on their own play production. Either way, Arizona's pace and play volume improvement will be immediate. How soon the pieces fully gel, and the tempo hits its peak, is the only question. We want exposure to this offense in fantasy, and aside from David Johnson, costs remain affordable – for now.
2. San Francisco 49ers
The 49ers aren't typically mentioned among the league's fastest-paced offenses. Perhaps it's because they didn't average many plays last season (62.7 per game; 22nd) and snap volume is often mistaken for snaps pace. Yet, even during an injury-ravaged campaign in which Jimmy Garoppolo only quarterbacked two full games, Kyle Shanahan's offense ranked 10th in situation-neutral snaps pace. In fact, outside of his first season as Falcons offensive coordinator four years ago, his teams have played quickly over the last half-decade.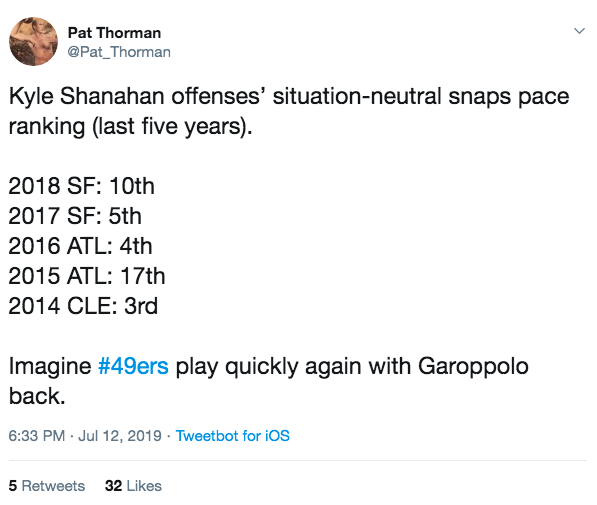 San Francisco averaged the fifth-most plays in 2017 (66.1), despite totaling only 102 in their first two games. In Garoppolo's five starts, the 49ers ran 67.2 plays per game – which would have ranked second highest for the full season. Since snap production correlates with situation-neutral pace, and Shanahan's offense has proven to be up-tempo with Garoppolo (and others) behind center, it stands to reason San Francisco will be toward the top of the league in plays. With an expanded cast of playmakers, elevated play-volume will play a crucial role in this severely underrated fantasy offense.
3. Dallas Cowboys
While a quick tempo may not make us think of the 49ers, a slow-paced offense has long been synonymous with the ground-based Cowboys. In the five years leading up to last season, they ranked 18th, 20th, 29th, 18th, and 32nd in plays per game. Their plays-allowed rate ranked 22nd, 21st, 21st, 25th, and 28th during the last half-decade, and their situation-neutral snaps pace rankings were 21st, 19th, 30th, 31st, and 31st. Outside of a few select players, fantasy investments in Cowboys games had about as much upside as Tavon Austin. Yet, we began to see a slight shift last year, when they ranked 11th in plays per game — and they dramatically sped up after a midseason trade landed Amari Cooper in Dallas.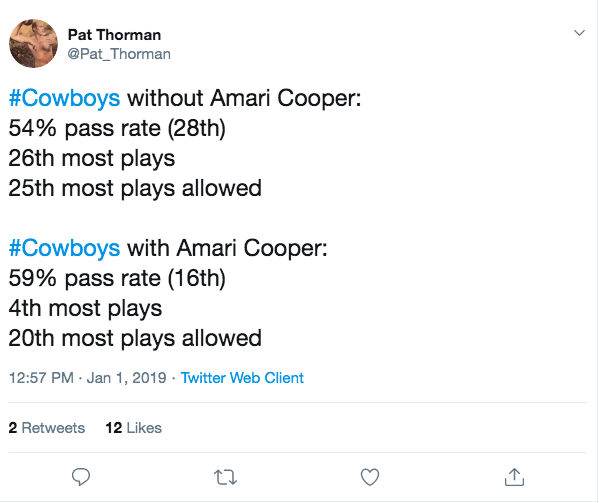 Not only did the 2018 Cowboys set a five-year-high in plays per game, they did the same in situation-neutral pace. With trade capital already sunk into Cooper, and future dollar investments in both him and Dak Prescott, we likely won't see a reversion to the Dallas tractor pulls of the recent past. Throw in fresh ideas from young OC Kellen Moore – who veteran LB Sean Lee says is showing them "different looks and throwing them at us fast" — and we have the makings of a fun offense for the first time since Tony Romo was healthy. Only Russell Wilson has a better passer rating on deep balls during the last three years than Prescott, and no team has thrown fewer during that time. Any further advances in play volume should ignite this talented group into a legitimately explosive offense.
SLOWING DOWN
1. Baltimore Ravens
The Ravens weren't thought of as an up-tempo, high-play-volume offense with Joe Flacco. However, in the last six seasons, their situation-neutral pace has ranked fifth, sixth, 10th, seventh, fifth, and fifth fastest. During that time, they finished first, eighth, fourth, fifth, 14th, and seventh in plays per game. Baltimore has been fertile fantasy ground, even if the Ravens have mostly sprouted tumbleweeds. With a run-based pivot to Lamar Jackson, and with Greg Roman as the new offensive coordinator, play volume may dry up.
While Roman has had success with dual-threat quarterbacks during six seasons as an OC, his teams haven't run many plays (18th, 20th, 21st, 24th, 30th, and 31st) or operated at a quick pace in neutral situations (11th, 18th, 18th, 23rd, 23rd, and 32nd). This does not mean we shouldn't draft Jackson, as significant play volume – particularly pass attempts – is not required for mobile quarterbacks to pay a modest cost. Yet, with what should be an inconsistent aerial attack, Ravens pass catchers will need volume for consistent fantasy viability.
Considering Baltimore went from the league's second-quickest seconds-per-snap rate, to the 26th once Jackson took over, they will almost certainly run fewer plays — even if the defense maintains its high level of play (third-lowest opponent third-down conversion rate). If the defense falls off, the Ravens will have a play-volume problem.
2. Green Bay Packers
While the Packers averaged the ninth-most plays per game last season, they haven't consistently ranked near the top of the league in recent years. Their snaps have been more efficient than voluminous. Rounding out the last half-decade, Green Bay finished 21st, 13th, 10th, and 24th in plays per game. Their situation-neutral snaps pace hasn't ranked higher than 19th in four years. There are also pass volume questions stemming from new coach Matt LaFleur's offense.
We know LaFleur will have the Packers under center and running more often – a clear boon for Aaron Jones' fantasy stock. Of course, they can't hand off much less than last season. Green Bay ranked third lowest in situation-neutral run rate (35%), while LaFleur's Titans finished third highest (50%). More running will almost certainly rob the Packers of overall play volume, as handoffs keep the clock grinding. Plus, as deliberately as Green Bay operated last season while games were close (19th quickest), the Titans were slothier (23rd).
A theme of the offseason has been figuring out which non-Davante-Adams pass-catcher to invest in and, as the most likely slot option, Geronimo Allison's stock is rising. While he is worthy of our attention now, if his draft cost gets much frothier, we may want to pull back. Pass volume may not be on his side, or that of any secondary receiving option on a still-unsettled depth chart. Making increasingly expensive season-long bets on players without locked-in roles, in an uncertain workload environment, may not be as wise as gaining the majority of our exposure to them in DFS formats.
3. Detroit Lions
The Lions offense might be about as exciting at The Great British Baking Show, but we still need to pay attention to their pace. They finished 17th in situation-neutral pass rate (57.3%), which was way down after they led the league in 2017 (63.8%). Considering they brought in handoff aficionado Darrell Bevell, and recently cut their best pass-catching running back, that mark should further plummet.
An increasing run rate is clearly bad news for Detroit's pace, play volume, and the many Danny Amendola enthusiasts – as game clocks will more consistently grind. More notably, while operating at last season's fourth-slowest situation-neutral snaps pace, they allowed the league's fewest plays. Fantasy gamers looking to start players against the Lions should expect them to try it again, and with an improved defense.
WATCHING CLOSELY
1. New York Jets
Seemingly with nowhere to go but up, the Jets finished seventh worst in plays per game and their neutral-situation pace ranked ninth slowest each of the last two seasons. With an ascending quarterback and free agent upgrades in the slot and backfield, New York should pick up both their snaps pace and play volume. If head coach Adam Gase is to be believed – and he's a proven liar on this subject – he wants a fast-paced team. He said the same thing on multiple occasions as Dolphins head coach.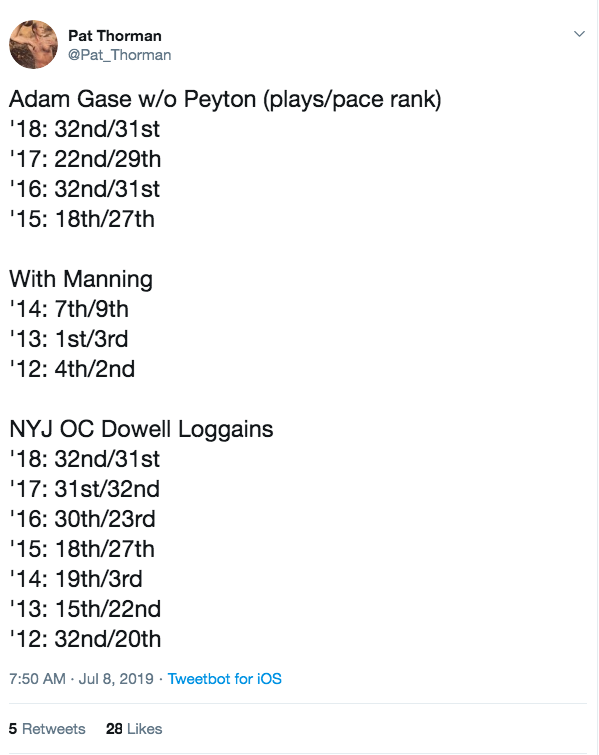 Miami played slowly, presumably, to protect their flawed defense. They earned a (brief) playoff appearance, which further convinced Gase of the plan's viability. Perhaps the Jets questionable-looking defense surprises, and it enables a quicker offensive pace. The more likely scenario is Gase begins with a cautious approach. That is not great for Le'Veon Bell, who is also staring at a significant offensive line downgrade and a coach who mentioned, "You can wear a guy out" while discussing his bellcow's workload. Volume-dependent Jamison Crowder figures to help Sam Darnold more than fantasy gamers, and suspended tight end Chris Herndon isn't worth waiting for well into October. Once again, the Jets are in "wait and see" territory.
2. Chicago Bears
The Bears are going to throw more often than last season, which is a positive for play volume – if not snaps and pace. They are forecast to win three fewer games than in 2018, when they ranked behind only the Chiefs (58%) and Patriots (52%) in percentage of snaps while leading (51%). Chicago was the only team to hold a lead in all 16 games. They passed at the 24th-highest rate in neutral situations (55%), and were losing by more than a touchdown at the league's lowest rate (6% of snaps).
On the rare occasion the Bears did trail by more than one score, they threw at the fifth-highest clip (77%). With Mitchell Trubisky apparently far ahead of where he was at this time last year in Matt Nagy's offense, the third-year passer's arm figures to be busier. The question is whether the Bears will operate at a faster situation-neutral snaps pace than they did a year ago, when they ranked only 27th quickest. If they do, it will translate into more plays than the 63.3 per game they posted in 2018 (14th). It had better translate.
Their backfield is more crowded with Tarik Cohen splitting touches with the highly drafted David Montgomery and under-the-radar Mike Davis. Chicago's deep pass-catcher group features healthier versions of Allen Robinson and Anthony Miller, along with Taylor Gabriel, Trey Burton, and Adam Shaheen. Cordarrelle Patterson will skim touches as well. That is a wide distribution for fantasy gamers to navigate, and it will look even wider if the Bears don't increase play volume by meaningfully picking up their pace.
3. Cleveland Browns
As if we didn't already feel like most days are spent in The Upside Down, the AFC North favorite Browns are somehow the league's most buzz-worthy team. Significant strides are expected from their offense, for good reason. Spiked efficiency and a winning record resulted from finally flushing Hue Jackson and installing Freddie Kitchens as interim offensive coordinator. However, the amount of pace and play volume they'll produce this year, with Kitchens as head coach and Todd Monken at offensive coordinator, is currently unknown.
Under Jackson, the Browns averaged the second-most plays per game through Week 8 (70.3), buoyed by several overtime games. Once Kitchens started calling plays for interim egomaniac head coach Gregg Williams, Cleveland averaged the fourth-fewest snaps (57.6). It's tough to parse how much of that was Williams protecting his defense, Kitchens wanting a slow-paced attack, or the Browns' increased offensive efficiency during more favorable game scripts. Whatever the reason, they went from the second-quickest seconds-per-snap rate to the 21st quickest, and we don't know if it will carry over to this season with Cleveland staring at even more leads.
A slow pace won't submarine Odell Beckham, Baker Mayfield, and Nick Chubb, but the volume-dependent Jarvis Landry and yet-to-launch David Njoku still cost enough that a hit to their workload will be sharply felt by fantasy teams. Their targets and production were aggressively slashed when Kitchens took over last year. The question of how much influence Monken will have on Kitchens is crucial. His offense has Air Raid DNA and he's been part of up-pace Buccaneer attacks the last three seasons. The head coach will still be calling plays, and anyone who says they know how this will shake out is lying.
HIGHER OCTANE, LOWER VOLUME?
The Eagles and Colts are prime examples of why pace is only one piece of the fantasy puzzle. Put simply: "When the only tool you have is a hammer, everything looks like a nail." While we will see how there is some level of concern for consistent pass volume with these offenses, added context is necessary.
The Colts ran 16% of plays while winning by more than one score, mostly during the second half of last season. During those plays, Indianapolis threw at the fourth-lowest clip (36%), which contrasted sharply with their second-highest-ranked full-season situation-neutral pass rate (65%). It stands to reason that as Indianapolis improves, which they are universally expected to do, they will hand off at a higher overall rate.
This likely will not affect their main fantasy horses like Andrew Luck and T.Y. Hilton – and it should further boost Marlon Mack's production. Anyone who remembers last year's demolition of Dallas is drooling over Mack. Yet, the growing cohort of ancillary passing game options (Devin Funchess, Eric Ebron, Jack Doyle, and Parris Campbell) may feel a squeeze, or at least emit a "whack-a-mole" odor when it's time to pick which weeks to start them in fantasy.
After years of spare-parts backfields running behind a dominant offensive line (third-best PFF run blocking grade the last three years), the analytically inclined Eagles invested a second round pick in Miles Sanders, while acquiring Jordan Howard and all 10 of his thumbs for a conditional fifth-rounder. It doesn't mean they will be a predominantly ground-based team, but considering game scripts should tilt in their favor (9.5 projected wins; fifth highest), it's likely they'll be pounding out plenty of leads.
Combined with situation-neutral pace rankings under Doug Peterson of 27th, 17th, and 30th, consistent opportunities for Philadelphia's gaggle of fantasy-viable weapons may be hard to pin down. Drafting Carson Wentz may be the wisest move from a blood-pressure perspective, as identifying which Eagle to invest in on a weekly basis will be a challenge as they more regularly dictate game script.
While a receding number of passes is a concern on the margins for Colts and Eagles weapons, it should not be overlooked that even if they run at a high rate once they're winning, the lead will most likely have been built principally via the pass. When opponents do hang in games with them, Luck and Wentz will be chucking the ball at approximately their accustomed clips. This is less a glaring red flag than it is a word of caution on the weekly consistency of the teams' many secondary fantasy options being drafted in the middle rounds.