2021 Best Ball Kickoff
It is never too early to be thinking about next year's football season. This is why we at Establish the Run have joined the FFPC's 2021 Inaugural "Heavy Hitters" Best Ball draft. Drafting before this season's playoffs have concluded is early for even me, but I think it will be a great opportunity to test some of our 2020 learnings while getting a feel for how the market may be evaluating players as we head into the offseason. There are a ton of sharp analysts and high-stakes players in this draft, so we should be able to learn quite a bit from their picks and positional strategy.
Michael Leone and I will be teaming up to draft throughout this week, and I will be updating this page with all the picks and some analysis. For people unfamiliar with the style, this will be a 28-round draft with two hours per pick. Traditional FFPC rules can be found here.
Round 1

Christian McCaffrey, CAR, RB1 (@TodfromPa)
Dalvin Cook, MIN, RB2 (@AustinRMartin84)
Alvin Kamara, NO, RB3 (@TheOGfantasy)
Jonathan Taylor, IND, RB4 (@SportBettingMan)
Travis Kelce, KC, TE1 (@JayAuggs)
Derrick Henry, TEN, RB5 (@JustinHerzig and @2Hats1Mike)
Saquon Barkley, NYG, RB6 (@GWWYG1)
Davante Adams, GB, WR1 (@OverHypedSleeper)
Tyreek Hill, KC, WR2 (@BenC1357)
Stefon Diggs, BUF, WR3 (@GOATDistrict)
George Kittle, SF, TE2 (@NoahRuddell)
Ezekiel Elliott, DAL, RB7 (@DavisMattek)
In the first round, we didn't see any major surprises. Especially this early in the off-season, most teams prioritized drafting a workhorse RB. We agreed with that notion given the plenitude of question marks surrounding the majority of RBs. Which RBs will go from a workhorse to time share? Which RBs will lose their job to a rookie? These are pertinent questions when drafting this early, so it feels good to get out of the first round with someone we know is going to be the focal part of his offense in 2021 (Henry's floor-ceiling combo for his range of seasonal outcomes made him our third overall player despite this being PPR). Jonathan Taylor fourth overall was a bit unexpected given Nyheim Hines will still be there in 2021 combined with a question mark around QB, but I fully expect him to be a regular first rounder in drafts next year.
Round 2

Michael Thomas, NO, WR4 (@DavisMattek)
DeAndre Hopkins, ARI, WR5 (@NoahRuddell)
Darren Waller, LV, TE3 (@GOATDistrict)
Justin Jefferson, MIN, WR6 (@BenC1357)
Calvin Ridley, ATL, WR7 (@OverHypedSleeper)
Cam Akers, LAR, RB8 (@GWWYG1)
Austin Ekeler, LAC, RB9 (@JustinHerzig and @2Hats1Mike)
Aaron Jones, GB, RB10 (@JayAuggs)
D.K. Metcalf, SEA, WR8 (@SportBettingMan)
A.J. Brown, TEN, WR9 (@TheOGfantasy)
Keenan Allen, LAC, WR10 (@AustinRMartin84)
Miles Sanders, PHI, RB11 (@TodfromPa)
Through two rounds, we have now seen 11 RBs, 10 WRs, and three TEs. For RBs, the second round appears to be where we start seeing guys with significant upside, but also legitimate question marks. Akers' biggest risk for fantasy players is investing in the volatility of being a skill position player in a Sean McVay offense. Aaron Jones is a free agent, and Miles Sanders will have a new coaching staff and a questionable QB situation. We felt fortunate to have Austin Ekeler fall to us at the 19th overall spot as he brings with him a strong floor with his pass catching, but top-five RB upside if he becomes the three-down + goal-line back with the new coaching staff. All the WRs drafted in this range are studs with similar upside meaning it likely comes down to which WRs have that highest likelihood of hitting their top range. Michael Thomas probably scares me the most given the QB question mark, but can't fault any of the picks. Darren Waller went higher than I expected, but I imagine @GOATDistrict wanted to lock up the valuable TE-premium position before the significant tier drop-off after the top three.
Round 3

D'Andre Swift, DET, RB12 (@TodfromPa)
Nick Chubb, CLE, RB13 (@AustinRMartin84)
Antonio Gibson, WFT, RB14 (@TheOGfantasy)
Clyde Edwards-Helaire, KC, RB16 (@SportBettingMan)
Josh Jacobs, LV, RB17 (@JayAuggs)
Allen Robinson, CHI, WR11 (@JustinHerzig and @2Hats1Mike)
Julio Jones, ATL, WR12 (@GWWYG1)
J.K. Dobbins, BAL, RB18 (@OverHypedSleepr)
David Montgomery, CHI, RB19 (@BenC1357)
James Robinson, JAX, RB20 (@GOATDistrict)
Amari Cooper, DAL, WR13 (@NoahRuddell)
Chris Godwin, TB, WR14 (@DavisMattek)
The thirst to get one of the final starting RBs is real. In Round 3, we saw eight RBs drafted. After a banner year for zero RB, or at the least modified zero RB, it is interesting to see people still hammering the RBs all the way through the third round. Michael and I were very happy to grab our two trustworthy RBs in the first two rounds, letting us primarily focus on the dropping WR value while avoiding RBs with significant question marks. Allen Robinson is a free agent and hinted towards getting out of Chicago and finally finding himself an NFL-caliber QB (he deserves it after playing through Blake Bortles, Chad Henne, Mitch Trubisky, and Nick Foles). DeAndre Hopkins and Stefon Diggs blew up the theory that we shouldn't be drafting WRs on new teams, and if Robinson prioritizes quarterback play and offense in his new home, he has top-three WR upside next year. This felt like a high floor/high ceiling combo pick that you're looking for in Round 3.
Round 4
Najee Harris, ROOKIE, RB21 (@DavisMattek)
Joe Mixon, CIN, RB22 (@NoahRuddell)
Mike Evans, TB, WR15 (@GOATDistrict)
Travis Etienne, ROOKIE, RB23 (@BenC1357)
Mark Andrews, BAL, TE4 (@OverHypedSleepr)
Adam Thielen, MIN, WR16 (@GWWYG1)
Kenny Golladay, DET, WR17 (@JustinHerzig and @2Hats1Mike)
CeeDee Lamb, DAL, WR18 (@JayAuggs)
D.J. Moore, CAR, WR19 (@SportBettingMan)
Terry McLaurin, WFT, WR20 (@TheOGfantasy)
Tee Higgins, CIN, WR21 (@AustinRMartin84)
Tyler Lockett, SEA, WR22 (@TodfromPa)
We saw our first rookies go off the board in Round 4, with Najee Harris and Travis Etienne both being drafted as the second RB for their respective managers. We discussed both backs in preparation for our pick given they are stronger than the other available RBs, but questionable when comparing to the available WRs. I asked Davis for his take on the pick:
"I expect Harris to be the highest-drafted RB of the class. Some back-of-the-napkin math will show that the highest-drafted RB over the last three years has gone in the second/third-round range. Jonathan Taylor and Josh Jacobs are the best comparisons, and both roughly earned the value of their price tags in their rookie seasons, so taking Najee Harris at 4.01 felt pretty good."
I think Davis' reasoning highlights the 4.01 could be solid value for Harris if he gets drafted in a favorable landing spot, though I'm not knowledgeable enough on the rookies yet to estimate that likelihood. But in situations like this, it helps me realize my gaps and where I need to spend more time researching early in the offseason. With the top two RB rookies gone, we knew we would be pushing forward with WRs, specifically deciding between Kenny Golladay and D.J. Moore. Both solid options, but leaned Golladay given the upside of being the alpha and focal part of a new pass-heavy offense while D.J. will still likely be the second option at best in that offense.
Round 5

Will Fuller V, HOU, WR23 (@TodfromPa)
Patrick Mahomes, KC, QB1 (@AustinRMartin84)
Chase Claypool, PIT, WR24 (@TheOGfantasy)
Ja'Marr Chase, ROOKIE, WR25 (@SportBettingMan)
Javonte Williams, ROOKIE, RB24 (@JayAuggs)
Robert Woods, LAR, WR26 (@JustinHerzig and @2Hats1Mike)
Josh Allen, BUF, QB2 (@GWWYG1)
T.J. Hockenson, DET, TE5 (@OverHypedSleepr)
Diontae Johnson, PIT, WR27 (@BenC1357)
JuJu Smith-Schuster, PIT, WR28 (@GOATDistrict)
Courtland Sutton, DEN, WR29 (@NoahRuddell)
Lamar Jackson, BAL, QB3 (@DavisMattek)
In the fifth round, we took probably the least sexy pick of the entire draft: Robert Woods as the 26th WR off the board. And personally, I think that type of unsexy pick is exactly what teams often need in this spot. Robert Woods is entering his age 29 season as the clear No. 1 WR in a strong offense. He finished the last three seasons in that offense ranked as the PPR #13, #14, and #11 WR. While it is hard to trust players in McVay's offense, Woods has continued to show a level of consistency you can count on to outproduce his ADP. We were fairly set on WR, and when comparing him to the other options available, others had similar upsides as Woods but all came with substantially more risk.
Round 6
Marquise Brown, BAL, WR30 (@DavisMattek)
Dak Prescott, DAL, QB4 (@NoahRuddell)
Chris Carson, SEA, RB25 (@GOATDistrict)
Brandon Aiyuk, SF, WR31 (@BenC1357)
Kyler Murray, ARI, QB5 (@OverHypedSleepr)
Kareem Hunt, CLE, RB26 (@GWWYG1)
Deshaun Watson, HOU, QB6 (@JustinHerzig and @2Hats1Mike)
D.J. Chark, JAX, WR32 (@JayAuggs)
Russell Wilson, SEA, QB7 (@SportBettingMan)
Aaron Rodgers, GB, QB8 (@TheOGfantasy)
Cooper Kupp, LAR, WR33 (@AustinRMartin84)
Justin Herbert, LAC, QB9 (@TodfromPa)
Across an entire Best Ball portfolio, it is rarely the decisions between two players of the same position that will make or break your year. Player evaluation between two guys with similar ADPs is going to be extremely difficult to get right in the long run and across enough drafts; it will likely even out. Rather, the real edge in drafts is gained in correctly deciding which position to draft at various points. Our sixth-round choice highlighted that challenge. We quickly realized we would want to be selecting one of the onesie positions, but we needed both a QB and TE. I've included a screenshot of our discussion for this pick to help explain the 2v2 strategy I often like to use.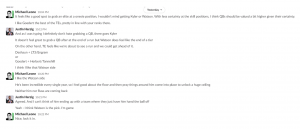 Based on our rankings, it was fairly clear we would be taking either Watson or Goedert. And the following round, we would likely be drafting the other of the positions. I expected in the 10 picks between our sixth and seventh round, we would see 3-4 TEs being drafted leaving us with a Logan Thomas/Evan Engram-style TE in the next round. If we drafted our top TE of Goedert, I expected around three QBs to go leaving us with someone like Justin Herbert or Ryan Tannehill. Comparing that 2v2 of Watson + LT3/Engram vs Goedert + Herbert/Tannehill, we both felt more confident in the gap between Watson and the other QBs vs Goedert and the next tier of TEs. This kind of 2v2 thinking can be done all throughout the draft to help you build the best roster across each position.
Round 7
Tom Brady, TB, QB10 (@TodfromPa)
Ronald Jones, TB, RB27 (@AustinRMartin84)
Dallas Goedert, PHI, TE6 (@TheOGfantasy)
Kyle Pitts, ROOKIE, TE7 (@SportBettingMan)
Odell Beckham Jr., CLE, WR34 (@JayAuggs)
Noah Fant, DEN, TE8 (@JustinHerzig and @2Hats1Mike)
Brandin Cooks, HOU, WR35 (@GWWYG1)
Myles Gaskin, MIA, RB28 (@OverHypedSleepr)
Mike Gesicki, MIA, TE9 (@BenC1357)
A.J. Dillon, GB, RB29 (@GOATDistrict)
DeVante Parker, MIA, WR36 (@NoahRuddell)
Michael Gallup, DAL, WR37 (@DavisMattek)
After taking Deshaun last round, we knew we'd be targeting our first TE this round. As mentioned earlier, we expected 3-4 TEs to be taken and thus were pleasantly surprised to have Noah Fant fall to us. We can now review our Watson decision and compare our chosen Watson/Fant picks vs the theoretical Goedert/Tannehill combo we likely would have selected. And I'm pretty happy with how that worked out. Elsewhere in the seventh round, we see Kyle Pitts as the first rookie TE off the board. He'll be fighting an uphill battle given how rare it is for TEs to make a first-year fantasy impact, but for Dynasty, he is a guy I'll be looking to grab early. The two RBs drafted in this round would not surprise me if they end up as top-15 RBs or outside the top 50. Both of their ADPs will likely shift significantly throughout the offseason as we get a better idea of each of those teams' offseason plans for their backfield.
Round 8
Laviska Shenaut, JAX, WR38 (@DavisMattek)
T.Y. Hilton, IND, WR39 (@NoahRuddell)
Ryan Tannehill, TEN, QB11 (@GOATDistrict)
Logan Thomas, WFT, TE10 (@BenC1357)
Curtis Samuel, CAR, WR40 (@OverHypedSleepr)
Jarvis Landry, CLE, WR41 (@GWWYG1)
Tyler Boyd, CIN, WR42 (@JustinHerzig and @2Hats1Mike)
Deebo Samuel, SF, WR43 (@JayAuggs)
Joe Burrow, CIN, QB12 (@SportBettingMan)
Melvin Gordon, DEN, RB30 (@TheOGfantasy)
Hunter Henry, LAC, TE11 (@AustinRMartin84)
Evan Engram, NYG, TE12 (@TodfromPa)
Overall, I feel pretty good about where we stand. We got strong onesie positions without having to draft either in the first five rounds, and four WRs that may not be sexy but project for strong volume. I love our top two RBs, but we'll probably need to combine upside with safety in our later RB picks to protect against BYE weeks and occasional injuries. We can also consider a hyperfragile RB build but, in that situation, I would have liked to have grabbed one additional RB early on.
Round 9

Robby Anderson, CAR, WR44 (@TodfromPa)
Irv Smith Jr., MIN, TE13 (@AustinRMartin84)
Robert Tonyan, GB, TE14 (@TheOGfantasy)
David Johnson, HOU, RB31 (@SportBettingMan)
Matt Ryan, ATL, QB13 (@JayAuggs)
Jonnu Smith, TEN, TE15 (@JustinHerzig and @2Hats1Mike)
Hayden Hurst, ATL, TE16 (@GWWYG1)
Damien Harris, NE, RB32 (@OverHypedSleepr)
Kirk Cousins, MIN, QB14 (@BenC1357)
DeVonta Smith, ROOKIE, WR45 (@GOATDistrict)
Trey Sermon, ROOKIE, RB33 (@NoahRuddell)
Cole Kmet, CHI, TE17 (@DavisMattek)
We went into the draft having a plan to take between three and five TEs, and after not getting our first until Round 7, we'll likely end up in the 4-5 range. This was a good chance to grab one of the few TEs that still has weekly upside. Jonnu's scoring may be volatile but with his run after catch skill set (remember Bill Belichick saying Jonnu is 'probably the best in the league' after the catch) and being a free agent, we valued both the weekly big-play upside and the season-long upside if he ends up in a pass-heavy offense. We did not love any of the WRs or RBs in this spot and felt our QB target (Matthew Stafford) was a bit of a reach given our investment in Watson.
Round 10

Chase Edmonds, ARI, RB34 (@DavisMattek)
Tony Pollard, DAL, RB35 (@NoahRuddell)
Austin Hooper, CLE, TE18 (@GOATDistrict)
Chuba Hubbard, ROOKIE, RB36 (@BenC1357)
Antonio Brown, TB, WR46 (@OverHypedSleepr)
Zach Ertz, PHI, TE19 (@GWWYG1)
Kenneth Gainwell, ROOKIE, RB37 (@JustinHerzig and @2Hats1Mike)
Michael Pittman, IND, WR47 (@JayAuggs)
Leonard Fournette, TB, RB38 (@SportBettingMan)
Jerry Jeudy, DEN, WR48 (@TheOGfantasy)
Mike Williams, LAC, WR49 (@AustinRMartin84)
Raheem Mostert, SF, RB39 (@TodfromPa)
In Round 10, we selected our first rookie. This is around the point in early drafts where I don't mind taking rookie RBs that carry significant risk to go with their upside. Granted it is rather early, but I currently have five rookie RBs in my first two tiers. With the other four already all drafted, and us being favorable to Kenneth Gainwell's pass-catching and three-down skill set, he fit the mold for the type of rookie RB I feel comfortable drafting. Looking around the industry at early reports and he is projected to go in the second or third round of the draft, as high as the third RB off the board, putting him in the same range as guys like Jonathan Taylor, Cam Akers, and J.K. Dobbins.
Round 11

Eric Ebron, PIT, TE20 (@TodfromPa)
Kenyan Drake, ARI, RB40 (@AustinRMartin84)
Trevor Lawrence, ROOKIE, QB15 (@TheOGfantasy)
Gabriel Davis, BUF, WR50 (@SportBettingMan)
O.J. Howard, TB, TE21 (@JayAuggs)
Matthew Stafford, DET, QB16 (@JustinHerzig and @2Hats1Mike)
Jamison Crowder, NYJ, WR51 (@GWWYG1)
Justin Fields, ROOKIE, QB17 (@OverHypedSleepr)
Derek Carr, LV, QB18 (@BenC1357)
Tua Tagovailoa, MIA, QB19 (@GOATDistrict)
Dalton Schultz, DAL, TE22 (@NoahRuddell)
Zack Moss, BUF, RB41 (@DavisMattek)
In Round 11 we saw five QBs go off the board, including our top two rookies. We have had Stafford and Lawrence on the board since Round 9, so felt fortunate to have one of the two drop to us this late. At the end of the draft, I think we'll look back on this area as difficult positional decisions given the quality of RB and TE are significantly dropping, but soon to be even worse. Very few guys do you feel good about in this range, but I like the two WRs that were drafted. Jamison Crowder was the focal part of that offense when healthy, and if he can get a QB improvement, he'll very easily outproduce his ADP. With Gabriel Davis, it's a bet on the Bills' offense continuing their success and Davis taking a sophomore leap – though it is concerning that he'll still likely have Stefon Diggs, John Brown, and Cole Beasley returning. Zack Moss probably has the highest chance of outperforming his ADP in this group as we saw his passing-game usage increase and we know they like him around the goal line.
Round 12

Blake Jarwin, DAL, TE23 (@DavisMattek)
Sterling Shepard, NYG, WR52 (@NoahRuddell)
Tyler Higbee, LAR, TE24 (@GOATDistrict)
Cole Beasley, BUF, WR53 (@BenC1357)
Corey Davis, TEN, WR54 (@OverHypedSleepr)
Alexander Mattison, MIN, RB42 (@GWWYG1)
Denzel Mims, NYJ, WR55 (@JustinHerzig and @2Hats1Mike)
Baker Mayfield, CLE, QB20 (@JayAuggs)
Jaylen Waddle, ROOKIE, WR56 (@SportBettingMan)
Nyheim Hines, IND, RB43 (@TheOGfantasy)
Jalen Hurts, PHI, QB21 (@AustinRMartin84)
Rondale Moore, ROOKIE, WR57 (@TodfromPa)
After only seeing two WRs go in Round 11, we see six going in Round 12. I think this is more a product of the lack of talent at other positions than drafters necessarily loving their WR picks. We were targeting Corey Davis or Cole Beasley, but unfortunately they got drafted just before our pick. I really like both those guys at this stage – Davis with the opportunity to capitalize on his 'breakout' contract year and join a more pass-heavy offense or stay in Tennessee where he finished last year as the WR27, and Cole Beasley who will return to his valuable role in Buffalo as Josh Allen's second option and clear safety valve. With both gone by our pick, we had to settle for a tier below that deciding between younger WRs with a clear QB problem (Denzel Mims and Darnell Mooney). We prioritized Mims' better prospect profile, several 20-plus target share games, and as a tiebreaker the potential to create a stack and the accompanied upside for Mims if Watson becomes a Jet.
Round 13

Rashod Bateman, ROOKIE, WR58 (@TodfromPa)
Mecole Hardman, KC, WR59 (@AustinRMartin84)
Marvin Jones Jr., DET, WR60 (@TheOGfantasy)
Christopher Herndon, NYJ, TE25 (@SportBettingMan)
Le'Veon Bell, KC, RB44 (@JayAuggs)
Darnell Mooney, CHI, WR61 (@JustinHerzig and @2Hats1Mike)
Jared Goff, LAR, QB22 (@GWWYG1)
Ke'Shawn Vaughn, TB, RB45 (@OverHypedSleepr)
Daniel Jones, NYG, QB23 (@BenC1357)
Rashaad Penny, SEA, RB46 (@GOATDistrict)
Devin Singletary, BUF, RB47 (@NoahRuddell)
Gus Edwards, BAL, RB48 (@DavisMattek)
As I mentioned last round, we were deciding between Denzel Mims and Darnell Mooney. We were happy to see Mooney fall back to us in the 13th. Mooney clearly established himself as the No. 2 WR in Chicago, and with Allen Robinson's likely departure, will likely see increased target share and an opportunity to become the alpha. He also profiles well for Best Ball given his speed and Chicago's desire to use him for deep balls (now we just need a QB who can connect with those deep balls). Elsewhere in this round, I also liked @AustinRMartin84 building his mini stack by adding Mecole Hardman to Patrick Mahomes and @TheOGfantasy getting solid value from Marvin Jones this late. In general, I am staying away from the Tier 3 and below free-agent WRs since the supply of them far surpasses the demand by teams this year, but Marvin Jones is a guy I imagine will find a soft landing spot as a team's No. 2 WR.
Round 14

Trey Lance, ROOKIE, QB24 (@DavisMattek)
Jalen Reagor, PHI, WR62 (@NoahRuddell)
Christian Kirk, ARI, WR63 (@GOATDistrict)
J.D. McKissic, WFT, RB49 (@BenC1357)
Jeffrey Wilson Jr., SF, RB50 (@OverHypedSleepr)
Darius Slayton, NYG, WR64 (@GWWYG1)
James Conner, PIT, RB51 (@JustinHerzig and @2Hats1Mike)
Taysom Hill, NO, QB25 (@JayAuggs)
Zach Wilson, ROOKIE, QB26 (@SportBettingMan)
Jamaal Williams, GB, RB52 (@TheOGfantasy)
Harrison Butker, KC, K1 (@AustinRMartin84)
Carson Wentz, PHI, QB27 (@TodfromPa)
Going into Round 14, we were employing a bit of a fragile RB build knowing we would need to find some RB value late. James Conner is a guy I do not expect to be drafting often but this late, and comparing him to the other RBs on the board, he was a bargain. He is only 25 years old, was a third-round draft pick, and has shown an ability to both be a pass catcher and a three-down back. We have not ruled out the possibility he stays in Pittsburgh in his same role but even in free agency, while I think it is unlikely he signs with a new team as their workhorse, I would expect him to at the least sign as a complementary, veteran back with upside. It's not sexy, but for the 51st RB off the board, you can do a lot worse. When we look back at this draft in August, Taysom Hill could be the steal of the draft as the 25th QB off the board. Given @JayAuggs waited until the ninth round to select his first QB, and Taysom is his third, I like the upside of the pick with the risk mitigated by the two other QBs. We also had our first kicker go in the draft which is something we'll need to monitor going forward.
Round 15

John Brown, BUF, WR65 (@TodfromPa)
Justin Tucker, BAL, K2 (@AustinRMartin84)
Wil Lutz, NO, K3 (@TheOGfantasy)
Tyler Bass, BUF, K4 (@SportBettingMan)
Nelson Agholor, LV, WR66 (@JayAuggs)
Terrace Marshall Jr., ROOKIE, WR67 (@JustinHerzig and @2Hats1Mike)
Marlon Mack, IND, RB53 (@GWWYG1)
Michael Carter, ROOKIE, RB54 (@OverHypedSleepr)
Henry Ruggs, LV, WR68 (@BenC1357)
Younghoe Koo, ATL, K5 (@GOATDistrict)
Jameis Winston, NO, QB28 (@NoahRuddell)
K.J. Hamler, DEN, WR69 (@DavisMattek)
We're starting to see a mini train of kickers go in Round 15, which we considered joining, but given our spot in the middle of the draft, felt it was safe to hold out for one more round and grab a guy with significant upside. Terrace Marshall Jr. spent most of his college in the shadows of Ja'Marr Chase and Justin Jefferson but excelled in 2020 averaging 100 receiving yards per game and bringing in 10 TDs in seven games. Mock drafts have him often going in the late first, early second and often a top-five WR off the board. Rookie WRs are always a risk but for being our seventh of that position, we welcome the upside and accept he may flop. I also like both the Henry Ruggs and K.J. Hamler picks in this spot, two young speedsters with both weekly big-play upside and sophomore-year growth potential.
Round 16

Darrynton Evans, TEN, RB55 (@DavisMattek)
Ben Roethlisberger, PIT, QB29 (@NoahRuddell)
Sam Darnold, NYJ, QB30 (@GOATDistrict)
Jason Sanders, MIA, K6 (@BenC1357)
Jimmy Garoppolo, SF, QB31 (@OverHypedSleepr)
Teddy Bridgewater, CAR, QB32 (@GWWYG1)
Greg Zuerlein, DAL, K7 (@JustinHerzig and @2Hats1Mike)
Demetric Felton, ROOKIE, RB56 (@JayAuggs)
Todd Gurley, ATL, RB57 (@SportBettingMan)
Amon-Ra St. Brown, ROOKIE, WR70 (@TheOGfantasy)
Parris Campbell, IND, WR71 (@AustinRMartin84)
Robbie Gould, SF, K8 (@TodfromPa)
With six kickers off the board and us expecting the kicker run to start, we took our first with Greg Zuerlein. When I am considering which kickers to draft, especially this early in the offseason, I consider the following areas, in order: 1) overall offense, 2) kicker skill, 3) weather (preferably a dome), and 4) contract/job security. The strongest correlation year in and year out is the kickers on the best offenses perform better than their counterparts. Next, when I say kicker skill, while accuracy is relevant my primary concern is kicker range. This is a stronger factor for coaches in deciding how often to give the kicker a chance at a field goal. It is also more predictive year over year than accuracy. I then consider weather as not only are game totals usually higher in domes, but as it gets colder, coaches are less willing to use kickers on long attempts. And finally is their contract and job security, primarily for kickers outside the top 20. Identifying which ones will retain their job, both through the offseason and in case they have a rough year, is important to ensure they maintain a starting job.
Round 17

Graham Gano, NYG, K9 (@TodfromPa)
Drew Lock, DEN, QB33 (@AustinRMartin84)
Jermar Jefferson, ROOKIE, RB58 (@TheOGfantasy)
Rodrigo Blankenship, IND, K10 (@SportBettingMan)
Zane Gonzalez, ARI, K11 (@JayAuggs)
Matt Prater, DET, K12 (@JustinHerzig and @2Hats1Mike)
Daniel Carlson, LV, K13 (@GWWYG1)
Jason Myers, SEA, K14 (@OverHypedSleepr)
Brandon McManus, DEN, K15 (@BenC1357)
Ryan Succop, TB, K16 (@GOATDistrict)
Ka'imi Fairbairn, HOU, K17 (@NoahRuddell)
Mason Crosby, GB, K18 (@DavisMattek)
Round 18

Michael Badgley, LAC, K19 (@DavisMattek)
Randy Bullock, CIN, K20 (@NoahRuddell)
Joey Slye, CAR, K21 (@GOATDistrict)
Rob Gronkowski, TB, TE26 (@BenC1357)
Matt Gay, LAR, K22 (@OverHypedSleepr)
Dustin Hopkins, WFT, K23 (@GWWYG1)
Jake Elliott, PHI, K24 (@JustinHerzig and @2Hats1Mike)
Chris Boswell, PIT, K25 (@JayAuggs)
Josh Lambo, JAX, K26 (@SportBettingMan)
Gerald Everett, LAR, TE27 (@TheOGfantasy)
Darrell Henderson, LAR, RB59 (@AustinRMartin84)
Hunter Renfrow, WR72 (@TodfromPa)
Given these two rounds consisted of 18 kickers, I have grouped these rounds together and asked my co-drafter and ETR's Director of Analytics, Michael Leone (@2Hats1Mike), to provide his thoughts on Kickers and DSTs.
"When I evaluated FFPC roster construction last season, it became clear that having roughly three Ks and three DSTs was optimal, though for somewhat different reasons. For DSTs, scoring is always highly variant, but that's especially the case with FFPC scoring as there are no points allowed bonuses or penalties after allowing more than 10 points. For Ks, scoring is a little less variant, so you can get away with two healthy kickers over the course of the season. However, kicker turnover has been high in recent seasons, and there's an added job security risk element when drafting so far in advance.
As a result, we decided early on that once a K/DST run occurred, we'd likely rattle off six rounds in a row of Ks and DSTs to make sure we were structurally sound, opting for Ks before DSTs since we cared about kicker quality (job security) more than we cared about DST quality.
Passing up some fun sleepers in this range is never…well…fun, but what makes Best Ball such a strategic game is the importance of roster construction. K/DST points matter, and by grabbing three of each position, our roster is going to be more robust than some other teams who were late to the party."
Round 19

Phillip Lindsay, DEN, RB60 (@TodfromPa)
Dawson Knox, BUF, TE28 (@AustinRMartin84)
Pat Freiermuth, ROOKIE, TE29 (@TheOGfantasy)
Los Angeles Rams, DST1 (@SportBettingMan)
Baltimore Ravens, DST2 (@JayAuggs)
Lynn Bowden, MIA, RB61 (@JustinHerzig and @2Hats1Mike)
Russell Gage, ATL, WR73 (@GWWYG1)
Elijah Moore, ROOKIE, WR74 (@OverHypedSleepr)
Pittsburgh Steelers, DST3 (@BenC1357)
Tarik Cohen, CHI, RB62 (@GOATDistrict)
Latavius Murray, NO, RB63 (@NoahRuddell)
Duke Johnson, HOU, RB64 (@DavisMattek)
We start seeing the defenses go in the 19th leaving us with the decision of joining with an early defense or grabbing depth at our positions of need. We considered both TE and RB but saw the unique opportunity with Lynn Bowden to grab an RB this late that has an increased chance of seeing the field given his late-season usage as a WR. While we took Lynn instead, I think Tarik Cohen this late is another great RB value given Chicago has shown a commitment to him and his skill set provides him with a strong weekly floor.
Round 20

Benny Snell, PIT, RB65 (@DavisMattek)
Bryan Edwards, LV, WR75 (@NoahRuddell)
Indianapolis Colts, DST4 (@GOATDistrict)
Ito Smith, ATL, RB66 (@BenC1357)
Wayne Gallman, NYG, RB67 (@OverHypedSleepr)
Jack Doyle, IND, TE30 (@GWWYG1)
New Orleans Saints, DST5 (@JustinHerzig and @2Hats1Mike)
Anthony McFarland, PIT, RB68 (@JayAuggs)
David Njoku, CLE, TE31 (@SportBettingMan)
Stephen Gostkowski, TEN, K27 (@TheOGfantasy)
Kadarius Toney, ROOKIE, WR76 (@AustinRMartin84)
San Francisco 49ers, DST6 (@TodfromPa)
Round 21

Kansas City Chiefs, DST7 (@TodfromPa)
Washington Football Team, DST8 (@AustinRMartin84)
Dyami Brown, ROOKIE, WR77 (@TheOGfantasy)
Jared Cook, NO, TE32 (@SportBettingMan)
Tampa Bay Buccaneers, DST9 (@JayAuggs)
New England Patriots, DST10 (@JustinHerzig and @2Hats1Mike)
Los Angeles Chargers, DST11 (@GWWYG1)
Miami Dolphins, DST12 (@OverHypedSleepr)
Cleveland Browns, DST13 (@BenC1357)
Seattle Seahawks, DST14 (@GOATDistrict)
Giovani Bernard, CIN, RB69 (@NoahRuddell)
Buffalo Bills, DST15 (@DavisMattek)
Round 22

Philadelphia Eagles, DST16 (@DavisMattek)
Green Bay Packers, DST17 (@NoahRuddell)
Chicago Bears, DST18 (@GOATDistrict)
Evan McPherson, ROOKIE, K28 (@BenC1357)
Arizona Cardinals, DST19 (@OverHypedSleepr)
Minnesota Vikings, DST20 (@GWWYG1)
Denver Broncos, DST21 (@JustinHerzig and @2Hats1Mike)
Cairo Santos, CHI, K29 (@JayAuggs)
Carolina Panthers, DST22 (@SportBettingMan)
Atlanta Falcons, DST23 (@TheOGfantasy)
New York Giants, DST24 (@AustinRMartin84)
Harrison Bryant, CLE, TE33 (@TodfromPa)
After skipping on DST in Round 19, we committed to going three straight defenses to ensure we meet our preferred roster construction. This far out from the season, I don't pretend to have any significant edge in selecting defenses but focused on a combination of previous year's success and coaching styles. With Drew Brees likely retiring, I expect the Saints to continue investing and leaning on their defense to win games. Similarly, with the Patriots getting their Covid-19 holdouts back and one of the stronger secondaries in the league, I like their chances at creating turnovers which are most important for FFPC scoring. And our third defense was the Broncos which has seen their defense decline in recent years but still has a culture of emphasizing that side of the ball.
Round 23

Preston Williams, MIA, WR78 (@TodfromPa)
New York Jets, DST25 (@AustinRMartin84)
Tennessee Titans, DST26 (@TheOGfantasy)
Dallas Cowboys, DST27 (@SportBettingMan)
Cameron Brate, TB, TE34 (@JayAuggs)
Ian Thomas, CAR, TE35 (@JustinHerzig and @2Hats1Mike)
Cincinnati Bengals, DST28 (@GWWYG1)
Jacksonville Jaguars, DST29 (@OverHypedSleepr)
Detroit Lions, DST30 (@BenC1357)
Scotty Miller, TB, WR79 (@GOATDistrict)
Houston Texans, DST31 (@NoahRuddell)
Las Vegas Raiders, DST32 (@DavisMattek)
While most of the teams this round were scavenging for their second or third DST, we were already set in that department and trying to find some valuable depth at our onesie positions. TE is likely our weakest position as we did not get one of the elite guys and have only grabbed two through 22 rounds. Of the TEs available, we identified a few others that probably have higher floors or even expected points, but none have the upside and full-time role Ian Thomas will likely have. This probably sounds like a broken record as we were hoping for the Thomas outbreak both of the past two years, but at least this time we're only spending a 23rd-round pick on him. And as a tiebreaker, we also thought we may go TE-TE with these two picks and of our targets, Thomas was least likely to make it to our next pick.
Round 24

Kalen Ballage, LAC, RB70 (@DavisMattek)
Will Dissly, SEA, TE36 (@NoahRuddell)
Donovan Peoples-Jones, CLE, WR80 (@GOATDistrict)
Damien Williams, KC, RB71 (@BenC1357)
Allen Lazard, GB, WR81 (@OverHypedSleepr)
Mike Davis, CAR, RB72 (@GWWYG1)
Mitchell Trubisky, CHI, QB34 (@JustinHerzig and @2Hats1Mike)
Brevin Jordan, ROOKIE, TE37 (@JayAuggs)
Jimmy Graham, CHI, TE38 (@SportBettingMan)
Jose Borregales, ROOKIE, K30 (@TheOGfantasy)
Dan Bailey, MIN, K31 (@AustinRMartin84)
Kaden Smith, NYG, TE39 (@TodfromPa)
This round had some sneaky upside drafted across the board. Multiple players in this round were guys we had in our queue as potential late values. Will Dissly could secure the starting TE role, what we have seen to be a valuable position throughout Russell Wilson's career. None of the Kansas City RBs have looked as good as Damien Williams did last year – it wouldn't be shocking if he comes back to the team and takes a 1A role as the lead back. If Allen Lazard can survive competition from free agents or rookies, he will far outperform his WR81 draft position. And Mike Davis proved he has RB1 upside if Christian McCaffrey gets injured. A lot of guys that are great Round 24 picks. For us, we found ourselves in a bit of a challenging position after news breaking during the draft that Matthew Stafford is unlikely to be playing in Detroit next year. Leaving a team that plays indoors, is often in shootouts given the poor defense, and has solid receiving options across RB, WR, and TE is not great for his fantasy upside. There are some favorable landing spots that could work out well but overall, this adds additional risk to our team and pushed us to shift from a 2-QB to 3-QB strategy. After not having a QB taken in the past six rounds, we were fortunate to have Mitchell Trubisky available. While he is not a sure thing to be the season-long starter or even Week 1, I think he showed enough late in the season and getting the Bears to the playoffs to trick leadership into giving him the early nod. And because of his rushing floor and willingness to sling it, Trubisky can put up points when active.
Round 25

Aldrick Rosas, NYG, K32 (@TodfromPa)
James Washington, PIT, WR82 (@AustinRMartin84)
La'Michal Perine, NYJ, RB73 (@TheOGfantasy)
Tyler Johnson, TB, WR83 (@SportBettingMan)
Josh Reynolds, LAR, WR84 (@JayAuggs)
Joshua Kelley, LAC, RB74 (@JustinHerzig and @2Hats1Mike)
Boston Scott, PHI, RB75 (@GWWYG1)
Nick Folk, NYJ, K33 (@OverHypedSleepr)
Quintez Cephus, DET, WR85 (@BenC1357)
Marquez Valdes-Scantling, GB, WR86 (@GOATDistrict)
Justin Jackson, LAC, RB76 (@NoahRuddell)
Albert Okwuegbunam, DEN, TE39 (@DavisMattek)
In Round 25, we used a nonconventional technique of stacking our RBs. I specifically say stacking and not handcuffing because Josh Kelley's path to success is not just as the backup to Austin Ekeler, but rather a result of a rising tide lifts all boats. We are making a bet on the success of the LAC offense and if that is correct, we want to benefit in multiple places. In 2018, we saw this with Alvin Kamara and Latavius Murray (RB4 and RB38). In 2019, we saw it with Austin Ekeler and Melvin Gordon (RB4 and RB23). This past year we saw it with Nick Chubb and Kareem Hunt (RB10 and RB11) and Jonathan Taylor and Nyheim Hines (RB6 and RB15). And in 2021, I could imagine seeing similar success for pairings such as Ezekiel Elliott and Tony Pollard, or Austin Ekeler and either Joshua Kelley or Justin Jackson.
Round 26

Anthony Miller, CHI, WR87 (@DavisMattek)
Rex Burkhead, NE, RB77 (@NoahRuddell)
Adam Trautman, NO, TE40 (@GOATDistrict)
Cam Sims, WFT, WR89 (@BenC1357)
Demarcus Robinson, KC, WR90 (@OverHypedSleepr)
Jalen Hurd, SF, WR91 (@GWWYG1)
Dan Arnold, ARI, TE41 (@JustinHerzig and @2Hats1Mike)
Kylin Hill, ROOKIE, RB78 (@JayAuggs)
N'Keal Harry, NE, WR91 (@SportBettingMan)
Ryan Fitzpatrick, MIA, QB35 (@TheOGfantasy)
Jakobi Meyers, NE, WR92 (@AustinRMartin84)
Sony Michel, NE, RB79 (@TodfromPa)
The pickings are slim at TE after 40 have been taken, but we still needed to fill out our depth and finish with at least four. Dan Arnold could be a potential diamond in the rough. Of tight ends this year with 30 or more receptions, Dan Arnold led the league with an average of 14.1 yards per reception. There are no guarantees, but we're hopeful he has proven his value to the Cardinals or can leverage free agency to find a starting spot elsewhere in the league.
Round 27

Julian Edelman, NE, WR93 (@TodfromPa)
A.J. Green, CIN, WR94 (@AustinRMartin84)
Jacob Eason, ROOKIE, QB36 (@TheOGfantasy)
Mac Jones, ROOKIE, QB37 (@SportBettingMan)
Sammy Watkins, KC, WR95 (@JayAuggs)
Tre'Quan Smith, NO, WR96 (@JustinHerzig and @2Hats1Mike)
Cody Parkey, CLE, K34 (@GWWYG1)
James White, NE, RB80 (@OverHypedSleepr)
Breshad Perriman, NYJ, WR97 (@BenC1357)
Van Jefferson, LAR, WR98 (@GOATDistrict)
Jordan Akins, HOU, TE42 (@NoahRuddell)
Tutu Atwell, ROOKIE, WR99 (@DavisMattek)
Round 28

Anthony Firker, TEN, TE43 (@DavisMattek)
Mark Ingram, BAL, RB81 (@NoahRuddell)
Kerryon Johnson, DET, RB82 (@GOATDistrict)
Jerick McKinnon, SF, RB83 (@BenC1357)
Drew Sample, CIN, TE44 (@OverHypedSleepr)
Keke Coutee, HOU, WR100 (@GWWYG1)
Ty Johnson, NYJ, RB84 (@JustinHerzig and @2Hats1Mike)
Jarrett Patterson, ROOKIE, RB85 (@JayAuggs)
Andy Isabella, ARI, WR101 (@SportBettingMan)
Javian Hawkins, ROOKIE, RB86 (@TheOGfantasy)
Malcolm Brown, LAR, RB87 (@AustinRMartin84)
Cam Newton, NE, QB38 (@TodfromPa)
We went into our final two rounds needing a WR and RB to complete our team. The later in drafts I get, the more I welcome and lean into uncertainty. For the Saints, there is a great deal of uncertainty – primarily at the quarterback position. And with a new quarterback comes new QB-WR rapport which at a near last round price, can only be a positive. Add in the outside chance Matthew Stafford goes to New Orleans and we backdoor a stack or perhaps Jameis gets the starting job and the Saints become a sling-it offense and there's some hidden upside. As for Tre'Quan himself, he has shown a weekly upside with two multi-TD games this year (including most recently in their playoff loss) and may have added motivation in a contract year.
For the final pick, we similarly leveraged an area of uncertainty with the New York Jets and their new coaching staff, lack of a clear RB starter, and possibly even a new QB. Ty Johnson has shown the ability to be a three-down back, albeit in very small sample sizes. While we are unlikely to get much out of a Round 28 pick, we hope that Ty Johnson will have a chance at contributing and perhaps an early starting role to begin the season.
Our Team:
(3) QBs: Deshaun Watson (6.07), Matthew Stafford (11.06), Mitchell Trubisky (24.07)
(7) RBs: Derrick Henry (1.06), Austin Ekeler (2.07), Kenneth Gainwell (10.07), James Conner (14.07), Lynn Bowden (19.06), Joshua Kelley (25.06), Ty Johnson (28.07)
(8) WRs: Allen Robinson (3.06), Kenny Golladay (4.07), Robert Woods (5.06), Tyler Boyd (8.07), Denzel Mims (12.07), Darnell Mooney (13.06), Terrace Marshall Jr. (15.06), Tre'Quan Smith (27.06)
(4) TEs: Noah Fant (7.06), Jonnu Smith (9.06), Ian Thomas (23.06), Dan Arnold (26.07)
(3) Ks: Greg Zuerlein (16.07), Matt Prater (17.06), Jake Elliott (18.07)
(3) DSTs: New Orleans Saints (20.07), New England Patriots (21.06), Denver Broncos (22.07)
After taking a day to think about the draft and how it all went, I think we came out with a strong to very strong team. We lost a little EV losing our Stafford-Golladay stack, with his departure potentially hurting both of them, but with QB and WR being an otherwise position of strength for us, I think we can manage the damage. Our success or failure in this league will likely come down to our RBs. If Henry and Ekeler can both finish as top-10 RBs and one of either Gainwell or Conner can finish as a top-24 RB, I think we're going to be in a strong position. Tight end is probably our riskiest position given the lack of depth beyond Fant and Smith, but we've constructed a team where we'll rarely need more than one or two of them a week which will hopefully provide us a cushion at that position. And zero complaints on K or DST. We planned to get three and got a solid three at each position, and didn't have to give up significant draft capital to do so.