Dynasty Outlook
March 9 — Pro Day
Burks did not re-run the 40, but re-tested his vertical at 35.5 inches (adjusted to 34). He also did 12 bench reps (adjusted to 11). His performance does not change our outlook.
March 6
Burks "disappointed" at the Combine, running in the mid 4.5's instead of blazing into the 4.4's as some had predicted. However, pound for pound he still is one of the fastest WR prospects after weighing in at 225. A lack of explosion in the jumps was also somewhat concerning, and his agility drills were poor — though that was somewhat expected. Still, the production and athletic profiles match a couple of the higher-end comps, even if he clearly isn't one of the super twitched-up mega-stars. Minimal change here for fantasy.
Feb. 20
Burks is currently our top prospect for rookie drafts at the skill positions, and WR17 in our overall dynasty ranks. His body type and skill set lend themselves to an elite ceiling at the position. He also has an expected draft position that should have us feeling fairly secure regarding his value. Burks is a versatile athlete, with a range of outcomes that displays high-end comps who have been among some of the best players to roster in dynasty over the past decade-plus.
Profile Summary
Treylon Burks is an elite WR prospect who will challenge to be the top player off the board both at his position in the NFL Draft, and overall in dynasty rookie drafts. There is one name that appears to be consistent in the scouting community when comparing Burks to an NFL player — A.J. Brown. This comparison is backed up by statistical analysis.
Additionally, it is worth noting (if for no other reason than it is fun) that Burks batted .471 as a high school sophomore in baseball, while Brown was drafted into the MLB.
Vitals
Age (as of 12/31/21) — 21.8
Experience — 3 years
Height — 74 inches
Weight — 225 pounds
Hand Size — 9.875 inches
Arm Length — 33.5 inches
Wingspan — 79.125 inches
Forty — 4.55 seconds
Bench — 11 reps (Pro Day)
Vertical — 34 inches (Pro Day)
Broad — 122 inches
3-Cone — 7.28 seconds
By the Numbers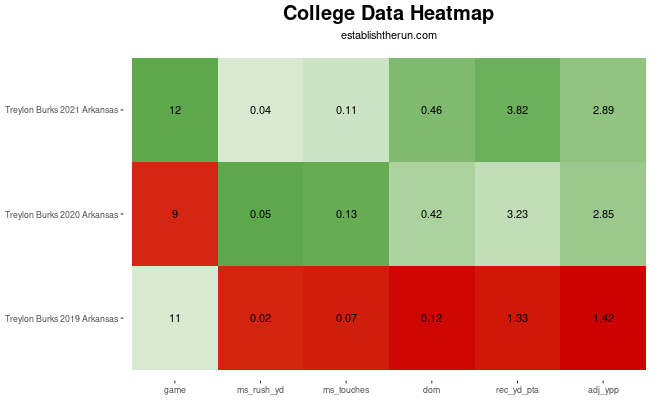 Burks had a solid role at Arkansas as a true freshman, chipping in as both a receiver and rusher while having an impact in the return game. As a sophomore, he experienced a true breakout, with a Dominator Rating over 30%. Efficiency has never been an issue for Burks, averaging over 16 yards per reception each year of his collegiate career, along with receiving yards per team pass attempt numbers over 3.0 as both a sophomore and junior — which is elite. His contributions as a rusher in each season of his career allow for comparisons to some unique players statistically.
What the Scouts are Saying
Burks appears to be universally loved by the scouting community. Before the 2021 college season began, NFL Network's Daniel Jeremiah got the party started on Burks hype.
What I liked: Burks is a smooth athlete with outstanding size and strength. His role in this offense places him primarily in the slot, with a few backfield reps mixed into each game I viewed. He hauls in a lot of quick-hitters (swings, bubbles, and slants), which highlight his best attribute: run after catch. He powers through tacklers consistently and is sneaky-elusive, as well. He has the ability to get vertical from the slot and tracks the ball very well over the shoulder.
Lance Zierlein and Jordan Reid continue to add to the positive sentiment surrounding Burks.
Reminds me so much of A.J. Brown coming out. Alabama tape was everything you wanted to see in a RD. 1 WR.

— Jordan Reid (@Jordan_Reid) December 13, 2021
It is interesting to note that Jeremiah made the Brown comp as well — and that isn't the last time we'll see it.
Draft Projection
As of now, Burks is projected to go in the second half of the first round — with an expected draft position of 20.4, according to Grinding the Mocks — but it is still quite early in the draft process. The Combine and interview processes could definitely vault him up higher if he ends up being the first WR off the board (Jeremiah has him eighth in his first mock draft). Regardless, it is unlikely that Burks is available after the conclusion of Round 1.
Comparable Players
I use Principal Component Analysis to evaluate WR prospects. In simplest terms, this kind of analysis looks at relevant data points to find the closest comparable WRs in past drafts. I prefer this to a model output — which yields only a single result — as it can display the possible range of outcomes for a prospect.
Note that the analysis itself isn't telling us how good a player is; it is simply returning the most similar players. It is then up to us to layer in context and past results to see how good we think this player may be. With an assumed draft position in the latter half of the first round, Burks has an impressive comp set.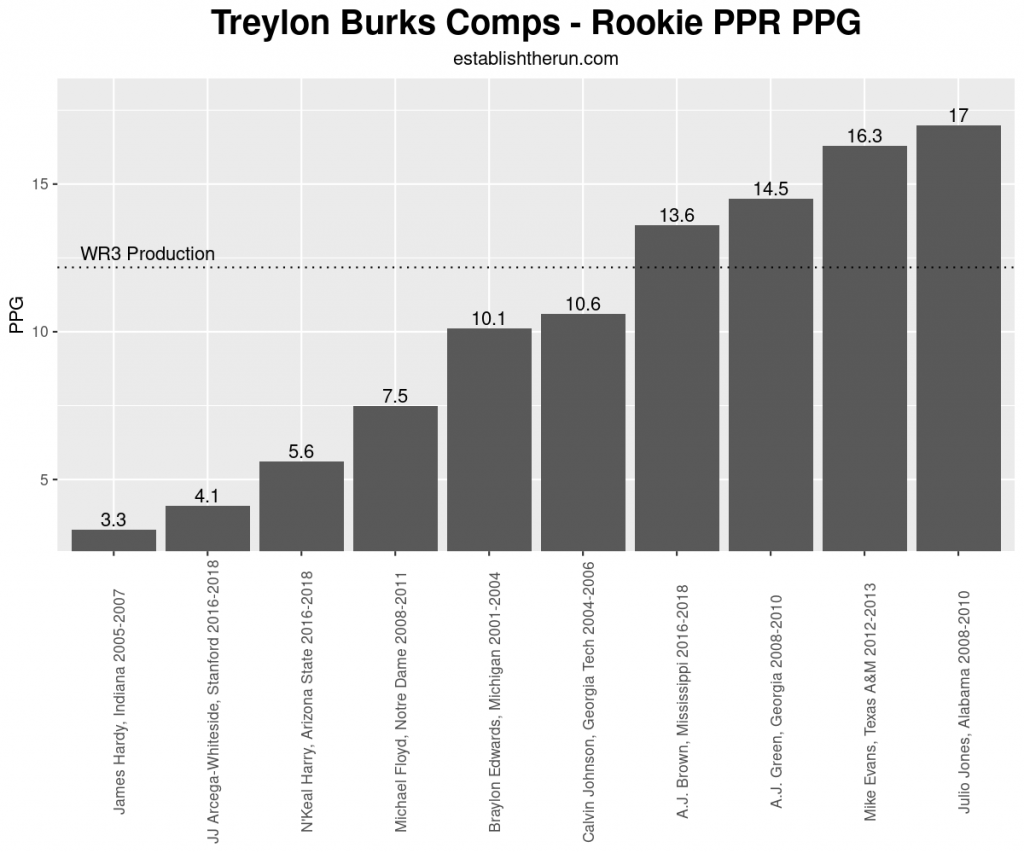 It is welcoming to see Brown — the same popular comparison among scouts — in our statistical comp set. The list is loaded with studs — Calvin Johnson, A.J. Green, Julio Jones, and Mike Evans. The downside comps like N'Keal Harry and J.J. Arcega-Whiteside lend a reminder that poor athletic testing or any kind of separation concerns could still lead to a negative result for Burks.
Further Research