Week 2 brought us a disturbingly odd slate at quarterback and wide receiver, but one that was loaded with seemingly solid options at running back. How did I sort through this? Let's look at each position before we touch on some results.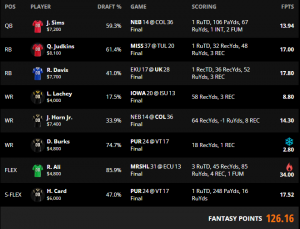 Quarterback
Given the pricing dynamics on the slate, I never could fully justify Jaxson Dart or Shedeur Sanders in cash. Dart at $9,700 had some question marks in terms of Spencer Sanders possibly stealing some series/snaps and Shedeur at $9,400 does not really run much, so I questioned his floor/ceiling at that price tag. Michael Pratt was squarely in the conversation until reports came out that he had a knee issue and was a big doubt.
Considering I wanted to prioritize some more expensive running backs, Jeff Sims at $7,200 and Hudson Card at $6,000 became the de facto cash quarterback options. Sims ran the ball 19 times in Week 1 and I considered the Colorado defense quite attackable. Card was more of a price play considering he has a locked-in role in an offense that we were expecting to be fairly throw-heavy.
Cam Fancher was an interesting play at $300 more than Card, however, I thought Marshall would likely lean on their running game in an ugly matchup versus East Carolina.
Running Back
Rasheen Ali at $4,800 was a massive pricing mistake, so he was the first click into the cash lineup. Behind him, I thought Quinshon Judkins was an absolute smash play in this game environment versus Tulane (highest total on the slate). In close games last year, Ole Miss routinely piled on work for Judkins, who is likely a top-five back in the country in terms of overall talent.
This was clearly a 3-RB cash slate for me, so for the third spot I mostly considered Ray Davis, Devon Mockobee, or Donovan Edwards. Considering I already was going to have two Purdue pieces in my lineup (Card and Deion Burks at WR), that effectively removed Mockobee from serious consideration. I felt good about the matchup for Kentucky, who was playing an FCS team in Eastern Kentucky that is poor defensively but has a solid enough offense that I thought it could keep the game competitive. Davis had a 70% share of rushing attempts in Week 1, so I thought there was a chance he could have a volume game since I believed UK would be fairly run-heavy playing from ahead. I loved the Week 1 role for Edwards but had some concerns the game would get out of hand quickly, and we know Michigan loves to use their depth in blowouts. So ultimately, Ray Davis was the third running back for me over Donovan Edwards, as I did not feel the cost savings improved my lineup.
Wide Receiver
My approach was to prioritize the three running backs I wanted this week and just kind of figure out wide receiver. Deion Burks was a really easy click, as he had 10 targets in Week 1 and played every snap. He paired nicely with Hudson Card for a nice value stack. With the mid-range being rather devoid of other solid plays, I felt going into the $7K range once and then spending down in the $4K range was the best approach.
Luke Lachey to me was a very solid cash receiving option at $4,000 even though we typically avoid tight ends. Lachey had nine targets in Week 1 and was someone who I expected to have a huge role in this offense with Sam LaPorta now in the NFL. Dayton Wade at $3,500 was the alternate option, who I thought had a wider range of outcomes but was certainly in a much better game environment. Dane Key was someone I gave some consideration to at $4,700, but I was concerned about their throw rate and thought possibly the Week 1 results where he out-targeted his teammates Tayvion Robinson and Barion Brown may have been an outlier. Roman Wilson was the guy in the $5K range who I thought people could play, especially since the position was weak and Michigan had a massive team total.
In terms of the expensive receivers, I really loved the ceiling prospects and game environment for Tre Harris at $7,800. While I preferred him over Jimmy Horn in a vacuum, I did have some concerns about playing Harris together with Judkins (expensive teammates at RB and WR). That and pricing constraints landed me on Horn instead at $7,400. While I had some concerns with the Colorado offense, him running 100% of his routes out of the slot made him quite appealing in cash games (Minnesota fed the slot receivers in Week 1 versus Nebraska). I thought Horn was a safer play over similarly-priced WRs Travis Hunter and Xavier Weaver, who would be lining up out wide.
Late Swap Considerations
With all of the weather delays that took place in the early window, I really did not have a great idea where I stood once the late games began to lock. My potential late swap I had set up pre-lock was moving to Dayton Wade over Luke Lachey at a WR spot if I felt like I needed a ceiling to make up ground. Ultimately, I did not make that swap.
Weekly Results
Jeff Sims chalk week went kind of as expected. Despite three terrible turnovers, he was never pulled from the game. He was looking a bit better in the third quarter, where he salvaged his day a bit with a long touchdown run. Unfortunately, he got hurt and missed a couple of garbage-time possessions, which could have provided some outs. Card was fine for his price tag. Shedeur got there late with a rushing touchdown, but Dart barely cracked 20 points. I really have no regrets at quarterback, although I wish we had some stronger results.
My running backs were fine, although I am a bit surprised that Judkins and Davis did not crack 20 points. While I think Davis was a strong play, Kentucky's pass rate is absurdly high so far this year, so that is something we have to adjust moving forward with this offense. Ali punished the faders, deservedly so. In the largest-field $5 double-up, ownership really condensed on the three running backs, with all of them over 40% and the fourth-highest-owned running back coming in at only 11%.
Wide receiver chalk failed at an incredibly high rate this week led by Burks, who was nearly 75% owned and only had one catch for 18 yards. Five of the next six wide receivers in terms of ownership (Key, Horn, Hunter, Lachey, and Harris) all had results below expectation. Harris was hurt very early in the game, so that was a bad run-out for Harris backers. Wilson was the one semi-chalk piece (15-20%) that separated, as he scored twice and piled up nearly 25 fantasy points at $5,400. I certainly looked at Wilson, but I determined he was extremely dependent on touchdown variance, so I think he just ran very hot on limited volume.
The lineup came up a bit short in most contests, as you see it finished in 562nd in the 1,149-man $5 single-entry double-up. While playing Dayton Wade, who was very low owned in cash despite being the sixth WR in our top plays, over Luke Lachey would have saved my cash slate, it's not something I can really beat myself up about. I think the thought process and approach were fairly strong this week, except for underestimating the Kentucky pass rate. For you GPP bros out there, this was definitely a week where I hope you took advantage of the WR chalk failing (which is very common in CFB).

Season Results:
Week 0: 87th-percentile lineup
Week 1: 12th-percentile lineup
Week 2: 49th-percentile lineup