Week 3 featured an extremely relevant news item to deal with, but other than that, it was fairly straightforward in terms of how to structurally build cash lineups.  There were some big 2v2 and 1v1 decisions to be made. Did I make the correct choices? No. Do I regret it? Yes. Let's explore the slate from a cash perspective and discuss why my choice was actually a crucial mistake and not just being results-oriented.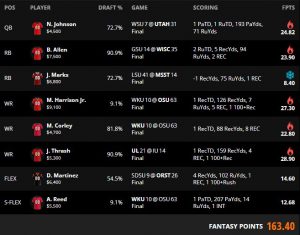 Quarterback
So the big news item I was alluding to in the open was the Utah QB situation. Nate Johnson ($4,500) was named the starter mid-week, but only if Cam Rising remained out. We assumed Rising would not play, and we did eventually get news after the initial lock of the slate that Johnson would be starting. He was an easy first guy in the lineup due to their matchup, rushing ability, and obviously his price tag. However, you did have to have either some level of faith that he would start and/or a plan for situations where Rising was announced as the starter post-lock. That definitely kept his ownership in check because, in theory, he was one of the strongest quarterback plays of the season.
The second quarterback spot was a bit more wide open, but the realistic options were Riley Leonard, Jayden Daniels, and Austin Reed. Leonard or Daniels were the most appealing in cash due to their team total and rushing abilities, but I ended up talking myself into Austin Reed at $5,500 for two reasons. First of all, he allowed me to play Marvin Harrison at WR, who I thought was the best overall play on the slate from a ceiling perspective. Secondly, Reed provided more flexibility over Daniels in the situation where we had to swap off Nate Johnson between that 12 p.m. ET lock and the 2 p.m. ET Utah game.
Running Back
While I did use my flag plant on Makhi Hughes at $4,600, that was definitely just a tournament take (also, he ended up WAY over-owned, resulting in him being a quite poor play overall). For cash games, it was pretty clear that you wanted two or three of Braelon Allen, Jo'Quavious Marks, Damien Martinez, and Ja'Quinden Jackson. Allen was my favorite of the bunch, even with Chez Mellusi just constantly being in the way. I felt Wisconsin would want to feed Allen a bit here against an inferior team with a weak defense, and I liked his involvement in the passing game the first two games. The other three backs were fairly close for me, so I used the fact that I was already playing a Utah piece as a tiebreaker. Utah is notorious for doing odd things from a personnel perspective, so I felt it was a measure of risk management to not use a second Utah player in this lineup.
Wide Receiver
DraftKings gifted us a $5,300 Jamari Thrash versus Indiana and $4,700 Malachi Corley, so those two were no-brainers for me on this slate. I considered playing Brock Bowers, but playing two $4,700 wide receivers really did not seem to fit any cash builds. Corley just has much safer volume as compared to any Georgia pass catcher, even if that guy is likely the best tight end in college football. Corley missed the last game, so if he was not dressed, having Bowers available left me a clean late pivot.
The decision of the third wideout really came in the form of 2v2s with various second quarterback options. By Friday night, I was looking at the following 2v2s: Jayden Daniels & Luther Burden (or Derwin Burgess), Riley Leonard & Emeka Egbuka, and Austin Reed & Marvin Harrison. While I thought Daniels was a great play, I had some concerns that Mississippi State's offense would play extremely slow and kill off the game. Also, the game was in Starksville, so I expected a tough road environment for Daniels. I was fine with Leonard but felt Duke could blow the doors off Northwestern and limit the rushing attempts for Leonard. Even though WKU was a four-touchdown underdog, I really like their pass offense and thought they could move the ball (and were a good side at +30). The thought process was that if I could get 20 from Reed, that would keep him close enough to Daniels that Harrison's upside (in a game where Reed performs well and pushes Ohio State some) would allow me to separate on the wide receiver spot.
Late Swap Considerations
Even though Burden and Daniels went full nuke in the early window, making me extremely pessimistic about being able to make up the ground, most lineups with those two did not have Harrison. Therefore, I did not swap, as I had differentials alive (although the lineup seemed quite dead even by lock of the late games).
Weekly Results
Nate Johnson played well, but he was extremely owned and rightfully so. Daniels and Leonard had really good games as well, making it a position you could not afford to underperform at. Reed had 10+ points at the end of the second quarter, so I felt slightly live to get what I needed, but the game went sideways fast and starters did not even make it to the fourth quarter. Taking 12.68 points at the position was just a total disaster.
What I did not consider enough is the possibility of this being an extreme blowout and not even getting a full game out of multiple pieces. This blowout not only crushed me at quarterback but also took Marvin Harrison off the field and capped his upside. This Reed-Corley stack with Harrison bring-back is something I should have left for tournaments because even the 25th-percentile outcome for this game likely includes those players only seeing a max of three quarters of playing time. I was focusing too much on what could happen if things went right and not enough time thinking through the range of outcomes of the game. It was just too much risk to take on considering the other options available. In hindsight, I definitely let my admiration for a wide receiver (who are by nature extremely volatile in college football) drive a key decision when underpriced dual-threat quarterbacks were easily accessible.
Running back was not the position where you won or lost this week, as the group of four guys I was considering were extremely high-owned and only Braelon Allen exceeded 20 points (and he was the highest-owned). Marks and Jackson both failed to get to 10 points, and Damien Martinez was just fine, although he probably ran bad to not score at least one touchdown in that game.
Thrash and Corley predictably both had very solid games, but they were not differentiators, just more of a requirement. Beyond that, we saw Luther Burden run like an absolute god, scoring two long touchdowns in a tough matchup (he was a good play, but good plays can still outperform expectations). Bowers was very highly owned as well, and he had a middling performance. Malik Nabers was actually the fifth-highest-owned WR in this large-field double-up, and his 51.9 DraftKings points just absolutely set the slate on fire. Most of the Nabers lineups had Jayden Daniels as well, so those teams were almost a lock to cash regardless of what they did elsewhere.
Hopefully some of you out there followed the projections and top plays closer than I did when clicking in the final few spots of your main lineup, as I think our content this week had a better showing than my lineup! I'll take the L again this week, which officially puts me on a losing streak. Looking ahead to Week 4, I think we can say the college football season is officially arriving with some huge games on tap, and I look forward to getting back on track. Thanks for checking out this recap, and have a nice week!

Season Results:
Week 0: 87th-percentile lineup
Week 1: 12th-percentile lineup
Week 2: 49th-percentile lineup
Week 3: 33rd-percentile lineup