Week 4 was loaded with great matchups and we got a 14-game DraftKings main slate which featured the hype machine of Colorado versus Oregon as the headliner. This slate was full of great plays, especially at running back, but with very little separating them, let's discuss the key points at each position before we touch on results.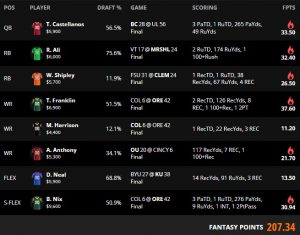 Quarterback
Four quarterbacks separated at the position in terms of ownership, as no other signal-caller even approached 10% ownership in the largest-field $5 double-up. Bo Nix had the top overall projection at the position and was deserved chalk, as his Ducks had a team total of around 45 points. Thomas Castellanos has been great so far this season for fantasy purposes, and he was the clear place to save salary at the position at only $5,900. Chandler Morris and Tyler Shough were solid options that were priced in between Nix and Castellanos. While I would have played Morris straight up over Castellanos at the same salary, adjusting for price I thought the rest of my lineup benefited from the cost savings. I ended up prioritizing Bo Nix because I had such a high level of certainty that Oregon's offense would be successful, which left me fading Shough and Morris. Without having Morris, I wanted to try to get Emani Bailey at running back if it worked out.
Running Back
I went back and forth at running back all week, heavily considering six different plays, which is more than usual. I wanted Bucky Irving, but his price tag of $7,500 was tough to fit, especially when playing Bo Nix. The more realistic options were three of Devin Neal, Emani Bailey, Rasheen Ali, Will Shipley, and LJ Martin. I was least certain of LJ Martin's role, so he was clearly my last choice of the group despite his significantly lower price tag. I thought Neal would have a chance for a volume game given some weather concerns. Rasheen Ali was the guy I was most certain would get 20 carries, but I did have some worries that he could get bottled up at Virginia Tech. With that said, he was definitely underpriced. Bailey has been establishing himself as a bellcow and I thought TCU/SMU would feature a ton of plays with both teams playing so fast. Will Shipley had 23 touches in Clemson's one close game, so he was certainly an option as well.
I wanted Devin Neal, Emani Bailey, and Rasheen Ali, but I kept getting stuck with not enough salary to get up to Bailey, so I ended up settling for Will Shipley (which saved me $700) who I thought could have a solid role, especially in the passing game, versus Florida State. Blake Corum was on my list, but he was overpriced for the matchup. I also had some light consideration of Nate Carter but ultimately thought the risk for overall failure of their offense was too high.
The toughest part of building was how uncomfortable I felt not having any TCU players, which was not something I could cover at wide receiver due to their rotations. I actually ended up making two alternate lineups on this slate where I shifted some of my double-up action so I could have some TCU coverage. I don't usually do this, but after a couple of rough weeks in cash, my confidence in making the correct decision was a bit shaken. Regardless, I went to battle in the majority of my action with Shipley, Ali, and Neal — which felt like a solid choice.
Wide Receiver
Despite the position being fairly rough overall, I wanted to prioritize playing Troy Franklin and Andrel Anthony. Franklin was a natural pairing with Bo Nix and with Oregon wide receivers rotating less this year, I felt great about the volume for Franklin versus a terrible defense. Similarly, Anthony has been great for Oklahoma this year and I felt he was $1,000 underpriced, so he was an easy click. It was nice to get two guys who I viewed as underpriced in situations where they should have an outstanding floor and ceiling relative to price.
The most challenging part of the build overall was deciding on a third receiver, and frankly, I considered a boatload of options up until lock. Earlier in the week, I wanted to play at least one Miami receiver (Xavier Restrepo or Jacolby George) in my lineup, but the weather got worse as the week went on and after the total dropped around 6-7 points, I was out on that game in cash. That really threw a wrench into things because I could never get cozy with any other option. I liked Isaac Rex, but I had some concerns with the weather. He is a big tight end running shorter routes, so it wasn't a huge dock. I thought Boston College wide receivers such as Ryan O'Keefe or Lewis Bond were interesting, but I was very heavy on them in tournaments and thought they would introduce too much risk into my lineup given I already had a run-heavy Boston College quarterback. Jerand Bradley was in play, but I could not get up to $5,900 and thought he was a bit too volatile and possibly too touchdown-reliant. Dayton Wade at $5,300 seemed okay, but I was a bit unsure of the availability of multiple Ole Miss pass catchers and we were not going to get clarity most likely.
Ultimately, I decided to take the jump with Michael Harrison of Colorado because he fit the price range I needed and I thought he had a good chance to out-target Isaac Rex due to the sheer volume of Colorado dropbacks. While I was certainly heavy on the Oregon side of the game, I thought even if Colorado were inefficient their top four pass catchers should see enough volume to produce.
Late Swap Considerations
After the early window, I was sitting pretty with Will Shipley, Andrel Anthony, and Rasheen Ali all doing well. The only thing I was looking out for was hoping Colorado WR Javon Antonio would be inactive to help solidify Michael Harrison's role. So when Antonio was warming up and looking likely to go, I gave a slight consideration of moving off of Harrison but really did not get too close to making the move.
Weekly Results
Oregon absolutely boat racing Colorado definitely stalled out Bo Nix's fantasy day, as he was pulled early. We did run good on the Troy Franklin play, so no complaints overall. Nix ended up okay, but Castellanos beat him by three points at almost $4K cheaper and Morris put up a respectable score as well. Really, if you played any of the top four except Tyler Shough, you were fine. Shough unfortunately broke his ankle early in the game, so if you were unlucky there, it was very difficult to make up ground.
Running backs were interesting, as we saw Rasheen Ali go off and guys like Emani Bailey and Will Shipley put up respectable mid-20s scores — all of those guys in the early window of games. The real duds were LJ Martin and Devin Neal (who played against each other), as both struggled a bit with efficiency and did not see positive touchdown variance.
The wildcard on this slate was Jahwar Jordan, who came in over 20% in most contests. I was really high on Jordan in GPPs, but I was unsure of his workload, so he did not make the cut for me in cash. Others apparently felt better about the play, and he absolutely nuked with nearly 43 DK points — props to the Jordan backers. I was fine with how I played at running back, as I did not get sucked into the LJ Martin play. While we ate the Neal dud, it did not hurt much with him being owned over 60% in most cash contests.
I was happy I stuck to my approach and prioritized Franklin and Anthony at wide receiver, as they both performed well. Michael Harrison caught a touchdown late to salvage some, but he still lost 1v1 to Isaac Rex, Ryan O'Keefe, and Lewis Bond. While I certainly understood the play, and the game logs looked good, I was surprised at how highly owned Bond was in cash. It was possibly an oversight by me, as he was priced cheaply. I likely overrated the risk that would be incurred by taking a second value Boston College player. My regret would be not playing Ryan O'Keefe in that spot, who I did see as a relatively high-floor play and my lineup did have the $200 remaining needed to move off of Harrison for him.
Overall, it was a pretty smooth slate from a cash perspective, although getting the Harrison 1v1 wrong hurt me in small-field contests; the lineup in double-ups was completely fine.
We are starting to get pretty comfortable with how these teams are playing this season and will look to keep the momentum rolling into Week 5. I hope you all had a good week. Thanks for reading!

Season Results:
Week 0: 87th-percentile lineup
Week 1: 12th-percentile lineup
Week 2: 49th-percentile lineup
Week 3: 33rd-percentile lineup
Week 4: 92nd-percentile lineup