Dynasty Outlook
April 18
Robinson is one of many third-tier RBs for rookie drafts, and finds himself outside of the top-30 RBs in our overall dynasty ranks. His profile is not particularly impressive, which initially has our ranking looking optimistic. However, it is clear that he is a better pass catcher than advertised, and has the pass protection ability to get on the field right away. Alabama RBs also frequently manage to find their way onto the field at the next level — perhaps this is a reason. We are willing to be more optimistic than the profile suggests, but will adjust quickly if the draft capital does not live up to expectations.
Profile Summary
Brian Robinson is a bigger back who should have an opportunity to take some short-yardage work immediately upon entering the NFL. The scouts note that he is only average in terms of explosiveness, and this is re-affirmed in his athletic testing. Robinson was excellent during Senior Bowl week, particularly in pass protection. This could gain him better draft capital — and ultimately a better role — than would be expected based on his on-paper profile. Again, the scouts agree with this, which adds some optimism.
Vitals
Age (as of 12/31/21) — 22.8
Experience — 5 years
Height — 73.625 inches
Weight — 225 pounds
Hand Size — 9.75 inches
Arm Length — 31.875 inches
Wingspan — 76.375 inches
Forty — 4.53 seconds
Vertical — 30 inches
Broad — 119 inches
By the Numbers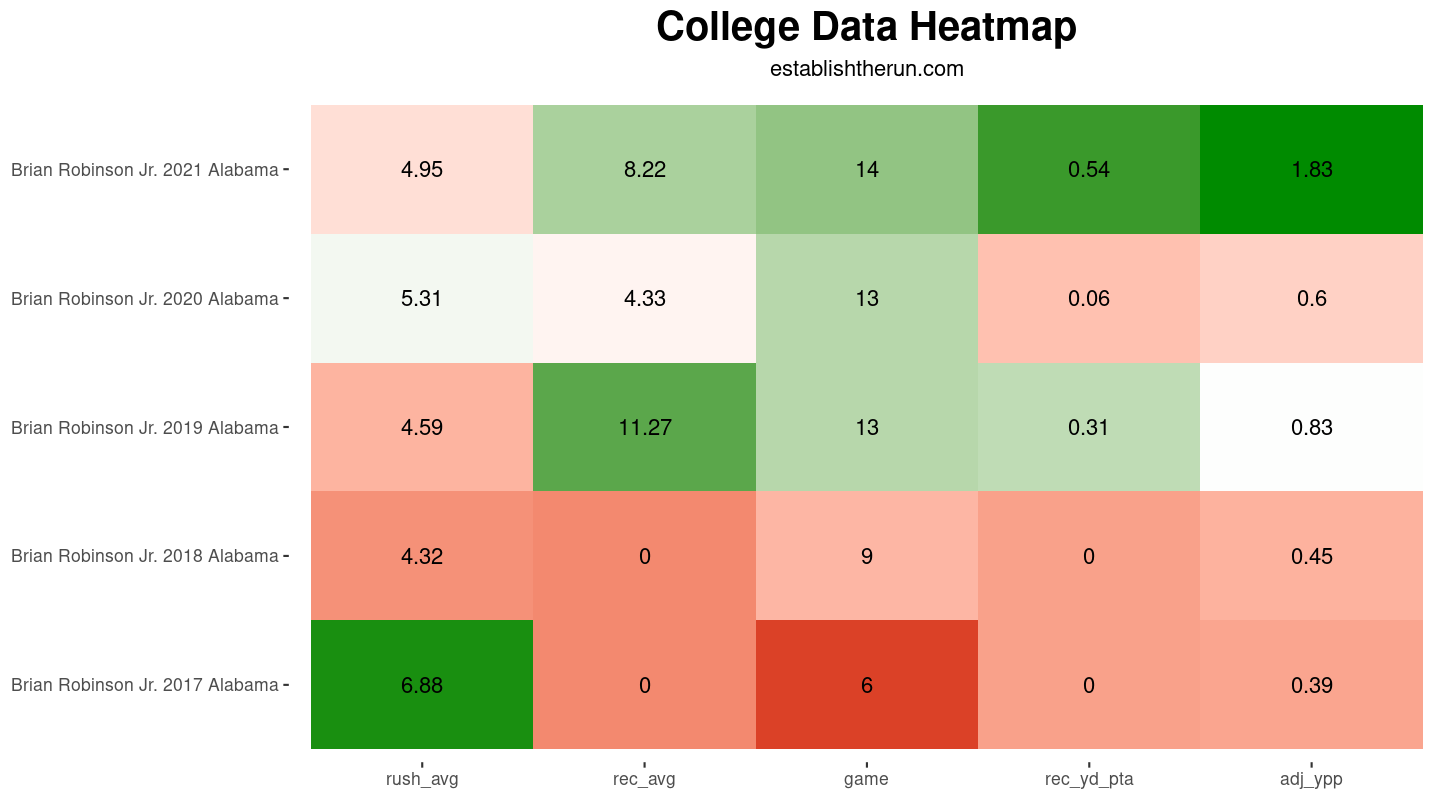 As is typically the case, Alabama has been loaded with RB talent throughout Robinson's career with the Crimson Tide. Players such as Damien Harris, Josh Jacobs, and Najee Harris were all major parts of the backfield during Robinson's first four seasons. His inability to leap these players should be noted, but ultimately not held against Robinson too aggressively. It is clear that he is not the same caliber of player as first-rounders like Jacobs and Najee, and Damien was an upperclassman at the start of Robinson's career.
In Year 5, Robinson was the clear lead back for the Tide, accumulating 271 carries and 35 receptions. His 14 scores on the ground were not surprising for a bigger back as a part of such an elite offense, but the receiving is far more impressive than many would expect. Robinson finds himself in the top five of this class in total receptions for 2021, and his receiving yards per team pass attempt was better than backs with more receiving notoriety like Isaiah Spiller, as well as other bigger backs like Dameon Pierce and Tyler Allgeier.
What the Scouts are Saying
This is what Lance Zierlein had to say about Robinson:
Robinson is an absolute physical unit with good feet and power to add yards after contact, but his running style is predictable and somewhat indecisive between the tackles. Building and maintaining momentum doesn't always come easily. He's more fight than flight, but delays in processing and a lack of second-level creativity turn him into more of a road-grader than he needs to be. He is a linear runner who is likely to be utilized as a complementary bulldozer to help wear down defenses, but Robinson might have more potential from sideline to sideline than he receives credit for.
Dane Brugler notes Robinson's potential on third downs in his evaluation:
A hungry, downhill runner, Robinson moves like an agile tank with the power to accelerate through contact or the footwork to maneuver around it. Although he has only average burst through the hole and out of his cuts, he appeared more decisive as a senior, which helped him force missed tackles and consistently gain yards after contact. Overall, Robinson isn't a proven big-play threat, but he is a physical ball carrier with the one-cut instincts and third-down upside to carve out a role in an NFL backfield similar to Latavius Murray.
Draft Projection
White currently has an expected draft position of 124.7 on Grinding the Mocks, which sources mock drafts around the interwebs. NFL Mock Draft Database, a similar service, has him 93rd overall. Robinson was taken at pick 162 in Jordan Reid's seven-round mock. He appears most likely to be drafted between Round 3 and Round 5.
Comparable Players
I use Principal Component Analysis to evaluate RB prospects. In simplest terms, this kind of analysis looks at relevant data points to find the closest comparable RBs in past drafts. I prefer this to a model output — which yields only a single result — as it can display the possible range of outcomes for a prospect.
Note that the analysis itself isn't telling us how good a player is; it is simply returning the most similar players. It is then up to us to layer in context and past results to see how good we think this player may be.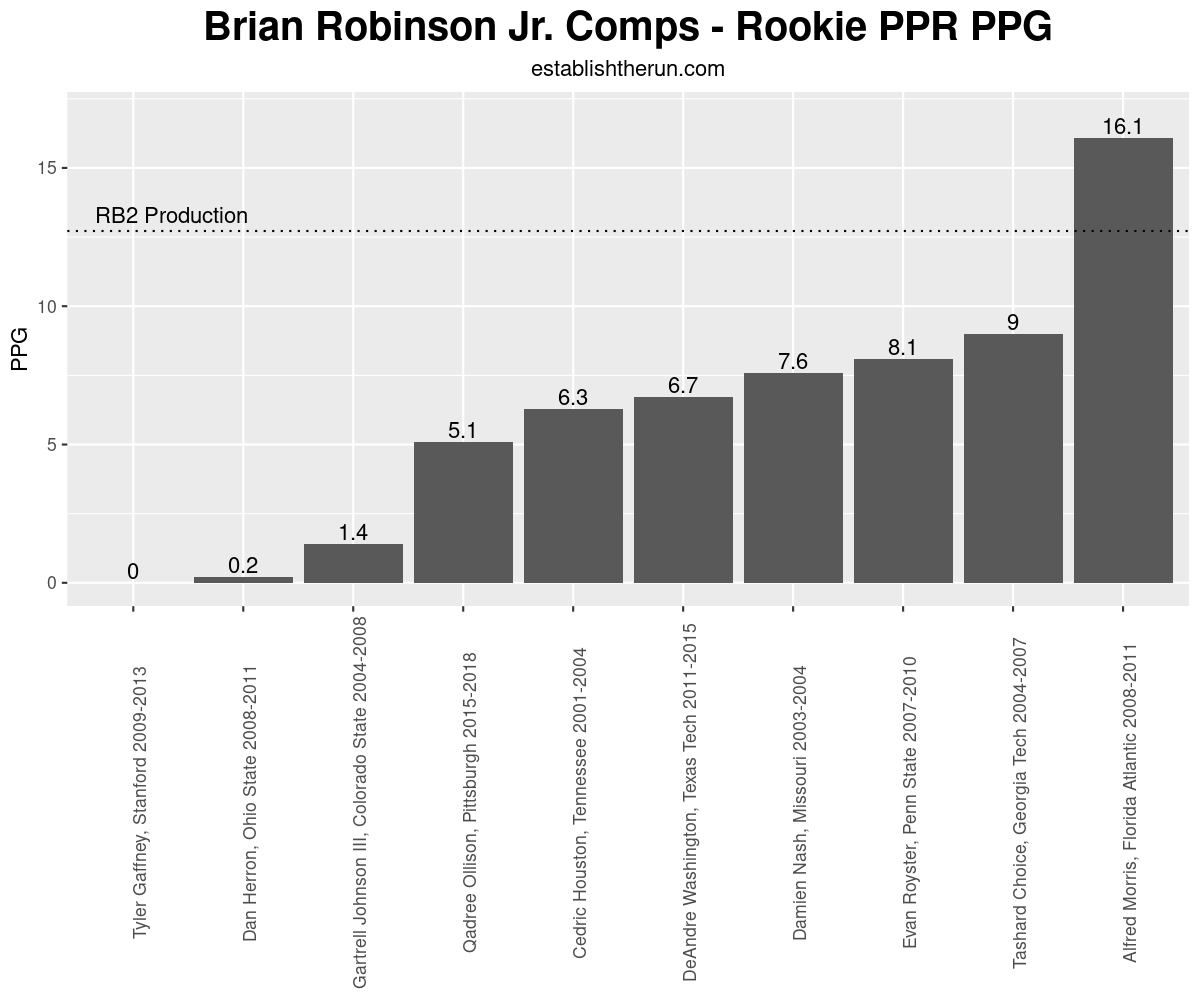 The comps for Robinson are almost entirely unimpressive. Most of these players have accomplished next to nothing as NFL players, and would be terribly poor outcomes for Robinson. And other than Tashard Choice, they were all drafted later than what we are projecting for him.
The lone positive comp — and it is a good one — is Alfred Morris, who entered the league and immediately became an RB1. Of course, it was not terribly long-lasting, as Morris flamed out quickly following three 1,000-yard seasons. But the elite production from a later NFL Draft pick would be a huge score for Robinson.
Further Research