Preseason DFS has always been a game reserved for those willing to go the extra mile to unearth information that can impact a slate. Whether it's scouring a beat writer's timeline, searching Damore'ea Stringfellow's name on Twitter, or listening to the 'Talkin' Cowboys' podcast at 1.5x speed, this time of year rewards the founding members of #TeamNoSex.
Looking ahead at this year's shortened preseason schedule, the football gods have blessed us with upwards of a dozen true Showdown slates. While the ultimate goal of trying to identify players who will see the most opportunities remains the same, single-game formats present new challenges for us to overcome. Our top six tips will help you become a preseason showdown savant.
1. Pay Attention to QB Playing Time
This is rather intuitive. In preseason DFS, we know snaps = money. Since teams often roster just 3-4 QBs, it's easier to accurately project playing time when compared to skill position players. QBs that hit a 90th percentile score or better at the position played 66.4% of the team's snaps on average. When we expect a team to deploy one QB for a majority of the game, they offer tournament-winning upside.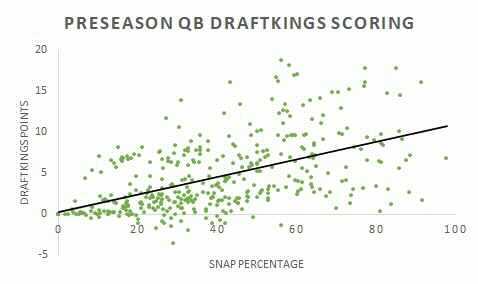 2. Don't forget about DSTs
For those familiar with regular season showdown contests, you'll already know that DSTs almost never finish as the slate's top overall scorer or optimal captain. Their lack of upside and low floor compared to other rosterable players make them an uneasy option even in the flex position. We can ignore that in the preseason. DSTs are the only position capable of accumulating fantasy points for an entire game. In the dataset observed, DSTs scored at least five DraftKings points 69.7% of the time compared to just 26.6% for all other positions. They're consistently among the safest options and are not immune to ceiling performances as we can see below.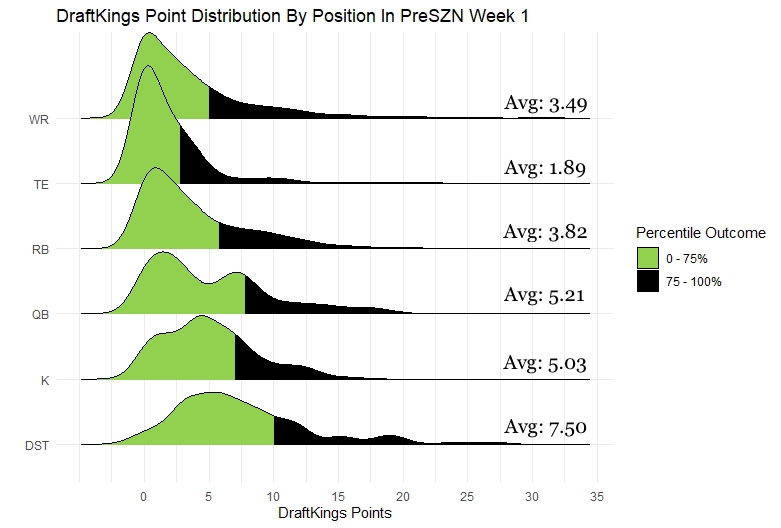 3. The TE Position is a Dumpster Fire
Preseason DFS is Back! We have you covered.
Our team of analysts, led by Levitan and Evan Silva create content to help you navigate Preseason DFS contests. The ETR team maintains updated Preseason Depth Charts (with notes), Tiered Top Plays and Live Shows to provide context for Preseason DFS players.
Our goal is to provide you with just the right amount of information to get you ready to compete, while not overwhelming you with unimportant details.
If you aren't satisfied with this product for any reason, just email us within 48 hours of purchase and we'll provide a full refund.
Preseason DFS Overview »
Already a subscriber?
Log In