Dynasty Outlook
April 24
Cook is one of many third-tier RBs for rookie drafts, and finds himself outside of the top 30 RBs in our overall dynasty ranks. He is an intriguing PPR option given his ability to be a receiving weapon, and should be of particular value for dynasty best-ball leagues, where fantasy gamers won't have to make a conscious decision to start or sit him. Cook has the potential to be a 50-reception player in the NFL. He could also find himself as the receiving portion of a committee, which is typically the archetype of players to target when using a Zero RB strategy. Cook could see scattered games as a featured player if there are injuries to other pieces of his backfield.
Profile Summary
James Cook is unlikely to ever be a true workhorse, but he has the potential to stick in the league for a long time due to his receiving prowess. The stats and scouts both agree that Cook can be used as a weapon in the passing game, and an ability to be utilized all over the formation should intrigue NFL teams enough to draft him on Day 2. Cook's NFL bloodline should give him a better chance to succeed than other backs with similar résumés.
Vitals
Age (as of 12/31/21) — 22.3
Experience — 4 years
Height — 71 inches
Weight — 199 pounds
Hand Size — 9.375 inches
Arm Length — 30.75 inches
Wingspan — 76.25 inches
Forty — 4.42 seconds
Vertical — 33 inches
Broad — 124 inches
By the Numbers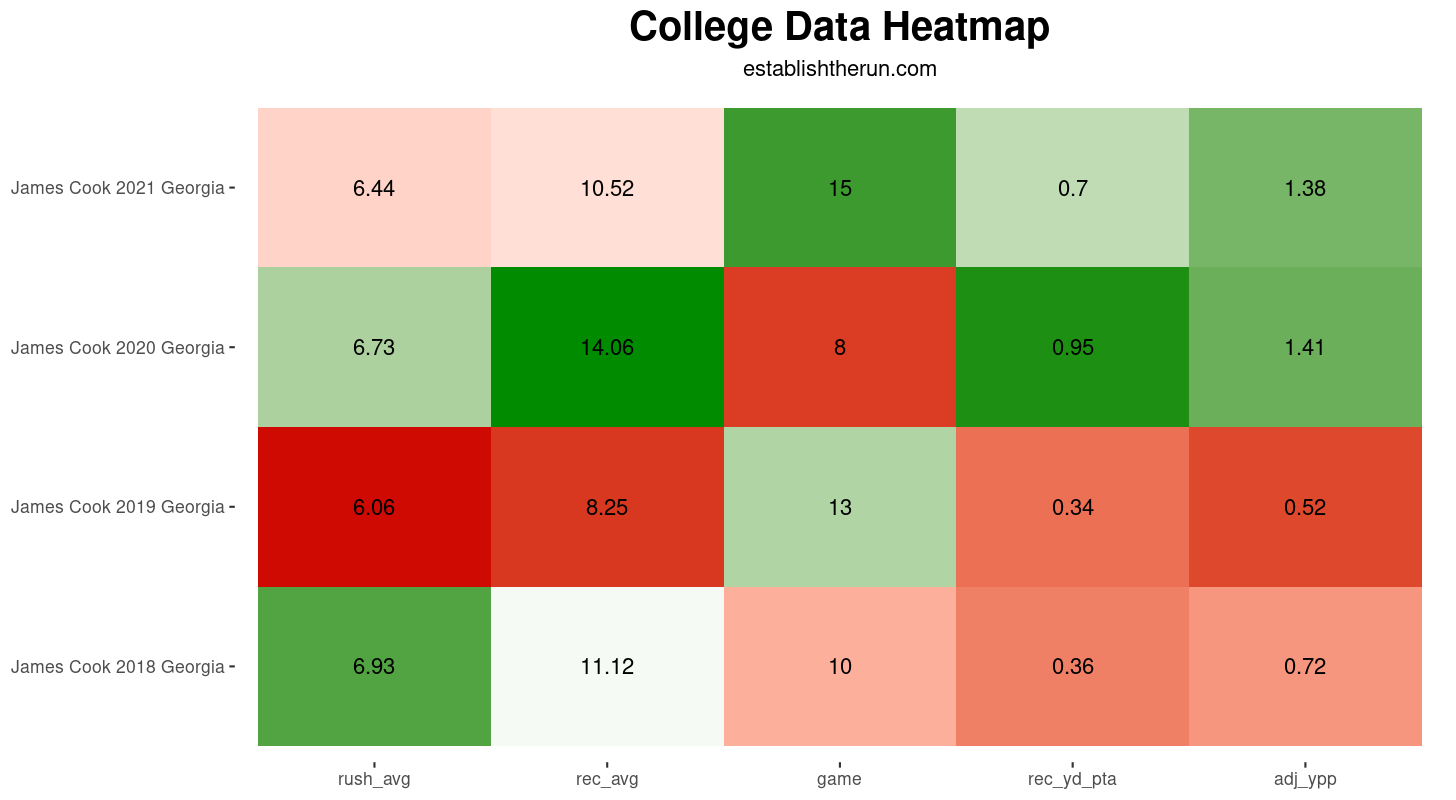 Cook started his career having to share the backfield with D'Andre Swift, but was able to make a receiving contribution as a sophomore. He was never much of a volume runner, compiling just 230 carries over his four-year career, and 113 in his final season. With that said, he remained efficient on the ground, averaging 6.5 yards per carry.
It is through the air that Cook has had his biggest impact. He caught 67 passes in college, and averaged over 10 yards per catch. The receiving volume may not seem massive, but it is significant when accounting for the state of the Georgia passing game. Cook accounted for over 10% of team receptions the past two seasons.
What the Scouts are Saying
This is what Lance Zierlein had to say about Cook:
Change-of-pace runner with vision and flow, but a lack of functional play strength. The younger brother of Vikings running back Dalvin Cook, James has his brother's one-cut talent and ability to stack cuts seamlessly through the second level. However, he is missing his big brother's build, contact balance, and toughness between the tackles, which will surely cap expectations and asks from an NFL club. His slashing style fits with outside zone and toss plays. He can also be used as a mismatch option as a pass catcher. Cook has big-play ability but is unlikely to see his carry count get very high.
Dane Brugler agrees that Cook is not as talented as his older brother, but could be a weapon in the passing game:
Cook has shifty feet to make controlled cuts against the grain and instinctively navigate holes at the line of scrimmage. Although he will be limited as an inside runner, he has legitimate versatility to flex out wide and run routes as a pass catcher. Overall, Cook doesn't have the contact balance or build of a full-time ball carrier like his older brother, but he can be a dynamic, versatile threat with his pass-catching skills and balanced athleticism to gravitate toward space.
Daniel Jeremiah had some brief commentary on Cook in his conference call with league media:
James Cook is just the ultimate toy. Dalvin Cook's little brother. He jet sweeps, screens, draws, split him out wide, let him run
away from corners. He's a fun weapon.
Draft Projection
Cook currently has an expected draft position of 92.1 on Grinding the Mocks, which sources mock drafts around the interwebs. NFL Mock Draft Database, a similar service, has him 90th overall. Cook was taken at pick 112 in Dane Brugler's seven-round mock. He is a likely Round 3 pick.
Comparable Players
I use Principal Component Analysis to evaluate RB prospects. In simplest terms, this kind of analysis looks at relevant data points to find the closest comparable RBs in past drafts. I prefer this to a model output — which yields only a single result — as it can display the possible range of outcomes for a prospect.
Note that the analysis itself isn't telling us how good a player is; it is simply returning the most similar players. It is then up to us to layer in context and past results to see how good we think this player may be.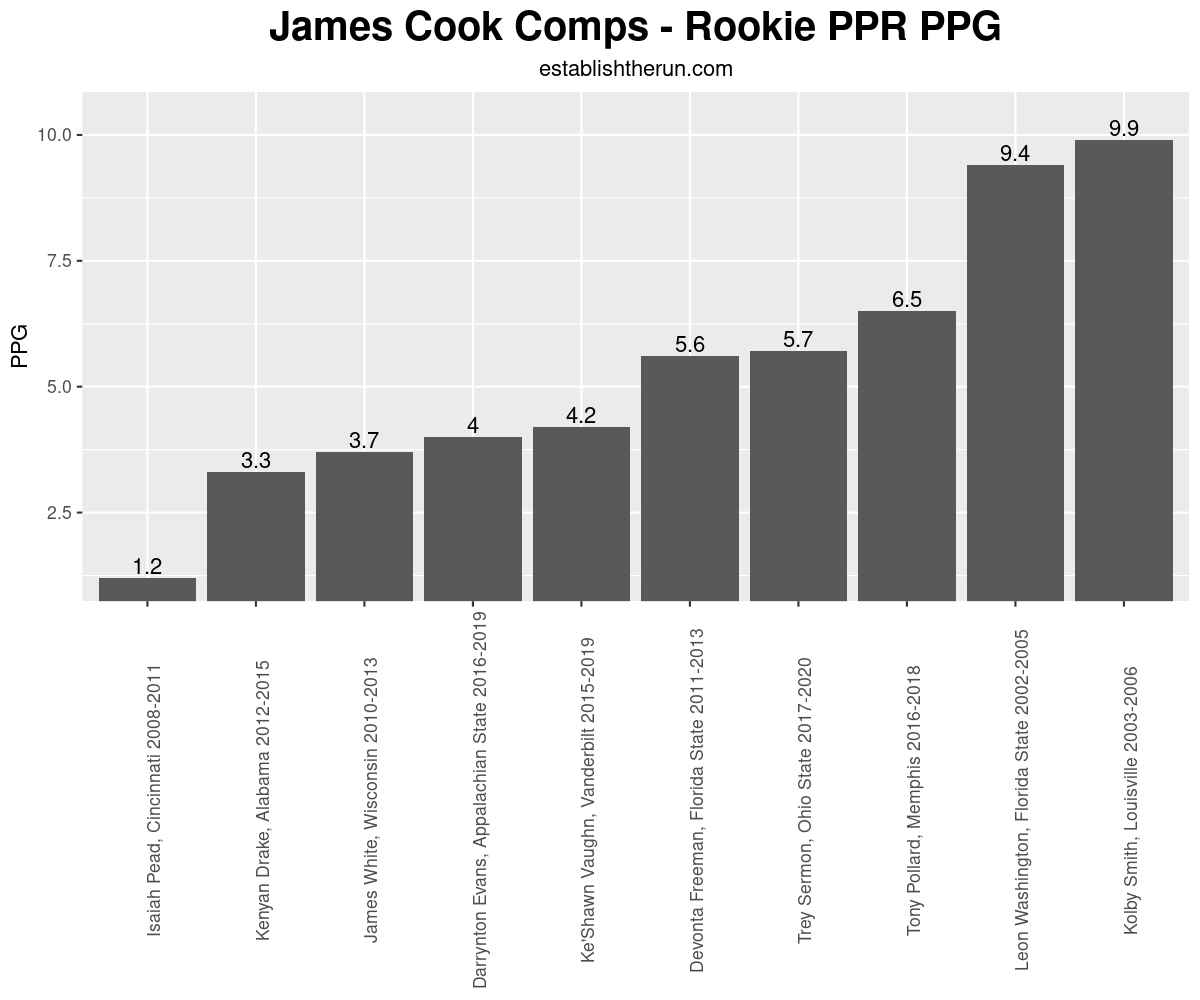 The comps do not stand out as being remarkable, but they do match what the data and scouts are telling us — Cook will be a weapon as a receiver. James White, Kenyan Drake, Leon Washington, and Devonta Freeman all have multiple seasons with expansive receiving production, while Tony Pollard has been one of the most explosive backfield complements in the NFL during his time in the league. These players do not provide high-end RB1 ceilings in most cases — Freeman being the exception — but can be rock-solid parts of fantasy rosters in PPR formats.
Ke'Shawn Vaughn, Isaiah Pead, and Darrynton Evans provide cautionary tales about what can happen to RBs who end up in bad situations — even if the draft capital is there. Backs who lack first-round draft capital can be left in the dust if the team has better options, and they may decide to move on quickly. This can especially be true in the third round, where Cook is projected to go.
Further Research