Dynasty Outlook
April 12
Jelani Woods is currently our TE2 for rookie drafts, and is the TE17 in our overall dynasty ranks. He is a late second-round target in Superflex/TE Premium formats, and a third-round option in standard formats. He is a tremendous athlete, which gives Woods a ceiling in the upper echelon of the position for fantasy. This idea is reinforced through his statistical comps, which have Woods paired with a couple of the elite TEs of this generation. We believe that while Woods likely has a low floor — multiple seasons waiting for development and upside that never comes — he is worth gambling on for the upside in rookie drafts.
Profile Summary
Woods is perhaps the most intriguing TE prospect in the entire NFL Draft. He has taken some time to develop after switching over from being a high-school QB, but his final-season production was promising for his potential future. Woods is a phenomenal athlete, grading as the best ever at the position per RAS Football. The scouts recognize his upside even though he is clearly not a finished product. Woods has seen time in the slot in addition to traditional in-line TE. His comps have excelled at the next level.
Vitals
Age (as of 12/31/21) — 23.2
Experience — 5 years
Height — 79.125 inches
Weight — 253 pounds
Hand Size — 9.5 inches
Arm Length — 34.5 inches
Wingspan — 82 inches
Forty — 4.61 seconds
Bench — 24 reps
Vertical — 35.6 inches (pro day)
Broad — 126.4 inches (pro day)
Cone — 6.99 (pro day)
Shuttle — 4.24 (pro day)
By the Numbers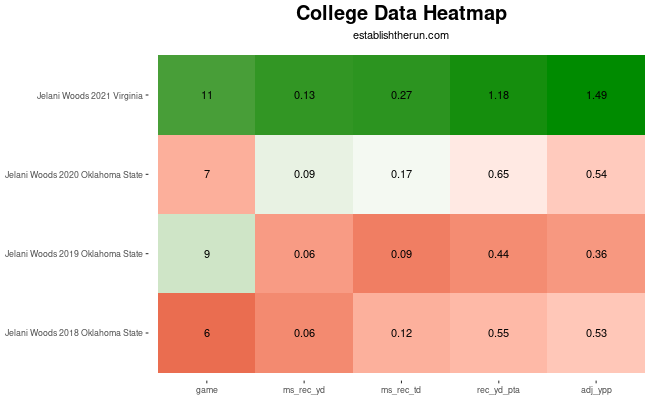 Woods is a five-year player who took a bit of a circuitous route to his current place in the upcoming NFL Draft. He was originally recruited as a three-star QB to Oklahoma State. After representing Mark Andrews for the scout team as a freshman, the coaching staff decided to move him to TE, where he played the "Cowboy Back" (basically an H-back) role in Mike Gundy's offense. He posted the best numbers of his career after transferring to Virginia, catching 44 passes for 598 yards and eight TDs.
It is also worth mentioning Woods' physical profile, since it is measured as the best ever according to RAS Football.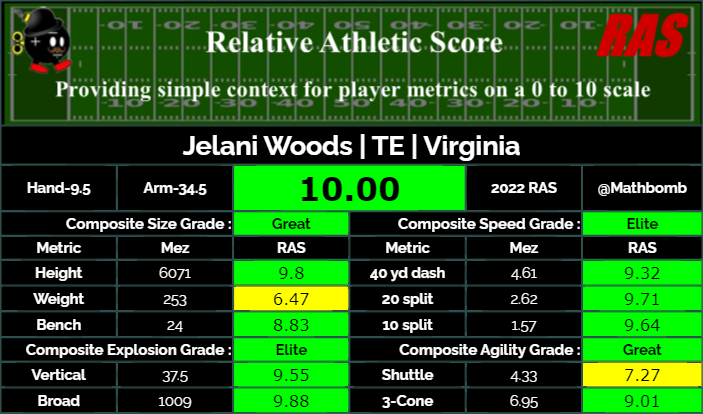 It would appear that Woods may have a lot more upside than what has already been shown at the college level.
What the Scouts are Saying
Here is what Dane Brugler had to say about Woods:
Woods is a large-sized target with outstanding body control, wingspan, and focus to expand his catch radius (70.5% of his receptions in 2021 resulted in a first down or touchdown). He isn't fluid in his releases or explosive in his routes, but he was at his best on one-cut patterns over the middle of the field (posts, corners, etc.), showing the plant-and-go athleticism to challenge coverage. Overall, Woods needs to tighten up his route-running and overall consistency, but his size, blocking potential, and catch-point upside are an attractive package. A prototypical Y tight end at the next level, he caters his game after Marcedes Lewis, and it shows.
Lance Zierlein sees some upside in Woods:
Woods is an ascending in-line tight end with good size and length, but he needs to keep filling out his long frame and getting stronger as a point-of-attack blocker. While he looks lumbering in the early stages of the route, he plays with good physicality throughout and does a nice job of shielding defenders from playing the football. His hands aren't great as a blocker or pass catcher and both will need work, but his breakout 2021 could foreshadow more to come as an in-line backup with upside.
Draft Projection
Woods currently has an expected draft position of 102.8 on Grinding the Mocks, which sources mock drafts around the interwebs. NFL Mock Draft Database, a similar service, has him 108th overall. He went at pick 63 in Jordan Reid's seven-round mock draft. After destroying every part of the pre-draft process, Woods seems likely to be a Day 2 pick — most likely in Round 3.
Comparable Players
I use Principal Component Analysis to evaluate TE prospects. In simplest terms, this kind of analysis looks at relevant data points to find the closest comparable TEs in past drafts. I prefer this to a model output — which yields only a single result — as it can display the possible range of outcomes for a prospect.
Note that the analysis itself isn't telling us how good a player is; it is simply returning the most similar players. It is then up to us to layer in context and past results to see how good we think this player may be.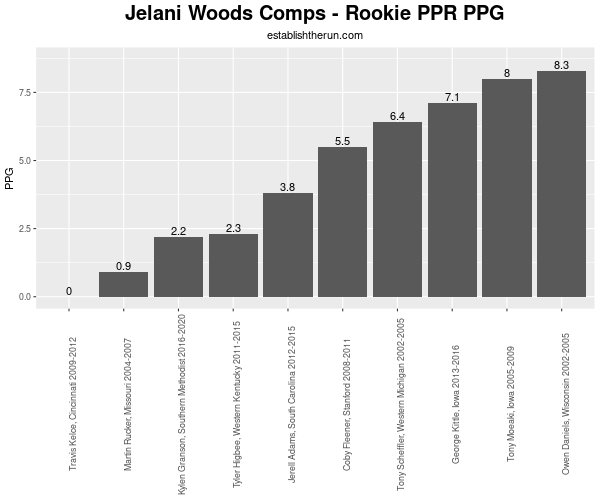 This is a very enticing set of comps for any TE prospect. Super-studs George Kittle and Travis Kelce match the "under-utilized athlete" and "former QB" narratives that will be tied to Woods. Of course, we should not be so bold as to assume that is who Woods will be — other prospects over the years have fit these archetypes — but it is always encouraging to see that someone has the potential to be the top scorer at his position. Especially given that Woods is such a prominent athlete, it is not outlandish to consider.
There are a host of other TE1s on this list as well: Tyler Higbee, Coby Fleener, Tony Scheffler, and Owen Daniels. Though these players were not as dominant as Kelce and Kittle, they presented plenty of fantasy value for gamers over the years. We also see two busts and one 2021 prospect the Colts are supposedly high on.
'
Further Research