Editor's Note: The NBA season begins on Dec. 22 and our team is ready. Drew Dinkmeyer, Mike Leone, Andrew Wiggins and Mike Gallagher have you covered every slate with continuously updating projections, live shows, matchups columns and more. Click here for details.
I am mainly a cash-game player. Cash games refer to any contest in which roughly 50% of the field gets paid out, such as head-to-head, double up or 50/50. I try to get as much head-to-head action as I can every week and then supplement that with other cash games.
Each week, I'll review my cash-game lineup in this space. Sometimes I'll lose, but hopefully I'll win more often. Either way, I'll post it here and give you my thought process.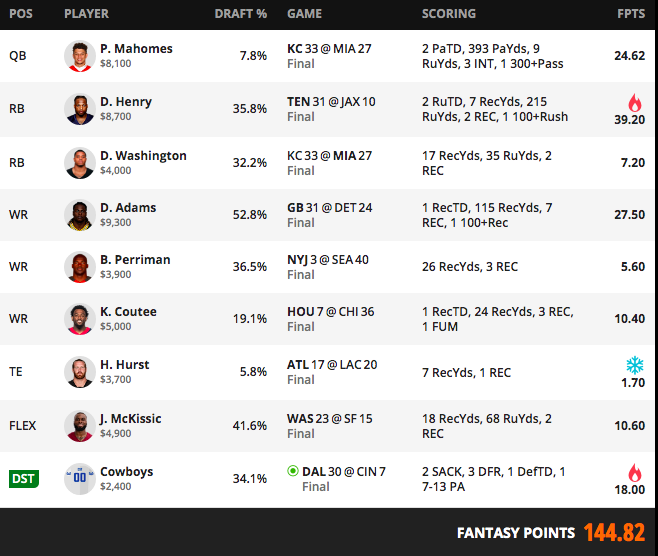 This was a very tight slate because Derrick Henry, Davante Adams and Travis Kelce were all in elite spots – but priced near their peak. On top of that, cheap QBs were thin and the punts at WR were shaky as well. To make things even tougher, we had muddied news on the status of Jamison Crowder (calf), late inactive news on Brandin Cooks (neck) and a bit of confusion on Curtis Samuel (COVID, not listed as starter). I was admittedly a bit frantic around lock.
MY MUST PLAYS
* Davante Adams is in the midst of an all-time season in terms of usage. The Packers red-zone throw rate over expectation is off the charts. The Packers were playing in a dome. The Lions ranked 27th in our DvP vs. WRs. The Lions ranked 28th in yards per play allowed. Add it all up and there was no way I could fade Davante, even at a fully priced $9300.
MY WANT PLAYS
* There were a lot of WRs I wanted in this slate for cash – Tyreek Hill, Keenan Allen, Calvin Ridley, Robby Anderson, Curtis Samuel, Keke Coutee, Chad Hansen and Breshad Perriman were all in my pool in addition to the Davante Adams lock. However, the salary was just never going to work on the higher priced guys. I considered Perriman the better play than Hansen due to raw talent and slightly better target projection. I also didn't want two Texans WRs against the Bears.
* Once Brandin Cooks (neck) was ruled out, I immediately replaced JD McKissic with Keke Coutee to create a 4-WR lineup. (See below for how I ended up without the 4-WR lineup.) Note that prior to the Cooks news, I had no interest in Keke at $5000 in this matchup. But Deshaun Watson is so incredibly productive regardless of spot, Keke and Chad Hansen playing every snap with elevated target share was very interesting. We had Coutee projected for 8.3 targets in the wake of the Cooks news – that's a very big number given the QB and price.
* There were only two D/ST options I considered: Cowboys D/ST against tiny-hands Brandon Allen and Cincy's No. 30 offensive line (per Thorn). And Seahawks D/ST at the bargain $3000 tag against the Jets. With the slate so tight on salary, I knew I would likely end up on Dallas and that's what happened.
* I had a 4-WR lineup in at 1245pm ET. It was Curtis Samuel ($5200) in over JD McKissic ($4900) and Logan Thomas ($3300) in over Hayden Hurst ($3700). Then news broke that Samuel wasn't starting, presumably because he missed most of the week while on the COVID list. I didn't think that matter too much, but the 10% downside risk it introduced was enough to get me to switch to McKissic in cash. I stuck with my Curtis Samuel exposure in GPP.
* The biggest decision of the week was which one of the studs to fade between Davante Adams, Derrick Henry and Travis Kelce. There was one lineup that could have played all three, but I would have had to play both Jalen Hurts ($5100) and Braxton Berrios ($3000). I would have been OK with that if Hurts didn't have such a brutal matchup and Jamison Crowder (calf) was ruled out before lock. In fact, I may have played that Hurts lineup anyway if we had Crowder inactive news.
Regardless, this is a long way of saying that my favorite teams faded Kelce. That's typically the case for me on DraftKings where the salary floor at tight end is so low. I likely would have punted with Irv Smith if I didn't' have concerns about his back. Instead I went to Logan Thomas and then up to Hayden Hurst (see above) on the Curtis Samuel news. I certainly didn't love Hurst, but thought the game environment and matchup with Julio Jones gave him a nice edge over LT3.
* I had four QBs in my pool: Patrick Mahomes, Aaron Rodgers, Justin Herbert and Jalen Hurts. Since I didn't have Travis Kelce or Tyreek Hill, I wanted to get Chiefs exposure through Mahomes. But as I noted above, if I could have landed on a Hurts team that fit Adams, Henry and Kelce without Berrios I would have played it. I just couldn't find it.
* Myles Gaskin, Matt Breida and Salvon Ahmed were all out. The Dolphins have shown no interest in using Patrick Laird as more than a strict pass-down back and Eli McGuire was just signed four days ago. So even though I had concerns about the problems the Chiefs offense can create for opposing RBs and concerns over Tua, I needed to save money somewhere. We had DeAndre Washington projected for roughly 17 touches at $4000.
* I looked at lineups that got up to Travis Kelce but faded Derrick Henry for Austin Ekeler, David Montgomery, Mike Davis or Ronald Jones. Of course, those lineups had to make other sacrifices as well to get up to Kelce. In the end, I was more than fine paying up for the Big Dog in this spot.
While Henry's floor is too low at $8700 in matchups the Titans could fall behind big, his floor is underrated in game scripts like this one against the hapless Jaguars. No team is more committed to its RB both between the 20s and at the goal-line – it's virtually impossible for him to get less than 20 carries. So with the floor established, we know the ceiling is monstrous in all matchups. But it's particularly monstrous against the Jaguars when the Titans have a 30.25 team total.
Week 14 Results
The results were fine this week, but I do not think this was the best team I could have made. With some more time to digest the Brandin Cooks news, there were Jalen Hurts/Chad Hansen/Breshad Perriman lineups that could have jammed in Davante Adams, Derrick Henry and Travis Kelce. I also think playing JD McKissic when there was a lot of opportunity cost at RB was a mistake. We know McKissic is a committee back tied to a projected (but not solid) 20% target share. Mike Davis, David Montgomery and maybe even Ronald Jones in the wake of the Lenny Fournette healthy scratch were all 3-down plus goal-line backs. On top of that, the depth at RB could have made Henry a better fade than Kelce. All in all, it was not my best week and I feel fortunate to escape.
Year-To-Date Results
Week 1: 172.10 points, won 72.8% of head-to-heads.
Week 2: 138.34 points, won 66.8% of head-to-heads.
Week 3: 129.10 points, won 59.2% of head-to-heads.
Week 4: 111.60 points, won 28.8% of head-to-heads.
Week 5: 147.78 points, won 48.5% of head-to-heads and 192.96 points, won 100% of head-to-heads.
Week 6: 142.76 points, won 62.5% of head-to-heads.
Week 7: 208.00 points, won 82.3% of head-to-heads.
Week 8: 109.16 points, won 35.3% of head-to-heads.
Week 9: 131.60 points, won 48.5% of head-to-heads.
Week 10: 102.2 points, won 19.1% of head-to-heads.
Week 11: 145.22 points, won 52.7% of head-to-heads.
Week 12: 176.18 points, won 90.6% of head-to-heads.
Week 13: 159.3 points, won 73.7% of head-to-heads.
Week 14: 144.82 points, won 49.1% of head-to-heads.