The NBA is back! Our In-Season Package includes everything Drew Dinkmeyer and our NBA team thinks you need to win. Continuously updating projections, live shows, top plays and more. Click here for details.
I am mainly a cash-game player. Cash games refer to any contest in which roughly 50% of the field gets paid out, such as head-to-head, double up or 50/50. I try to get as much head-to-head action as I can every week and then supplement that with other cash games.
Each week, I'll review my cash-game lineup in this space. Sometimes I'll lose, but hopefully I'll win more often. Either way, I'll post it here and give you my thought process.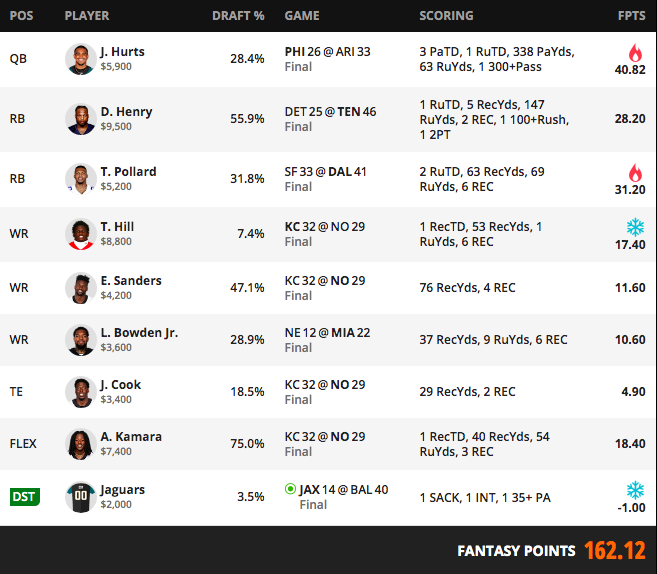 This cash slate felt like deva vu from a lot of recent slates we've had. The big questions again were do we pay up for The Big Dog Derrick Henry and/or do we pay up for Travis Kelce at tight end? And just like a couple other recent Sunday mornings, we had slate-altering late news to shift through in the final 90 minutes as well. Ezekiel Elliott was a surprise inactive and DeVante Parker/Mike Gesicki got scratched late. It created some tough decisions at RB and at punt WR.
MY MUST PLAYS
* We've been waiting to free Tony Pollard for roughly two years now. Although he certainly wasn't "cheap" at $5200, but he projected for at least 90% of the RB touches. Most importantly, Pollard has been used creatively as a pass-catcher all season – in ways Ezekiel Elliott was not. And unlike Zeke, Pollard wasn't really threatened by a backup RB in passing situations.
Add it up and we had a more explosive RB than Zeke with a far better role at just $5200. I thought it was correct to get off Leonard Fournette ($4500), who had a lock on the early-down but didn't project for the pass-down role. My RB cash rankings at lock were 1) Alvin Kamara 2) Derrick Henry 3) Tony Pollard 4) Leonard Fournette.
* The news broke exactly right for Alvin Kamara after DraftKings released their Week 15 salaries. Drew Brees was deemed healthy enough to play and target hog Michael Thomas was ruled out. In this setup six times earlier this season, Kamara averaged 9.6 targets to go with his usual 11-14 carries and share of goal-line work. I was never fading that role at $7400.
* The Emmanuel Sanders play was similar to the Alvin Kamara one. The news simply broke too strongly in his favor to ignore at just $4200. Even at a relatively tame 20% target share, Sanders was one of the best WR values on the slate. Of course, this was a weak slate for good WR values which made Sanders easy a more straightforward "must for me – even if we thought there was downside in Drew Brees' projection.
MY WANT PLAYS
* There were three QBs in my pool for cash: Lamar Jackson, Kyler Murray and Jalen Hurts. All three have the dual-threat upside that creates a unique floor/ceiling combo. All three were set up with excellent matchups. I had Kyler and Leonard Fournette in my lineup until the Ezekiel Elliott news. After that I went to Hurts and Tony Pollard.
* After the Ezekiel Elliott news broke, I toyed with lineups that played Leonard Fournette, Alvin Kamara and Tony Pollard in the three RB spots. AKA fading The Big Dog Derrick Henry. But I didn't consider Brandon Aiyuk or Travis Kelce a must, and I also had concerns about Fournette's pass-game role after he was healthy-scratched from that job in Week 14. Of course, Henry was appropriately priced but his floor is far higher than most give credit for. I was certainly fine to pay the $9500 tag. We had The Big Dog median projected for a whopping 25.6 points. The floor outcomes below that median are extremely unlikely to come into play in a home game against the Lions.
* The only WRs in my cash pool going into Sunday morning were Tyreek Hill, Brandon Aiyuk, TY Hilton, Manny Sanders and Michael Gallup. When the Dolphins news broke, I had Gallup in my lineup. But I thought Lynn Bowden as the No. 1 target for the Dolphins (no DeVante Parker, Mike Gesicki or Jakeem Grant) was significantly better despite the poor game environment. We had Bowden projected for 6.6 targets out of the slot.
* I only had three TEs in my cash pool – Travis Kelce, Jared Cook and Cole Kmet. I thought Irv Smith, Hayden Hurst and Jordan Reed were a cut below. Although having three Saints pass-catchers was not great, I try not to worry very much about things like that in cash. In a vacuum, I preferred Cook over Kmet and was willing to sacrifice a bit on defense to make it happen. Again, the DraftKings salary floor allows me to get 5.0 projected targets from Cook ($3400) vs. 9.4 projected targets from Kelce ($8000).
* While I didn't think Tyreek Hill was mispriced at $8800, he was one of our best values at a weak WR position. And while I liked Brandon Aiyuk and he was an equally strong value as Tyreek, I thought there was far more downside than upside there. Of course, when playing a lot of head-to-heads (rather than 50/50s) we benefit more from ceiling scores instead of 60th percentile scores.
* This lineup only fit with Jags D/ST. Obviously I did not like them as a play, but I wasn't in love with any defense. Ideally I would have gotten to Washington, Tampa, New England or Seattle in the mid-range. But none were in slam-dunk spots, so I reluctantly bit the bullet and accepted a likely 0-3 point outcome from the Jags. I thought Jared Cook/Jags was better than Cole Kmet/Falcons.
Week 15 Results
I thought I handled the late news reasonably well. Leonard Fournette was very close to getting game-scripted to a floor score, while Tony Pollard was the coveted 3-down plus goal-line back. Lynn Bowden ended up with seven targets for a team-high and massive 27% share. Michael Gallup posted five targets for a 15% share. It's likely I've been too stubborn with Travis Kelce this year, only playing him twice (I think only twice, I can't face going back through every week to check now. Too much pain). Anyway, I snuck into the money in single entry double ups which is a reasonable result considering how poorly the Saints played.
Year-To-Date Results
Week 1: 172.10 points, won 72.8% of head-to-heads.
Week 2: 138.34 points, won 66.8% of head-to-heads.
Week 3: 129.10 points, won 59.2% of head-to-heads.
Week 4: 111.60 points, won 28.8% of head-to-heads.
Week 5: 147.78 points, won 48.5% of head-to-heads and 192.96 points, won 100% of head-to-heads.
Week 6: 142.76 points, won 62.5% of head-to-heads.
Week 7: 208.00 points, won 82.3% of head-to-heads.
Week 8: 109.16 points, won 35.3% of head-to-heads.
Week 9: 131.60 points, won 48.5% of head-to-heads.
Week 10: 102.2 points, won 19.1% of head-to-heads.
Week 11: 145.22 points, won 52.7% of head-to-heads.
Week 12: 176.18 points, won 90.6% of head-to-heads.
Week 13: 159.3 points, won 73.7% of head-to-heads.
Week 14: 144.82 points, won 49.1% of head-to-heads.
Week 15: 162.12 points, won 53.6% of head-to-heads.