I am mainly a cash-game player. Cash games refer to any contest in which roughly 50% of the field gets paid out, such as head-to-head, double up or 50/50. I try to get as much head-to-head action as I can every week and then supplement that with other cash games.
Each week, I'll review my cash-game lineup in this space. Sometimes I'll lose, but hopefully I'll win more often. Either way, I'll post it here and give you my thought process.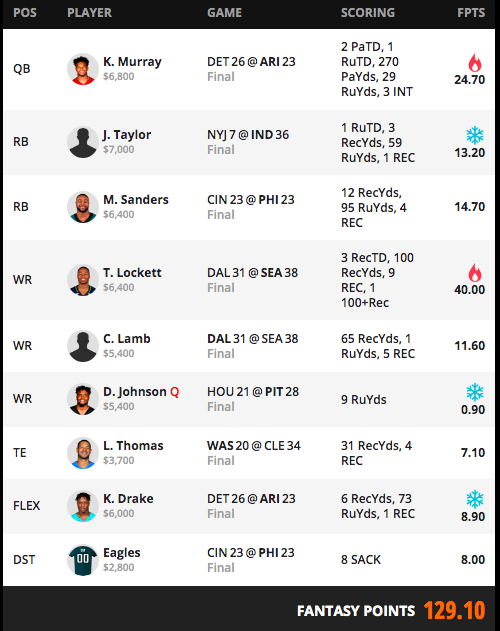 This was a unique slate because the Chiefs, Ravens, Saints and Packers weren't on it. Also the injuries to Saquon Barkley, Christian McCaffrey, George Kittle and Julio Jones thinned out the top. It created a situation where there was no one in play over $7900 and most of the value came through the mid-range.

MY MUST PLAYS
* Miles Sanders has a true three-down plus goal-line role with a competent QB, elite talent and was in a plus matchup. Players in this setup are almost always priced at $7000 or more. There were plenty of RB options this week (as I'll discuss below), but I was never fading Sanders.
* Diontae Johnson's 31% target share through two weeks was unsustainable. But even if we project "only" 25%, this matchup against the Texans combined with his talent made $5400 too cheap. One thing that made Diontae a "must" was the lack of WRs under $5400 I was comfortable with. The only ones I even lightly considered were KJ Hamler and Andy Isabella.
MY WANT PLAYS
* DraftKings has aggressively raised the salary floor at QB. For example, a guy like Justin Herbert would've been $4800 a couple years ago, but now he's $5800. That makes that tier very tough to play when true game-breakers are only $1000 to $1500 more. So my QB cash pool was only three guys this week in Kyler Murray, Dak Prescott and Russ Wilson. I would've played any of the three, Kyler is the one that ended up fitting.
* There were five RBs in my cash pool this week: Jonathan Taylor, Miles Sanders, Kenyan Drake, Mike Davis and Devin Singletary. I toyed with variations two of the four (minus Sanders, a must). But in the end I thought Jonathan Taylor had a direct path to 25 touches with the league's best offensive line and a QB who throws to RBs at league-high rates. Even with the Jets' defensive strength in run-stopping and a rich $7K pricetag, I thought Taylor was the best of the group.
I toyed with lineups that went down from Kenyan Drake ($6000) to Singletary ($4900), who certainly got a big boost with Zack Moss sidelined. But the appeal of (likely) getting all the TDs from the Cardinals in a home spot against the defenseless Lions was strong. The $1100 also wasn't enough to cleanly get me from Tyler Lockett to DeAndre Hopkins.
* I didn't love CeeDee Lamb as his price creeped extremely close to Michael Gallup and just $1100 less than Amari Cooper. But this build had to use Lamb to save the money. And I was fine getting exposure to Dak Prescott through the best CB/WR matchup he had.
After that, I had to pick one of Tyler Lockett, Amari Cooper or DK Metcalf as a last piece. I thought it was extremely close. In the end, I wanted exposure to Russ Wilson in this outrageously good spot. And I preferred Lockett to Metcalf as the inside receiver running more high-percentage routes.
* Through two weeks the Bengals showed a willingness to let Joe Burrow drop back at extreme volume. Meanwhile, the Eagles had Brandon Thorn's No. 6 DL over OL mismatch. I would have loved to get to the Bucs, Browns, Steelers or Colts, but they were all too expensive for this build. Regular readers know I'm always willing to go as cheap as I can stomach at D/ST in cash.
* There were five tight ends in my pool this week: Zach Ertz, Dallas Goedert, Hunter Henry, Logan Thomas and Drew Sample. But given the lack of cheap WR options, I knew it was going to be tough to get away from the cheap guys. I debated LT3 vs. Sample a lot, but in the end Sample's "blocker" label combined with Thomas being in the Buy Low Model plus getting uniquely strong usage swayed me.
Week 3 Results
I was on the good side of injury luck in Week 2 when I didn't roster Davante Adams or Parris Campbell. This week I got stung by Diontae Johnson going down early. Still, even with the Tyler Lockett heroics this lineup did not cash in large-field double ups. I think the three-down plus goal-line roles of Devin Singletary and Mike Davis should have earned more consideration in DeAndre Hopkins lineups, but I couldn't find anything I was comfortable with. This was my worst result of the season so far, but I think the team was very close to correct — even in hindsight.
Year-To-Date Results
Week 1: 172.10 points, won 72.8% of head-to-heads.
Week 2: 138.34 points, won 66.8% of head-to-heads.
Week 3: 129.10 points, won 59.2% of head-to-heads.