I am mainly a cash-game player. Cash games refer to any contest in which roughly 50% of the field gets paid out, such as head-to-head, double up or 50/50. I try to get as much head-to-head action as I can every week and then supplement that with other cash games.
Each week, I'll review my cash-game lineup in this space. Sometimes I'll lose, but hopefully I'll win more often. Either way, I'll post it here and give you my thought process.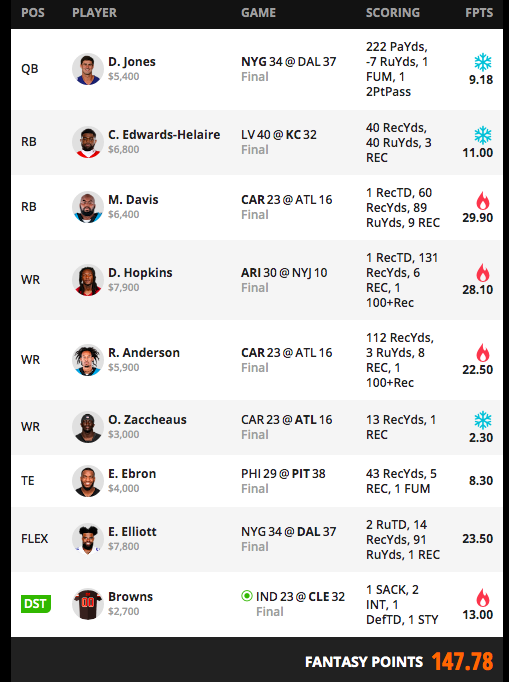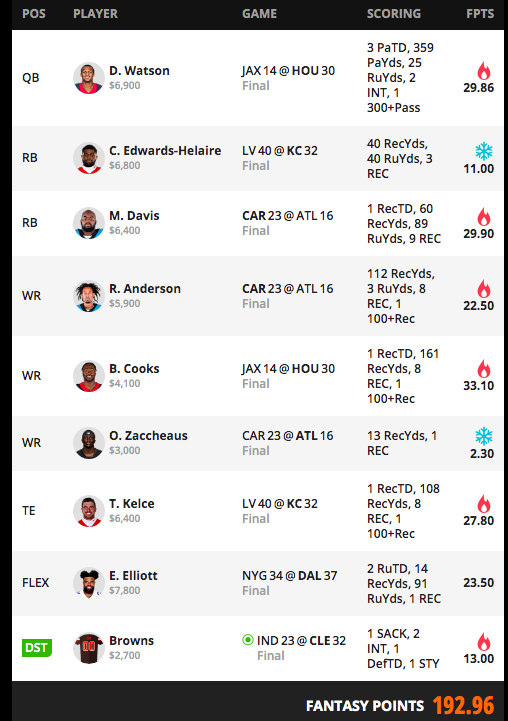 The lack of standout WR plays on this slate made it a bit difficult to get comfortable. And admittedly, I was still rattled by last week's results and was having trouble going truly TTP-ing (trusting the process). So I galaxy-brained a 3v3 for 75% of my play and then – thanks to some prodding from our own Andrew Wiggins – played a version of our optimal in 25% of my action. The 3v3 in the two lineups was Daniel Jones, Eric Ebron and DeAndre Hopkins vs. Deshaun Watson, Travis Kelce and Brandin Cooks.
MY MUST PLAYS
* Mike Davis was in a spot for the ages. With Reggie Bonnafon out, we could project Davis for 90+% of the RB touches. He was facing a bad and injury-decimated Falcons defense which funnels targets to RBs – which is Davis' specialty. And Teddy Bridgewater has one of the highest RB target rates in the league.
* There was no way I could pass on the floor/ceiling combo of Ezekiel Elliott at $7800 in this matchup with the Giants – regardless of any OL concerns. Zeke's increased pass-game role coupled with his massive goal-line share is what we look for in cash. The projected game environment was the cherry on top.
* With Julio Jones (hamstring) out, I projected Olamide Zaccheaus to run a route on at least 90% of Matt Ryan's dropbacks. Of course, Ryan is a weekly threat to lead the NFL in dropbacks. So at stone minimum $3K in a week with roughly zero opportunity cost at the WR position, I was fine with punting it off.
* I gave a lot of thought to the Carolina WR situation over the last week. In hindsight, it's clear Matt Rhule loves Robby Anderson. He recruited him to Temple and then gave him $20M in free agency when Anderson had no known suitors. Then if we look at the usage this season, Anderson's route tree actually aligns with Teddy Bridgewater's tendencies better. So in the end, I felt pretty strongly that Robby's usage through the first four weeks was legit and he had an incredible matchup for a $5900 tag.
MY WANT PLAYS
* I only had four RBs in my pool: Mike Davis, Ezekiel Elliott, Kareem Hunt and Clyde Edwards-Helaire. I thought these four were a massive cut above the rest. I would have been fine with either Hunt or CEH, but did lean CEH for the superior game environment and exposure to the Chiefs in their home run spot. Edwards-Helaire came into the game as one of the league's most unlucky players in terms of TD variance and also projected for 80% of the RB touches with the game's best offense.
* The only D/STs I really considered were Browns and Panthers. Once Colts LT Anthony Castanzo was ruled out, I really wanted to be on the Browns if possible. This was a game I expected the Browns to win and getting a lead on withered Philip Rivers can lead to big mistakes. That said, I would have been OK with the Panthers as the Falcons projected for a ton of dropbacks and were without Julio Jones to bail them out.
* I had five QBs in my pool: Lamar Jackson, Patrick Mahomes, Dak Prescott, Deshaun Watson and Daniel Jones. As is typically the case, I let the rest of my lineup dictate where I went at QB. I really liked the spot for Jones against the hyper-paced, defense-less Cowboys. I also know the Jaguars were without their top pass rusher (Josh Allen), top linebacker (Myles Jack), top slot CB (DJ Hayden) and top corner (CJ Henderson). Watson's dual threat ability and matchup perhaps should have been more of a priority on both teams.
* I had five TEs in my pool: George Kittle, Travis Kelce, Evan Engram, Eric Ebron and Darren Fells. I didn't consider any of them true standouts. I knew that Ebron wouldn't be owned at all, but I expected a pass-heavy gameplan from the Steelers against an Eagles defense which funnels targets to tight ends. In the lineup I had Daniel Jones, I didn't want to too much Giants exposure by also having Engram. In the Watson lineup, obviously Kelce's floor/ceiling is unique to the tight end position.
* The slate was really decided at WR3. To be honest, I just couldn't fully mentally get back on Brandin Cooks after I had him for the airball in Week 4. And that's pretty weak, I've been doing this long enough where I shouldn't be swayed by recency bias. Credit to Wiggins, who was adamant that Cooks was the right play and our projections, which had Cooks in the optimal. We knew Cooks' usage was fine last week despite the zero and the matchup (see above) was ideal. If I could have gotten to Darius Slayton over Cooks, I think I would have been all in on that lineup. But I couldn't find the $700 anywhere.
In the other lineup, I felt spending $3800 to get the safety of Kyler Murray first-read DeAndre Hopkins was worth it. In hindsight, that obviously looks extremely biased and egregious.
Week 5 Results
I played the Wiggins-induced nutty lineup in 25% of my action and won 100% with it. I played the dusty lineup in 75% of my action and won 48.5% with it. I don't regret going way off the board with Jones/Ebron/Hopkins, but I do regret not being more process-driven. I let Week 4 affect me too much when it came to Brandin Cooks. If that wasn't the case, I would have had a clean sweep on my hands.
Year-To-Date Results
Week 1: 172.10 points, won 72.8% of head-to-heads.
Week 2: 138.34 points, won 66.8% of head-to-heads.
Week 3: 129.10 points, won 59.2% of head-to-heads.
Week 4: 111.60 points, won 28.8% of head-to-heads.
Week 5: 147.78 points, won 48.5% of head-to-heads and 192.96 points, won 100% of head-to-heads.