I am mainly a cash-game player. Cash games refer to any contest in which roughly 50% of the field gets paid out, such as head-to-head, double up or 50/50. I try to get as much head-to-head action as I can every week and then supplement that with other cash games.
Each week, I'll review my cash-game lineup in this space. Sometimes I'll lose, but hopefully I'll win more often. Either way, I'll post it here and give you my thought process.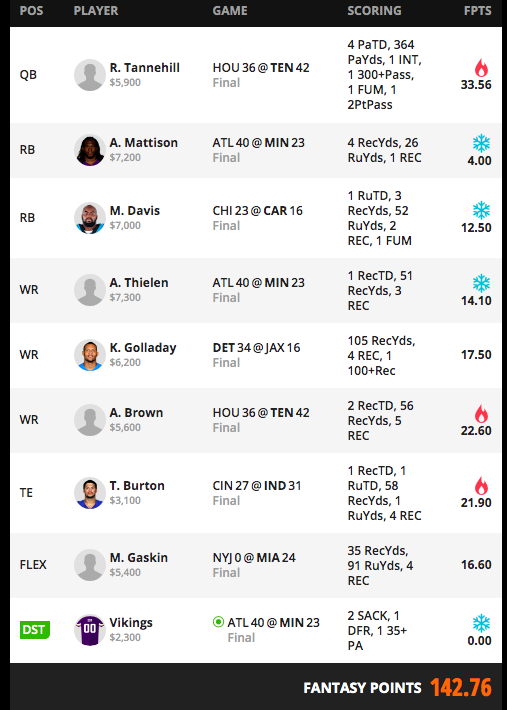 This was a very tight slate in terms of my cash game player pool. I only considered two QBs, four WRs, one TE and two D/STs. Typically I think these are the slates I do best, but the pool was so incredibly clear-cut and I expected a ton of 1v1s and 2v2s to decide everything.
MY MUST PLAYS
* With Mo Alie-Cox out and the Colts among the league-leaders in 2-TE formations, we knew Trey Burton was in for elite usage. We also knew his targets per route run on the season were strong – especially when compared to Irv Smith. So even though Smith had the slightly better matchup and was $600 cheaper, I was always playing Burton. Even if there were viable 5k-6k plays this week (there weren't), I likely would have still played Burton at $3100. Note we had Burton projected for 9.8 DK points and Irv for just 6.6.
* DraftKings released Week 6 salaries before AJ Brown played and looked extremely healthy in Week 5. So at $5600 in a home game against the Texans, he was around $600 underpriced – especially once we factored in Corey Davis' COVID absence. Although I always have concerns about target floor for Brown, he was simply too cheap for talent/role/matchup.
* The bye week projected to work wonders for Kenny Golladay, who nursed a hamstring injury for all of September. He also got a clean matchup against a Jags defense ranked dead last in yards per play allowed and dead last in pass defense DVOA. Alpha WR1s at $6200 with plus QB play is not something I'm fading.
* I knew the game environment and matchup was the worst Mike Davis aka 90% CMC has seen. But I still couldn't pass on the pass-game role and overall usage. With Reggie Bonnafon and Curtis Samuel out, Davis was staring at 90% of the snaps with a check-down QB and featured pass-game role. I didn't want to be overly matchup-sensitive here.
MY WANT PLAYS
* Alexander Mattison was certainly no bargain. And I did think that the touch gap between him and Mike Boone would be tighter than it was in Week 5. That said, an opportunity to attack Atlanta's depleted defense was appetizing. In hindsight, I could argue the talent and TD expectation on Derrick Henry was higher for just $100 more. That said, this specific lineup was maxed out on salary so I didn't have to make the direct call between Mattison and Big Dog.
* There were only two D/STs in my pool for cash: Vikings and Dolphins. I certainly preferred Dolphins against the fighting Adam Gase's with Joe Flacco at the controls – especially after we found out Julio Jones would play for Atlanta. But I was fine saving the $600 with the Vikings in a game I expected the Matt Ryan to be forced into predictable passing situations. As always, I'm willing to take the cheapest viable option at D/ST in cash.
* There were only two QBs in my pool for cash: Matthew Stafford and Ryan Tannehill. I actually preferred Stafford slightly thanks to less reliance on efficiency. But with Myles Jack and CJ Henderson back for the Jags, I was fine with Tannehill's stronger game environment and arguably equally soft matchup. The bigger concern for me on having both Tannehill and AJ Brown was getting eviscerated in the event Derrick Henry scored all the TEN TDs. But I still wasn't going to be play Ryan Fitzpatrick over Tanny when the former was facing a Jets team which can't fight back.
* My last 2v2 was Adam Thielen and Myles Gaskin vs. Chase Claypool and Derrick Henry. We had the two sides almost exactly even in projection. The main reason I went with the first side was because I preferred Thielen's floor to Henry's. Yes, I'm aware that sounds insane in hindsight – and maybe it is. But Henry's utter reliance on TDs and the 100-yard rushing bonus creates a scary floor.
On top of that, I was fine with Claypool but thought he was a really solid fade at massive ownership – even in cash. There were outcomes where he finished fourth on the Steelers in targets Sunday behind Juju, James Washington and Eric Ebron. And that WR spot was a lot of opportunity cost with Thielen such a strong play.
Week 6 Results
I feel fortunate to escape with a small win despite not playing Derrick Henry, who was around 25% owned in cash. That said, I had the exact right player pool for cash this week so it's a bit disappointing not to win more. If I have any regrets it's not just betting on talent, where superhuman Henry and athletic freak Claypool clearly had the big edge on Thielen and Gaskin. Still, it's a bit unlucky Henry ran into a 99th percentile game here so I'll be sleeping easy.
Year-To-Date Results
Week 1: 172.10 points, won 72.8% of head-to-heads.
Week 2: 138.34 points, won 66.8% of head-to-heads.
Week 3: 129.10 points, won 59.2% of head-to-heads.
Week 4: 111.60 points, won 28.8% of head-to-heads.
Week 5: 147.78 points, won 48.5% of head-to-heads and 192.96 points, won 100% of head-to-heads.
Week 6: 142.76 points, won 62.5% of head-to-heads