Editor's Note: Adam Levitan and Mike Leone will be streaming live on the ETR YouTube channel at 2:30 ET today covering tonight's MNF game and the Showdown DFS slate. The show will be available for replay afterwards. Be sure to subscribe to our channel for notifications about future shows.

I am mainly a cash-game player. Cash games refer to any contest in which roughly 50% of the field gets paid out, such as head-to-head, double up or 50/50. I try to get as much head-to-head action as I can every week and then supplement that with other cash games.
Each week, I'll review my cash-game lineup in this space. Sometimes I'll lose, but hopefully I'll win more often. Either way, I'll post it here and give you my thought process.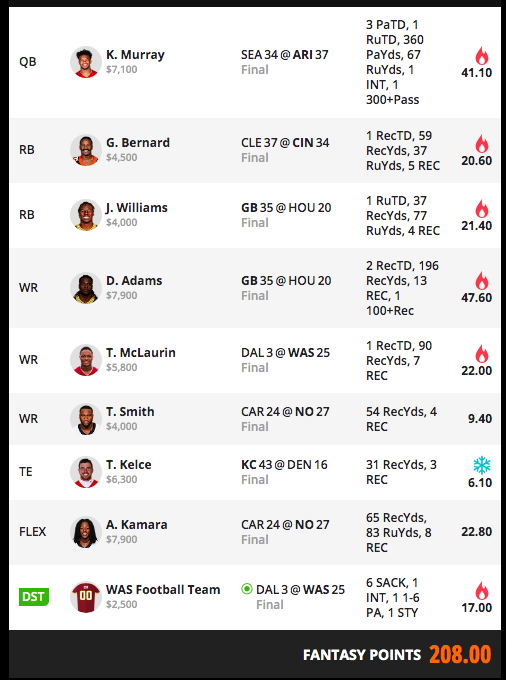 Aaron Jones, Joe Mixon, Michael Thomas, Emmanuel Sanders and Austin Hooper were all ruled out after DraftKings released the Week 7 salaries. That created a unique amount of value and "free squares." It also created a cash slate where I didn't think there were very man realistic decisions. In other words, this was a "prove it" week. Simply play the best plays – even if they seem obvious – and make our opponents prove they are on it. I ended up playing the optimal lineup based on our projections.
MY MUST PLAYS
* This was a perfect storm for the Washington D/ST. The injury-ravaged Dallas offensive line was down to 27th in Brandon Thorn's rankings. Meanwhile, Washington features one of the best pass rushes in the league led by Chase Young and Montez Sweat. On top of that, immobile Andy Dalton was starting in a rainy game on the road in Thorn's No. 2 OL/DL mismatch. And Washington D/ST was just $2500. If you didn't play this unit in cash, you should reexamine your process.
* With Aaron Jones out, we conservatively projected Jamaal Williams for 47% of the Packers rushes and 13% of the team targets. And even at that modest usage, he was projecting at 17.5 DraftKings points at a $4000 tag. With AJ Dillon unable to play in passing situations and the Texans sporting one of the NFL's worst defenses, this was an unfade-able spot.
* I thought Kareem Hunt was extremely strong and was going to play him until the Friday Aaron Jones news changed everything. But I still couldn't pull the trigger on Hunt over Gio Bernard. With Bernard's best skill in the pass game (he was already CIN's pass-down and 2-minute back even when Joe Mixon is healthy), CLE's pass funnel and Zac Taylor's play-calling tendencies, Bernard had a high pass-catching floor. I also thought he would handle at least 65% of the RB carries with only Semaje Perine and Trayveon Williams behind him. Remember that this regime gave Bernard a 2-year, $10.3M contract 14 months ago.
* We've seen this Alvin Kamara story before. With Michael Thomas and Manny Sanders out, Kamara was a threat to lead the Saints in both targets and carries. He is also getting elite red-zone usage. So in this potential shootout with the Panthers, I would have paid at least $9000 for Kamara. He was $7900.
MY WANT PLAYS
* I would have been fine with any of Kyler Murray, Josh Allen or Russ Wilson at QB. And if the cap was tighter this week, I would have been fine with Joe Burrow. But in this construction, saving the money with Murray was more than fine given his rushing floor, matchup and expected game environment.
* There were six WRs in my cash pool: Davante Adams, Kenny Golladay, Tyler Lockett, Keenan Allen, Terry McLaurin and Tre'Quan Smith. Without Aaron Jones' pass-catching ability and red-zone role on the field, I leaned toward Adams as the best. After that, I did not have strong leans. The WRs that fit perfectly were Adams, McLaurin (massive underlying role facing one of the worst scoring defenses in NFL history) and Smith (WR1 for Drew Brees in plus matchup). The only other version I considered was playing Jared Cook at TE and then going Golladay, Lockett, Keenan at WR.
* Regular readers of this article know I almost never pay up at TE on DraftKings. If I needed the money this week I would have punted with one of the Browns TEs subbing for Austin Hooper. I thought a lot about Jared Cook in a condensed pass-catching corps and certainly would have been fine with him. But I simply didn't need the savings in lineups that played Tre'Quan.
So despite the weather and the fair price, I was OK taking the safety of Travis Kelce. The $2000 I would have saved going down from Kelce to Cook would not have gotten me from Tre'Quan Smith to Keenan Allen. I would have had to come off Kyler Murray for Deshaun Watson and perhaps I should have considered that more.

Week 7 Results
I know you're waiting for me to have #regrats over paying up at tight end in cash on DraftKings, something I've been adamant is a big leak. And I do of course, especially in a weather game where a shootout was unlikely even in a good weather game. Still, if the Chiefs don't score two defensive TDs, the Kelce runout looks far different.
In hindsight, the 3v3 I should have considered more was Deshaun Watson/Keenan Allen/Jared Cook over Kyler Murray/Tre'Quan Smith/Travis Kelce. But again, I considered Kyler a full tier above Watson so I never saw that option. Regardless it's always good to book my best week of the season.
Year-To-Date Results
Week 1: 172.10 points, won 72.8% of head-to-heads.
Week 2: 138.34 points, won 66.8% of head-to-heads.
Week 3: 129.10 points, won 59.2% of head-to-heads.
Week 4: 111.60 points, won 28.8% of head-to-heads.
Week 5: 147.78 points, won 48.5% of head-to-heads and 192.96 points, won 100% of head-to-heads.
Week 6: 142.76 points, won 62.5% of head-to-heads.
Week 7: 208.00 points, won 82.3% of head-to-heads.