I am mainly a cash-game player. Cash games refer to any contest in which roughly 50% of the field gets paid out, such as head-to-head, double up or 50/50. I try to get as much head-to-head action as I can every week and then supplement that with other cash games.
Each week, I'll review my cash-game lineup in this space. Sometimes I'll lose, but hopefully I'll win more often. Either way, I'll post it here and give you my thought process.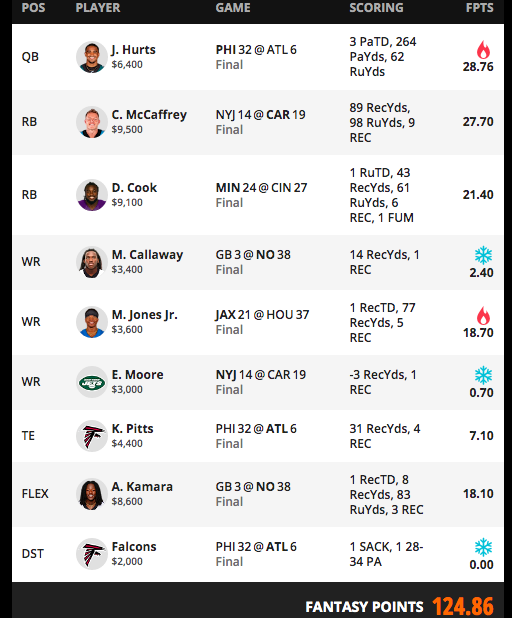 This was a very straightforward cash slate. Just by looking at our projections, you could see we had incredible cheap WR values and elite RBs in excellent matchups. This is the way I prefer to build cash teams. I landed on this team Friday night and never made a change
MY MUST PLAYS
* I expected Sam Darnold to play very well, away from Adam Gase and with massively upgraded weaponry. So Christian McCaffrey entered this game with health, solid QB play and a plus matchup. It would take a unique slate for me to not play CMC at less than $10K in this setup. He's in a tier by himself in full-PPR formats.
* The August run-out for Alvin Kamara was the stone nuts: Jameis Winston (not Taysom Hill) starting, Michael Thomas hurt and Latavius Murray cut. Even though I had concerns about the Saints offense cratering, I couldn't fade Kamara in full-PPR at $8600.
* I expected the Falcons to play a 2-TE base, with Hayden Hurst as their in-line and Kyle Pitts as the move. Given Pitts' athletic profile, the lack of other options behind Matt Ryan and the game environment, this was an easy one. I was never paying up for George Kittle (volume concerns) or Travis Kelce (priced appropriately).

* The Saints WR situation turned desperate in August. When the dust settled, Marquez Callaway was the clear-cut No. 1 for an aggressive Jameis Winston. At $3400, this was a layup for cash. I wasn't going to overthink this one. 
* I liked Elijah Moore as a sneaky play at the beginning of the week. Then Jamison Crowder (COVID) was ruled out, and then Keelan Cole (knee) was scratched. At that point, I expected Moore to have an every-down role as the No. 2 next to Corey Davis at stone minimum. That's not a spot I pass on in cash.
MY WANT PLAYS
* Dalvin Cook was a borderline "must." But on the road at $9100, I did briefly consider coming off him in favor of Antonio Gibson, Joe Mixon, Raheem Mostert (after the Trey Sermon news) or Najee Harris. That would have given me an upgrade on one of the punt WRs. In reality, I never came close to making that move because I actually really liked the punt WRs and knew Dalvin's three-down plus goal-line role was rock solid.
* I didn't consider Jalen Hurts a "must" with Josh Allen, Kyler Murray and Patrick Mahomes all in fine spots. There was also the Sam Darnold punt option. But I never wavered on playing Hurts in this spot thanks to his dual-threat ability. At $6400, it's really hard for him to fail thanks to the rushing floor — and that rushing ability creates a massive ceiling.
* As usual in cash, I was willing to take the cheapest viable option at defense. In this case, that was the Bengals D or Falcons D — both stone minimum $2000. Perhaps I should have given more consideration to Cincy — immobile Kirk Cousins and the Vikings have a far worse offensive line than the Eagles (per Thorn's rankings). That was a mistake. 
* There were a bunch of cheap WR options — even beyond my "musts" of Marquez Callaway and Elijah Moore. The last spot came down to Jaylen Waddle, Rondale Moore or Marvin Jones. I decided to go with Marvin as he had the lock every-down role in the nut matchup — and he's a veteran who knew the offense perfectly after executing it in Detroit the last couple years. I wasn't certain on the usage for Rondale or Waddle. 
Week 1 Results
The results were solid, but not spectacular. And I have not examined the player usage as of this writing. But I'm fairly confident that this was the absolute correct team to play. All three of the punt wide receivers had massive roles relative to price. And all three of the elite/explosive running backs had the three-down plus pass-game role that is so valuable in cash. So I'm really happy with the team I played and would love to get more slate setups like this the rest of the way. 
Year-To-Date Results
Week 1: 124.86 points, won 70.5% of head-to-heads