I play roughly 60% of my action each week in "cash games." Cash games refer to any contest in which roughly 50% of the field gets paid out, such as head-to-head, double up or 50/50. I try to get as much head-to-head action as I can every week and then supplement that with other cash games.
Each week, I'll review my cash-game lineup in this space. Sometimes I'll lose, but hopefully I'll win more often. Either way, I'll post it here and give you my thought process.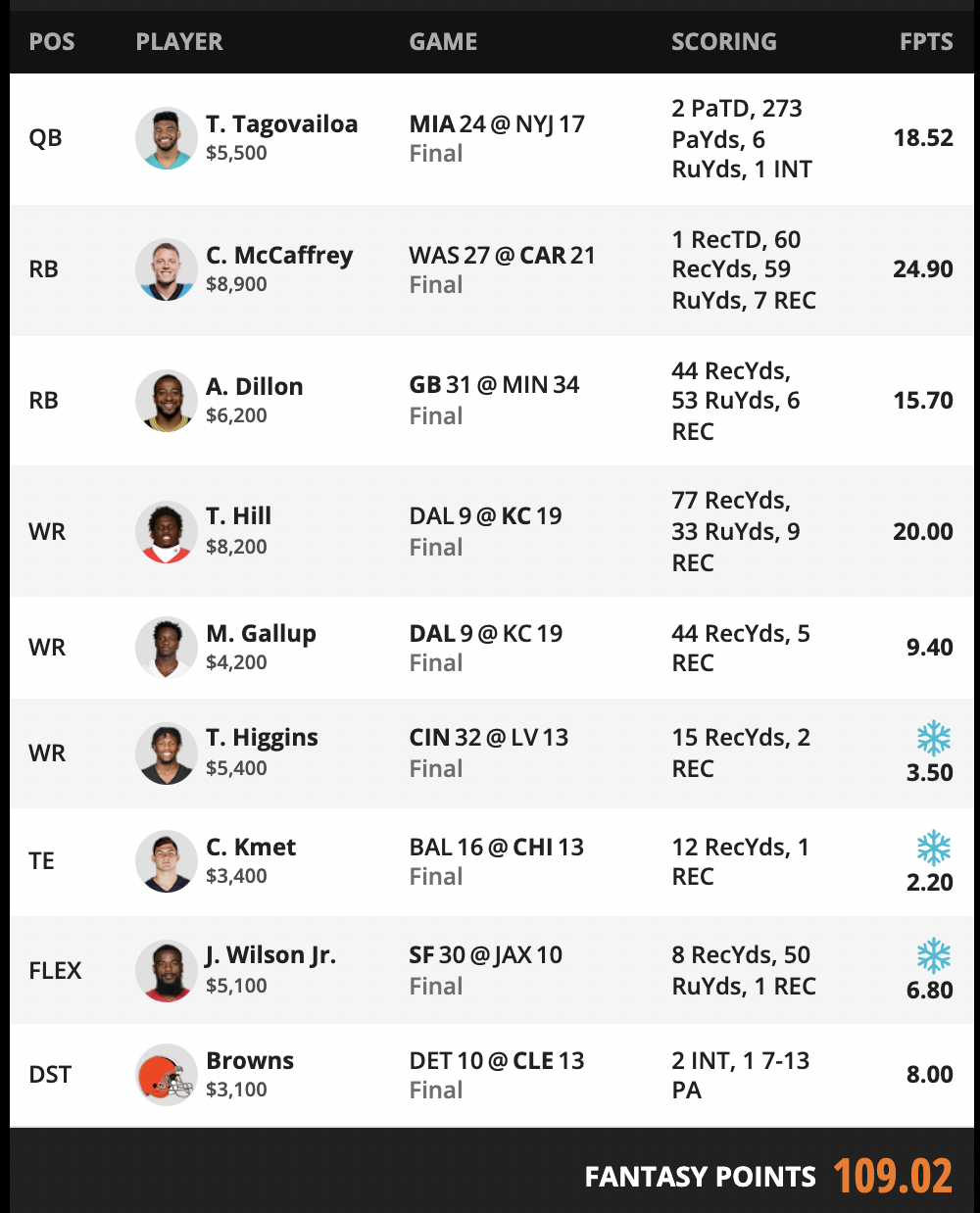 I thought this was a very condensed cash slate at RB and WR, which is typically good for me. I only considered Christian McCaffrey, AJ Dillon, Mark Ingram, Jeff Wilson, and Myles Gaskin for three RB spots. And I only considered Davante Adams, Tyreek Hill, Tee Higgins, and Michael Gallup at WR.
MY MUST PLAYS
* AJ Dillon was gaining some standalone value even before Aaron Jones' injury. With Jones (knee) out, the only competition for RB carries was rookie UDFA Patrick Taylor. Dillon, who has a Derrick Henry-esque frame, has also shown extremely well in the pass game all year. A true every-snap, three-down plus goal-line back playing with Aaron Rodgers at $6100 is something to be excited about.
* Kyle Shanahan has been very clear that he has no faith in Trey Sermon. So with Eli Mitchell and JaMycal Hasty both sidelined, this was an obvious Jeff Wilson workhorse spot. His prop was an absurd 19.5 carries and the 49ers projected for a ton of red-zone opportunities against the Jaguars. That's too clean of a setup at $5100.
* With Travis Kelce creeping up in the age model and Mecole Hardman getting demoted, the Chiefs are down to essentially one weapon. Whereas volume used to be a concern for Tyreek Hill many moons ago, that's no longer the case. He came into this likely shootout against Dallas with at least nine targets in seven straight games, averaging 12.1 during that span. Given the likely game environment, I thought Hill was more likely to break the slate than Davante Adams.
* Speaking of game environment, Michael Gallup had the Amari Cooper (out, COVID) role for this spot at KC. Cooper is normally priced in the $6K range, but Gallup was $4200. The salary save at WR was a no-brainer considering how strong the mid-range at RB was. 
MY WANT PLAYS
* Chrisitan McCaffrey was almost a must, but Mark Ingram ($5400) and Myles Gaskin ($5700) were certainly options. However, I never really thought about coming off CMC as he's no longer on injury report and has a truly freakish role. The presence of the Cam Newton at the goal-line isn't great, but McCaffrey's pass-game role plus run-game efficiency is off the charts. He's a tier above any other fantasy player.
* Tee Higgins' target share plus talent combo is elite for someone priced at $5400 in one of the slate's best game environments. I don't think anyone is a "must" when they're competing with two other very good WRs and the team has shown a willingness to be extremely run-heavy when allowed. But this was a very bad slate for cash-game WRs, pushing up Tee. I actually only considered four WRs for cash — Tee, Gallup, Tyreek, and Davante Adams. 
* The Browns D/ST was clearly the best defense play on the slate. They have a top-3 pass rush, were facing Tim Boyle, and the weather in Cleveland was a little messy. But paying $3100 for a defense is never going to be a must. The Chiefs, Football Team, Bears, Seahawks, and Panthers were all on my list.
* I didn't feel great about Tua Tagovailoa or Cole Kmet. I had played with Cam Newton teams, but was afraid if he started off slow they'd mix in PJ Walker. I had also played with some Patrick Mahomes teams, but didn't think it was worth coming off CMC to pay $7600 for a non-rushing QB.

So when the Lamar Jackson (illness, inactive) news broke, I was intrigued by what I could do with #TeamPreseason All-Star Tyler Huntley. At just $4100 with rushing ability, he was obviously a fine floor play. However, I only thought it was worth playing him if I could upgrade Tee Higgins to Davante Adams. That would have required me playing John Bates at tight end and WFT at D/ST. It was a very close call, I thought either team was fine. In the end I didn't want Adams bad enough to pull the trigger.
Week 10 Results
I've had a lot of 2v2s go my way recently. This week, I got bit as the Davante Adams team would have smashed. And in hindsight, I think it was the higher-ceiling side. I know Tua and Kmet are never breaking any slate, but Huntley's floor combined with Davante's ceiling can. So it's a bit disappointing I couldn't get off CLE D/ST to jam Tyreek, Davante and CMC all in.
Year-To-Date Results
Week 1: 124.86 points, won 70.5% of head-to-heads
Week 2: 92.88 points, won 5.7% of head-to-heads
Week 3: 151.52 points, won 63.8% of head-to-heads
Week 4: 104.92 points, won 8.1% of head-to-heads
Week 5: 187.08 points, won 82.7% of head-to-heads
Week 6: 147.98 points, won 82.3% of head-to-heads
Week 7: 163.38 points, won 88.1% of head-to-heads
Week 8: 135.62 points, won 37.0% of head-to-heads
Week 9: 127.54 points, won 81.4% of head-to-heads
Week 10: 152.74 points, won 90.0% of head-to-heads
Week 11: 109.02 points, won 55.3% of head-to-heads