I play roughly 60% of my action each week in "cash games." Cash games refer to any contest in which roughly 50% of the field gets paid out, such as head-to-head, double up or 50/50. I try to get as much head-to-head action as I can every week and then supplement that with other cash games.
Each week, I'll review my cash-game lineup in this space. Sometimes I'll lose, but hopefully I'll win more often. Either way, I'll post it here and give you my thought process.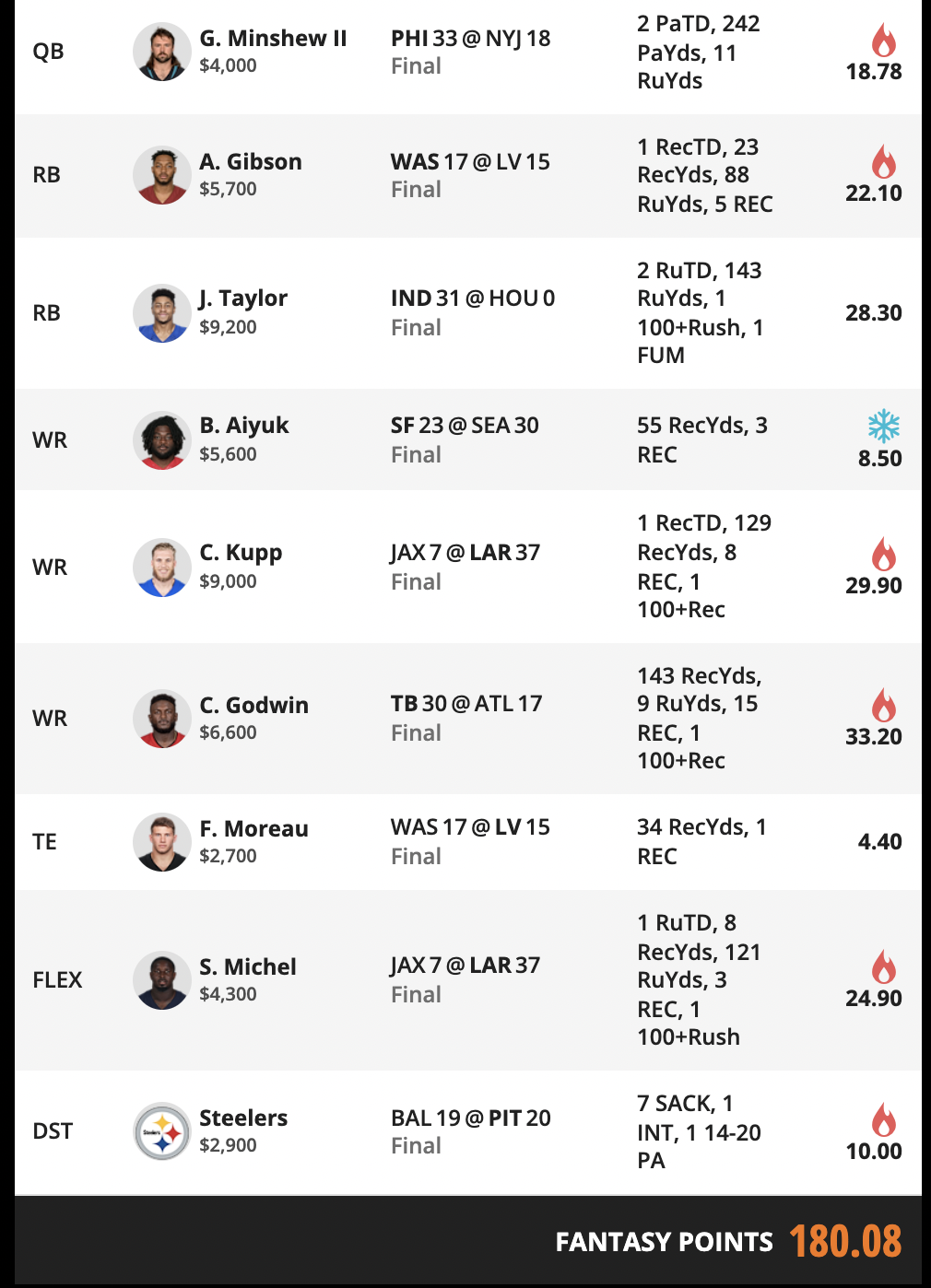 This week set up perfectly for me. There were some really good punts at the positions I like to punt at and I had five "musts." There were some slight 2v2s and 1v1s off the team I played, but I thought anything other than this general build was simply wrong. And that's typically when I have my best weeks. 
MY MUST PLAYS
* I didn't think the quarterback position was particularly strong this week. So when Jalen Hurts (ankle) was ruled out, I was immediately locked onto playing Gardner Minshew at just $4000. He has some mobility, has been a very viable fantasy starter before, and had one of the best possible matchups (at NYJ). Most importantly, saving the $3200 from Tom Brady (who I likely would have played if Minshew didn't open up) allowed me to get the two obvious slate-breakers on my team — Cooper Kupp and Jonathan Taylor.
* On Saturday night ESPN's Adam Schefter reported that the Rams were "not optimistic" about Darrell Henderson playing. Schefter does not tweet that tone unless he's fairly certain. So even with reports Sunday morning that D-Hendo would be active, I was confident (but not certain) that it was an emergency-only situation. The only RB behind Sony Michel was Mekhi Sargent, who just signed a month ago.

So at $4300, I never considered coming off Sony given the spot. At worst he'd be the lead dog in a committee at home against the Jags. In a best-case scenario he'd have a three-down plus goal-line role and be the best play on the entire slate.
* Antonio Gibson had seen 26, 19, and 36 touches in his previous three games. At just $5700, he was clearly underpriced. But with JD McKissic (concussion) out, Gibson — a former college WR — had a real pass-catching ceiling. And he was facing in the Raiders in a dome in one of the slate's best game environments.
* I wasn't going to overthink Foster Moreau in a version of the Darren Waller role at $2700. Especially in an excellent game environment and especially when all other tight ends were priced appropriately. This was a classic punt at tight end so we can afford slate-breakers. Even if Moreau wasn't in play, I may have punted with James O'Shaughnessy due to slate context.
* I was fortunate to not play Chris Godwin last week. So perhaps I came in with a cleaner outlook on him. With Antonio Brown out again and an elite matchup against the Falcons, the $6600 tag stuck out. Note that this week Godwin was $200 cheaper than Diontae Johnson, which was needed for this lineup. Once I knew I wasn't playing Tom Brady, I considered getting to Godwin a must so I'd have exposure to this home run spot for Tampa pass game.
MY WANT PLAYS
* Jonathan Taylor was obviously a no-brainer incredible play against the Texans. But he wasn't a "must" because Alexander Mattison ($7600), Eli Mitchell ($6000), and James Conner ($5900) were all elite plays as well. So if the Gardner Minshew salary-saver didn't open up, I was debating passing on JT so I could afford Tom Brady and/or Cooper Kupp. I thought Taylor would score the most points of that group, but the positional scarcity has to be considered. 
* The wide receiver position was very weak for cash. Even though Cooper Kupp wasn't a spectacular play due to price ($9000) and blowout potential, he was still clearly the best floor-ceiling combo WR — even price-adjusted. Kupp came into the game with at least 10 targets in 10-of-11 games. 
* With Deebo Samuel out, there was a lot of work to go around for the 49ers. And Brandon Aiyuk had solidified himself as a key piece of this offense over the last month. I likely would have gone with the safety of Hunter Renfrow if I had the $200, but I didn't think it was worth changing the lineup for that. 
* The last decision I made was at D/ST. And I debated Raiders D vs. Steelers D all the way until 330pm ET. I truly thought it was a coin flip as the Steelers have the better unit but Taylor Heinicke projected to drop back far more. But Brandon Thorn had PIT DL > BAL OL as one of his biggest mismatches, the game was outside, TJ Watt/Cam Hayward were back, and Lamar has really struggled in this matchup. 
Week 13 Results
I was really happy with my decision to prioritize Chris Godwin despite last week's debacle. I also thought I handled the Sony Michel/Darrell Henderson situation well. But to be honest, the coin-flip decision to go PIT D over LV D made a big difference in my outcome. Regardless, this was a slate that set up well for me and it's nice to get the quality result.  
Year-To-Date Results
Week 1: 124.86 points, won 70.5% of head-to-heads
Week 2: 92.88 points, won 5.7% of head-to-heads
Week 3: 151.52 points, won 63.8% of head-to-heads
Week 4: 104.92 points, won 8.1% of head-to-heads
Week 5: 187.08 points, won 82.7% of head-to-heads
Week 6: 147.98 points, won 82.3% of head-to-heads
Week 7: 163.38 points, won 88.1% of head-to-heads
Week 8: 135.62 points, won 37.0% of head-to-heads
Week 9: 127.54 points, won 81.4% of head-to-heads
Week 10: 152.74 points, won 90.0% of head-to-heads
Week 11: 109.02 points, won 55.3% of head-to-heads
Week 12: 117.32 points, won 80.1% of head-to-heads
Week 13: 180.08 points, won 86.9% of head-to-heads