I play roughly 60% of my action each week in "cash games." Cash games refer to any contest in which roughly 50% of the field gets paid out, such as head-to-head, double up or 50/50. I try to get as much head-to-head action as I can every week and then supplement that with other cash games. For more on contest selection, go here.
Each week, I'll review my cash-game lineup in this space. Sometimes I'll lose, but hopefully I'll win more often. Either way, I'll post it here and give you my thought process.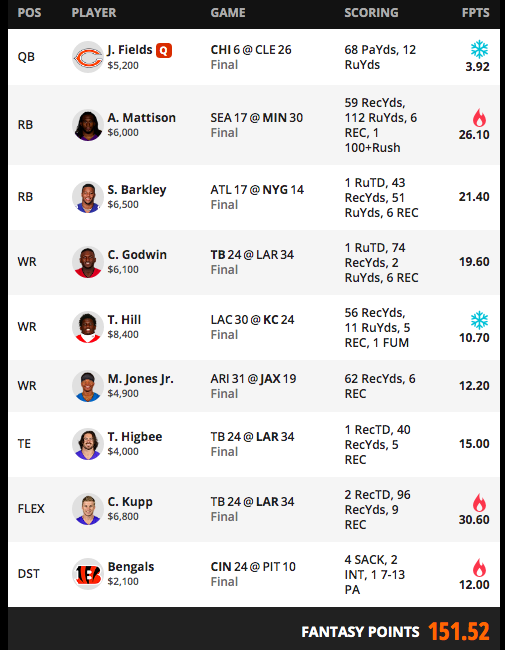 There were no home-run values on this slate. Even Alexander Mattison was priced appropriately at $6000. The stars like Tyreek Hill ($8400), Derrick Henry ($8600), Travis Kelce ($8200), Kyler Murray ($8300) etc. were priced appropriately. That left me looking for small edges in game environment and pricing.
MY MUST PLAYS
* Cooper Kupp emerged in the first two weeks as the true every-down focal point of the Rams offense with a 37% target share from Matthew Stafford. Even though that's obviously unsustainable, the matchup against a pass-funneling Bucs defense was elite. And in terms of pricing on this slate, Kupp was one of the most mispriced at $6800.
* Antonio Brown (COVID) would be replaced by some combo of Scotty Miller and Tyler Johnson. Obviously, Brown projected for more targets than that duo. That left slot man Chris Godwin underpriced in one of the slate's best game environments. Given the lack of value on the slate, the mid-range value was needed.
* Given Saquon Barkley's usage on a short week in Week 2 (58-of-69 snaps), I was very optimistic on his role in Week 3. I was also optimistic on Daniel Jones' ability to move the ball against the Falcons defense. Given Barkley's three-down plus goal-line skill set, I was really set on playing him. He's the exact kind of back I want to target in the right matchups.
MY WANT PLAYS
* The reports on Dalvin Cook (ankle) Saturday were really bad. I fully expected him to sit. Alexander Mattison was obviously a "must" on FanDuel at just $700 over minimum. But on DraftKings, he was priced near other solid plays like Najee Harris and Joe Mixon. Mattison was also a significant $1200 more than Clyde Edwards-Helaire. But in the end, I really wanted the talented Mattison with a projected 90% of the RB touches in a shootout against the Seahawks. Note the SEA-MIN game was ahead in our GPP game scores by a mile on DK.

* As usual, I was playing the cheapest viable defense. This week that was either the Titans ($2400) or the Bengals D ($2100). The Bengals pass rush was only No. 26 in Thorn's rankings this week, but more importantly Big Ben is a decrepit statue and the offensive line was No. 28. I also thought the Bengals had a really good chance to win the game, which always helps when trying to project number of dropbacks by the opposing QB. 
* I had Clyde Edwards-Helaire in a lot of the lineups I played with. In the end, I decided he was a bit too fragile given his lack of pass-game role and fumble last week. I decided to go with a 4-WR lineup featuring clear-cut Jags No. 1 WR Marvin Jones at $100 more in one of the best possible matchups — home against Arizona.

* I played Tyler Higbee last week and got stone buried on his 1-target game. But the usage remained truly elite and this was a game I expected Matthew Stafford to drop back near a season-high times. I did play with some TJ Hockenson lineups, but spending into the $5K+ range for TEs not named Darren Waller or Travis Kelce is not something I like to make a habit of. So I was fine going back to Higbee here to save the $1200.

* One of the toughest decisions on the slate was at QB. I certainly knew the passing floor/ceiling combo was low on Justin Fields given the spot at Cleveland. But I thought Fields' rushing ability would provide a solid fantasy floor. The other option I considered as up to Lamar Jackson, but Jackson was priced appropriately. The rush/pass ability of Fields was underpriced at just $5200 — at a position these kind of QBs can cluster in scoring.

* I didn't think Tyreek Hill was any kind of bargain against Brandon Staley's sophisticated defense. But I did want to incorporate ceiling into this lineup and gain exposure to the LAC-KC game. Note that I didn't have the $200 in this build to get to Derrick Henry — although I thought that was a coin flip anyway. I wasn't going to rework anything to get the Big Dog. 
Week 3 Results
After last week's debacle, it was more relief than joy to get back in the black. It's obviously easy to say now, but going with Justin Fields in this really difficult spot at Cleveland and not taking the Clyde Edwards-Helaire savings were both mistakes. I certainly got lucky that Lamar Jackson and Derrick Henry didn't have monster games. But I'm happy with my decision to stick with Tyler Higbee despite last week's soul-crusher and the decision to ride with Alexander Mattison. 
Year-To-Date Results
Week 1: 124.86 points, won 70.5% of head-to-heads
Week 2: 92.88 points, won 5.7% of head-to-heads
Week 3: 151.52 points, won 63.8% of head-to-heads