I play roughly 60% of my action each week in "cash games." Cash games refer to any contest in which roughly 50% of the field gets paid out, such as head-to-head, double up or 50/50. I try to get as much head-to-head action as I can every week and then supplement that with other cash games.
Each week, I'll review my cash-game lineup in this space. Sometimes I'll lose, but hopefully I'll win more often. Either way, I'll post it here and give you my thought process.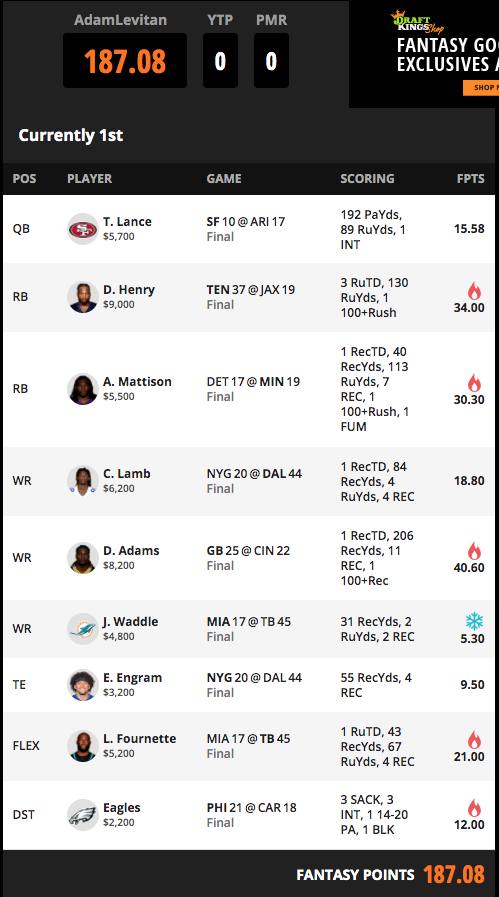 This was a unique week because so many elite players weren't on the slate. The Rams, Seahawks, Falcons, Bills, Chiefs and Ravens were all in island games. That left the player pool much tighter, and it's weeks like these I have historically had more success. 
MY MUST PLAYS
* Derrick Henry's newfound pass-game role certainly raises his floor. But even if he had the old 2018-20 pass-game role, he would have been a lock in this spot against the Jaguars. It was a no-brainer with CMC, Tyreek, Kelce, Kupp, Lamar, Diggs, Josh Allen and other stars not on the slate. 
* I called Davante Adams a near "must" last week when he was $7900 against the Steelers. Given the above slate context and Adams' outrageous underlying usage, he was a must this week. There's simply no fading a guy getting 36% of Aaron Rodgers' targets against the Bengals at $8200.
* If you didn't play Alexander Mattison in cash, you need to reevaluate your process. After the Dalvin Cook (ankle) news broke, our projections had Mattison with the second-best raw projection at RB behind only Derrick Henry. But Mattison, a three-down plus goal-line back at home against the Lions, was just $5500. It's a reminder that if you want to play at a high level, you have to be at your computer and on Twitter Sunday mornings.
MY WANT PLAYS
* After the Mattison news, I knew a 3-RB build was where I wanted to go. Both Leonard Fournette ($5200) and Damien Williams ($5600) were very strong plays. Fournette has separated from Ronald Jones in a big way in a spot I expected the Bucs to live in red zone. Williams had the David Montgomery role at a slight discount. I played with a build that went down to Ricky Seals-Jones at TE and up to D-Will over Uncle Lenny, but ultimately decided I preferred Evan Engram. 
* I wasn't overly excited to play Trey Lance at $5700, just $400 less than Joe Burrow and $1200 less than Dak Prescott. It's not like he was super cheap and he didn't have George Kittle. But I thought that with a week to prepare as the starter, the 49ers would have a run-centric gameplan for Lance and it was an excellent overall game environment. I did prefer Lance to Daniel Jones, who was on the road against a sneaky good Dallas defense without both Sterling Shepard and Darius Slayton. 
* I actually didn't think WR was very deep for cash. So even though I had some concerns about Dallas' weak throw rate and how involved the TEs have been, CeeDee Lamb did stand out in the mid-range. His underlying usage was at least as good as Amari Cooper's, if not better. And Lamb had the better matchup in the slot. Lamb's price was depressed due to two straight flukish duds. If I had the $300 lying around, I would have seriously considered Keenan Allen over Lamb.
* The only tight ends I considered were Ricky Seals-Jones and Evan Engram. I knew that RSJ would be jumping into the Logan Thomas role and was mispriced at $2500. But I did prefer spending the $700 to get to Engram, who isn't very good at football but is at least a legit NFL player with difference-making athletic traits. The savings down to RSJ would have led me from Fournette to D-Will, not a move that was a priority for me.
* The only D/STs I considered for cash were the Eagles ($2200) and the Football Team ($2300). I slightly preferred WFT for the superior pass rush, but note that PHL DL vs. CAR OL was Thorn's No. 3 mismatch on the week. As always at defense, I wasn't going to change anything to fit one in cash. 
* The final decision in this build was Laviska Shenault ($4800) or Jaylen Waddle ($4800). There were some builds I had enough money for Tee Higgins ($5000), but getting to him in his first game off the shoulder injury with heavy target competition wasn't a priority.

I was not considering Waddle until we got news that DeVante Parker was inactive, joining Will Fuller on the sideline. That left Waddle with almost no target competition against the biggest pass funnel in the NFL — teams are throwing at a nearly 74% rate against the Bucs. I hemmed and hawed, but ultimately thought the target floor and garbage time possibilities for Waddle were better than Shenault.
Week 5 Results
This week set up really well for my style. We had viable cheap QB options who could run, all tight ends were overpriced except for the stone punts and we had some "prove it" plays in Mattison, Davante Adams and Derrick Henry. People who weren't able to prove they knew those three were locks got punished. Justice for the win. It was an especially sweet week for me because I had a sick sweat on FanDuel for $100K, but got caught late for third place and $15K. I'll talk more about that lineup on Tuesday's Solo Pod if you're interested.
Year-To-Date Results
Week 1: 124.86 points, won 70.5% of head-to-heads
Week 2: 92.88 points, won 5.7% of head-to-heads
Week 3: 151.52 points, won 63.8% of head-to-heads
Week 4: 104.92 points, won 8.1% of head-to-heads
Week 5: 187.08 points, won 82.7% of head-to-heads