I play roughly 60% of my action each week in "cash games." Cash games refer to any contest in which roughly 50% of the field gets paid out, such as head-to-head, double up or 50/50. I try to get as much head-to-head action as I can every week and then supplement that with other cash games.
Each week, I'll review my cash-game lineup in this space. Sometimes I'll lose, but hopefully I'll win more often. Either way, I'll post it here and give you my thought process.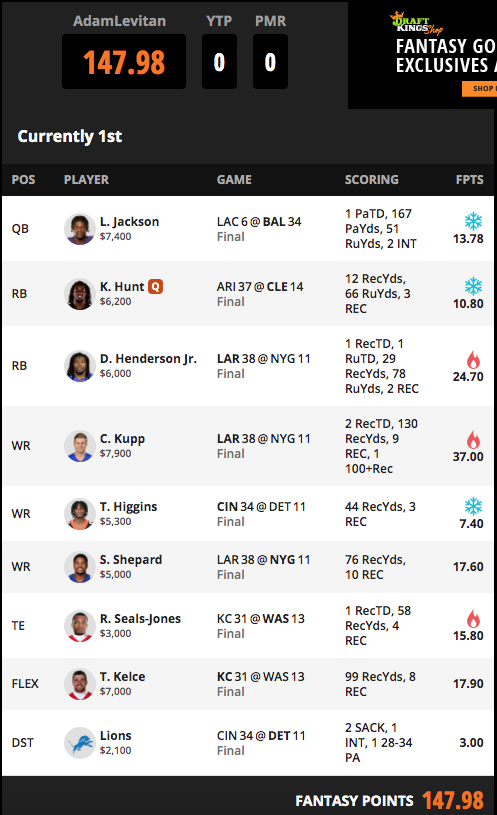 Most weeks I wish I didn't have to play a tight end at all. This week was a weird one because there were actually two plays at tight end who I thought were among the best on the slate. There were also a ton of excellent running back plays. It set up a situation where some really good and cheap plays were going to have to miss the cut. 
MY MUST PLAYS
* This was an incredible spot for Travis Kelce. The Washington defense is a pass funnel and came in ranked dead last against QBs in our DvP. Clyde Edwards-Helaire was out injured and Tyreek Hill was nursing a quad issue. Meanwhile, Kelce opened the year at $8300 but was $7000 in this spot. I was never passing on the floor/ceiling combo at this price, even if it meant 2-TE lineup.
* Nick Chubb (calf) was scratched after salaries came out. That left Kareem Hunt priced as if he would be splitting time. So with only AAF-type D'Ernest Johnson and WR-type Demetric Felton behind him, the talented Hunt was a lock at $6200. 
* The only QBs I considered were Lamar Jackson and Patrick Mahomes. There just wasn't a need to pay down at quarterback with such strong RBs in the $6K and below range. Jackson was the QB that fit for $900 cheaper than Mahomes and the elite built-in rushing floor.
MY WANT PLAYS
* Anytime Darrell Henderson has been healthy this season, Sean McVay has used him as a true workhorse in the style of prime Todd Gurley. The Rams also had the biggest OL>DL mismatch on the week and tied for the highest team total on the week. At just $6000, you could argue D-Hendo was a "must." However, the concerns over the nagging injuries plus the presence of Sony Michel left Henderson merely in the "want" category. 
* I thought Sterling Shepard was in play for cash at $5000 when Darius Slayton and Kadarius Toney appeared healthy. But then Slayton (hamstring) got scratched, joining Kenny Golladay and Saquon Barkley on the sideline. And Toney (ankle) had some negative vibes in pregame as he worked out for trainers.

Even when everyone was healthy the first two weeks, Shepard earned a 27.5% target share. Anything in that target share range at just $5000 in this likely trailing game script was a very strong play. 
* I thought the WR position was relatively weak on this slate. I wanted to save money and preserve ceiling, leaving Tee Higgins as a perfect fit. We saw really strong usage in his first game back from the shoulder injury last week, and the dome spot against the Lions lent itself to a big Joe Burrow day. Higgins' raw talent and matchup at $5300 was too cheap.  
* The only defense I would have spent up on was the Colts at $3500 against the expansion-level Texans. But regular readers know I'd almost never pay that much for a defense in cash. I was fine going with the Lions D/ST at just $2100 with a reasonable chance to win a game at home against the Bengals. If I had the $200, I likely would have gone with the Ravens.  
* I agonized over the final 2v2, changing multiple times in the last 30 minutes before lock. It was Cooper Kupp and Ricky Seals-Jones vs. Keenan Allen and Khalil Herbert. I did not feel comfortable fading a three-down plus goal-line running back at $4600 (Herbert). I also did not want to leave the ceiling of Cooper Kupp on the bench. 
In the end, I decided to go with the Kupp side merely because I thought I could get buried on Kupp>Keenan, but couldn't get buried on RSJ>Herbert. It was really a coin-flip. We did have the Kupp/RSJ side 0.9 ahead in base projection and a strong 5.0 points ahead in ceiling projection.
Week 6 Results
Early in the week I decided Davante Adams wouldn't be a priority for me. His salary was up to an appropriate $9000 and the game environment at Chicago was not ideal for ceiling outcomes. That was a key decision in cash that paid off in a big way. I was also happy with the way I reacted to the Darius Slayton/Kadarius Toney news. All that said, the last 2v2 that I thought was a coinflip turned out to be a 23.6 point difference. Cooper Kupp continues to shatter slates almost weekly. 
Year-To-Date Results
Week 1: 124.86 points, won 70.5% of head-to-heads
Week 2: 92.88 points, won 5.7% of head-to-heads
Week 3: 151.52 points, won 63.8% of head-to-heads
Week 4: 104.92 points, won 8.1% of head-to-heads
Week 5: 187.08 points, won 82.7% of head-to-heads
Week 6: 147.98 points, won 82.3% of head-to-heads